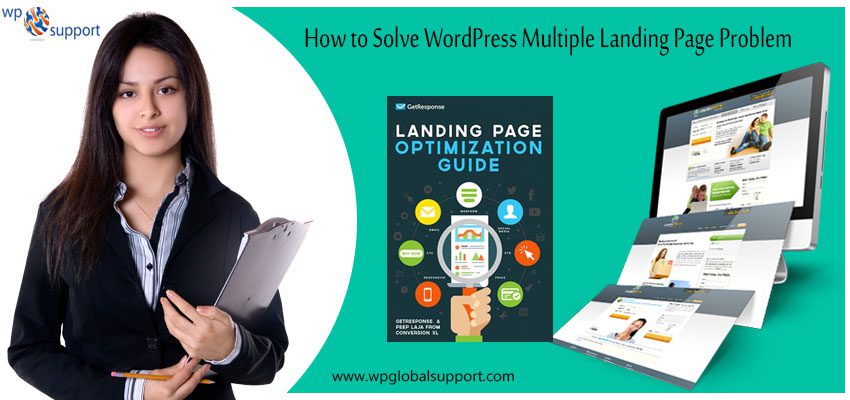 Want to know how to solve WordPress multiple landing page problems? Whenever any visitor visits your website it's not necessary that he/she always enters through the front door. They may enter through multiple back doors, side doors, and basement doors that are also available.
Every page of your website can act as an entrance through which visitors can enter and find the information they need. So it is very important that your WordPress website is properly optimized so that these doorways act as an effective landing page.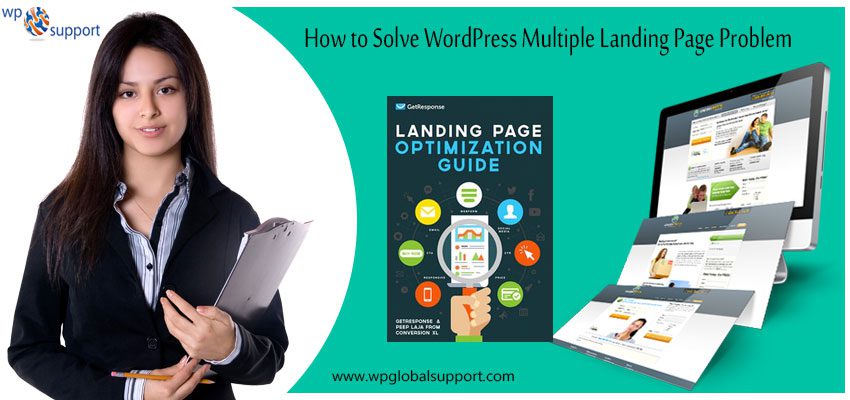 WordPress Multiple landing Page Problem
You will be surprised to know that your homepage doesn't have a heavy impact as a Multiple Landing Page. But it doesn't mean that your homepage shouldn't be optimized.
In WordPress, pages are like posts. Multiple Landing Pages can be managed in a hierarchical structure in WordPress.
As you know that the homepage of your website is the front page which is responsible for creating your website's first impression. Hence it's very important to Optimize the speed of WordPress website. Although the information in it is the summary of what the rest of your website holds.
Why Optimize is Important?
WordPress website loading speed matters due to the following reasons:-
Search engines give ranking to fast-loading websites. If you want to improve your search ranking, you have to improve your website speed.
For lowering hosting costs and increasing user engagement.
For increasing Adwords and conversions performance.
As the search engine is a service that allows all internet users to search for any content, query, or product throughout the world wide web.
Solving Multiple Landing Page Problems
Things to remember:
1. Make sure that there are at least 400 words of engaging text on each page.
If you are using the website's best SEO tools, they will likely flag a page when it doesn't have much-written content. The quantity of text on the page is weighted against the percentage of code on the page. If you do a website audit and it says only 5% of the page is text, then you need to add more to make it more appealing to readers. Many SEO tools like Yoast WordPress SEO Plugin can centralize this process for you.
Read More: Top 8 WordPress plugin for SEO
2. Include a contact form on every page of the website — not just the home page.
It's very necessary that every page on your website must have a medium to make contact like having a contact form on Multiple Landing Pages. This will make sure that the visitors don't have to click around the website more than necessary. It's better than the visitors can get vital information in just fewer clicks. Plugins like Contact Form 7 and Visual Form Builder can support you with this.
As the installation of WordPress plugin is defined as a type of software that contains a group of functions that can be added to a WordPress website. They are used to provide additional functionality to your application.
3. Every page needs a call to action.
The call to action is not very specific by nature, so never save the call to action for the homepage. Every individual page needs to have text on it that satisfies the visitor to take action.
4. The company logo should be visible on every page.
Make sure that every page of your website contains a link that takes the visitor back to the homepage every time they click on it. The visibility of the site tagline must be clear as it tells the user what the website is all about.
5. Make sure that every page title is phrased clearly.
If the visitors are coming straight from google to your Multiple Landing Page then they should know where they are on the website. They will leave straight away if they have to make any guesses. The visitors should also be aware of what they are going to read at a first glance.

6. Make each page standalone.
The very first point "at least 400 words of text" mentioned above needs to be standalone content that doesn't relate to any other content on the website. Always use anchor text throughout the site to hyperlink to other Multiple Landing Pages. In case the content is related to other content on the website even in the most subtle of ways, you can integrate plugins that show visitors-related content, too, like Related Content.
7. Ensure navigation is on every page.
The navigation menu plays a very vital role in your website. Make sure that the navigation is identical all the way through so the visitor can easily look at the WordPress navigation menu customization & see where they can go next.
8. Social media links should be visible on every page.
Make sure to insert social media links on every page of your website so that the visitors can choose a platform to connect with you with just a click. A visitor is not always convinced to like a Facebook or Twitter page from the homepage. Sometimes they go through the pages of your website and don't want to backtrack to your home page for finding Facebook or Twitter button.
So if these links are present on every page the visitor can easily click on these buttons from any page of your website. There are plugins available that allow for easy integration of WooCommerce social login plugins like Floating Social Bar and Digg Digg.
Making your content shareable lets your readers share it across various social networks while driving large traffic to your website. Adding social sharing buttons to your website not only drives traffic but also enhances your website's credibility.
Read More: How to Use Social Media to Boost Email Subscribers in WordPress
Wrapping Up
It's really important that every page on the website needs its own Multiple Landing Page in some form or other. Each page should be rich in information, contain all of the conversion tools that the homepage does & should have consistent navigation. Each page needs to stand on its own.
When a Multiple Landing Page can stand on its own, how a visitor lands on your site won't matter. What matters to them is they are given the information and tools that they need to make an informed decision about your products or services.

We hope that the above article helped you to solve WordPress multiple landing page problem. You can also take help from our WordPress technical Support Number. Please Dial +1-855-945-3219 (Toll-Free). We have a team of good professional who can resolve all your issues related to WordPress.