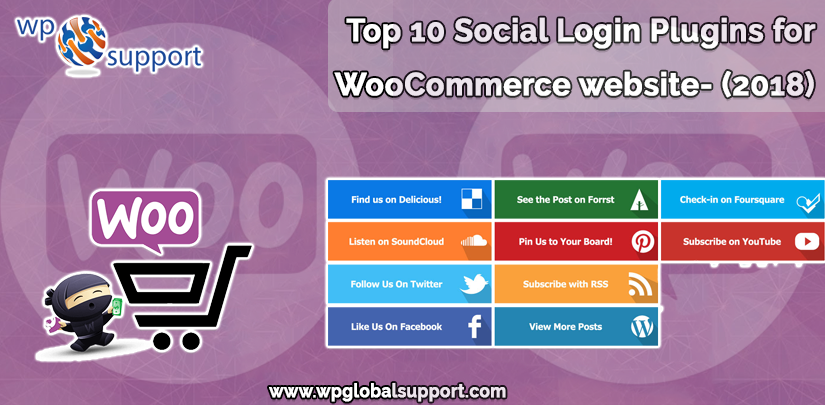 Social networks are one of the fastest-growing industries in the world. Personally or professionally social media contribute a lot to a user's life. It is estimated that globally there is 71 percent of internet users are active on social media. So, if you allow this volume of people to log in with these social media accounts then it can drive quality traffic to your WooCommerce site.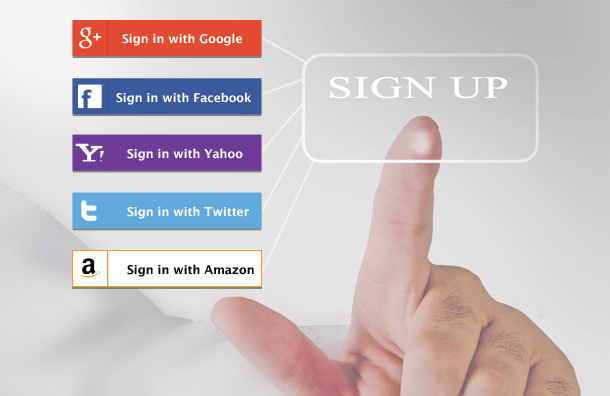 Social Login Importance
It is very handy because of the fact that internet users are using so many passwords for different sites. Due to this, they can hardly remember their password and fail to access their account on different sites. As a result, they just tend to ignore the site, and with this, many Woocommerce sites suffer a loss due to fewer visitors on their blogs.
Social login plugins reduce the efforts of remembering all passwords as it enables you to let the users just log in with their social media accounts to your Website.
About 80% of e-commerce users prefer a social login system. This means integrating social login can provide a significant boost to the conversion rate of a WooCommerce store. But how do you integrate such a system?
There are many ways, if you are using WooCommerce, then the easiest way is to use social login plugins. There is a number of plugins that make it easy to add social login feature to your e-commerce site that can eventually lead your online business to some extent.
In case you require the advanced help for WooCommerce Setup contact us and solve your queries promptly. Dial + 1 844 897 0441(Toll-Free).
10 Best Social Login Plugins For WooCommerce
Super Socializer

Super Socializer is an awesome free plugin and holds a 5-star rating. It provides full support for all popular social networks and enables social login in your WooCommerce store and compatible with all plugin and theme.
Once the users integrate a social media network, then the plugin will synchronize the necessary user data to your site. Also, it is possible to sync the user profile along with BuddyPress XProfile.
Features of Super Socializer Plugin:
The plugin provides you GDPR compliance
Also, Allow Social share from around 100 social networks and Social media follow icons,
It enables to create the short URL for sharing.
Compatible with AMP(Accelerated mobile pages).
Give the right to Auto-approve comments made by users logged in with the social network.
It creates widgets and shortcodes for Social Share, Social Login, Social Comments and Like Buttons
Other than this, the Super Socializer plugin enables you to customize the shape, size, and icons for different social media platforms. Its is a Multi-site compatible plugin. That's why it is optimized to give the best loading speed. As you know, the plugin is fully responsive, That's why can also provide a social login facility for your mobile visitors.
If you want to know about Installing a WordPress Plugin then read our article on How to install WordPress Plugin?
The point to be noted if you are using Super Socializer:
The plugin will not work on the local server. It will function only on a live website.
To integrate Facebook comments, you need to install Fancy Facebook comments.
If you just want to add social share then you need to install Sassy social share Plugin.
Nextend Social Login

With a rating of 4.5-star, Nextend Social Login plugin allows Facebook, Google Twitter, LinkedIn, Amazon, VKontakte VK.com for social login and many more networks are in the Queue.
Once you activate the plugin and configure the social network you want to enable for login the plugin will automatically add the login buttons to the WordPress login page. Take a look at the image.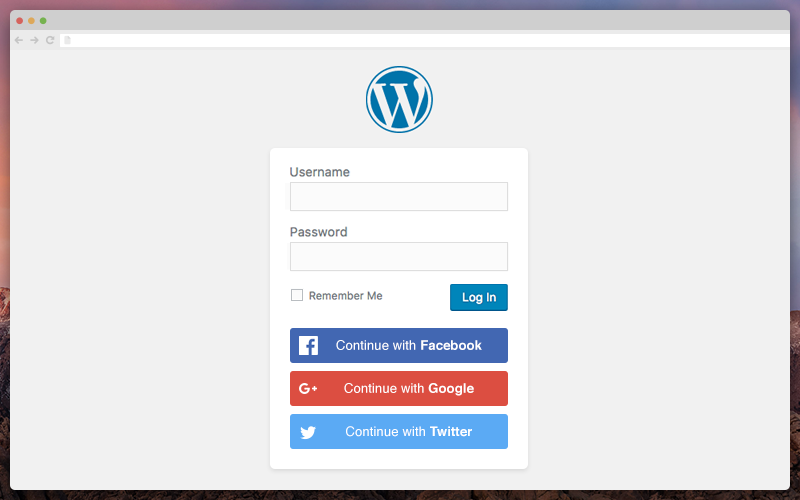 The Features of the Nextend Social plugin
It allows one-click registration and login via social profile and the current users can easily connect their Facebook, Google or Twitter account.
You can assign a custom redirect URL after the registration using any of the social accounts.
Display Facebook, Google, and the Twitter profile picture is used as the avatar of that user.
Allow creating Login widget and shortcodes
To look compatible with your site this plugin allow easy customization.
You can edit text on the login button and the text can be translatable.
Gives a Clean and user-friendly UI
Social Login

Social Login is one of the most popular WordPress plugins used to enable social login in WooCommerce store. It's free and holds 4-star rating. This plugin allows social login with 35+ social media networks.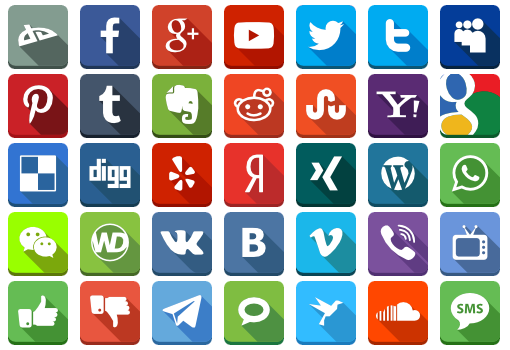 The features provided by Social media plugin:
You can easily configure the social media network you want to enable or disable for login.
Also allow configuring the location of the social login option like, on the comment section login page, registration page, in a custom widget, sidebar, checkout, my account pages and with a shortcode.
The attractive logo for different social login platform add-on in the plugin features.
The plugin is capable of instantly eliminate spam and bot registrations. So, this also helps you to increase the quality of your data.
Social login monitors the APIs and technologies of the different social network and updated their service soon as the changes occur.
Through OneAll you can ensure that the social media integration will always run smoothly and it is also compliant with GDPR(general data protection regulation).
Social Login Lite For WooCommerce

Social Login lite for WooCommerce plugin allows only two login networks Facebook and Google+. Still, the rating of this plugin is 4⭐. As it allows only two social login network but grabs quality traffic.
The other features of the plugin:
When a user login with his/her social profile a unique login ID and password are generated and sent on mail. After that user has a choice log in with the unique ID password or by social media account.

You can create a social login label on your login page, register page, My account page or checkout page.

You can add a preferred icon for Facebook and Google+.
YITH WooCommerce Social Login

As you know by the name, the YITH WooCommerce Social plugin is a uniquely developed plugin that enables social login in WooCommerce store. It's free to use.
With the help of this, you can easily allow your customers to log in to your e-commerce website by using their Twitter, Google Plus or Facebook accounts. By default, login options are automatically added to log in checkout and my account pages.
With this plugin, you can change the description and label of the login fields. There are different sections for configuring Twitter, Google and Facebook login settings. As you will provide a simpler method using this plugin, you will definitely enjoy an increased conversion rate compared to the previous.
UserPro – User Profiles with Social Login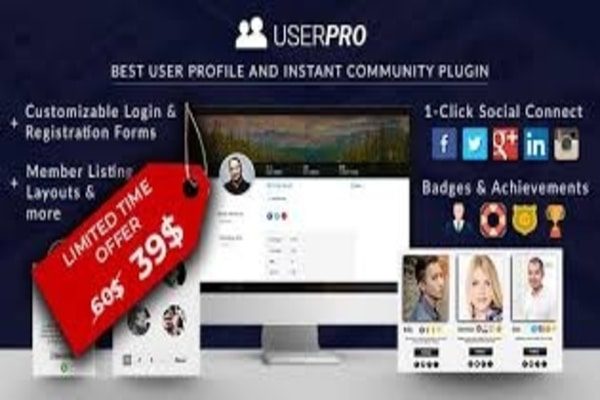 UserPro is a fully WordPress user management solution with a built-in social login feature. This plugin provides a completely customizable user registration system. Also, you can allow your customers to log in to their social media profiles. UserPro supports Twitter, Instagram, Facebook, LinkedIn, Vkontakte, Google+.
The integrated auto-sync feature will save customer data for future use. To show the social activity stream of users is possible. With full WooCommerce support, this plugin could be used to simplify the checkout process of your e-commerce store display the social activity stream of these users.
With the social login plugin, you will also search for many other easy features. For example, beautifully designed user profile pages will show user information in an interesting way. You can extend the plugin functionality by using various add-ons. This is a paid plugin priced at $34.
WooCommerce Social Login – WordPress plugin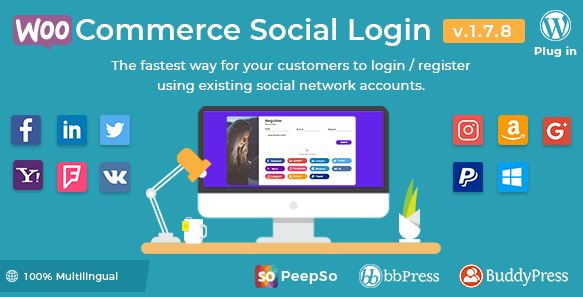 WooCommerce Social Login – WordPress plugin is a paid WordPress plugin for enabling social login on your WooCommerce store. This plugin supports all the social media platforms that means your customers can easily continue their shopping without going through the lengthy registration process.
In general, if most of the people sign in with their social media accounts. then, they can buy again using social login. Moreover, the WooCommerce Social Login plugin also allows you to send new account details to the customer's email address.
Since the social login system will automatically integrate on the checkout page, you will not have to add it manually. However, you can use the custom shortcode to show the social login buttons wherever you want. Also, the plugin displays the percentage of the social platform that is used by your customers.
AccessPress Social Login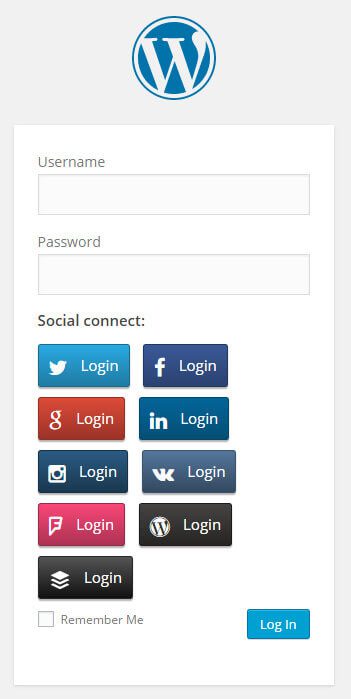 Access Social Login is also another WordPress plugin for adding the social login to your WooCommerce store. At the time of using this plugin, your visitors will be able to register with their existing social media accounts and regular shopping.
You can select which social network you want to allow for social login.sible to Also, it is pos select where the social login button is shown. Available options include login, checkout, registration, etc. In addition, you can show the social login buttons at other places using a shortcode or custom widget.
The plugin comes with 17 attractive templates to present social icons in different styles. However, It also allows sending emails to newly registered users. It is possible to customize the email text. This translation-ready plugin also works with BuddyPress.
AccessPress is priced at $20.
Facebook Login Widget (PRO)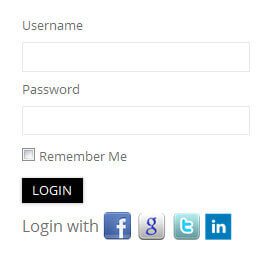 Facebook Login Widget supports all the social login through Twitter, Facebook, Google+ and Linkedin accounts. That means you can use the plugin to encourage your customers to finish the purchase without being bothered about the registration.
By default, the plugin is displayed on the WordPress login page. However, it is also possible to show social login buttons at other locations using custom shortcodes. The plugin allows users to set their Facebook profile pictures as an avatar on their WooCommerce website.
If you need any help in creating or customizing a WordPress login page, then just go to the link provided above.
The plugin lets you redirect visitors to specific pages after login. If 0you do not want to allow backend access for all users, you can limit access to only specified user roles. When the plugin will block an IP address after 5 failed login attempts, you can unblock the IP address or permanently block. You can buy this plugin for this $3.
WooCommerce Social Login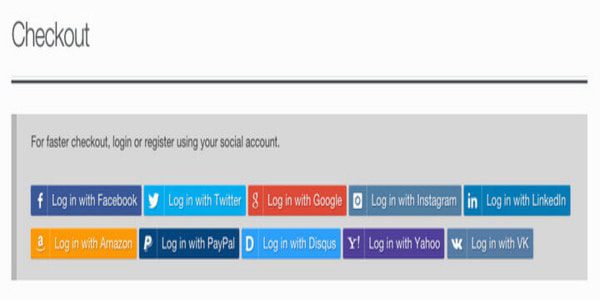 WooCommerce Social Login is one of the best solutions for simplifying the checkout process of your e-commerce site. It is developed by SkyVerge. This plugin supports all the popular social media networks such as Twitter, Facebook, Instagram, Linkedin, Amazon, Google, Yahoo, Disqus etc. means the customer can use any accounts from them to log into your shopping sites.
This plugin permits registered users to connect their existing social media accounts. Also, it is possible to enable social login buttons on the thank you page, you may remind them about connecting their social profiles. The customers can easily unlink their social media profiles from the 'My Account' page.
WooCommerce social plugin will create a special report for tracking the social login activities of your visitors. It tells you which social network is the most popular among your users and vice versa.
You can purchase a single site for $79.
---
Final Recap
Being the owner of the e-commerce store, you definitely want to ensure maximum conversions from your audience and its contribution to social promotions. Because the customer can get the recent update of your online store through social media. It's a two-way profit if you integrate your site with social login.
So, what do you think about these social login plugins? Let me know in the comment section below. We hope this blog helped you a lot to identify and analyze various social login plugins for a Woocommerce site.
If you have a WordPress blog, just talk to our WordPress Technical Support team in case you need any help related to WordPress, dial +1-855-945-3219 (Toll-Free). We will be happy to resolve your issues.

That's it, thanks!