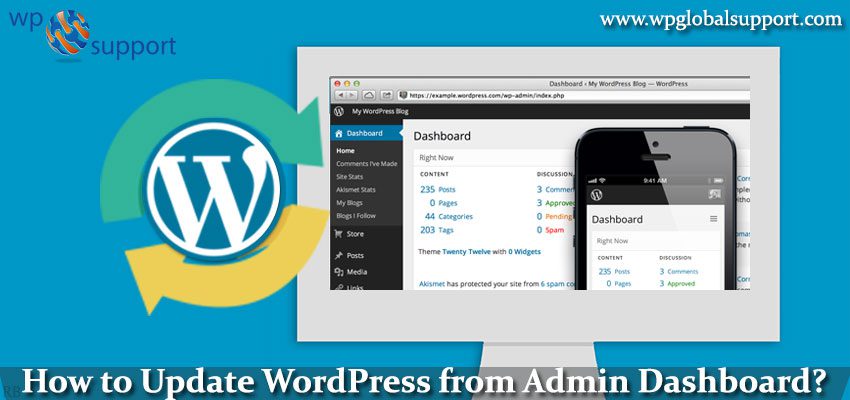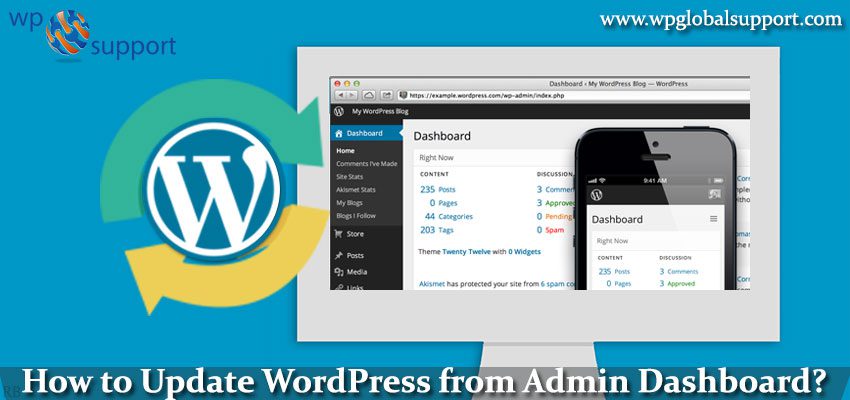 You can easily update your application directly from the admin area in WordPress. Admin area is also known as the administration area in WordPress website where only an authenticated user can make changes.
Admin area allows you to create and manage posts, pages, menus, media, change styling in the form of themes, add functionality in the form of plugins, and much more. Here, theme is a group of stylesheets and templates that are used to describe the appearance and display of a WordPress site.
These templates are those files which control how your WordPress site will be displayed on the Web. Here the articles posted by the admin of a WordPress site are called posts and pages are like posts. Pages can be managed in a hierarchical structure in WordPress.
You will automatically see a notification in the WP admin area when a new version WordPress manual is available. In this article, we will show you how to update WordPress from Admin Dashboard.
As Admin Dashboard the default screen with widgets such as activity, quick draft, WordPress events, and news, at a glance. This screen will give you a quick overview of all the details for your WordPress website. Also, widgets allows you to add content and features to your sidebar without writing any code.
As a sidebar is a theme feature, which is basically a vertical column provided by a theme for displaying information other than the main content of the web page. The usage of sidebars changes and it depends on the choices of the theme designer.
Read More: How to solve WordPress Issue "admin dashboard is not displaying properly"
Steps to Update WordPress from Admin Dashboard:
First of all Login to your WordPress admin dashboard

.

At the top of the WordPress admin dashboard, you will see that a newer version of WordPress is available, tap on Please update now to be taken to the Updates page.
If you don't see that link for some reason, you can also click on the update icon at the top, or click on the Updates link in the menu on the left.
Next, on the WordPress Updates page, click on Update Now.
To allow WordPress automatically update itself you would need to change file permissions on your /wp-content/ directory to 775.
You can also go ahead and enter in your WordPress site's FTP information, and click on Proceed to download the latest version that way. FTP stands for File Transfer Protocol. FTP is used to transfer files from one local computer to a remote website, such as a WordPress blog.
It is also used to download files from your WordPress website to your computer or to change files and directories permissions on a remote website.
WRAPPING UP
WordPress is the most popular CMS in the world for smoothly creating your website. But WordPress is so famous and is open source so many hackers can exploit it. As CMS is a Content Management System which allows users to easily create, edit, organize and publishing content.
CMS is one of the most widely used and easy to use content management system which gives many facilities to users. It facilitates the user in creating, editing, organizing and publishing the content on the web servers.
Outdated WordPress can cause security issue on your website & can be abused for spam and malware on the internet since outdated. So it is necessary to keep your WordPress up to date for securing your website. So, we hope that the steps above helped you to update WordPress from the admin dashboard.

You can also take help from our WordPress Technical Support Team In case of any query and issue. They will help you to solve it with complete satisfaction. So, Dial +1-855-945-3219 (Toll-Free). Our Doors are always open for you feel free to contact and ask any queries related to WordPress.