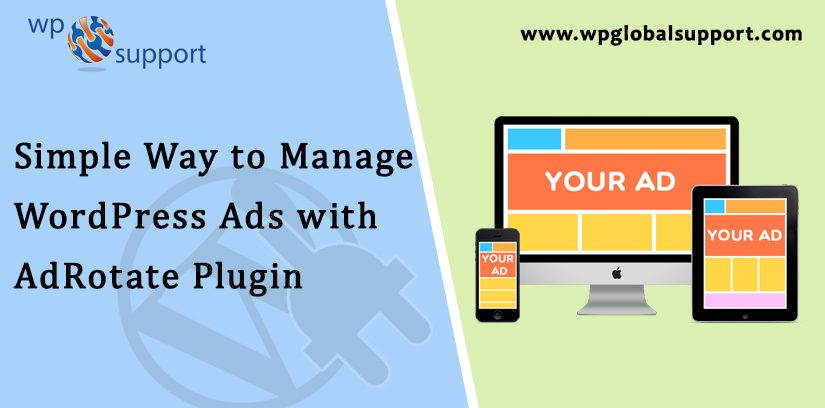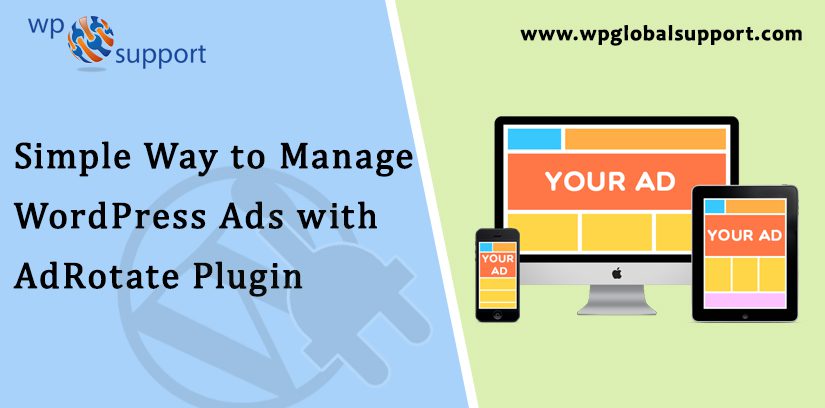 Recently one of our readers asked us How to Manage WordPress Ads with AdRotate Plugin. Banners ads are the best way to earn money online from your blog. A lot of bloggers use an ad management software to maximize their advertising revenue without wasting the user experience.
Here, in today's post, we will show you how to manage WordPress ads with the AdRotate plugin.
Why use a WordPress Ad Management Plugin?
Advertising programs like Google Adsense and other need publishers to add the code snippet to their site for showing ads. As code snippets plugin allows you to easily create and apply any number of PHP snippets using the familiar system.
As a WordPress publisher, you can do this by editing the code in your theme files or using the Ad Management plugin. A plugin is defined as a type of software that contains a group of functions that can be added to a WordPress website. They are used to provide additional functionality to your application.
Also theme is a group of stylesheets and templates that are used to describe the appearance and display of a WordPress site. And Templates are those files which control how your WordPress site will be displayed on the Web.
If you're a beginner and starts your blog, then adding code to theme files is not an ideal solution.
You cannot manage different sizes or their placements properly. Also, you increase the likelihood of messing up and due to unexpected WordPress errors.
On the second side, by using an ad management plugin, you can easily insert ads anywhere on your website. Also, you can save multiple ad codes, rotate them, and hide/show ads on various pages.
Let's see:
How to manage WordPress ads with AdRotate plugin
Manage WordPress Ads with AdRotate
First, you have to install the AdRotate plugin and then activate it. For more detail, read our guide How to install a plugin in WordPress.
After activation, you need to go to the AdRotate>>Adverts page and then click the 'Add New' link to create your first ad.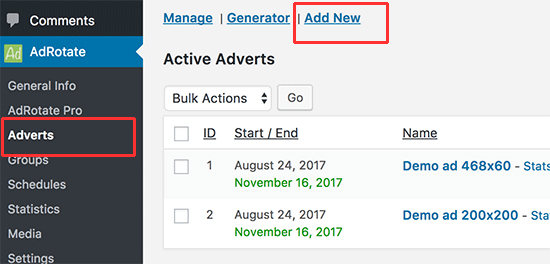 It will bring you to add new ad pages. You must provide a title for your ad because it will help you to identify this ad within the WordPress admin area.
Admin area is also known as the administration area in WordPress website where only an authenticated user can make changes.
It allows you to create and manage posts, pages, menus, media, change styling in the form of themes, add functionality in the form of plugins, and much more.
Next, you can paste the ad code generated by your ad network like Adsense.
Alternatively, if you are running self-hosted ads, you can also generate your own ad code.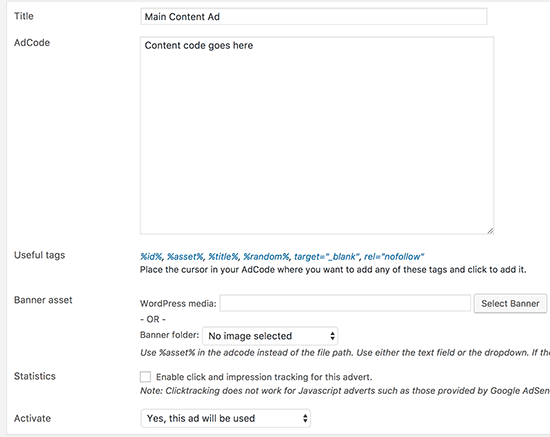 Thus, for hosted ads, you may upload banner images and after that enable click tracking.
Now, you have to choose an activate option to make this ad available on your website.
After that, you have to scroll down to the usage and schedule section on the page.
Now you can schedule your ad and get a shortcode, which you can add to your pages, posts, or sidebar widget.
Here, Shortcodes are those special functions/tags that allows the user to quickly and easily pull related bits of mentioned functionality into their content
Also, Widgets allows you to add content and features to your sidebar without writing any code.
Note: Don't forget to click the 'Save Advert' to save your settings.
You can repeat this same process so that you can create multiple ads and then decide which ads you want to show on your site.
Grouping Your Ads Together
A lot of WordPress bloggers are involved in many advertising networks and partner programs. Also, you can have ad spaces at different places and in different sizes.
However, Grouping permits you to easily sort your ads in various categories for easier management.
For creating a new group, visit AdRotate>>Groups page.
And after that click the 'Add new' link.

This 'Add New' link will bring you to create new group page.
First, you have to provide a title for your group. It will allow you to easily identify the group in your WordPress admin area.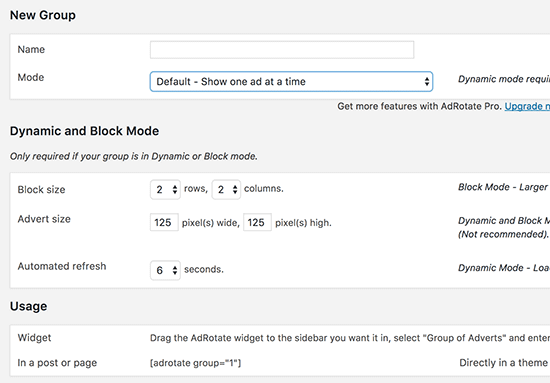 After that, you have to select a display mode. AdRotate plugin allows you to customize how you display from a specific group. For example, you can show an ad from the group at a time, a block of ads or dynamic mode, that changes the ad after a few seconds.
After that, you can choose the group auto display option. AdRotate plugin allows you to insert ads automatically into pages, posts, and sidebar widgets from a group. As sidebar is a theme feature, which is basically a vertical column provided by a theme for displaying information other than the main content of the web page.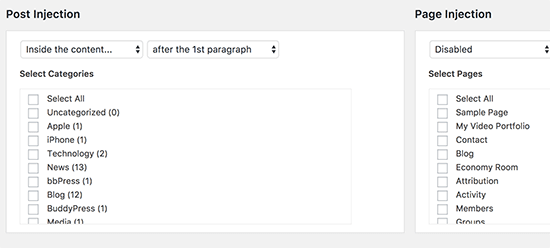 You will see all your ads at the bottom of the page that you can associate with that group. Just choose the ads that you want to include and then click the 'Save group' button.
Manually Inserting Ads in WordPress
When you can combine your ad to groups and automatically insert them into pages, posts, widgets, and categories, some publishers may want to have more granular control on which ads to show on which location.
AdRotate makes it very easy to insert ads anywhere on your website.
Each ad you create on your WordPress website has its own shortcode, which you can copy and paste into your WordPress pages, or posts, and even a custom post type.
Visit AdRotate>>Adverts and then click on any ad to edit it.
On Edit Ad page, you have to scroll down to the usage section to copy the shortcode.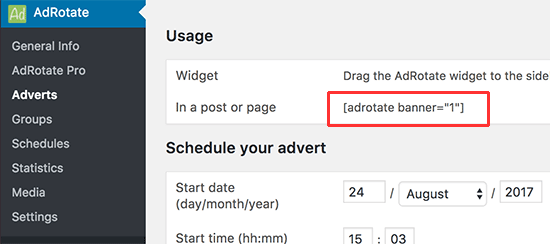 Thus, also you can edit a group to get the shortcode and then use it anywhere on your WordPress site.
If you want to show ads in your WordPress sidebar, go to the Appearance>>Widgets page and then add the Add widget to your sidebar.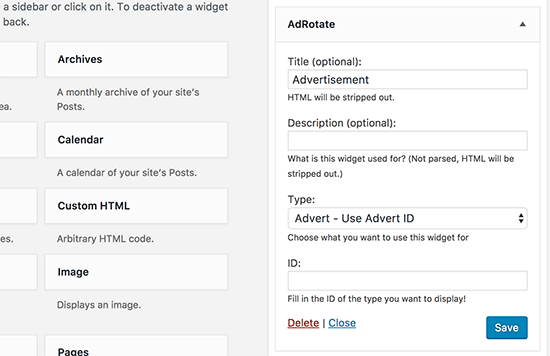 Conclusion
We hope this post helped you to Manage Ads in WordPress with AdRotate Plugin. Read the above steps carefully and manage your WordPress ads. If you have any problem related to managing WordPress ads, then feel free and tell us in the comments section.

If you liked this blog, please share it with your friends.
Talk to our WordPress Customer Service in case of any assistance, dial +1-855-945-3219(Toll-Free). We will be pleased to help you.

thanks!