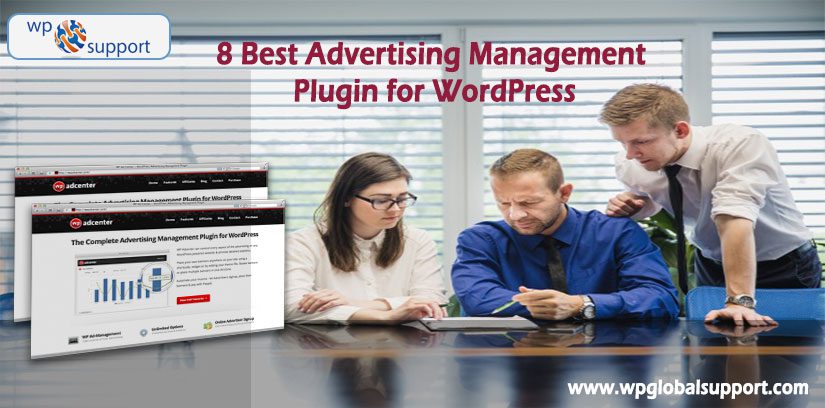 Advertising campaigns are an important part of promoting any website. Once you start getting a decent amount of traffic to your WordPress blog, Advertising campaigns like 'Google AdSense' or direct banner advertising can be used as a good source of revenue for your website. If your site is popular and gets a good amount of traffic, you can make excellent revenue from this advertising.
Most WordPress themes don't have a dedicated spot to display ads on your website. This means you often have to edit these theme files to insert ad code into your blogs.
To solve this problem, the advertising management plugin comes into play. These advertising management plugins allow you to easily insert ads anywhere on your website. It optimizes ad placement and makes the most out of your advertising business which can eventually make your Website wealthier.
So in this post, you are about to see some of the best advertising management plugins for a WordPress site.
Best advertising management plugins for WordPress
Best WordPress advertising management plugins
Ads Pro Plugin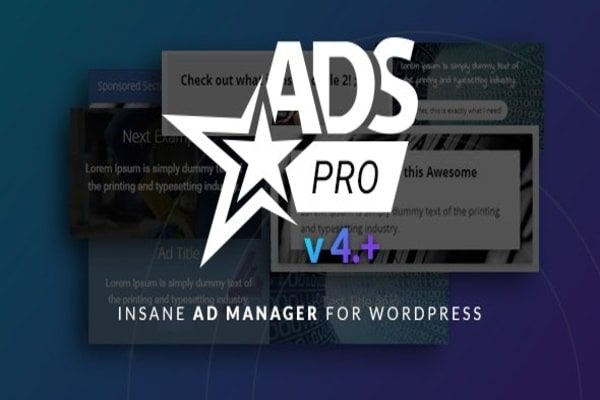 Ads Pro plugin is one of the best advertising management plugins. It has an impressive number of features packed into one low cost. It also boasts a 4.53-star rating on over 2,500 sales at Codecanyon. If you are looking for complete control over the advertisement on your site, Ads Pro is what you need. Ads Pro Plugin helps avoid ad blockers.
This plugin also helps you to display your ads in a variety of positions on your site. Currently, Ads Pro has over 20 different ways to display your ads, including creative methods like sliders, floating ads, and background ads.
Ads Pro plugin also helps you to display your banner ads and Google AdSense ads in 20 different placements. You can create geo-targeted ads and thus increase the conversion rate to a huge extent.
Other helpful features include impression capping, filtering ads on specific categories/tags, analytics, and lots more.
WP PRO Advertising System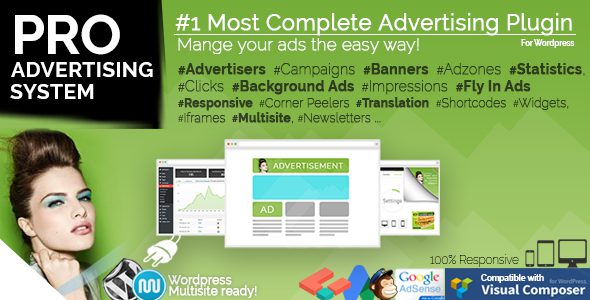 Just like Ads Pro Plugin, WP PRO Advertising System is another full-service advertising manager. This plugin comes with over 18 predefined advertising zones. It also includes some more creative options like corner peel ads, background ads, and plenty more.
This plugin can even help you add ads to your MailChimp newsletters. In the backend, you can easily divvy up ads by advertiser and campaign for easy organization. And you can also quickly view statistics for impressions and clicks.
This WordPress plugin comes with its own banner ad creator that helps you quickly create animated HTML5 banners.
Note: The core plugin doesn't have a front-end interface for selling your advertisements directly to buyers. But if you purchase an add-on, you can get that feature.
AdSanity Plugin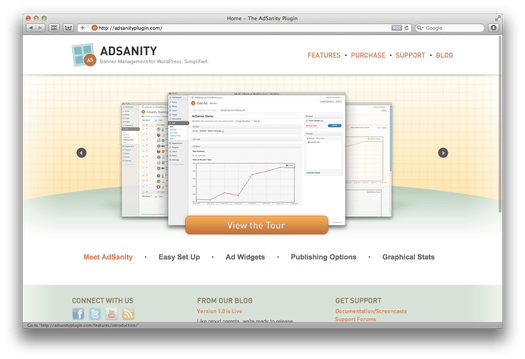 AdSanity is a beginner-friendly and one of the most popular WordPress advertising management plugins. It supports both hosted ads as well as external ad networks like Google Adsense. AdSanity plugin allows you to easily insert ads anywhere on your website using widgets and ad inserter buttons in the visual editor.
Some of its powerful features include ad scheduling, ad groups, inserting a single ad or ad group, monitoring views/stats, and more.
By using this WordPress plugin one can create as many ads as you want and easily add them with custom widgets, shortcodes, or use the button in the post editor. One can also insert ad blocks in specific posts in WordPress. This helps to optimize ad performance without editing your WordPress theme files.
AdRotate Plugin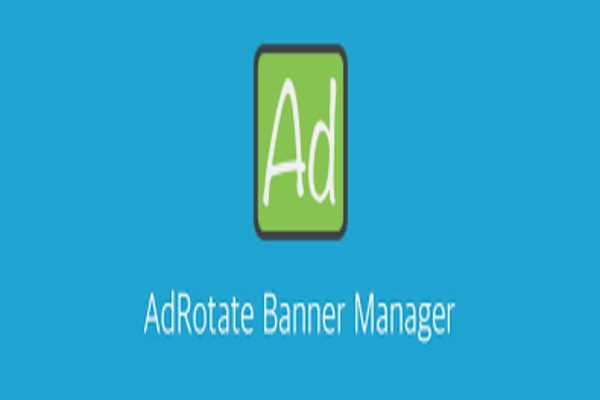 AdRotate is a free as well as premium advertising management plugin. This powerful advertising management plugin is suitable for beginners as well as advanced users. It supports both hosted ads with rotating banner ads and network ads.
By using the AdRotate plugin you can easily create ads and ad groups and insert them into your WordPress posts using shortcodes. You can also insert ads into sidebars using custom widgets.
The free version comes with the feature of managing both your own ads as well as third-party networks like AdSense, DoubleClick, and more. You can also quickly see how many impressions and clicks your ads have received and monitor the different ad groups you set up for their performance.
Whereas the premium version comes with the feature of setting more detailed schedules as well as geo-target your ads to areas as small as individual cities. And if you want to sell ads directly to individuals, you can easily accept PayPal payments.
Read more: Simple Way to Manage WordPress Ads with AdRotate Plugin
OIO Publisher Plugin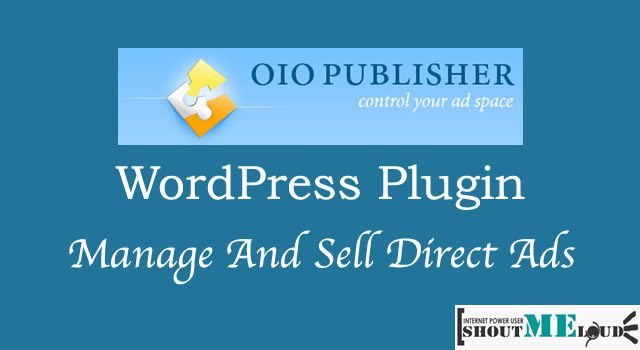 OIO Publisher is one of the top-searched advertising management plugins. It is great for growing websites that want to directly sell ad spots to advertisers. It is an ad manager tool available as a plugin for WordPress-powered websites.
OIO Publisher handles reporting, payments, and tracking. One can create ad zones of different sizes and types on your website. You can also choose how many ads to display in each zone, select a price, rotation factor, targeting, and more.
This WordPress plugin is pretty straight forward to use. It comes with a custom widget to display ads in widget-ready areas of your website. However, for displaying ads in some areas you may need to edit WordPress theme files to place the ad zone code.
Ad Inserter Plugin
Ad Inserter plugin is available in both free and premium versions. The free version can be used as your primary ad management tool. For advanced features, you will have to upgrade to their premium version.
This plugin allows you to create multiple ad blocks and choose how you want to auto-insert each block. Multiple options can be inserted into your ads. You can add options like inside post content, before and after post content, between posts, before or after post excerpt, and more.
It is very simple to use and can be used for both hosted and third-party ad networks. By using this plugin you can also individually disable automatic ad insertion in posts and pages, home, categories, and archive pages.
Insert Post Ads Plugin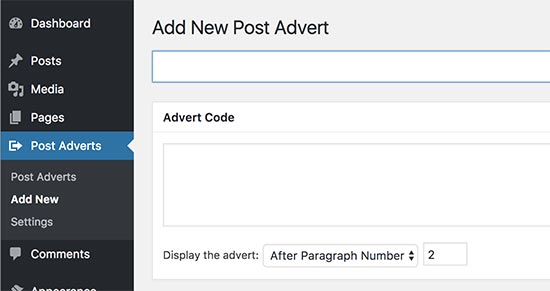 Insert Post Ads plugin helps you to automatically insert ads into your posts. The Insert Post Ads allows you to automatically display ads in your post content.
By using this plugin you can display multiple ads in the same article after a different number of paragraphs. You can also create different ads of any size and then choose after which paragraph you want to display the ad.
Insert Post Ads plugin is very simple to use and you can add third-party ad code as well as custom HTML for your own hosted ads. By using this WordPress plugin you just need to create an ad with the ad code and then ad the paragraph number.
DoubleClick Plugin by Google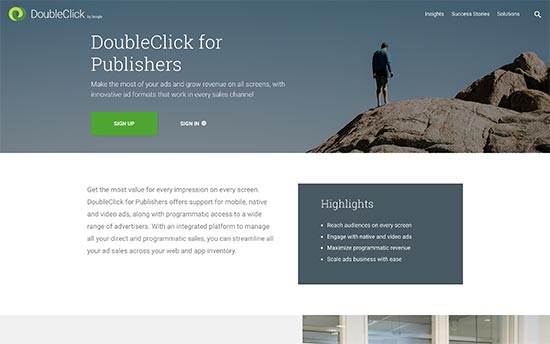 DoubleClick plugin by Google is a web-based ad-selling and serving platform for publishers. Since this plugin is powered by Google, DoubleClick gets an edge over other platforms in terms of reliability and cost-effectiveness.
This WordPress plugin also includes great reporting tools that allow you to measure ad performance more accurately than other solutions. It also allows you to sell your ads and run a competition for the same ad spots on Adsense or other third-party advertisement networks.
DoubleClick plugin by Google is very complicated to use, it is not recommended for beginners but only for developers. Since this plug is very effective.
---
Conclusion
We hope this article will help you to select the right advertising management plugin for your website. The above plugins are very popular and used by many developers and WP site owners for helping them with effective and monetization-based advertising management.
If you are facing any problem with WordPress maintainence and help just contact our WordPress Customer Service Team to get instant support, dial +1-855-945-3219 (Toll-Free).

That's all, thanks!