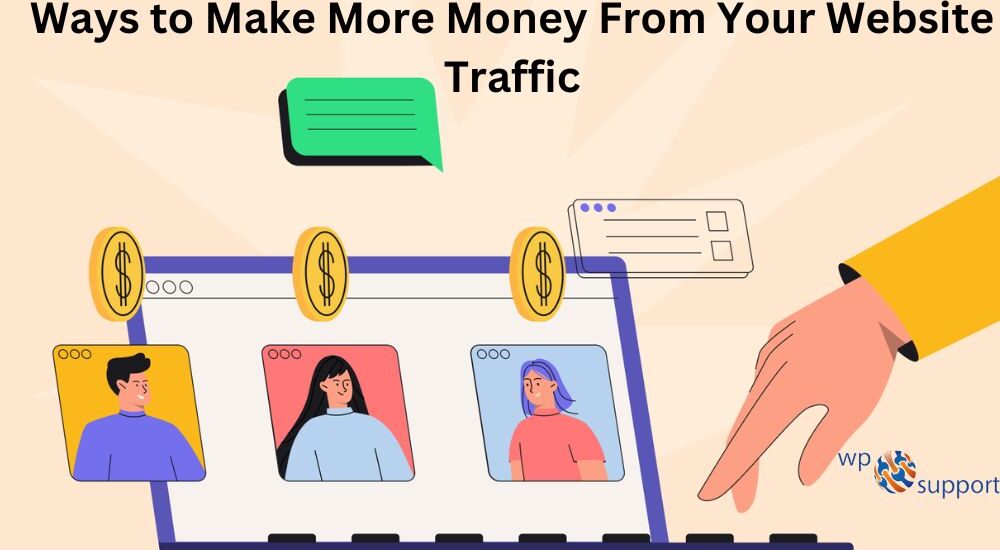 Through any business opportunity or venture the common goal is to expand the business so that you can make money from website traffic. Through your website, you can earn lots of money. It is necessary to bring visitors in order to boost sales but there are a lot of other ways that can generate extra money for your e-commerce website or any other type of website. https://profitmetrics.io/ help to track the investment ventures of any campaign.
Every website has its own set of features and audience. As a result, it is critical to determine which selling approach works best for you or to combine methods to maximize your blog revenue. We will give a brief, classified information regarding selling your website here.
Here are some tips that will help you to make money from website traffic.
1. Exit intent pop-up will help
If the visitors on your website are leaving without any kind of necessary action to convert into leads you can use this exit intent popup so that they cannot leave without any conversion. It is a pop-up that will appear to a visitor when they are about to close the website. In this popup, your visitor can get amazing offers, coupon deals, etc when they sign up for the newsletter. It will help you to convert your visitor into a lead instead of an abandoned visitor.
2. Call to action placing
You should be knowledgeable about how far your user can scroll down to your website. It will help you to avoid the trouble of high-traffic page conversion. Scrolling on your page will help you to analyze the right place for the call to action. Once you get an idea of average exiting or moving to another page you can put your city there in the right place. It will also provide a great inside where you need to put your exit intent pop-up and the average scrolling so that your convergent chances are maximized. It will be the best way for an online affiliate market revenue venture.
3. Targeting selected products and discount
It is known as geo-targeting which will focus on a particular product and offer a great deal so that it will increase the same. According to the reason you can offer great deals and products exclusively for that particular reason the first thing you need to do is identify the top traffic reason and use a dashboard to go through the report and the product requirement. For example, countries that are prone to the sun consume a high amount of sunscreen. Once you acknowledge this strategy you can use them to create traffic according to the customer and boost your sail exponentially. It will help to increase sales without exactly increasing the traffic
4. Offer premium content
You can use the members-only section or the VIP section where they are required to have a membership and pay a monthly subscription fee. It will allow exclusive content to the members of the space. It will apply to them to pay a subscription fee to access them. there is Another simple option to monetize your existing visitors is to install Google AdSense on your website. You get paid a predetermined price when a person clicks on such adverts. It's as easy as that. To add AdSense to your website, you must first sign up for a Google AdSense account.
Conclusion
It is not important to increase the traffic in order to convert them into leads but to target the right audience and create a relatable and appealing look for the brand.
Read More Suggested Pages:
Best WordPress Reporting Plugin Connect to Google Sheets