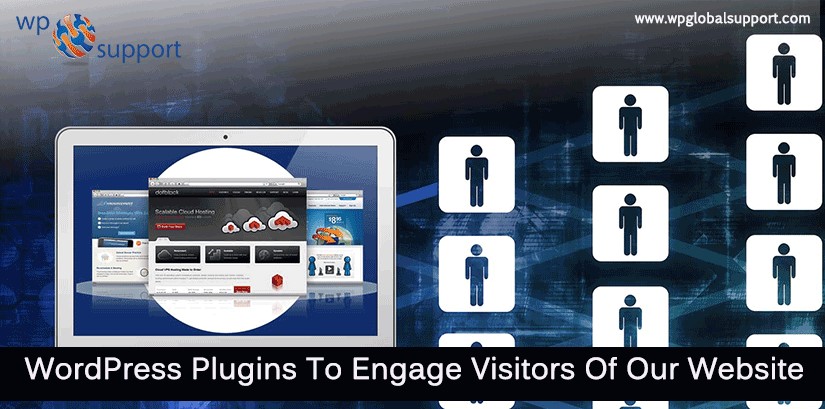 Are you searching for a WordPress Plugin to engage visitors towards your site? Then by providing some fascinating contents to engage visitors is very beneficial as it will increase the traffic to your site by attracting visitor for visit your page repeatedly. In this blog, we will discuss some best WordPress Plugins to engage visitors.
As you know that time is an important factor and varies for every people. Time will be passed when you are busy with some interesting thing and it will felt like time taking while you are busy with some boring thing. Like this, it relates to engaging people towards your site when you put some additional attractive and engaging things, for that visitors will don't realize that how much time they spend on your site. It increases the live time that will best thing for increasing traffic to the site ranking of your page will be raised. Just have a look:-
Read More: 10 Best WordPress Lazy Load Plugins to Make Your Site Faster
Best WordPress Plugins For engaging Visitors to Your Site
1. Intercom

Intercom is basically a new way for your online businesses to interact with your customers. It is a way to communicate with your customer with a bundle of integrated outcome for every business like marketing, sales, product and support. It will authorize the main communication with customers on your site, within your internet and mobile apps, and by email.
This plugin can add Intercom Messenger to your site within a few minutes and ready to chat with your visitors and customers to your site right away. Customers, those are logged-in will be tracked in Intercom as users, and visitors who are not logged-in will be tracked as a guide.
They provide their services in three products:
Engage

– focused email, in-app and push messages

Acquire

– For live chat

Resolve

– Provide support services through in-app chat and you can merge another technician to your group to resolve the problem.
2. Ninja Forms

Ninja Forms are a free tool to create a form in WordPress. It will build the forms in just a few minutes by using a simple and strong feature of drag-and-drop form creator. Those users who are not well known of this plugin, they can also design easily and quickly a beautiful form without using code. For familier coders use built-in hooks, filters, and customizable templates for doing anything you want to do while building a form or at the time of submission it will use Ninja Forms as a framework.
Features of Ninja Forms:
A Beautiful and instinctual user interface.

Can build a number of forms, emails, fields, actions, or submissions, without any limitations.

Can alter your own field then save them as favourites templates to reuse in future.

Export and import the templates and your special fields.

Manage, Edit and Export form user submissions.

Provide task successful message or turn them to somewhere else after they complete a form.

Send Email of form details to administrators and/or users, whenever form will be processed.

Modify emails and attach raw HTML (for photos, videos, and more) with the effective summernote HTML editor.

It will submit the form by using AJAX and provide flawless experience to users without refreshing the page. AJAX submission can create problem while using a lower version of PHP 5.3. It can be handled by using an error message.
3. Disqus

Disqus plugin will provide a comment section. It contains its own section, widgets and total comments and communication can be possible via social media. Disqus is helpful to create income in the comment section by providing ads within comment section using reveal. It has strong system and number of tools such as spam filtering, blacklists whitelists and RSS submission options.
Features of Disqus plugin:
Simply can be installed that easily integrates with WordPress without writing any code or losing any of your existing comments.

It can engage your readers through best responding comments.

Bring reader back to your website with the help of email notifications and other.

Increase ranking of your site with user-generated content.

Integrate comments automatically to WordPress for backup and flexible to shift to a different platform.

Supports in several devices like desktop, mobile and etc.

It has analytics dashboard for calculating overall participation on your site.

With this plugin, the writer can get a built-in network of the Internet's most active commenters.
4. Custom Comment Form Title

Generally in default comments form of WordPress will provide a title "Leave A Reply" that will generate a problem to engage readers or to inspire them to begin a discussion or connect with conversation. With the help of this Custom Comment Form title plugin, default title can be changed instantly in something more interesting and engaging, then these custom comment form title on a post-by-post basis to really engage your readers. It will ask a question about compiling, leave an empty threat or make a bold statement. You can say whatever you want!
In some of the themes and frameworks will replace the comment_form_defaults function with a new one, distinctive function. This plugin has been tested with and it works with the following framework:
5. Buffer

This Buffer WordPress plugin will send updates to your account on the buffer for organised publishing on social media, like a Facebook, Linkedin Twitter, and Google+, when you update and publish your page of WordPress, Posts and custom post.
Features of Buffer Plugin:
Share your content on Pinterest boards, and receive Instagram notifications to post to Instagram on your mobile device.

You can use several media like photos, videos or image can be created with their services and immediately it can be shared.

Differentiate the different types of statuses for every Post, Author and provide separate options for every Social Network.

Status which is generated dynamically will update with Post, Author and Meta tags.

It is selected to display featured Images of WordPress with your status updates.

It will send your Publish and Update statuses.

Every particular status update can have its own individual settings.

Every particular status update can be added to the start or end of your Buffer queue, posted immediately or scheduled at a particular time.

Provide a flow of your social media management by systematic correlate with your team.

Publish long-lived WordPress content and refresh the previous posts with the Bulk Publish option.

Easily you can see the effect of marketing on your social media with the wealthy analytics. Conversations, engagement will give preferences to your site.
6. Social Warfare Plugin

This is the best sharing plugin for WordPress site. And it will get shares of your social media which is helpful to increase the traffic to your website. It is generated by the team of social media marketing experts and developers who are fulfilling of performance.
Most of the social sharing plugins of WordPress will slow down your Website, will not attract, and don't work as you want. This Social Warfare is very fast and beautiful.
It will provide the most attractive buttons that give attractive look without any complexity of screen size or resolution.

It will provide light and fast sharing buttons that will decrease the loading time.

You can select from top social networking sharing buttons including Facebook, Twitter, Google+, Pinterest, LinkedIn and etc.

When a visitors will visit your post button and clicks it, you can attach images to this custom tweets.

Generate in-post tweetable quotes that will make easy for your visitors to share.

Permit third-party developers to construct it and extend its features as it needed in the form of plugin add-ons. Locate share buttons anywhere you want with a shortcode.
7. BuzzStream

BuzzStream for your WordPress is a separate and highly organised for WordPress. You can easily bring your Buzz posts within a particular category of your blog, comments can be added automatically, links and images as they want to display on the buzz. It will manage the plugin.
Features of BuzzStream plugin:
Bring you all over buzz stream into your WordPress blog.

It will find full contact information, social profiles and site metrics for you. It is easy to give preference to most primary and powerful contacts.

By the setup of minimum delay will auto update new posts every time when anyone will visit your site.

Display comments in real time

Display links, images and wealthy media exactly as shown in buzz

Geolocation Integration >new<

Can select the user to assign imported posts

Show links in real time >new<

By using advanced tools you can be demonstrated in a better way on google.

You can add themes and change the layout to customize it.

By giving ade in your post, you can make your stream.
8. Image Widget

By using this Image Widget plugin you can make your website like the most visiting site. It uses the WordPress media manager to add this plugin to your site. It can show the images in a random way, will attach the slideshow and lightboxes. Image Widget controls the setting of the image like alignment, size, and title.
Features of Image Widget plugin:
Responsive to any device's screen.

Can set the size and alignment of the image.

Can attach the link to the image.

MU compatible

Can display title and description of the image.

All fields are optional and can change its place.

By using the filter hooks and overriding of themes, you can change its view.

By using the built-in box browser, you can Upload, provide the link to an image or can select an image.
9. Category Posts Widget

This is a light widget designed to do one thing in better way To display the newest posts in a specific category. Category post widget will decrease the effort of user's search formula by dividing it into the list of category, that helps you to engage your page visitors.
Features of Category Posts Widget plugin:
Can alter the list of post.

The layout will be supportive and responsive.

The Sidebar is available in the Vertical and horizontal way

Will provide full background images of the post.

It supports E-mail service

Support many shortcodes in the same post

For change post formats you can use SVG font-icon

Having predefined Templates

Categorised by post status: private, published, scheduled

For inserting shortcode they attach UI buttons in the editor toolbar.

Provide the option to modify the order of posts, to put a thumbnail on top, to display the date of posts, to show the author of the post, etc.

Provide multiple widgets and multiple site support.
10. Business Contact Widget

For displaying contact details of your business sidebar is the best option. These plugins generate a widget to display the contact details in a very good manner which easily recognized by eye. It displays all information of a contact in tabs, so only one contact portion will display at a time. Inserting the contact forms and Google Maps is also possible.
Also, this plugin will help to attach address, phone number, and mail id in tabs. It contains a plugin admin page, from that you can change anything from the contact details to show in the tabs.
Features of Business Contact Widget plugin:
Displays the contact details in jQuery tabs.

Shows more than two addresses.

Can add a telephone number with your contact details and three personal telephone numbers.

Display a button to submit the contact forms.

Provide the Google maps of any contact location.

Can display the main mail address with its 3 personal mail address.

You can set the icon in standard and modern.

Display opening of your business.

Can modify the color of tabs into some given colors.

Both vertical and horizontal tabs are available.

Can the size of icons.

Manually you can load jQuery.

Any problem will resolving process will display in the Troubleshooting section.

Can select the specific tab section to show on each widget.
We hope that this blog helped you completely. If you're looking for someone who can help you with WordPress security then you can dial our WordPress technical support number +1-855-945-3219. As we will be glad to help you.
Some of our Other Useful Blogs: