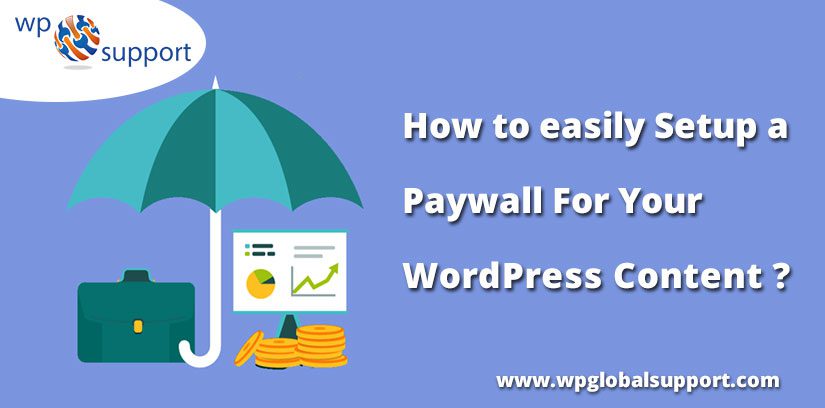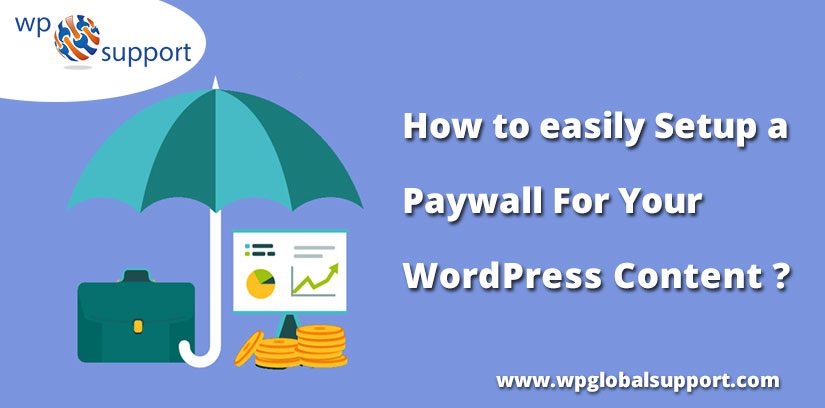 Do you want to know how to easily setup a paywall for your WordPress Content? So through this guide, we are going to help you. There are different ways to validate your WordPress site. It is difficult to make a decision selecting that whether you protect your WordPress content by a paywall or not. And also it is difficult to understand the way to apply this feature on your site. This decision also depends upon the type of site you want to build.
In this article, we will describe some of the simple paywall solutions here. Each one will provide different ways of payment and other Paywall solution will be fully-fledged plugins.
A plugin is defined as a type of software that contains a group of functions that can be added to a WordPress website. They are used to provide additional functionality to your application
What is a Paywall
A Paywall is a system that designed to validate online and other digital information by blocking users to access the content of your webpage without any paid subscription. Sites of online news and sports are the most visited users of paywalls by applying any hard paywalls.
Restrictions on content in hard paywall are much more rigid than other will permit either no access or minimal access to free content. So, that means it is locking the content on your site. But in some of the websites, anyone can browse, visit and read posts.
Some of the pros and cons of using a paywall
A paywall is not best for each website. If you are providing a content that can be accessed from elsewhere. The visitor will easily click on your website and go and come into from somewhere else.
Pros:
Required income:- It is very clear that this is the advantage of using a paywall. Selection of content-based sites is difficult. It contains affiliate links, advertising, and contextual ads are useful to make money by people visiting your site. By stopping your content with a paywall gives a flow of monthly income.
Maintenance brand intelligence:- If you will stop your content with a paywall, the visitors will recognize your content and can apply higher quality than sites that provide anything for free. It will maintain that way that the customers will view your brand.
Make a group:- By building a group for the brand of your site is helpful to increase and make able to comfort as competitors to push out by as much content can have. It can be helpful to your users they feel like part of a group of just simple readers.
Cons:
Less Traffic:- Having a usual flow of monthly required income, it is the best way to maintain the financial condition of your website, but by stopping your site's content behind the paywall will decrease the number of people who want to visit your site and open your content.
Lack of interest from advertisers:– Paywall will provide less traffic to your site. It may occur problem if your site will not provide advertisements and sponsorships, that plays important role in the income flow of your site. Without any advertising, it may look less interesting to put money in your brand if the traffic of your site will be drop.
Higher expectations:- If you will use a paywall to put your content behind it, the people will think it to be a higher quality. It may generate a problem if you don't have the facility to give high-quality content to your site readers that feels like not any benefits to pay for this.
SEO issues:- By implementation, a paywall is not beneficial for SEO scores of your site as it may be visible in few results. Best thing is that you may be capable to avoid this by estimate your site.
Types of Paywalls
Pay per view

Subscription

Free trial
Pay per view:
The pay per view paywall is as feet as its name. It is a premium option but to do these things of a paywall, it is the best choice are available. If you already have a membership of this, it doesn't have the brain to use this. It can be used in the partial posts, posts, audio, video, and files, you can get one-time payment or repeating subscription and it is entirely connected with Paypal so here you have to sign up to any other payment gateways.
As the articles posted by the admin of a WordPress site are called posts. Also, Payment Gateways are implemented for bringing in sales is an important part of an online business. The most important thing is to choose the right method that will help you to accept payments.
Usually, it is reserved for those sites that have the feature to find information which is very demandable. Like a medical publication are providing an article about the behaviors and health issues would be the best option for this model. Because generally the visitors only visit and read one article for analysis purpose in between many people who search for medical journals.
This plugin also contains themes, security, backup, support, and much more. You can observe the free experience for the first month otherwise you need to pay $49 for a month.
Theme is a group of stylesheets and templates that are used to describe the appearance and display of a WordPress site. Templates are those files which control how your WordPress site will be displayed on the Web.
Subscription
In this model, users will pay a fee and will obtain unlimited access to your site for a specific limit of time. Once the subscription will be finished, the content is blocked for that user unless they regain the subscription. It is the best way for publishers across the world that takes charge of a content.
Free trials
This model will provide free access to the site to visitors for a limit of time before subscription. By implementing this way the visitors will figure out the type of content in the specific time before they need to pay for it. This model will provide three way to go for free and paid content.
You can provide a free trial where the visitor can access the content for a period of time.

Can provide some content as free for everyone and some content can be accessed only by paying members.

You can provide the reader's accessibility of some articles free for a month.
Difference between a Paywall and a membership
It is very simple to differentiate between paywall and membership. A paywall will stop the accessibility for some specific content or for every content of a site until visitors don't pay. There is only one stage of pricing for paywall but in a membership, the website contains several pricing stages that provide a particular set of features.
It is very important to understand the difference between these two types of sites, it helps to take a decision that which type of site you have to build. If you had a new company or running a heavy content site as a magazine, then a paywall is useful to you. If you are providing different types of content as well as premium sites and plan to build a group, then membership site is best for you.
Setting up a paywall for your WordPress content
For set up a paywall on your site you can apply two different ways. You can use a paywall or develop a membership site. There are some different paywall solutions:
Leaky Paywall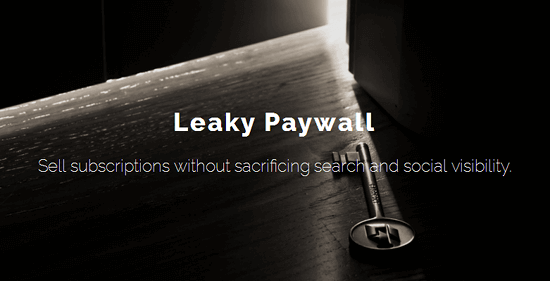 This Leaky Paywall is best for bloggers, magazine, and news sites that important content to be located in Leaky Paywall and shared in social networks. You can set your meter into a site that allows your readers to see X number of free articles before any need of a subscription.
You can provide one or different pricing stages, and you can set up one pricing stage for providing accessibility to different sub sites with the combination of the plugin with WordPress sites. It also capable of email marketing, here you can provide free tier at the place of the email address of visitors. You can use it free of cost or add-ons are also available.
Pay Per View
Pay Per View is the best choice if have need of complete paywall plugin. It is the very usual way that provides facility to take a fee to the people for one time, for per-post, for certain limit of time, or for a subscription. Here you can sell accessibility to text posts, tutorials audio, videos, eBooks, or other things.
This paywall model is very useful for earning money, by connecting the plugin with your existing PayPal account. When a visitor needs to pay, then from here the charge will be deposited.
The best feature of this paywall is that it allows visitors to log in to their social media accounts. By this facility, the reader doesn't have to remember any other username and password and directly access the blocked content.
Memberful
A well-founded membership plugin that combines your site with memberful. Memberful is a favour for selling the subscription to your site with Strip.
It will synchronize your data with memberful membership with WordPress.

With the single sign-in members will automatically sign in WordPress when they sign in with Memberful.

Create a paywall and disallow to access to content according to membership and protect any pages or posts from your WordPress screen.
Will provide a widget with links for sign in and control their account such as update, cancel, the credit card and etc.
Provide choices to create RSS feeds. If you want to know more then read our article on What is RSS and How to Use it with WordPress?
Wrapping Up
That's all on our behalf and we hope that this article helped you completely to set up a Paywall for your WordPress Content. Please mention your thoughts via comments below.
In addition, keep an eye on the very blog and our website www.wpglobalsupport.com as: We will be adding more resources for WordPress in the coming weeks.

Get more information related to a wordpress contact wordpress support phone number, +1-855-945-3219(Toll-Free). Our Experts will guide you instantly.