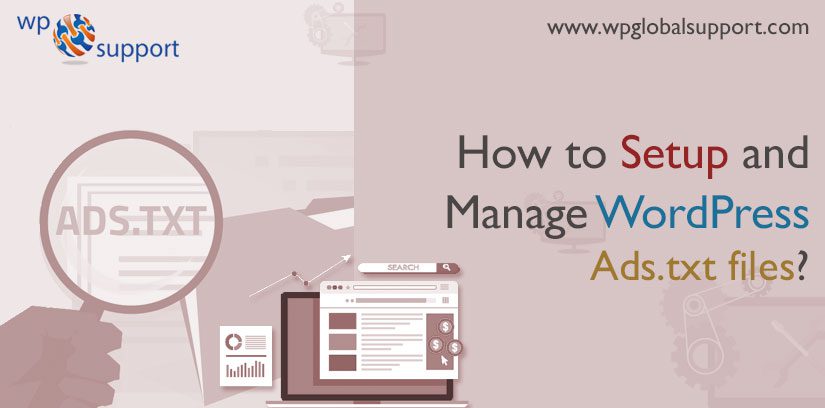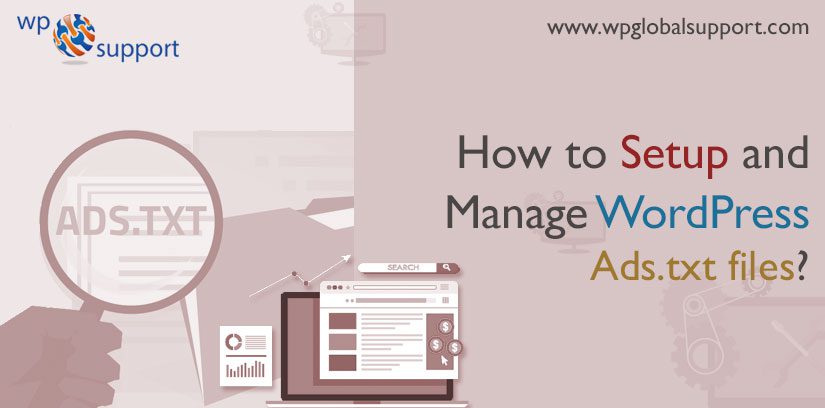 Struggling To Setup and Manage WordPress Ads.txt files? The "Authorized Digital Sellers" = "Ads.txt" is a program designed by the IAB (Interactive Advertising Bureau) intended for reducing the fraud in ad inventory. And too can potentially increase your ad revenue.
It supports, promotes, authenticates and improves the transparency in advertising for online publishers. This will stop scammers from making money in the digital marketplace by blocking unauthorized inventory sales.
In this blog, we will illustrate you how to easily create and manage WordPress Ads.txt file.
What is the Ads.txt all about?
In simple words; The "Ads.txt" contains a list of publisher accounts. Which is completely authorized by the website owner. From which the ads can be represented on the website.
Ads.txt will avoid false ad placements from the unknown source accounts and might help to improve and secure your security.
It is the simplest idea for the ad publishers to specifically represent the buyers. Who are registered to sell their ads on the website? By using Ads (Authorized Digital Sellers) text file.
It is the latest innovation, which tries to overcome the action of bad users works. And to get from arbitrage (profitable ad slots) ad inventory in the digital marketplace. As discussed above: "Ads.txt" is a reasonable initiative introduced by the IAB (Interactive Advertising Bureau) Tech Lab to support, promote, authenticate and improve the transparency in advertising for online publishers.
Ads.txt is similar to the infamous Robots.txt file. Where Robots.txt is the practical implementation of that standard – where it allows you to control the interaction of participating bots with your site. These bots can be entirely restricted to access certain areas of your site, according to your wish and more.
Robots – They are any type of "bot" that visits websites on the internet. These bots "crawl" across the web to help search engines like Google index and rank the billions of pages on the internet, one such common example of these bots are search engine crawlers.
As search engine is a service which allows all internet user to search for any content, query, and product throughout the world wide web. When the users search something on the search engine the words used by him/her to search are known as keywords or key phrases.
It is a "plain text" file that is hosted on your root domain and at the top level of your WordPress website. Hence, it contains a list of authorized sellers of your advertising inventory. The starter is supported by Google's advertising platforms such as Google Adsense, Doubleclick, and Ad Exchange. Ads.txt is also supported by many other leading digital advertising platforms.
As Google AdSense feature lets you show related posts in WordPress while also make money by showing ads alongside. It helps you to drive more traffic to your website. Because higher rank in search result generates the traffic on the site as well as increases the brand's position and works as a key to business assets.
Why is Ads.txt file important?
The very first thing is that Ad fraud cost millions of dollars. It damages to online advertisers and publishers each and every year. Users who face the malicious intent continuously try to resolve ad platforms with domain spoofing, fake clicks, fake impressions, and much more.
Such files improve the transparency in online advertisement. And they do it by allowing the publishers to announce who can sell their ad inventory and who can't.
How does Ads.txt work?
Hence, the working of Ads.txt is as: If you are an advertiser and someone says you that they can display your ad on a particular website. Then you can move further and check out website's file of Ads.txt. Ads.txt is a file which is attached to your domain. And that allows the publishers to classify who can serve authentically their ad inventory in front of buyers on your website.
For example; http://www.yourwebsite.com/ads.txt. After that Ads.txt will automatically produce a text file on your domain. To ensure that you are only showing ads from approved digital sellers and you have authorized on your page. This approach allows the publisher to check whom they have registered and whom they have not.
How to Create and Manage WordPress Ads.txt Files?
Therefore, the very first thing to do is install and activate the Ads.txt Manager plugin. For more information, visit our step by step blog on How to Install WordPress Plugin.
After activation, you wish to follow out the path as Dashboard >> Settings >> Ads.txt page to configure plugin settings from your PC.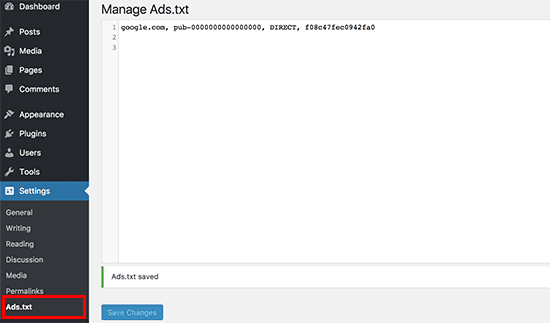 Now the plugin provides a simple text area where you can add lines to declare each individual platform or reseller by own. Like, you can type the following lines to declare the Google Adsense.
Where plugin is defined as a type of software that contains a group of functions that can be added to a WordPress website. They are used to provide additional functionality to your application.
google.com, pub-0000000000000000, DIRECT, f08c47fec0942fa0.
Whereas, never forget to replace pub-0000000000000000 with your publisher ID which you have your own.
As illustrated above, the line has four fields separated by a comma. The very first field is the domain of the company which is allowed to sell or resell your ad inventory. Thereafter the field contains your publisher ID which indicates to your account ID in the advertising platform.
The second to last field declares relationship type: DIRECT or RESELLER. The last and least important field which is optional. And thereby, it represents an ID of the advertising platform. For all the Google advertising programs, you will use the same unique ID you have your own.
Troubleshooting Adsense Earnings at Risk Error
Detecting Adsense earning at risk error is not a huge task. Even a missing declaration in your ads.txt file may result in the warning message in your Google Adsense account.
Earnings at risk (Error) – Even more than one of your ads.txt files does not contain your AdSense publisher ID. This too include such errors: Fix this now to avoid severe impact to your revenue.
Such message represents that your ads.txt file does not have your publisher ID. And to fix such error messages.
Consequently, follow out the path as Settings » Ads.txt page which makes sure that you have correct publisher ID in plugin settings or not.
Note: Hence Ads.txt file is supposed to be stored in the root directory of a domain name. That plugin currently works only for root level domain like "example.com".
This plugin doesn't work for WordPress installed in subdomain, subdirectory, or a single site in a multi-site network.
Conclusion
Here, in this blog, we have discussed how to create and manage WordPress Ads.txt files. Often to conclude this we have added its definition, importance, working. After that, we illustrated the creating and managing process of the very task. There onwards we added the troubleshooting of Adsense.

We hope that this article helped you completely to make a post private WordPress. Talk to our WordPress Technical Support Experts to get rid of issues related to WordPress by dialling our Toll-Free Number, +1-855-945-3219.