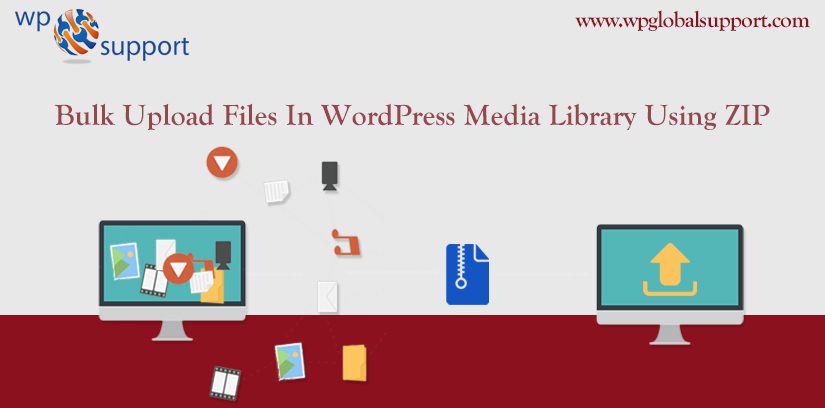 WordPress is an incredibly powerful platform that allows users to create and manage websites with ease. One of the most important features of WordPress is its Media Library, where you can store and manage all your images, videos, and other media files. However, adding a large number of files to the Media Library can be time-consuming and tedious. Fortunately, WordPress provides an easy solution to this problem by allowing users to bulk upload files using ZIP. The. A ZIP file may contain one or more files or directories that may have been compressed. This format is now supported by many software utilities other than PKZIP. Consequently, when you upload that ZIP file the plugin will extract all the files which it contains inside & register them to the WordPress library.
Struggling with How to Bulk Upload Files to WordPress Media Library using ZIP? So, users don't worry. In this blog, we have shown you the best ways to solve this issue. ZIP is an archive file format that supports lossless data compression. If you do not feel comfortable with the FTP method then we found a neat bonus plugin called Upload Media by Zip for doing this.
Why You Might Want to Upload Images and Files in Bulk
Bulk uploading files and images is a useful feature that can help you manage your website's media library more efficiently. The process involves selecting multiple files or images and uploading them all at once, instead of uploading each file individually. The time-saving benefits of bulk uploading are significant, as it eliminates the need to upload each file one by one. Additionally, it makes it easier to keep your files organized and avoid the confusion that comes with uploading files individually. The flexibility of bulk uploading allows you to upload files in various formats, including images, videos, and documents. This feature is especially helpful for bloggers, photographers, and web developers, who may have many files to upload at once. Bulk uploading can also improve the user experience on your website, ensuring that visitors can access all the necessary files without having to wait for each file to download individually. Furthermore, bulk uploading can serve as an effective backup for your files, ensuring that you have a copy of all your files in case of any loss or damage to your computer or storage device. In conclusion, bulk uploading is an essential feature that can help you save time and manage your website's media library more efficiently.
Bulk Uploading Files in WordPress Media Library Using ZIP
Bulk uploading files in WordPress Media Library using ZIP is a convenient and efficient way to upload multiple files at once. The process involves compressing multiple files into a ZIP file and then uploading them to the Media Library. Here are some points outlining how to bulk upload files in WordPress Media Library using ZIP:
Install and activate the plugin. If you don't know then take a look at how to install a Plugin in WordPress. After activating you will get a new upload and extract ZIP archive option in your WordPress Website Editor.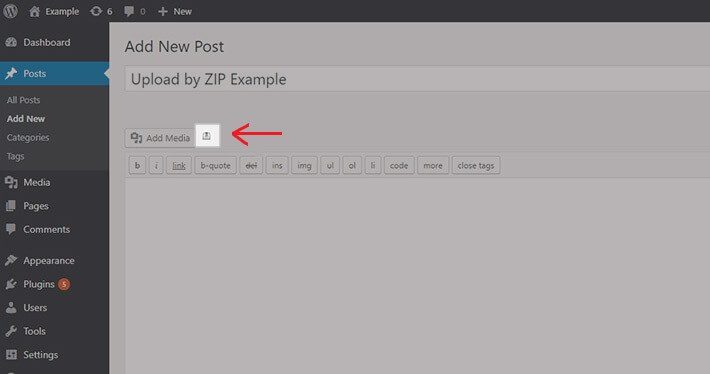 However, if you press that button. Then you may select your ZIP file and whether or not to delete the ZIP file after uploading it from your PC.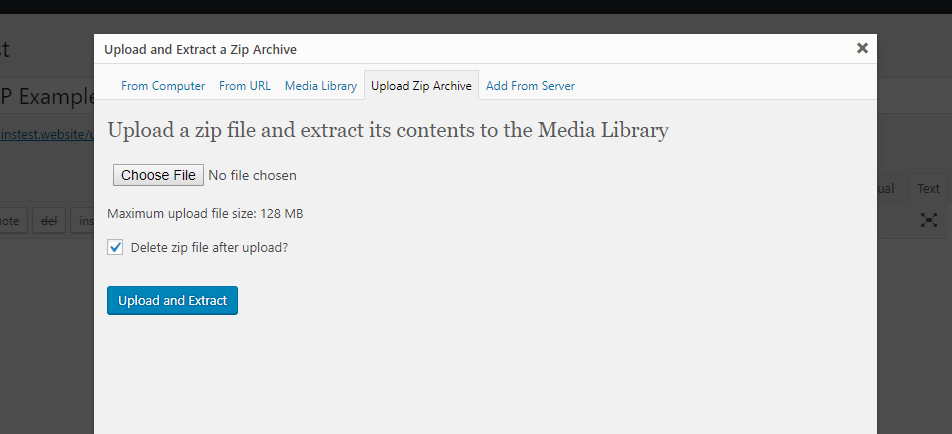 Thereafter, you will be looking at a success message of all the files that were extracted on your working window page.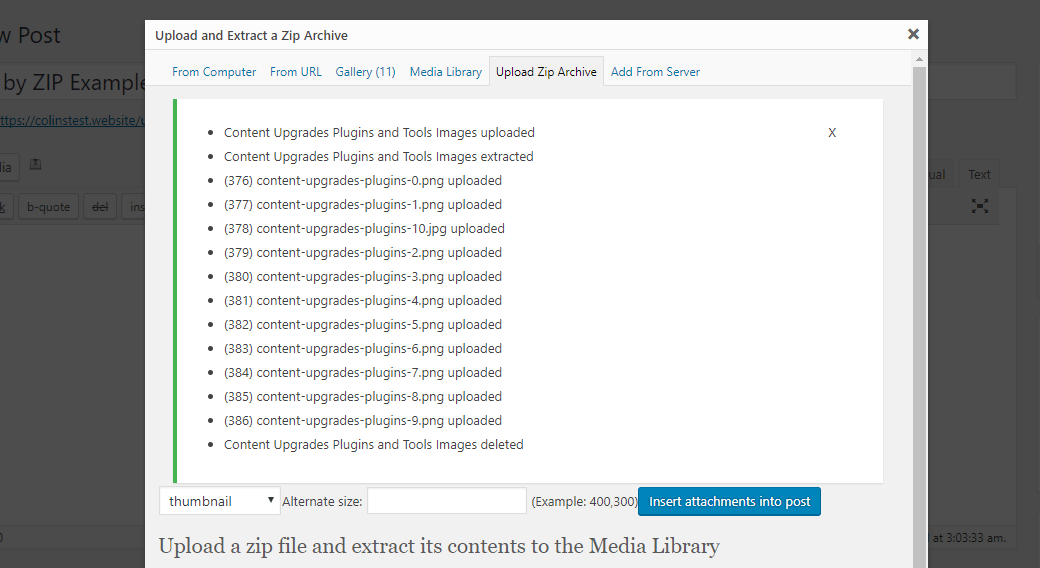 Thus, all the files which you have uploaded just in the same manner. Is it attached to the very post you are working on?
Whereas, you may also upload a ZIP file outside the WordPress Editor. For this, you have to follow the path as Media → Upload Zip Archive.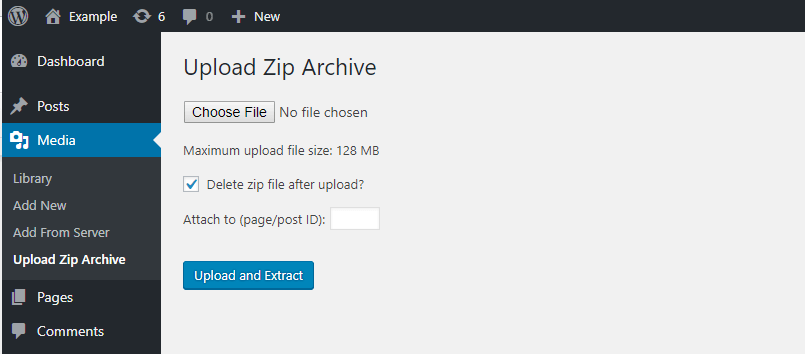 The very plugin does not provide you quite much flexibility as FTP. But it is easy to use and will definitely save you a little bit of time. If you find yourself often working with ZIP files.
Alternative methods for bulk uploading files to WordPress
Apart from bulk uploading files in WordPress Media Library using ZIP, there are other alternative methods that you can use to upload multiple files at once. These methods include:
Using FTP: FTP (File Transfer Protocol) is a method of transferring files between your computer and your web server. Using an FTP client, you can upload multiple files to your WordPress Media Library by simply dragging and dropping them into the designated folder on your server. This method is suitable for users who are comfortable with using FTP clients and have a large number of files to upload.
Using a plugin: There are several plugins available in the WordPress repository that allow you to bulk upload files to your Media Library. These plugins offer various features, such as drag-and-drop functionality, automatic compression of files, and the ability to upload files from external sources such as Dropbox and Google Drive. Some popular plugins for bulk uploading files include FileBird, Media from FTP, and WP Media Folder.
Using a cloud-based service: Cloud-based services such as Google Drive and Dropbox allow you to upload multiple files to your account, which can then be accessed from your WordPress site. You can use plugins like WP Media Folder and WP File Download to connect to these services and manage your files directly from your WordPress dashboard.
Each of these alternative methods has its own benefits and drawbacks. It's important to consider your needs and preferences when choosing the best method for your use case. Whether you choose to use FTP, a plugin, or a cloud-based service, bulk uploading files is an effective way to streamline your workflow and improve your website's user experience.
FINAL THOUGHTS
Having the knowledge about How to Bulk Upload Files In WordPress Media Library using ZIP can save you time. Whenever you are working on another WordPress Website.
We hope this blog helped you. In addition, keep an eye on the very blog and our website www.wpglobalsupport.com as We will be adding more resources for WordPress in the coming weeks.
Need Instant Support related to WordPress, dial our WordPress Technical Support number +1-855-945-3219(Toll-Free). One of our WordPress Expert will help you to resolve your issue and guide you promptly.