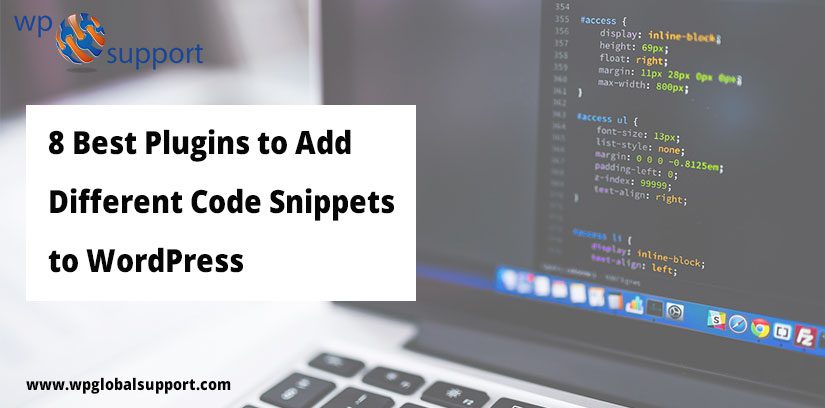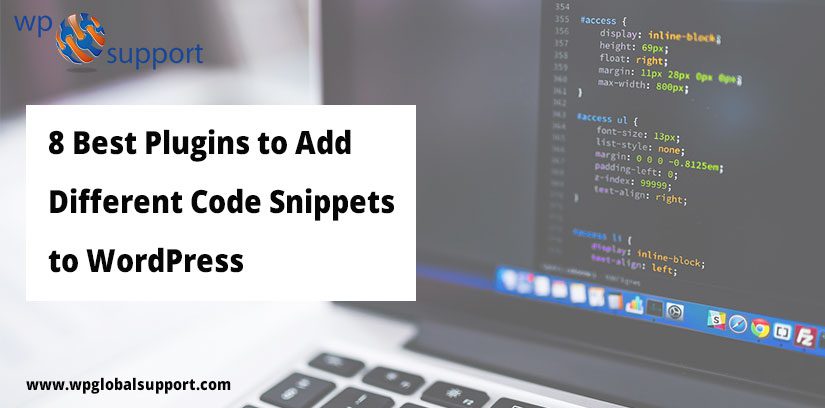 Have you ever tried to Add Different Code Snippets on your WordPress site? Adding a custom code to your active WordPress theme does not necessarily mean that you do not need to have any coding knowledge to work on hand. For this, we add code snippets to the working website.
Where a WordPress theme is a group of stylesheets and templates that are used to describe the appearance and display of a WordPress site. A WordPress theme changes the layout & design of your site. Whereas WordPress Templates are those files which control how your WordPress site will be displayed on the Web.
However, you should know what the code does, and how it works. Here, arrives a question, what can you do to add minor code snippets to your WordPress site correctly? Thus, in addition to a custom child theme coding. There are several plugins that enable you to implement a custom code. Into a virtual area of your WordPress Site.
Thus, this is what we are elaborating here! Keep reading The Best Plugins to Add Different Code Snippets to WordPress Site?
Plugins to Add Different Code Snippets to WordPress Site
Following are the best plugins to do so. However, all the plugins given below allow you to quickly apply custom code to different types of programming languages.
Where a plugin is defined as a type of software that contains a group of functions that can be added to a WordPress website. They are used to provide additional functionality to your application.
Somehow, this helps you to modify and customize your WordPress Website directly from your site dashboard.
1. Code Snippets

The code snippets plugin allows you to easily create and apply any number of PHP snippets using the familiar system, similar to the plugins page. When using this WordPress plugin to add custom code, you are able to keep track of your code snippets.
This WordPress plugin also includes a code snippet manager for activating or deactivating the snippet and maintains the code snippet for future use or reference.
2. Easy Custom CSS/JS

This plugin is an impressive solution. Easy Custom CSS/JS allows you to implement custom CSS and JavaScript code on a custom WordPress Site. This plugin is different from other similar plugins because it has the ability to add responsive-specific CSS code.
As CSS stands for Cascading Style Sheet. Also, these are the documents which contain the styling rules that can be applied to HTML or XML, (along with some structural formats).
It also provides full CSS preprocessor support for low and SASS code. Also, easy custom CSS/JS gives you the option to add custom CSS and JS code based on per-post. As SASS help speeding things up for you.
3. Head & Footer Code

It is a common requirement for the various scripts and services (eg Google Analytics) of your WordPress website </head> and/or </body> tags. Before inserting a custom code you can perform a daunting task. if and only if you are not a developer. There is a lack of experience in implementing custom code.
So this is where head and footer code plugin comes in hand. Using the Dashboard, you are able to quickly and easily apply a custom code to your website.
This allows the head and footer code plugin to correct position. And to locate a specific location for you.
4. Simple Custom CSS and JS

Simple custom CSS and JS plugin offer a simplified method of creating custom CSS and javascript code modifications on the custom WordPress website. Through your WordPress Dashboard, you can easily start adding your custom code snippet using the built-in code editor.
Where WordPress Dashboard can be accessed from the Admin Area, as Admin area is also known as the administration area in WordPress website where only an authenticated user can make changes.
This WordPress plugin comes with something in the name of additional and useful features such as syntax highlighting, code location options, and front end and end admin support, to add custom WordPress.
Where Syntax highlighting displays codes in different colors as term of highlights for easy readability. Hence so Simple Custom CSS and JS is an ideal plugin for adding custom CSS changes to your site.
5. Simple Custom CSS
The next WordPress plugin to add CSS tweaks is trusted over 300,000 active installations. Simple Custom CSS is a lightweight solution that lets you easily add custom CSS to your WordPress website.
From your WordPress Dashboard directly, you can use the code editor page provided to any amount of custom CSS code given in your active WordPress theme easily.
Your custom CSS code will also be preserved, you need to update (or replace) your currently active WordPress theme. If you need to add large blocks of CSS code then this plugin is ideal.
6. My Custom Functions

My custom function is a simple WordPress plugin to add custom code and insert the PHP code snippet. This allows you to easily and easily implement any PHP code in your WordPress website, more importantly.
When using this plugin, you can simply add your custom PHP code to the area provided, which is equipped with syntax highlighting, line numbering and the ability to use tab indentation.
7. Custom CSS Pro

Custom CSS Pro WordPress Plugin allows you to add any custom CSS code to your WordPress website in a convenient way.
This free WordPress plugin offers some simple features, including real-time live preview and line coding, so that the management of code editing can be easy.
8. PHP Code for Posts

Regardless of the name, the WordPress Plugin PHP code for posts. Does not allow you to insert custom PHP code directly into your WordPress posts, but also in pages, custom post types, and in any sidebar of your WordPress Themes. Implementing any custom PHP code using the WordPress Dashboard can be a daunting task.
Therefore, this WordPress plugin was developed to easily simplify the process of applying any amount of custom PHP code snippet.
Wrapping Up:
Here, in this blog, we have discussed The Best Plugins to Add Different Code Snippets to WordPress Site?
Often we concluded all the seven plugins with detail. They do add value to any blog post. And, this leads to the end of the blog.
We hope this blog helped you. If you found the blog useful, do not forget to use the comment section provided below. Also, share the blog with your peers. You are on your way to getting more exposure.
If you are facing any error feel free to contact our WordPress Technical Support Team. Get the instant support by dialling our Toll-Free number +1-855-945-3219.