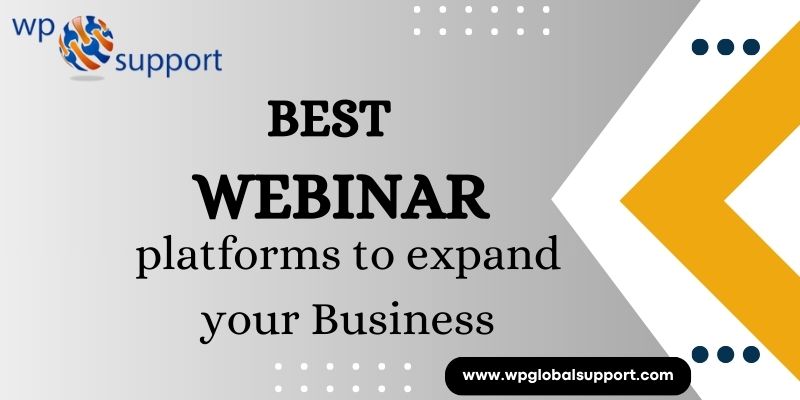 Webinars have become crucial in today's world, especially after the lockdown of Covid-19 as they provided platforms to run businesses, classes, and other regular day-to-day activities during that difficult time. These Webinar Platforms provided a sense of normalcy and helped deal with the trauma in one way or another. In this blog, we are going to share some of the Best Webinar Platforms that have helped us during that time and still continue to make our lives better.
Some of the Best Webinar Platforms Are:
1. Google Meet:
In 2020 Google launched its video communication service platform called Google Meet. It replaced the other application Google Duo. You can link Google Meet with your personal Google account for webinars with 250 attendees. You can invite your friends and family over this webinar and can join by simply typing your meeting code.
Steps to Start A Google Meet:
To start a Google Meet call on a desktop, visit the Google Meet application. Click Start New Meeting then you will be prompted to log in to your Google account. Then allow access to the microphone and webcam and then click Join Now to begin.
Pros of Google Meet:
Free to use
Works on any device either a cell phone or desktop
Live recording available
Password protected
Virtual backgrounds
Cons of Google Meet:
Allows a limited number of people to connect.
Meetings are allowed for only 60 mins of timespan.
2. Webinar Jam
If we discuss the latest webinar jam platform. It is a cloud-based broadcasting technology that allows you to interact with up to 5,000 people in one presentation. It is an effective platform to sell products and make it easy for an attendee to buy a product. It is one of the top-rated webinar hosting software with a high-quality video engine, and diverse and easy-to-use engagement tools at an affordable price.
If you want to try out webinars for your b2b business as a marketing channel, you have landed in the right place. You can easily log in with your personal email address without much hassle.
Pros of Webinar Jam:
Us-based company
Easy to set up
Easy to integrate with other platforms
Duplicating successful webinars is simple
Cons of Webinar Jam:
Does not have a user-friendly editing platform
It does not allow more integrations with other platforms
3. Zoom:
Zoom software is a communication technology that provides online chat services, messaging, voice calls, and video meetings through a cloud-based peer-to-peer software platform. You can also host a webinar with Zoom, and if it's under 40 minutes and has 100 participants, then it's free.
Zoom provides a lot of promotional tool features that other free tools don't have. Using this requires an internet connection and a supported device. Some features are one-on-one meetings, group video conferences, screen sharing, and recording. For large companies, it requires an additional subscription.
Pros of Zoom:
Allow to host very large online conferences.
You can easily stream your meetings even on social media platforms
You can use Zoom for free
Beneficial for large business
Cons of Zoom:
One subscription is not enough for Zoom
Free meetings have a 40-minute limit only
HD video is not standard
4. Youtube:
A free video-sharing website YouTube makes it easy to watch online videos. Through this, you can create your own videos and upload them to share with others. Now it has become one of the most popular sites on the web. All types of videos are available if you find on YouTube, including quick fashion tips, tutorial classes, cooking demos, and a lot more. One of the best ways to host a webinar and it is free and easy to have as many viewers as you want.
Pros of Youtube:
There is no cost for uploading and watching videos.
Easy way to earn money by creating and uploading your own videos.
It's properly accessible to use
Easy way to share a lot of information in a short time
Cons of Youtube:
Video is public which causes doubt about the security
High Competition
There are many restricted rules
5. Zoho Meeting:
Now we know about another well-known webinar platform Zoho Meeting, a web-based tool that lets you host and attend online meetings without downloading any software. A versatile web conferencing tool hosting online meetings and webinars with audio and video. Record your meetings and share them online to download. By dial-in numbers, you can easily join discussions over the phone.
Pros of Zoho Meeting:
No requirement to download for use
Screen sharing is easy
Audio and video options are available
Cons of Zoho Meeting:
Does not brilliantly support meetings
You would need to pay to use the app
6. Webex:
For today's business, it is more important to have the right platforms in place for communication and collaboration. If you are hosting the meeting only from an audio conference use Webex. It is a multi-functional desktop video or audio conference call application that allows you to meet with anyone, anywhere, from the office or home. It supports wide access to the internet or if you have the application on your iPhone, Android, or Blackberry you can also connect with anyone. If there are more than 8 number of individual participants consider using the Webex platform. This is a meeting center for Windows, HD video, and online chats.
Pros of Webex:
Offers a wide range of features for online meetings such as screen sharing, and document collaboration for team collaboration.
The quality of audio and video is high, providing clear communication during meetings.
Provides advanced security features including password protection and meeting lock which help to protect the privacy of meetings.
Offers scalable plans for the business of small teams or large enterprises.
Cons of Webex:
Cost is too expensive as compared to other web conferencing
The quality of meetings depends on the subscription plan which may be not sufficient for large events.
7. Adobe Connect:
The new application delivers a modern user interface, Adobe is software suited for remote training, web conferencing, presentation, and desktop sharing. This makes Adobe one of the most interactive platforms for e-learning and business meetings. It enables instructors to recreate the learning environment of the physical classroom and maintains learner attention using features like chat custom apps and more.
The host manages who enters the session through audio, video chats, and annotations. With this, you can easily enable the eLearning system across the organization. By giving Mike access to the attendees you can control the meeting. We can also restrict who joins the meeting to prevent privacy.
Pros of Adobe Connect:
Provides a lot of features such as chatting with participants, and creating groups.
It allows sharing of screens and documents while conducting meetings.
A large number of joiners can join the conference.
Cons of Adobe Connect:
It requires a good internet connection during the conference.
It needs a good bandwidth to operate.
Buffering in the video may occur sometimes.
8. Livestream:
Current popular live streaming apps include Facebook Live, Instagram Live Stories, TikTok, etc, The live stream is an Internet-enabled device, like a smartphone or tablet. This technology lets you create, watch, and share videos in real-time like TV. Some live stream video conferencing like Skype, or Zoom can be private. Whereas some live streams are public and might be watched by hundreds of people. Over there you can easily broadcast anything you are doing all across the world. This platform is an excellent tool to create own identity and develop communication skills for children and young people if used in a positive way.
Pros of Livestream:
Free live streaming opens the chance to meet new potential clients and paves the way for new business.
Easy to set up any device with smartphones and tablets.
New opportunity to create your own identity.
9. Demio:
The platforms come with capabilities, that enable organizations to personalize meeting rooms using custom logos and colors to establish brand identity. Demio is a cloud-based solution designed to develop businesses and manage clients. Use to engage, communicate, and build relationships with your prospectus customers. This software enables webinars with both video and audio features and there is no need to download the application. This platform supports conducting training and educational webinars. It is made for marketers with a suite of built-in promotion tools.
Pros of Demio:
Provides 14 days of free trial.
Include main features like live chat and document handouts.
Integrates with many common marketing tools.
Cons of Demio:
It consumes a lot of internet bandwidth.
It is a paid app with a different subscription plan.
This tool doesn't have several features as compared to other platforms.
10. Click meeting:
Clickmeeting is considered one of the best webinar platforms and is a feature-rich, browser-based platform. It is suitable for freelancers and all types of organizations with international prices.
It has proven as a multi-purpose application dedicated to managing various types of online events such as online meetings, live webinars, on-demand webinars, and huge virtual events. It has been chosen and loved by thousands of marketers and managed worldwide and you don't have to worry about your data and privacy.
Pros of Click Meeting:
The platform required less effort to use for both host and attendees.
Offers multiple functions
You can access it on any device via desktop, mobile, and tablet.
Friendly and simple interface
Cons of Click meeting:
Sometimes it gets hard to join the meeting due to server and connection issues
No option for changing the virtual background
There is some network issue sometimes.
11. Dacast:
Dacsat offers an all-in-one video streaming platform that enables businesses to host their audiences. Some key features are live streaming, VOD hosting, white label video player, analytics, and global streaming. It is best suited for businesses and some common cases such as enterprise streaming, media, entertainment, sports, and broadcasting. These platforms offer a range of pricing plans according to needs and budget. It even allows a 30-day free trial to test its platform before committing to a paid plan.
Pros of Dacast:
Convenient and Easy-to-use platform
Customizable video player
Secure video hosting
Cons of Dacast:
Limited bandwidth on lower-tier plans.
Cost is high as compared to other webinars.
12. Gotowebinar:
The applications of GoToWebinars provide vast and wide platforms for businesses and sole proprietors helping them to create online and video conferences with their customers. This software is an excellent option for development in business and professional who wants to extend their reach to their target audience without having to interact with them physically. Gotowebinar is a simple and user-friendly platform and is the top self-service webinar for many companies.
Pros of Gotowebinar:
Tools helpful to promote your event effectively.
Engage your audience fully.
Easy and quick planning set up
Cons of Gotowebinar:
Costly compared to other platforms
Only accommodates 100 webinars
Requires downloading specific software to be able to access
13. Webinar Ninja:
One thing associated with webinar software is online meetings. That is what makes Webinarninja special. It is an all-in-one webinar software that makes user planning easier and launches live events and presentations. There is even a chat feature to chat with your audience and tools to help with online registration. You can edit the registration page even without any experience with web design and you can easily change the colors and update different registration background pages. The applications enable professionals to modify, remove, and store pictures.
Pros of Webinar Ninja:
The Attendee package is affordable
Focus on tracking
Also a very quick setup and easy-to-use
Comes with various pricing offers
Cons of Webinar Ninja:
It consumes so much time to change the registration template.
There is no live-streaming
Blurred image when doing video recording
Sometimes have technical problems
14. Livestorm:
It will help your company develop with the help of Live Storm, a complete video communications tool for online events and webinars. It includes a robust feature, integrations with other applications, and tracking event management. With this software, you can easily create your own landing and registration pages. It is compatible across all devices and browsers and allows you to run live webinars.
Pros of Livestorm:
Easily understandable by the user as it is set in simple language
It is a brand platform to use
There are recording features used for future references
Cons of Livestorm:
The platform can handle a limited number of attendees
Network glitches and inconsistent
Only 500 attendees are capable of joining the webinar at one time
15. Ewebinar:
A newly designed platform webinar, Ewebinar is an automated solution that turns any video into an automated, engaging webinar. it has some features like chat, programming, and invitations. This software allows you to upload any training, video, presentation, or webinar and go live. The platform is designed to assist customers and marketing teams in delivering the webinar without being present physically. The main user groups of webinars are customer success, product marketing, sales, and customer support teams.
Pros of Ewebinar:
Companies can reach every employee across the world at the same time.
The cost is cheaper than other
Online training is available and recording access for the future.
Cons of Ewebinar:
Technical glitches can derail the entire training session
Webinar training is in sharing not personalized
Less interactive classroom training
Industries That Use Webinars To Grow Their Business:
Webinars have become a versatile tool that is used in business across the world in various industries. This platform is a short-term based seminar. The main purpose of the webinar depends on the goals of the organizers.
Here we can look into how industries can enhance their business and drive success:
Education: If we are talking about education industries, institutions can utilize webinars to deliver online classes and provide opportunities for teachers. It also experts to share their knowledge with students and promote learning experiences. Provides facilities for audio and video classes across the country. These are the convenient and cost-effective ways to reach a large number of participants from anywhere.
Marketing And Sales: Webinars are powerful marketing tools for businesses and benefit for generating leads. Many organizations use these tools as marketing tools to promote their products and brands. Companies can easily reach out the different countries' customers and can host product demos. Beneficial for demonstrating product features, or educating potential customers about a particular topic to the organization offerings.
Technology: In many software companies webinars play an important role in providing product demonstration and showcasing new features. Software companies discuss new innovations and best prices by using these tools. share customer base information about competitors, funding, and more.
Finance And Banking: Webinars offer a secure platform for virtual shareholder meetings and relation updates within the banking sector. Financial institutions can use webinars to educate clients, on financial planning and retirement options. Provides nonprofits with a cost-effective way to raise awareness about their fundraising events.
Summary:
Hopefully, this article helped you identify the best webinar platform for your company. There are so many different webinar platforms to reach your audience, depending on their budget and goals. Therefore, always be cautious while selecting a webinar platform. As a presenter, you will be responsible for any complications and poor quality. We fully recommend taking a closer look at the options we have covered.