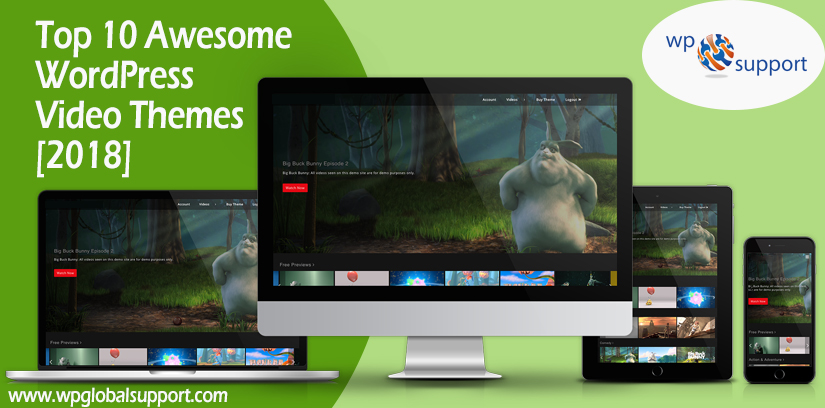 Videos are the simplest way to deliver your ideas and the most effective way to deliver your thought in the form of multimedia is to opt for the best WordPress video themes. Therefore the importance of a video website is definite. WordPress makes it very simple to upload or embed videos to create your video site with some interest.
Online videos are just an excellent source of entertainment but also equivalent to a mean of education, marketing, awareness, etc. So, creating your video website with WordPress themes has some certain reasons as these themes are literally easy to apply.
Here we have a list of some of the awesome WordPress themes of 2020 that you can use to create a Website efficiently.
Creating a Video Website with WordPress
First of all, make sure that you have selected the best website platform to create your video website. And a self-hosted WordPress.org is a good platform for that.
It offers you flexibility and gives you access to thousands of website designs, add-ons, and extensions. Next, sign up for a WordPress hosting account. All websites require hosting and this will be your website's home on the internet.
You'll also require a domain name so that users will type in their browser to reach your website. It will be your website's address on the internet like wpglobalsupport.com or google.com).
We suggest using Bluehost as they are one of the largest website hosting companies in the world. You'll need to install WordPress after signing up for hosting. If you don't know how then see our step by step guide to 4 simple steps to install WordPress. After that, you are ready to select a theme for your website.
Best WordPress video themes
1. Vidorev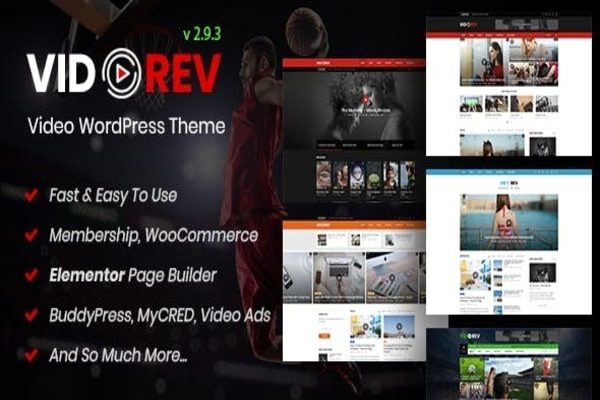 Vidorev is the new and trendy WordPress theme for Videoblogs that can transform the motion pictures of your Video to the next level. Vidorev is a fully responsive theme that can run in any device. Not only videos but the theme is highly appreciated for its usefulness in many applications like news, magazine, blog, etc;
The theme just fantastically shows the videos from the stylish drop-down menu. You can store your video files in storage. The theme provides a full-width layout of Videos with live search through AJAX.
The Vidorev's special youtube channel can automatically fetch youtube videos into the posts. The theme also supports WooCommerce sites, video ads. Its smart toolbar can also let you customize the videos. The theme's demo can be imported in a single click.
Pricing
With the regular license, the theme costs you $59. You can also extend the support up to 12 months at $17.63.
---
2. Vodi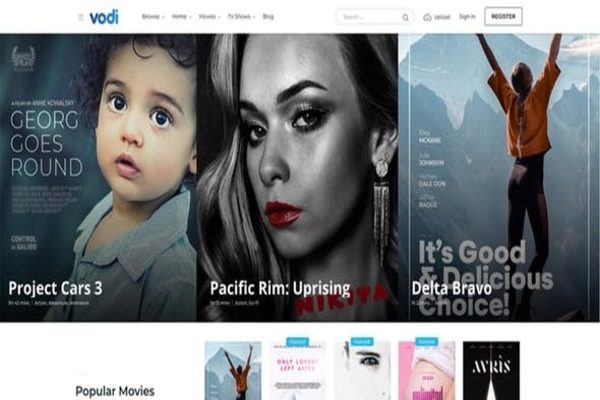 Vodi is the new Video WordPress theme developed specifically for the Movies and TV-shows as well as entertainment websites. The theme with its core blog feature provides you with a perfect platform to be compatible with the leading video streaming apps like Amazon, Youtube or Netflix.
Vodi's MAS Videos plugin is the sole highlight of the functionality of the theme enabling you to manage the video content with the support of the WooCommerce site. The theme comes with the 9 homepages, 4 footers and 4 demos that can be installed in a single click.
Gutenburg optimized, the theme comes with the light or dark versions of the pages to better revolutionize the outlook of your video site.
Pricing
The theme is available at $35 with a regular license and can offer the extended support op to 12 months at $8.63.
---
3. Vlog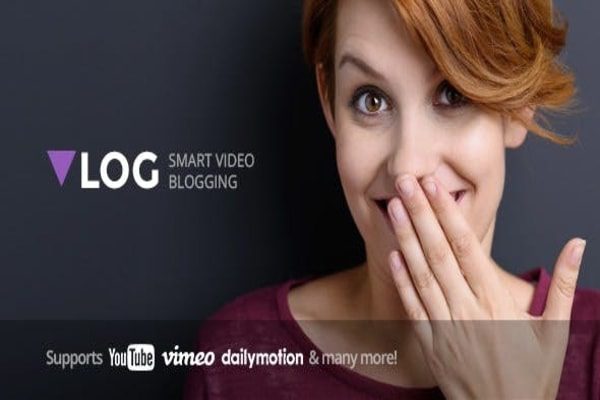 Vlog is the perfect video site theme for your special occasional videos such as videography, etc. A top-rated theme, Vlog is very trendy when it comes to providing the most attractive and dynamic videos that can say your style.
With Vlog, there are so many choices that are present in terms of your site's requirement. You can share your thought in form social videos like video sharing, viral videos, blogging of videos as well as a video tutorial in the best effective way as possible.
The theme is fully compatible with the leading video sites like YouTube, Vimeo, Dailymotion, Netflix, etc. The theme is also highly responsive to the latest gazettes and especially in a mobile-friendly way. Supported with WordPress 5, the theme automatically enables you to retrieve or import the videos from other platforms mainly from Youtube and Vimeo.
The Vlog's multiple header layouts provide for the most touchy and appealing Video Websites plus the theme is also fully compatible with the trendy plugins like WooCommerce, Yoast, wp forms, etc;
Pricing
The theme is available at $69 with a regular license. you can also extend the support up to 12 months at $21.38.
---
4. Vloma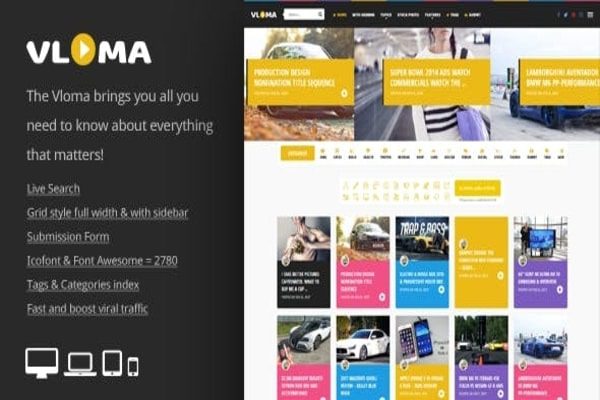 A nice and beautiful WordPress theme, Vloma is meant to produce quite charming Video Websites. A quite and comprehensive theme, Vloma is your answer to building an excellent video site with simple yet much-advancing features.
The theme is best fit in any gazette like Smartphone, Laptops, PC, Tablets, etc. Its Fly-out Navigation Plugin is specifically made for Mobile and Tablets to make your Website design fully responsive with 45 customizable options. The theme provides a live search with browser customization. Its 6 custom Widgets are just great to utilize your site effectively.
The theme has unlimited colors and drags & drop features to optimize the site to good effect. The Front-end submission is a distinct feature enabling the site to become a highly digital marketplace for multiple vendors.
Pricing
The theme costs you $49 with a regular license and offers extended support up to 12 months at $13.88.
---
5. Tides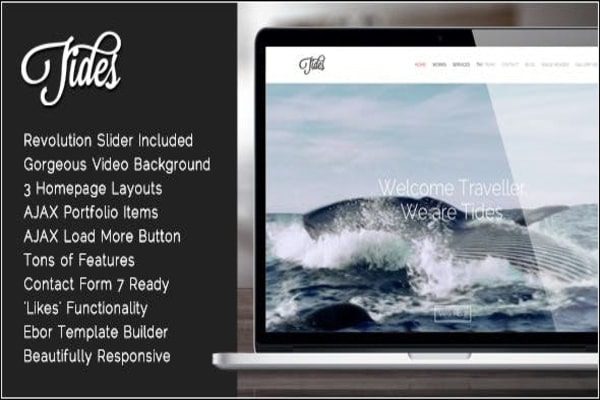 'Tides' is just the perfect WordPress theme to create a fantastic video Website, especially for commercial purposes. A theme based on WordPress 5.2 that tends to supports the updated version of WordPress.
The 'Tides' comes with multiple layout options, Working load feature, 3 homepage designs, header with background video to make your site just awesome to attach the visitors. The theme's AJAX loading and animation feature just let you load in between your Posts and Portfolio details to save the other loading times. Its CSS3 Animations are just magnetic and worth seeing.
The theme is a complete responsive solution for the business developers, freelancers, etc; to match the user specifications on any device. The theme best comes with the full Demo data that can be imported in a single click.
'Tides' includes some really trendy plugins like revolution slider, custom revolution slider, video header, gallery header, image header as well as support for full retina-ready images to just revolutionize the look and display of your Video Websites.
Pricing
The theme is available at $44 with a regular license. you can also extend the support up to 12 months at $12.
---
6. BeTube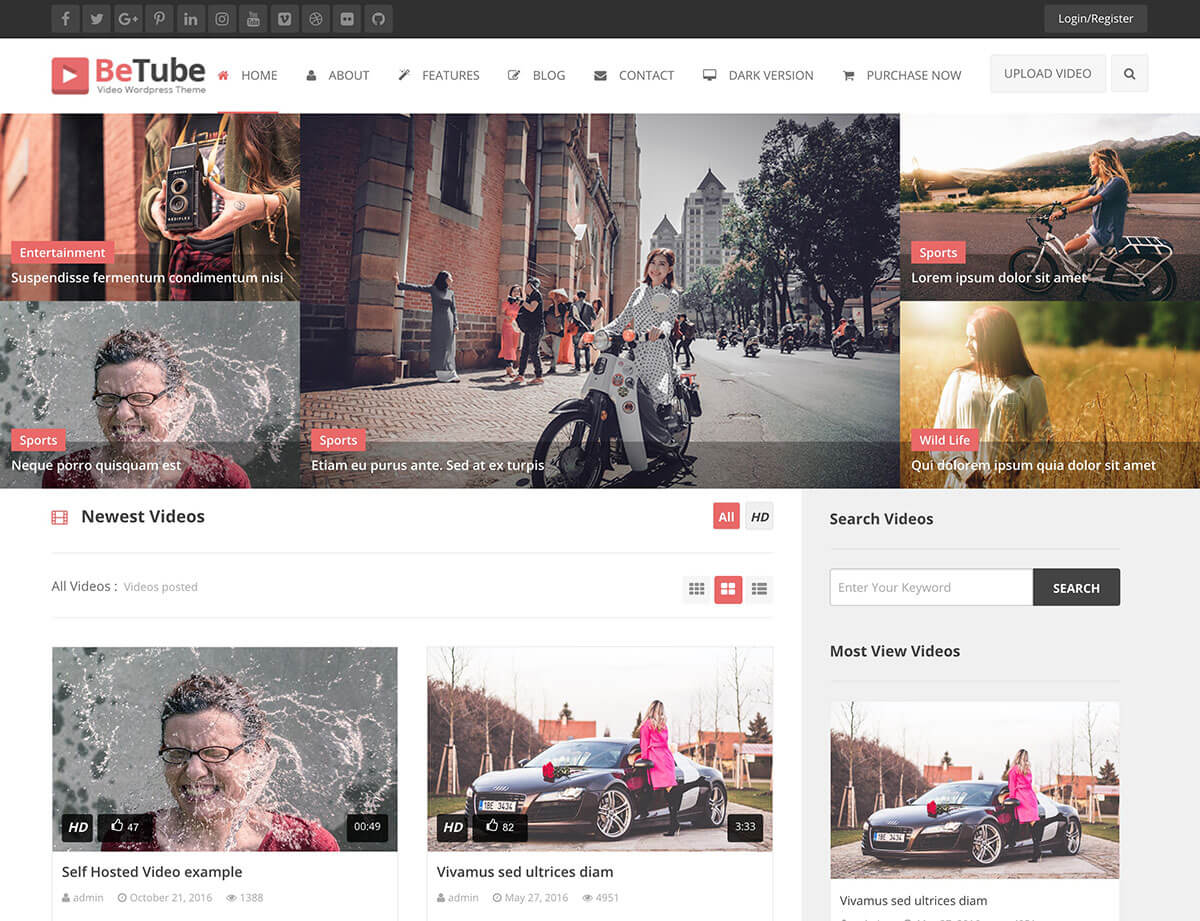 It is a flexible video WordPress theme ideal for creating an ideal video-sharing website. With BeTube, you get 10 various homepage designs to select from while creating your video website.
You can also be able to see all 10 homepage demos on the BeTube theme to view what this theme has to provide. After you have made a decision the developers of this theme will set up BeTube for you at no extra cost.
Another best feature of BeTube is to let the visitors sign up and start uploading their videos to your website with ease. If you're creating a video sharing or community website then BeTube has exactly all the features you'll require.
Your visitors can fastly login or register through the front-end forms. After this, they can share videos that are hosted outside or upload their files directly to your website.
It is also packed with customization options and tools that gives you a simple way to tweak the appearance of your video website. This video WordPress theme can also generate thumbnail images for your videos automatically.
Pricing
With a regular license, the theme costs you $49. You can also extend the support up to 12 months at $13.88.
---
7. VideoPro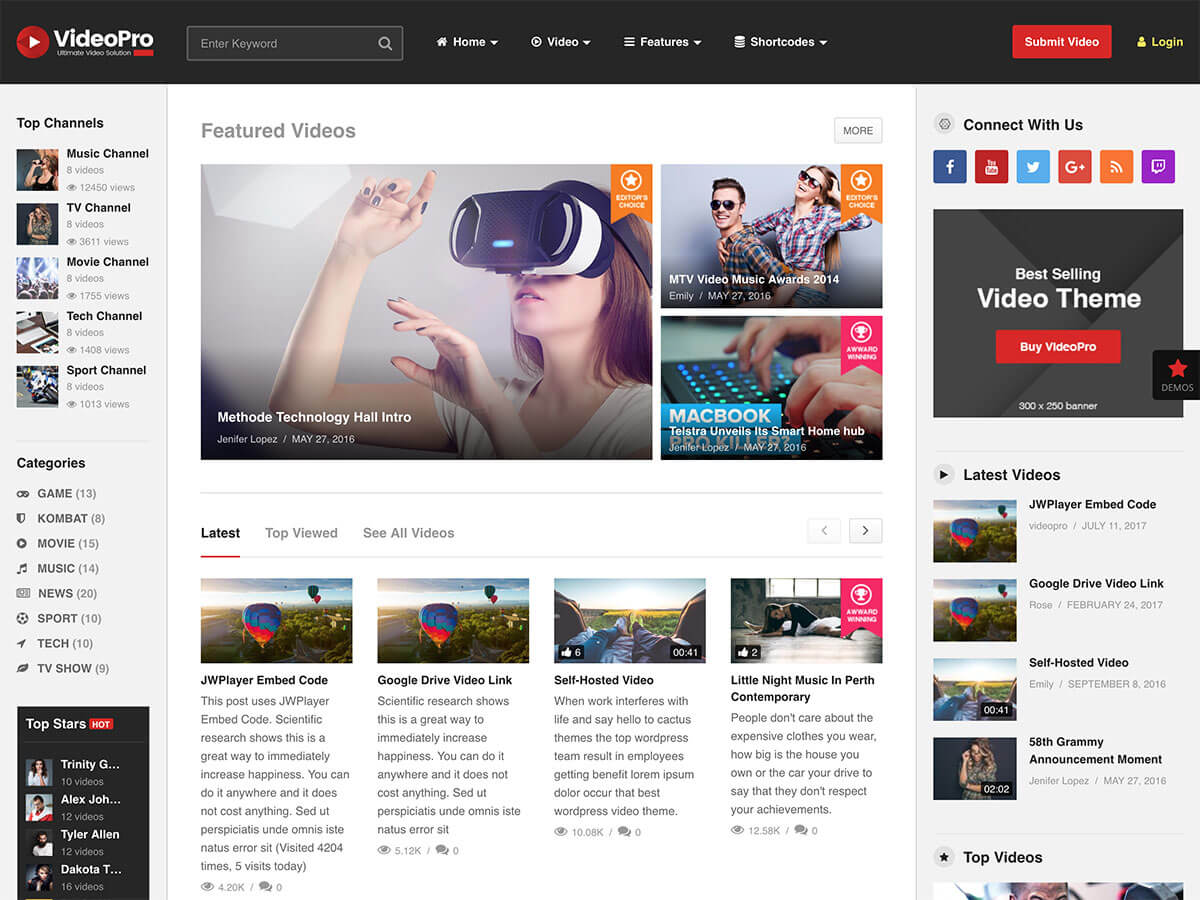 VideoPro is a well-established WordPress theme for anyone creating a video-focused site. With support for Google AMP and Facebook Instant Articles, you can assure that your website content especially the videos look good no matter what devices they're viewed on and what platforms they're shared on.
In case the video views are very important then you can select a highly mobile responsive WordPress theme. The recently added membership features will give you plenty of control over the Website to regulate who, what and when to access on your site.
If you want your video website to be more interactive then the full BuddyPress plugin support could come in handy. You can add many of the most famous social networking and community building features to your WordPress website by using this free plugin and its library of add-ons.
If you want to know more than move ahead to our article source on Top 5 Free YouTube Plugins for WordPress Website. VideoPro has a wealth of features that can be highly appreciated.
Pricing
The theme costs you $59 with a regular license and offers extended support up to 12 months at $17.63.
---
8. FilmMaker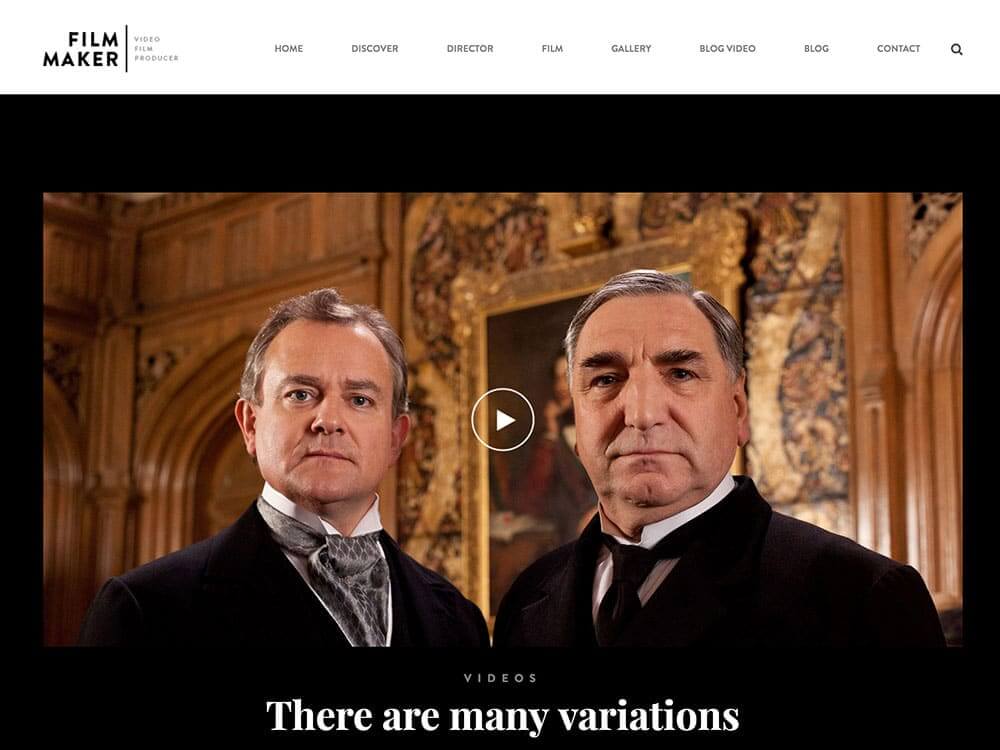 It is created to help anyone build a video-focused website with WordPress. The FilmMaker video theme aims to provide you with everything you require. Either you want to give your creative agency website a professional look or ensure that your WordPress-powered blog appeals to your audience.
While using FilmMaker for creating your website you get four different homepage layouts to select from. It gives you many options for promoting your videography services, show your video portfolio online or simply create a stylish home for your video content.
This video WordPress theme also includes a number of header layouts to select from over 600 Google Fonts and full social media integration.
This WordPress theme also includes the powerful Visual Composer page builder plugin. This tool gives you an easy way to customizing any of the pre-built layouts that make up FilmMaker or create your own from scratch.
If you want to design a website to promote a film or other video project the pre-built page templates that make up this theme will help save you much time.
Adding video backgrounds to your website is easier with FilmMaker as is importing the demo content to set up your website and creating video slideshow displays. It is a flexible WordPress theme that can be adapted to suit a wide range of video-related projects.
Pricing
With a regular license, the theme costs you $70.
---
9. VYSUAL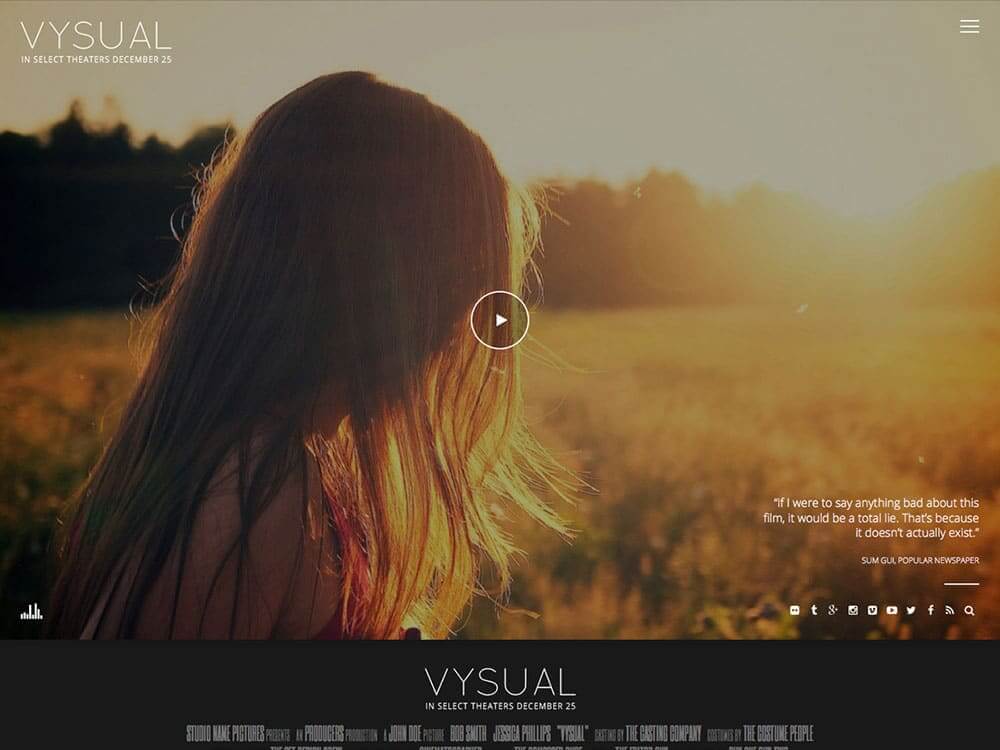 It has been created especially for anyone who requires building a website to promote a specific movie or another type of video. Vysual offers everything you need to create a movie promotions style website.
The demo version of Vysual looks good as those professional official movie sites. It's best to know that you can create the same type of Website by using WordPress and an affordable off the shelf theme.
You have two main options to choose from when setting up your website with this theme. You can either configure your homepage to show a full-screen slide show or a video background. Both options work well and your visitors.
When it comes to adding videos to your site including the optional full-screen video background you can easily select from a range of sources. This includes videos from Vimeo, YouTube, and self-hosted files. There is also an audio player feature if you are creating a website for promoting a new music release.
Pricing
The theme is available at $40 with a regular license. You can also extend the support up to 12 months at $10.50.
---
10. Vlogger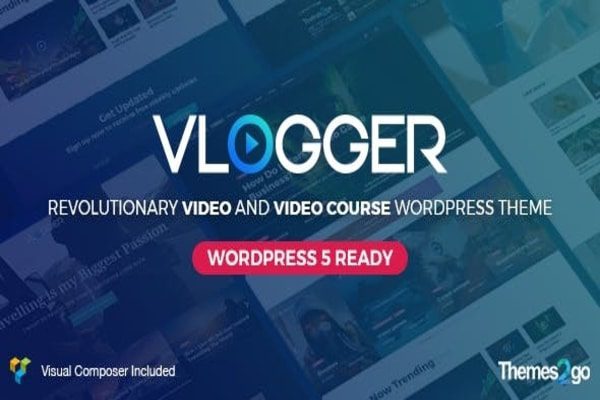 It comes with six different modes to choose from each of which can be applied to your website in just a few clicks. In case you are interested in building a membership site with video content then the Vlogger is a suitable option.
If you are building a video tutorial or membership site or you just want a place to share your favorite video content then Vlogger is best to use. It gives a unique look and feels without having to edit any code yourself.
When it comes to adding and showing video content on your WordPress site this theme includes a built-in video player as well as a YouTube video importer tool. With the Vlogger, you'll also find WordPress support for multiple payment gateways if you do decide to charge for access to your content.
Pricing
With a regular license, the theme is available at $39 and offers extended support up to 12 months at $10.13.
---
11. Inspiro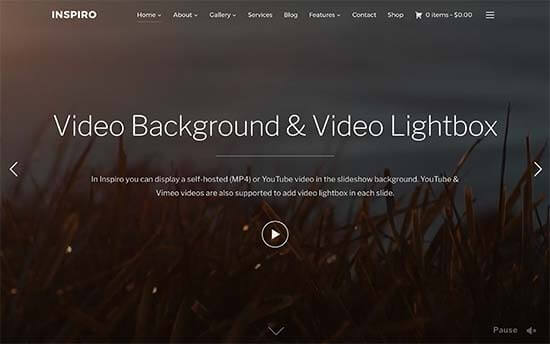 Inspiro is a creative multi-purpose WordPress theme as it comes with attractive full-screen video backgrounds, a gallery module, and a powerful portfolio section.
It has unique custom widgets to show portfolio showcases as it comes with four unique templates and a drag and drops page builder. It also has a video lightbox letting users watch videos in a popup for more mesmerizing user experience.
Pricing
You can buy the theme at $79. With the package of all the themes, it will cost you $99 with a limited period offer.
---
12. Superstar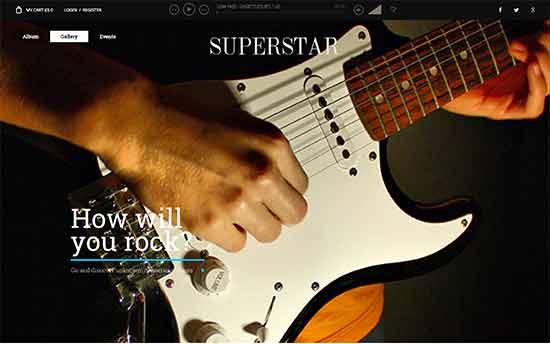 It is a modern WordPress theme for video, music and event websites. Superstar comes with a built-in video template, Soundcloud playlist, photo galleries, and full WooCommerce support. It comes with testimonials, discography and albums sections.
Superstar has a powerful slider and comes with a page builder which lets you create your own page layouts using drag and drop.
Pricing
The theme is available at $58 per year for a beginner license, for a developer license, it will cost you $99 and $299 for lifetime support.
---
13. Lenscap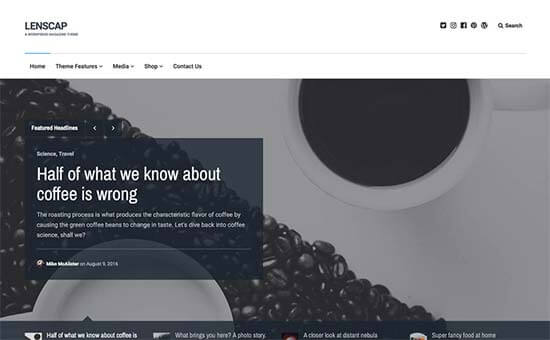 This theme is best for content-rich sites, video websites, and blogs. Lenscap features a largely featured content carousel and a footer category menu for adding content discovery at the top. It also has a lightbox popup to show your galleries and videos. It comes with full WooCommerce support and is highly customizable.
Pricing
Premium
---
14. TheMotion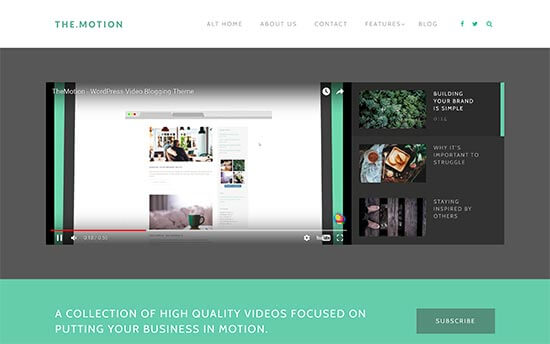 TheMotion is a professional WordPress video blogging theme that tends to provide a great look and features to your video Website. After uploading this theme to your WordPress site it only takes a few clicks for importing the demo content and lays the foundation for your new video blog.
With 'TheMotion' theme, you can start adding your own video content to your Website. If you want to give your website a more convincing look then the various theme options and settings will give you the commanding control over your WordPress site.
You can personalize the colors on your website through the WordPress Customizer and reorder the homepage content blocks. TheMotion also gives you much freedom when it comes to setting the background content of your pages. Custom image backgrounds, video backgrounds, and slideshow backgrounds are all made available with this popular video WordPress theme.
Pricing
With a single theme, it will cost you $49. With the all themes package, it will cost you $129.
---
15. Viduze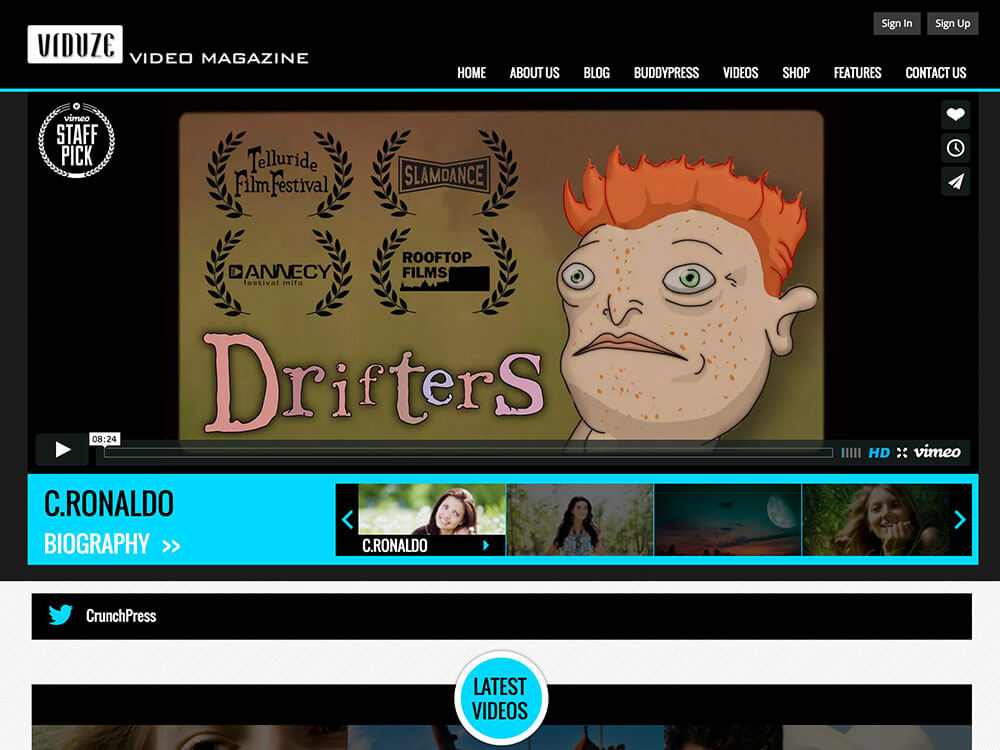 Viduze is the best choice for anyone building a video magazine website. You will get a modern and fast-loading design with this theme. You will also get many page layouts and templates to select from when publishing new content on your site. There's also a powerful theme options control panel on offer making it easy to customize many aspects of your Website.
Through the detailed controls and settings of BuddyPress, you could instead give your visitors the ability to comment and discuss the video content you upload.
You'll also see full WooCommerce compatibility on offer with Viduze. Giving you the option of charging a fee for access to your files or any of another item available on your site. Through the one-click demo content installer, you can fastly import the outline of this theme and then start adding your own content.
If you like the look of Viduze then it's safe to say that this theme has all the features you require to build a video magazine or news site with WordPress.
Pricing
Premium
---
Wrapping Up
In this blog, we have discussed some of the best WordPress themes for video websites in 2018. The best thing about these themes is that for your website you won't require hiring technical persons. Even a person with no technical background can simply create and manage a website of his own.
As mentioned earlier, the themes are very easy to use and manage. So select the best theme for yourself and get started with your website now.
With the above themes, you can create video portals where people can watch videos or upload or embed videos. You can also create a subject-based video website.
If you have any WordPress questions feel free to ask us as you can get our expert advice. For the same, our support team is always ready to deliver WordPress Support Service. Just dial our support phone number +1-877-353-6589(Toll-Free) to know how our professionals can help you.
More to Read: