Video marketing is an effective field for driving traffic to your website and making your brand product more attractive. Posting your videos to YouTube is the best way to bring about more backlinks as well as more visitors to your site. You can also think about promoting your video channels on your site to obtain more subscribers.
WordPress & YouTube are two different platforms as both of them do fully different things, but they share something in common. They both gain popularity on the web continuously.
In this article, we will show you the best YouTube plugins for WordPress. There are many ways for embedding a YouTube video on the WordPress website, but the below plugins will help you take your YouTube video experience to the next level. So lets' have a brief look:-
Best WordPress Youtube Plugins
Embed Plus for YouTube – Gallery, Channel, Playlist, Live Stream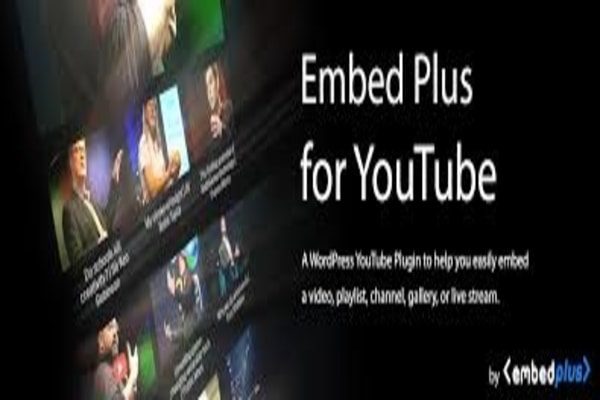 Embed Plus for YouTube WordPress plugin is just the perfect choice to embed the qualitative videos to your WordPress website to make your blogs eye-catching. With the youtube embedded player, it provides a growing and advances complexity to the Youtube video and channel experience. With the plugin, you will be able to even customize live stream in different styles.
Key features of the Plugin
Compatible with the WordPress 5.0 version and Gutenberg block editor
YouTube gallery capability (channel and playlist)
YouTube Live Stream customization
Improved ajax theme support
It can embed an entire YouTube channel as a playlist.
Volume level initialization
YouTube plugin migration support
YourChannel – YouTube Video Gallery

YourChannel plugin will help you to show a customized version of a YouTube channel in WordPress. If you want to start then you'll require obtaining your copy of YouTube API key, username, and channel ID and after that save them in the plugin's settings.
You can configure multiple configuration settings. For example, using a lightbox video player or enabling/disabling features like showing the banner image, total videos, views, and much more.
Some of the Features:-
Ability to show multiple elements like channel info, playlists, subscriber/video count, channel banner image, etc.

Helps to show video thumbnails in seven different styles, all of which are responsive

The visual builder that works with a shortcode
Video Gallery – YouTube Gallery
Video gallery supports multiple video embed networks such as YouTube, Wistia, Vimeo, and any other search engine. A straightforward and best video plugin for your resourceful video needs.
This plugin is best suited for all types of blogs such as business to the wide world of entertainment sites. Just make your site creative to promote editing skills to venture for a unique video collection slideshow or even workshop.
Some of the Features:-
User-friendly editor
Video Galleries themes – 16 free version
Video Lightbox effect
Unlimited shortcode Generator
Support all major WordPress versions
Support YouTube, Vimeo, Wistia, MP4.
Gallery animations that run smoothly on modern devices.
Best rated free support
YouTube Showcase – Video Gallery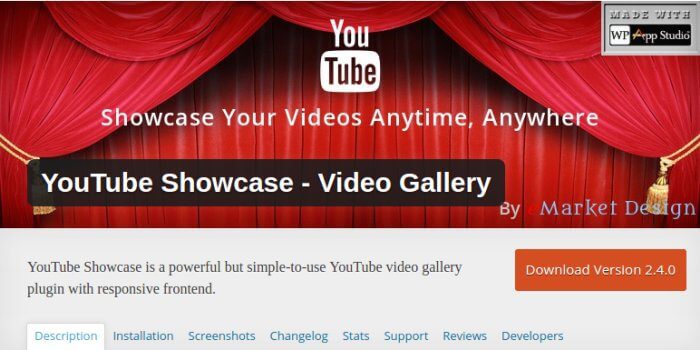 It enables you to create responsive gallery pages filled with YouTube videos. YouTube Showcase is best for showcasing multiple related videos such as an online course, how-to video series, and product demo and application videos.
You can build a video gallery page where the successive videos are shown below the original video with pagination. You can create a video grid gallery where the videos are shown in a four-column grid layout.
The feature of YouTube Showcase
Ability to build two separate video galleries (basic video gallery and video grid gallery)

Pagination option available for longer video series

Set custom the thumbnail aspect ratio of videos – choose either 16:9 or 4:3

Sidebar widgets to showcase recent and featured videos
YotuWP – Easy Youtube Embed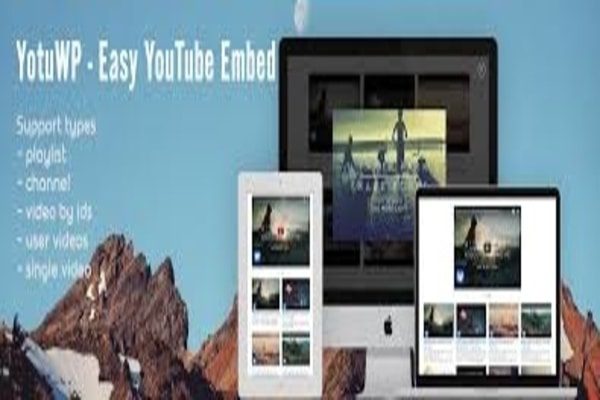 YotuWP is the modern and mobile responsive Youtube video gallery plugin for WordPress websites. This plugin provides an efficient way to embed videos from the Youtube platform to your WordPress site. This plugin has a good support resource from various videos from the playlist, channel, username, video ids, etc;
This plugin's shortcode generator enables you to generate YotuWP shortcodes on page builders, widgets, product descriptions to renovate the product's attractions.
Key features of Plugin
Embed the playlist/channel video to WordPress post easily.
Custom layout for display videos
Responsive video gallery and player
Pager and load more buttons
Shortcode Generator
---
Conclusion
Your WordPress Website's video catalog can be just magnetic if you choose the above mentioned and fantastic Youtube plugins. You may also know that quality video plays a vital role in a successful and creative blog that can work for you in terms of driving more traffic to your Website.
Let's conclude with the hope that you just get the right options for transforming your site's youtube video to the most advancing one.
If you have any queries related to WordPress maintenance or settings, just feel free to call our customer service helpline number + 1 844 275 0975 (Toll-Free). We will be happy to resolve your issues.

thanks!
Read More Blog(s)