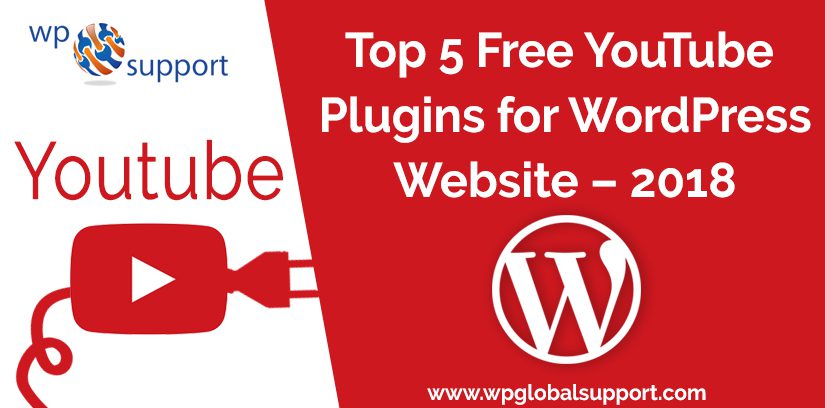 Are you willing to know the Top 5 Free YouTube Plugins for driving traffic to your WordPress Website? Video marketing can be completely effective in driving traffic to your website and getting your brand more exposure. Posting your videos to YouTube and linking back to your website is the best way to bring more visitors to your site. You should also think about promoting your video channels on your site to obtain more subscribers.
WordPress & YouTube are two different platforms as both of they do fully different things, but they share something in common. They both continue to gain popularity on the web.
You've perhaps heard that WordPress is closing in on powering 30% of the web. YouTube is no stranger to growth, as they now have over 1 billion users promoting more 18-34-year-olds than any TV network in the U.S and that's just on mobile alone.
In this article, we will show you the best YouTube plugins for WordPress. There are many ways for embedding a YouTube video in WordPress without a plugin, but the below solutions will help you take your YouTube channel to the next level. So lets' have a brief look:-
1. YourChannel: YouTube Video Gallery

YourChannel plugin will help you to show a customized version of a YouTube channel in WordPress. If you want to start then you'll require obtaining your copy of YouTube API key, username and channel ID and after that save them in the plugin's settings. You can configure multiple configuration settings. For example, using a lightbox video player or enabling/disabling features like showing the banner image, total videos, views, and much more.
Features:-
Ability to show multiple elements like channel info, playlists, subscriber/video count, channel banner image, etc.

Helps to show video thumbnails in seven different styles, all of which are responsive

The visual builder that works with a shortcode
2. WordPress Video Gallery
This supports multiple video embed networks such as YouTube, Viddler, Vimeo, and Dailymotion. It also helps in streaming video content from RTMP, Amazon S3 Streaming and many more. You can also create playlists, watch history and embed ads in the video. WordPress Video Gallery allows you for controlling the user's ability to download hosted videos, view in fullscreen mode, switch to HD, etc.
Some of the Features:-
It supports multiple embedded video networks and streaming videos

WordPress Video Gallery supports multiple FLV and H.264 encoded videos in MP4, MOV, M4V, etc.

Control various aspects of video experience like fullscreen HD, ability to download, etc.

Enable users to create "watch later" and playlists
3. YouTube Showcase – Video Gallery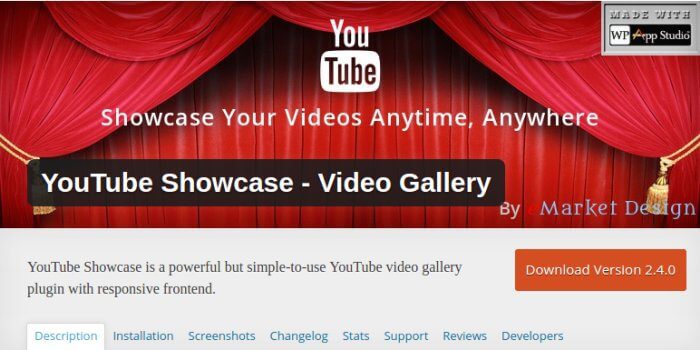 It enables you to create responsive gallery pages filled with YouTube videos. YouTube Showcase is best for showcasing multiple related videos such as an online course, how-to video series and product demo and application videos.
You can build a video gallery page where the successive videos are shown below the original video with pagination. You can create a video grid gallery where the videos are shown in a four-column grid layout.
The feature of YouTube Showcase
Ability to build two separate video galleries (basic video gallery and video grid gallery)

Pagination option available for longer video series

Set custom the thumbnail aspect ratio of videos – choose either 16:9 or 4:3
4. YouTube Information Widget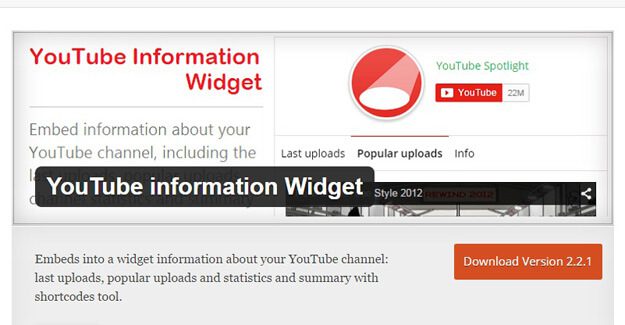 If you're looking forward to displaying only your YouTube channel stats in your WordPress website then this plugin is best to use.
YouTube Information Widget can show your latest uploads, channel summary, popular uploads, and most importantly, the Subscribe button. All of this is done using a shortcode, so you may use it essentially anywhere on the website.
Characteristics:-
Display important channel information such as popular and latest videos

Highlight channel summaries like the total number of video uploads, unique subscribers, views, etc.

Show a Subscribe Now CTA button to boost your channel subscribers

Powered using a shortcode which gives it the ability to be used anywhere on the website.
5. YouTube Channel Gallery 

It is a very simple but powerful plugin. YouTube Channel Gallery is designed to show the latest videos from a YouTube channel with various customization options like thumbnail only, a thumbnail with the description, etc. You can also use the shortcodes to show videos in widgets. This is a very useful plugin.
Some of the characteristics:-
Show latest videos from YouTube playlist

Switches to the HTML5 player in supported mobile browsers

Supports YouTube Data API v3

It can use multiple instances of the plugin on the same page.
CONCLUSION
So now it's a wrap for this post and we hope that after reading this blog you can select the best YouToube Plugins according to your requirements. Your comment is far precious to make this article more resourceful. So do not for forget to leave your opinion. Offer a chance to your friends and followers to think of the article by sharing the post to your social circles.
In addition, keep an eye on the very blog and our website www.wpglobalsupport.com as: We will be adding more resources for WordPress in the coming weeks.
If you liked this text, then please buy our YouTube Channel for WordPress video tutorials. you'll be able to additionally notice the United States of America on Twitter and Facebook.We also provide help and guidance for other kinds of WordPress related issues through WordPress support help phone number.
Read More Blogs:
Top 10 WordPress Plugins to Engage Visitors of Your Website – 2018
7 Facebook Instant Article Plugins That'll help You Go Viral – [Guide 2018]