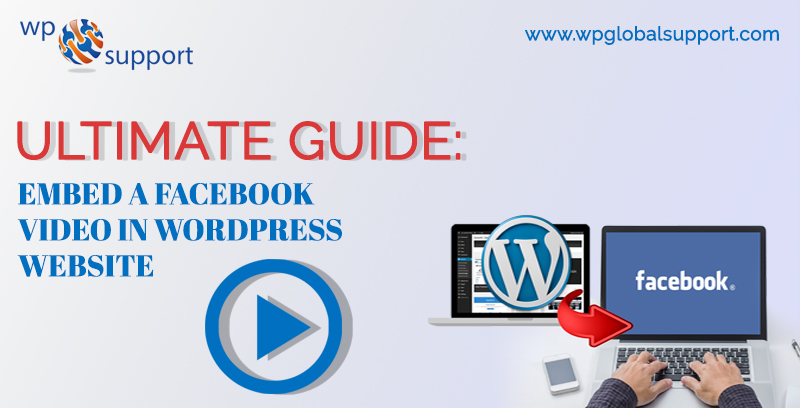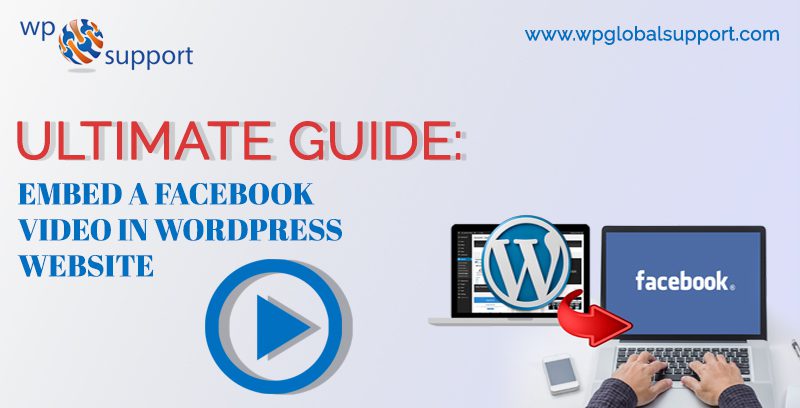 Are you looking forward to embedding a Facebook Video in WordPress? So through this article, you will get a complete solution for Embedding a Facebook Video in WordPress. Facebook Live videos have become one of the most likeable features on Facebook.
Most of the businesses are focused on producing video content. Like many other platforms such as YouTube and Twitter Facebook has made simple the process of creating video content to connect with your audience.
To Embed Facebook live videos in WordPress isn't as easy as pasting a YouTube video link. The embedding process isn't simpler mostly because it's still a new product and perhaps because Facebook wants users to visit and stay on their platform for a longer period. Meanwhile you can create a video for your website with this promotional video maker.
Reasons for adding Facebook Videos in WordPress?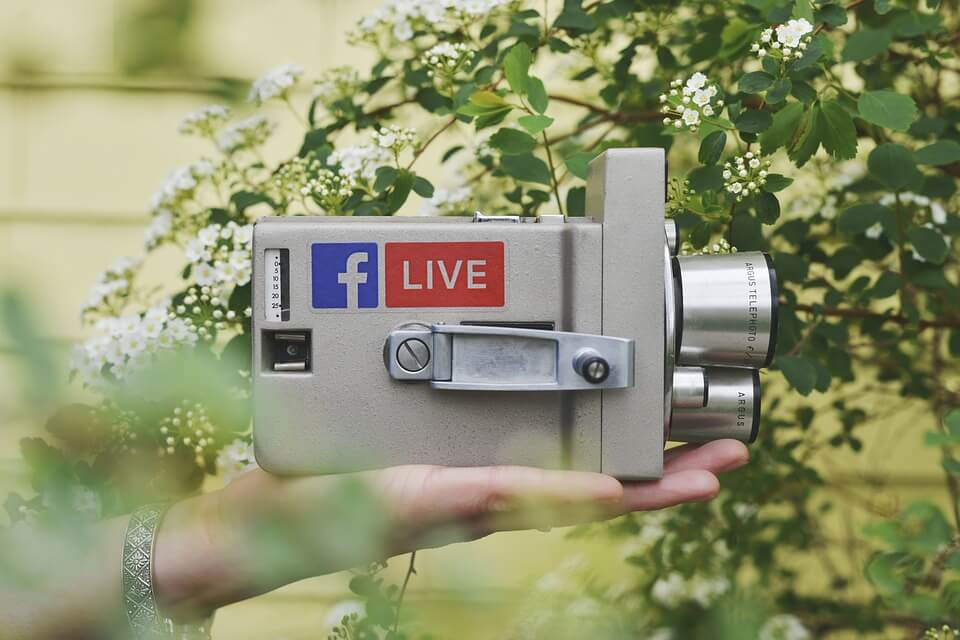 We tell our users that they should never upload videos to WordPress instead of it we suggest using a video sharing site like YouTube.
Although YouTube is currently the world's largest video hosting platform, Facebook is the largest social network and their videos are growing fast.
Facebook recently introduced auto-play and Facebook live video features. Marketers all over the world are raving about these features as they enhance user engagement and overall reach.
You can use Facebook videos for boosting likes on your Facebook page. You can add Facebook page plugin, install Facebook comments and add Facebook like button on your WordPress Website for a more mesmeric social experience.
Here, plugin is defined as a type of software that contains a group of functions that can be added to a WordPress website. They are used to provide additional functionality to your application.
Let's see how to embed Facebook videos on a WordPress site.
Some of the embed facebook video WordPress Plugin:-
Facebook Video Embed

WP Embed Facebook
Embed Facebook Videos in WordPress
Firstly locate the video that you want to embed on your WordPress site.
After that right click on the video name or date and then select copy link address. Then you are required to visit the Facebook embedded video player website and scroll down to the code generator section.
Paste the URL you copied earlier in the URL of the video field. Just click on the get code button which will bring up a popup displaying you two boxes of code.
The first part of the code needs to go in your website's header section. There are multiple ways of adding this code to your website. In case you are comfortable editing theme files then you can add it to your theme or a child theme by simply editing the header.php file and paste it right after the <body> tag.
Theme is a group of stylesheets and templates that are used to describe the appearance and display of a WordPress site. A WordPress theme changes the layout & design of your site. And, templates are those files which control how your WordPress site will be displayed on the Web.
Rather you can install and activate the Insert Headers and Footers plugin. If you don't know how then have a look at our guide on how to install a plugin in WordPress.
After the activation go to the Settings » Insert Headers and Footers page in your WordPress admin and paste the code into the footer box. Just tap on the save button to save your changes.
As, WordPress Admin has full power over the site and can do everything related to the administration of the site. Administrators can create more Administrators, invite new users, remove users, and change user roles.
Note: You only require to add the first part of the code once. Next time you add a Facebook video you will only require to copy and paste the second part of the code.
Now you can return to the Facebook video embedder page and copy the second part of the code. You can easily add this code in your WordPress pages, posts or even a sidebar widget.
Where, widgets allows you to add content and features to your sidebar without writing any code and sidebar is a theme feature, which is basically a vertical column provided by a theme for displaying information other than the main content of the web page.
Just make sure to switch to the Text Editor while adding the code to your posts and pages otherwise WordPress visual editor will mess up the code. As an editor, users have the authority to edit, write, publish, and delete posts. This includes posts which are written by other users.
You can now visit your website to see the Facebook video in action.
How to Embed Facebook Live Video in WordPress Website?
You can embed Facebook Live video same like you would embed a regular Facebook video. Facebook doesn't let you get a URL for your live video before you go live. If you wish to simultaneously broadcast the Facebook Live video on your website then you will require to first go live.
Once you are live right click on the date and choose copy link address to get the live video URL. Once you have the URL you can go to the Facebook embedded video player website and paste the link in the 'URL of video' field.
The video embed code generator will now fetch and show a preview of your Facebook live video. Just click on the Get Code button to continue. And follow the instructions described above to add these codes to your site.
After adding the Facebook live video code to your site your users will be able to see the Facebook live video directly on your website as well as their Facebook feeds.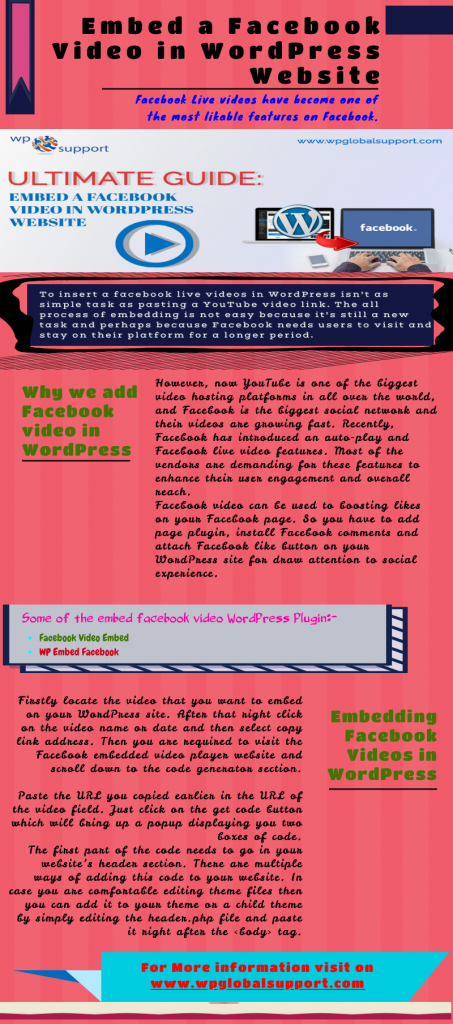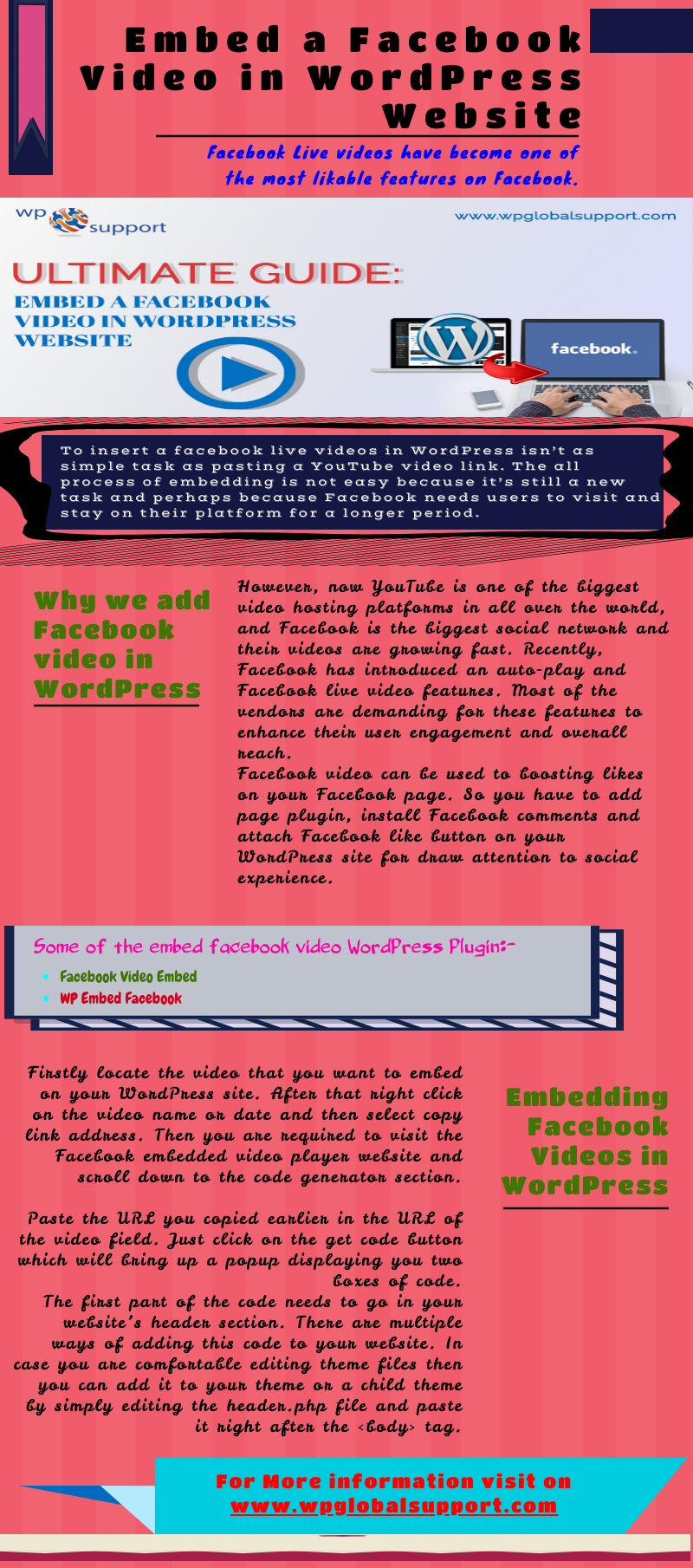 Final Thoughts
So now it's a wrap for this post and we hope that after reading this blog. Now you can embed Facebook Video in WordPress Website. Your comment is far precious to make this article more resourceful. So do not forget to leave your opinion. Offer a chance for your friends and followers to think of the article by sharing the post to your social circles.

If you liked this text, then please buy our YouTube Channel for WordPress video tutorials. you'll be able to additionally notice the United States of America on Twitter and Facebook.We also provide help and guidance for other kinds of WordPress related issues through WordPress support help phone number.

thanks!
Read more blogs: