Complete Guide: How to Upload a Center Align Video in WordPress
Last Updated:

Sep 15th, 2018

Posted by:

Editorial team

Category:

WordPress Knowledge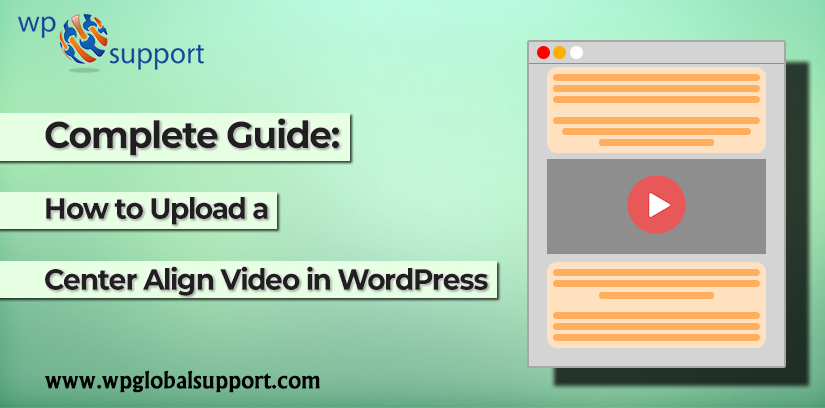 Are you getting excited to upload center align video on your WordPress? As you know that by default, a video automatically aligns it to the left side of the site page. With the WordPress features, you can embed a video directly by using the URL or using a simple shortcode.
If you are using a shortcode to attach self-hosted videos to your site, then you should know that how and why it should be done. In this article, we will describe you how to align a video in WordPress and why.
Why center align video in WordPress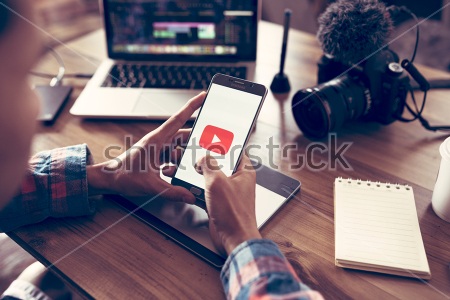 Generally, when you add a video in WordPress, by default it is aligned in the left. That is why videos are the external content to embed the videos. However, WordPress is unable to decide how it should be displayed.
As you already know that, it automatically aligns with the left of the page. It's your responsibility to adjust the center align video if needed.
We don't prefer to upload videos directly to WordPress, but the same incident will occur with uploaded videos if the width of the videos is not equal to your content area.
Now let's go to know how to easily center align a video in WordPress or make it beautiful so that it looks better within your content.
How to upload center align video in WordPress
If your video is leaving up space and doesn't fulfill the width of your content page, then the best method to do this is by directly attach the video URL of Vimeo or YouTube into your post at the place of embedding the code.
In WordPress, you can take advantages of YouTube plugins if you want to attach a video to your site.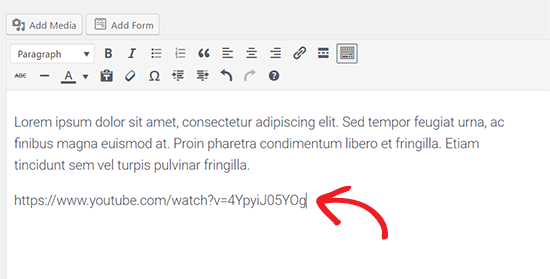 But sometime you will get the need to use the embed shortcode for a reason or other reason. At this time, you have to add some easy HTML code along with your embedded code of video.
First, you have to change the text editor on post edit screen. Then, you need to add the following HTML code to your video embed code:
<div style="text-align:center;">

/// your video embed code goes here

</div>
Then save your changes that you have done and see the preview the page and post. Your video will be perfectly aligned with the center of content. 
Another way to increase the size of your video to fit the content area. You have to add or edit the "Width" parameter in your attached code.
<iframe width="760″ height="315″ src="https://www.youtube.com/embed/4YpyiJ05YOg" frameborder="0″ allow="autoplay; encrypted-media" allowfullscreen></iframe>
In case you are uploading a video in WordPress, you can increase the width by using the video shortcode.
Next inserting your video by using the default media uploader, change the 'Text' editor and maximize the width parameter in video shortcode.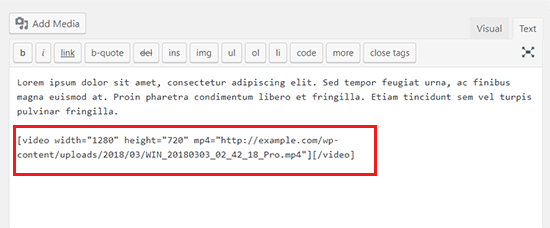 Final Thoughts
Now it's time to wrap this post. We hope that this guide helped you to provide best steps to upload center aligned video in WordPress.
In case of any help related to this post in WordPress, tell us in the comment section provided below. Also, share the blog with your peers.
You can also avail help from out WordPress Website Maintenance team. Our expert will tell you the root cause of the problem, they  will guide you properly . This will ensure that next timer if the problem occurs, you can manage it yourself. Dial our WordPress Support Toll-Free number +1 888 614 0555.
Recommended Blogs: