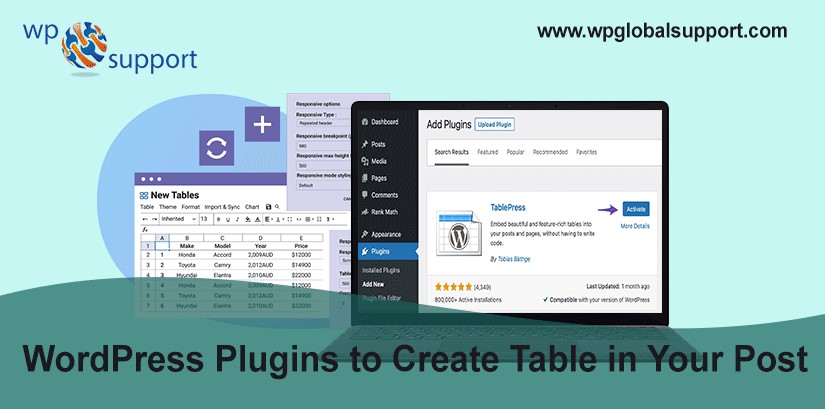 Keep calm! Here we are with the Top 5 WordPress Plugins to Create Tables in Your Post — 2022. Well, before knowing them. Let's get introduced how to insert a table in WordPress. And if you are not very aware of inserting the tables. Then, feel free to move along with our blog on How to Insert Tables in WordPress Posts and Pages via Plugin? Now, let's get cracked!
However, at present, WordPress is undoubtedly the most popular CMS (Content Management System) available in the cooperative industry. Similarly, it is versatility in nature. And is user-friendliness, it is not behind than that. Somehow, that does not mean that WordPress comes without its errors.
Thus, this is what we are elaborating here! Keep reading…
WordPress Plugins for Creating Tables
Well, no wonder, there are many plugins that allow you to insert/create tables in your WordPress site posts and pages. Till, the users get confused, which plugin to use in for the insertion or creation of the table.
Thus, after looking at, all the conditions and problems of users. I have carefully picked and kept together the Top 5 WordPress Plugins. Here, they are! Let's explore them:
1: TablePress

The TablePress is the most popular plugin for creating beautiful tables in WordPress Posts and Pages. However, at RoadToBlogging, I use the same plugin. For Inserting Tables the tables of my blog posts. Where, the articles posted by the admin of a WordPress site are called posts and pages are like posts. Pages can be managed in a hierarchical structure in WordPress.
Somehow, the built-in shortcode of the plugin. As, shortcodes are those special functions/tags that allows the user to quickly and easily pull related bits of mentioned functionality into their content. Makes it very easy to display the tables on your posts, pages, widgets, or at the sidebar. As, widgets allows you to add content and features to your sidebar without writing any code.
Here, sidebar is a theme feature, which is basically a vertical column provided by a theme for displaying information other than the main content of the web page. However, you may edit the table without adding any code line. Which is very useful for everyone. Hence, the plugin also lets you import or export tables data to and from the website simultaneously.
Thus, you may add advanced features such as filtering, sorting, pagination, etc with that. There are many other extensions that allow you to make tables responsive. PHP code in the table, automatic URL conversions, etc.
2: Easy Table Of Content
Well, If you are looking for a simple solution to create tables from CSV files. Then the Easy Table of Content is the best option. However, this plugin has been provided with an easy way to create tables in WordPress.
Similarly, despite writing the complex HTML code or clicking on a button. You can insert or create the table right from the post while you are adding the post from your PC. Similar, to the other table builder plugins. You can switch back and forth between the visual basic and code mode in the editor.
However, you can do this all without breaking the table format. Since, the table could be displayed on any post, page, or widget, you may enable data sorting for any column from your working window. Hence, It is also possible to use auto-numbers for inserting or adding a serial number.
3: wpDataTables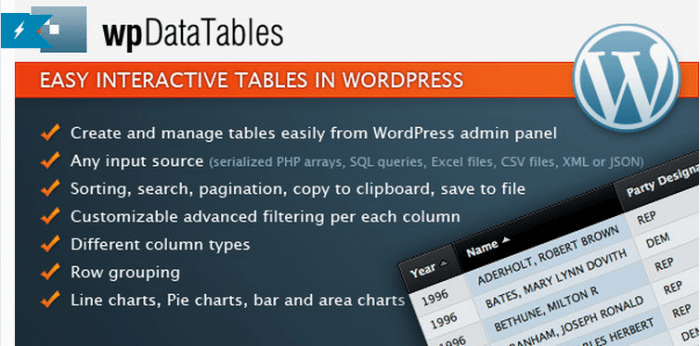 The WpDataTables is an incredibly powerful table builder plugin for WordPress. Well, it is a premium plugin. Which lets you create and customize beautiful tables without writing any single line of code.
However, it is possible to make tables from various existing sources like Excel, Spreadsheet, CSV, MySQL, XML, or JSON file in WordPress. Consequently, Built-in Formula Column will automatically make your life easier by showing calculated values. Thus, you may edit the table with both front-end and back-end from your PC.
Customizable predetermined conditions will automatically expose or highlight the related rows and columns. Similarly, this can also be used to insert interactive charts. Hence, the plugin is fully compatible with Visual Composer. And you may use the plugin with any premium theme.
Also, theme is a group of stylesheets and templates that are used to describe the appearance and display of a WordPress site. A WordPress theme changes the layout & design of your site. Where, templates are those files which control how your WordPress site will be displayed on the Web.
These files draw information from your WordPress MySQL database and generate the HTML code which is then sent to the web browser.
4: League Table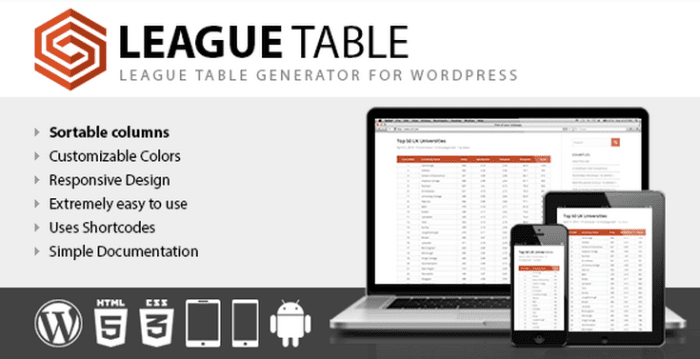 League Table provides a premium solution for creating complex tables. For example Leaderboards, Ranking charts, Comparison tables, etc. however, you can use this plugin to show detailed statistics about the various sports teams, gadgets, educational institutions, medical institutes, and much more.
Hence, the visitors can sort the chart by using multiple columns.
Well, It is possible to select the custom colors for different sections. Such as header fonts, backgrounds, even and odd row font, backgrounds, limits, borders, etc. Fully responsive table plugin comes with dedicated shortcodes. However, you may use the shortcode to display the table in different places on your WordPress Website.
It only costs about $15 for the premium pack.
5: Table Maker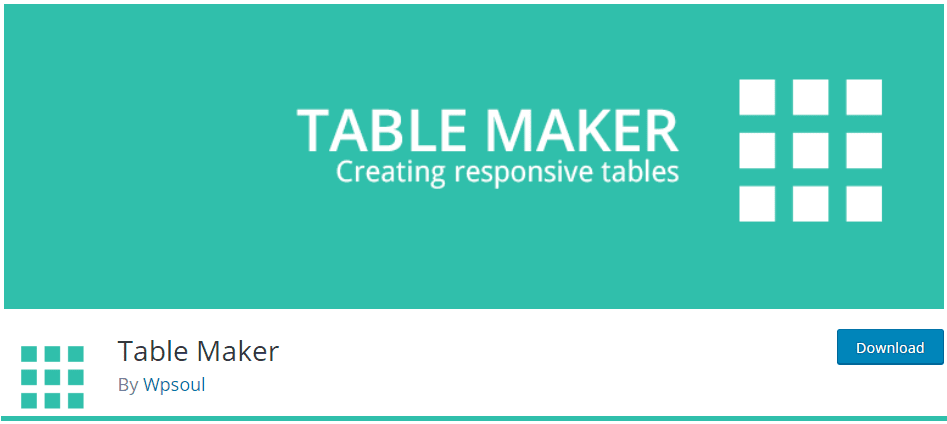 The Table Maker plugin is another most popular WordPress Plugin to make/insert the table in WordPress Website Posts and Pages. Thus, it is useful for creating and displaying tables in WordPress.
However, after installing and activating the plugin. It will automatically create the first table for you. Thus, if you are not very aware of this, then you may go to our blog on how to install WordPress Plugin. Consequently, you can edit the cells by clicking on them from your PC.
Hence, the plugin supports HTML and custom shortcodes. So that it becomes possible to display any data in the table. The plugin arrives with some icons that can be used inside the cells. Often, each and every cell has its own shortcode, you can use the shortcode code for the table.
Often, you may enable or disable the responsiveness for the tables. Thus, it is also possible to import or export the table content.
CONCLUSION
Here, in this blog, we have discussed the Top 5 WordPress Plugins to Create Tables in Your Post — 2023.
Often we concluded its layout, its definition, and the plugins in detail. They do add value to any blog post. And, this leads to the end of the blog.
We hope this blog helped you. However, if you found the blog useful, do not forget to use the comment section provided below. Also, share the blog with your peers. You are on your way to getting more exposure.
If you require any help regarding WordPress Website Maintenance then feel free to contact our Toll-Free number +1-855-945-3219. We will be glad to help you.