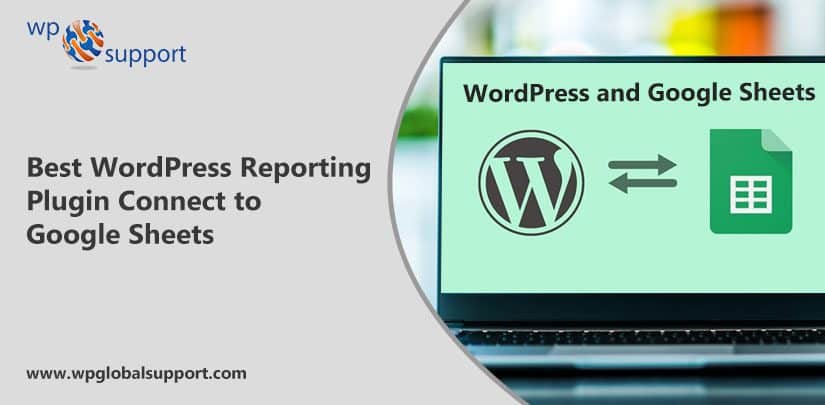 Google Sheets is an online spreadsheet. It has more advanced features like data saving automatically, seeing insights, loving connectivity with plugins and apps, and much more. WordPress can only manage simple tables, not graphs. You need Google sheet WordPress plugins to make effective tables, Charts, and Graphs. So don't worry about them. Here we will discuss some WordPress plugins for Google Sheets. With the help of these Google Sheet plugins.
WordPress may help to operate efficiently, modulizing the data of Google Sheets, and will update the data on the WordPress site on which we have connected to Google Sheets. The upgrade on WordPress sites through the Google sheet plugin of WordPress on short-lived time duration.
We connect the WordPress plugin to the Google sheet to examine our content marketing performance, Post Overviews, Merge the data from other sources, and much more. Let's now discuss some WordPress plugins for Google Sheets.
List of the best WordPress reporting plugins
WordPress can only handle tables, not graphs so we can some plugins of WordPress For Google Sheets to make different types of graphs, Charts, and tables on WordPress. Now we discuss some Plugins for WordPress reporting of Google Sheets are:
1. Spreadsheet Integration – Automate Google Sheets With WordPress, WooCommerce & Most Popular Form Plugins
This plugin connects WordPress to Google Sheets by Google API(application programming interfaces) and service account. It can be managed on WordPress occasions like New Posts, New Users, Delete accounts, updating Post or Page, and other advanced custom fields. It may also take an opportunity to take integrate Woo Commerce, Wp Forms, and different types of forms.
Spreadsheet Integration is almost one of the plugins which are verified or WordPress plugins saved at the place. You have to don't need to permit any third party and it's more authentic and protective. You do not need any other expensive or pro version Plugin.
Highlights Key Points
Spreadsheet Integration highlighted key points are:
1. Click on our WordPress site update:- You can do just one click to update your post or page when you did editing on them. It will be upgraded in a short time duration. It's very amazing features of this. Only Just one click can do all Updates of all our Posts and Page.
2. Drop and down:- You just made the drop and down by just doing a few easy steps. Firstly you have created a mind overview on which type of design and content is looked at on your site and do drop and down. It's very easy to develop and after the finish, it seems amazing features.
3. Limitless Integration:- Also, you may think of an overview and idea of your integrations. Collect all data or information which you want on your site and it's also the very easy and amazing factor of this SpreadSheet Interaction. As well many fields also can be integrated.
4. Privacy and security status:- This is so important feature or highlighted key for all of us. You may share your Google sheet from your Google account with any person who helps to secure us and is relevant to us. It may not third party access.
5. Google Services Confirmation:- There is only a confirmation service plugin of WordPress provided to our Account.
6.No Restriction:- There are no restrictions on any field or any other system operation issue. It can be Done with your Work or project very easily.
Ninja Tables – Best Data Table Plugin for WordPress
Now it's too hard the Create an expressive and accessible table and manage them and their customization is hard.
Ninja Table is all of the best WordPress plugins of Google Sheets for your website and Provides all solutions to our problems. It will provide you with the best and easiest way to create different types of WordPress tables in a few seconds. you do not need to code to do this and this is very easy on using and relevant data provider. It attains fulfills your requirement for WordPress of Google Sheets.
Its layout is very easy to manage and make a table with the help of this. You have to make limitless rows and columns and management of these tables are very easy.
Highlights Key Points
Ninja Tables highlighted key Points are:
1. Easy To Manage:- This plugin is very easy to maintain tables used by this because it is a user-friendly and reliable plugin for WordPress of Google Sheets.
2. Advanced Features:- It is a package of Advanced features like Google sheet Integration, media file uploading, Conditional formatting, data sorting, and much more features.
3. Add Unlimited Tables:- If you have done a big project your work so you have to need a big sheet to complete your task. On this plugin, may add unlimited rows and columns and it can be added or management is also very easy.
4. Don't need coding:- It doesn't need coding to create this. You can design or customize the table very easily. non – technical field persons also can access this plugin of WordPress for google sheets.
5. Updation Feature:- Their Update feature is a more powerful and very good and useful component. If you have to upgrade your data on google sheets so automatically changed or upgrade your WordPress sites. It's a very useful feature.
6. Woo Commerce:- You can create a dynamic Woo Commerce Table with the help of this plugin with a few clicks within some minutes. This Plugin may provide you with more features to create an effective Woo Commerce table including adding more products on the same page. This feature is very useful.
Sheets To WP Table Live Sync
Updating our data on Both sides (Google Sheets and WordPress site) is very time-consuming and very hard because it will affect the purity of our data, similar to WordPress Backup & restore. This plugin(wp table live sync provides you with relief on this hard arrangement of data process on both sides. It will update your data on booths sides(Google Sheets and WordPress site). If at any time you have updated your data on sheets so it will update on the WordPress site simultaneously. There does no need to do extra effort fully work or process your data.
It does not need to be code for updating your data on the WordPress site.
Doing Editing on your Site Post and page so easily and it will update ideally without touching anything else on your post and page data. A short code provides when you create a table and it can make your work so easy.
Highlights key Points
Sheets To WP Table Live Sync highlighted key points are:
1. Zero or Short Code:- Taking a position of your table on a WordPress site post or page with the help of a short becomes so easy. It turns your data look turns.
2. Title Rename:- You can easily maintain your title name as well. So You take a title name which you want too. On this plugin, you have to turn on or turn off the course of action option according to you which you want on-table services to want too.
3. Synchronization:- This is the main feature of this plugin and is very useful for site updates on both sides. You have updated your data on Google Sheets so automatically it will be synced on the WordPress site. You don't need to do additional efforts on both sides for updates.
4. The Free or Paid version:- It has allowed you a free version on which you have to create your data on 50 rows. If you have collected data and this size take across the limit of 50 rows, so you don't need to take the stress. This will also allow you a Paid version. Mainly you have created data on the free version which limits 50 rows and after that, it will take charge.
5. Elementor Supporter:- it will support the Elementor as well. Elementor may bunch of editing or effortless data management. GO to Elementor Option-click on it. It is a very useful feature.
6. Support CSS:- It will always support CSS Coding language to create a table and make it easier to fetch this. It is very easy to maintain. It will provide the best end out surfacing on data tables of your website.
Visualizer: Tables and Charts Manager for WordPress
Visualizer plugins of Google Sheets to WordPress sites are Dynamic and useful for all of us. This WordPress plugin has attractive features of chart & table as well as easy to manage with an attractive appearance.
The plugin includes some features to Give The best results like Google Visualization API(Application Programming Interface), ChartsJs, and Data tables.net to do some attractive or animated actions on your data charts and tables of your post or page.
You can import the data which you want on Excel, CSV, or Google Sheets. It's very easy to manage this and supports Seems on mobile devices to very affinity.
Highlights key Points
Visualizer highlighted key Points are:
1. Best table Plugin:- This is one of the best Table plugins and is reliable for all of that. This plugin provides you with Free Charts, tables, and graphs for your WordPress post and page. Its Customizing process is also very easy. You have also done designing on your tables which will Give an attractive look to your page and post.'
2. Free or Paid Version:- The plugin may provide you with types of charts on the free version and 11 types of Unique idiomatic charts on Paid/pro version. No extra plugin is required for this and it can be made in a few minutes.
3. Support Gutenberg editor:- You can also use Gutnerberg Interface for doing easy-to-use this. If your post or page looks hard to manage It's very useful for this. It can create a short code and you will connect with your older editor.
SheetDB – get your Google Spreadsheet data
This plugin gives permits you To add content to the Google Sheet of the WordPress Site. this gives you a shortcode. It will manage content and allow you to contribute and show your content looks attractive and more reliable.
This is using the following attributes:
*Search – If you want to search out anything on your data at one or more conditions using these symbols. Example: search="name= Aditya"
*limit – you can use this for returning to inserting rows.
*Sort – by – Which column you may sort now?
*Sort – Order – If you doing Sorting in ascending or descending Order.
*Offset – For how many rows skipped you have.
*Sheet – If you have taken a different or one more sheet.
Highlights Key points
SheetDB highlighted Key points are:
1. Re-use:- If you rewrite and copy and paste the same data on your post and page. You can write code [sheetdb] matter. And [sheetdb-slot] for their name.
Example:- [sheetdb url="https://wordpress.org/plugins/wpgsi/"save="slot-plugin"]
2. Coding benefits:- This plugin may have created a short code side by-side to become easier for your work and reliable for content creation of your site's post and page.
3. Connectivity to WordPress:- This plugin creates the best connectivity to Worpdress for giving the best result of updating and giving looks attractive to your site posts or page.
Summary
This article is very useful for all of those persons who have searched for WordPress plugins for Google Sheets. Am discussing with you the 5 Most reliable and best plugins of WordPress to Google Sheets.
1. Spreadsheet Integration – Automate Google Sheets With WordPress, WooCommerce & Most Popular Form Plugins.
2. Ninja Tables – Best Data Table Plugin for WordPress.
3. Sheets To WP Table Live Sync.
4. Visualizer: Tables and Charts Manager for WordPress.
5. SheetDB – get your Google Spreadsheet data.
These are the 5 best Plugins of WordPress to Google Sheets. In this article, we can discuss their highlighted key features and their management criteria, and much more. Some plugins are free and paid/pro versions both have. After you read this article you gain the knowledge of plugins of WordPress to a Google sheet and Should try to best on your performed and give results on On-site posts and pages. With the help of this, you all have created dynamic, representative Charts and tables.