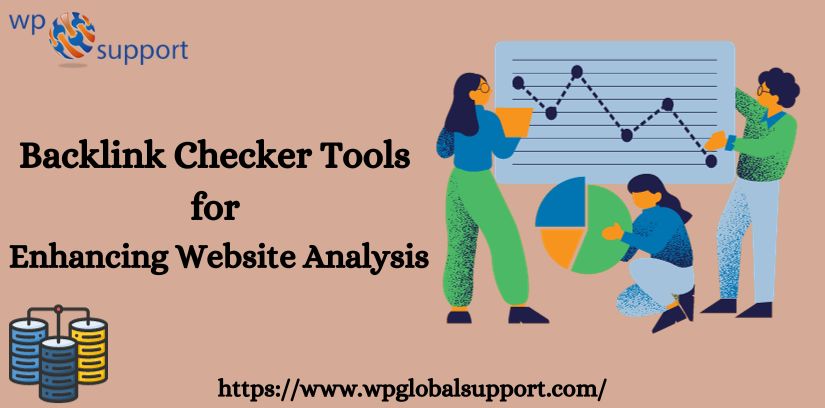 In today's digital era, maintaining a strong online presence is very important for success. Doesn't matter in what industry you are operating your business. As a website owner, it is important to understand how to analyze your own website and identify areas that may need improvement. One important aspect of website analysis is backlink auditing and tracking. Just because of it, backlink checker tools came into existence.
After deep and thorough research, we found these are the best backlink checker tools that will be discussed further in this post so let's get started.
What are Backlinks?
Backlinks are known as links from other websites that direct users to your own website. The search engines considered it as a vote of confidence from other online sources. It indicates to search engines that your website is valuable and trustworthy. Backlinks also play an essential role in determining your website's search engine rankings. The backlinks are also important for enhancing the page and domain authority of websites.
Backlink checker tools: Introduction
A backlink checker tool allows you to evaluate the backlinks of your website and gain insights into the quality and quantity of those links. This tool provides you with details such as the source of the link, domain authority, anchor text, and whether the backlink is do-follow or no-follow. This detail helps you understand how strong is your backlink profile.
When it comes to enhancing website analysis, backlink checker tools provide several benefits. It helps you to monitor the health of your backlink profile. This means you can identify any low-quality or spammy backlinks that may be harming your website's reputation and search engine rankings.
Some In-demand Tools To Analyse Your Backlink Profile:
Ahrefs:
Ahrefs is a well-known tool for digital marketers and SEO specialists and one of its flagship features is a backlink checker. It is designed to help professionals understand their website backlinks, Identify their competitor strategies, and discover opportunities for link building. Ahrefs provides valuable insights and data.
Ahrefs' backlink checker offers a deep analysis of competitors' backlinks so users can enter their competitors' domains and collect valuable insights into their link-building strategies. This feature enables users to identify the sources of their competitors' top backlinks, understand their content marketing techniques, and discover the right set of circumstances for their own link-building efforts.
Features of Ahrefs:
This tool provides an in-depth analysis of backlinks that includes Domain Rating, URL Rating, anchor text, referring domains, and backlink growth over time.
Ahrefs backlink checker provides real-time monitoring of new and lost backlinks. By using this users can set email alerts to get notified whenever new links are discovered or when existing links are lost.
It provides a competitor analysis feature that enables users to compare their website's backlink with their competitors. This feature allows users to explore their competitors' link-building strategies and identify potential link opportunities.
SEMrush:
SEMrush is the one of leading search engine marketing tools that offer a variety of features to help businesses. One of its extraordinary features is a backlink checker which allows users to analyze your and your competitor's website's backlink and get insights into the strength of the link-building process.
This allows businesses to understand the sources of these backlinks and also evaluate their quality and impact on search engine rankings. By monitoring the health of their backlinks users can identify potential issues such as low-quality or harmful backlinks that may harm their website's performance.
Features of SEMrush:
SEMrush Backlink Checker allows users to monitor backlinks on a regular basis. Users receive notifications of new backlinks generated or lost by this feature.
It provides a toxic backlink identification feature that helps users identify toxic backlinks that may harm their website's SEO performance.
SEmrush provides link-building opportunities that suggest potential link-building opportunities based on the analysis of competitors' backlink profiles.
It provides a feature of historical data that stores historical data about backlinks so users can track their progress over time by comparing current backlink metrics with previous data.
Moz:
Moz designed this tool to help website owners and SEO professionals analyze their website's backlink profile. It also provides valuable insights to users about the website's backlink profile and allows users to enter their website's URL and quickly access information about the backlinks acquired by their site.
This tool fetches important data about each backlink such as the linking webpage, anchor text, domain authority, and spam score. This information enables website owners to evaluate the quality and relevance of their backlinks, identify areas for improvement, and make decisions regarding their SEO strategy. It allows users to compare competitors' websites.
Features of Moz:
One of the most useful features of this tool is its ability to analyze the spam score of each backlink. Spam scores are assigned to backlinks based on various factors such as the linking domain's quality, reputation, and the relevance of the linking webpage's content.
Moz provides a complete analysis of a website's backlinks. It offers details such as the number of total backlinks, linking domains, and top pages that are receiving backlinks.
It provides Linking Domains Analysis so the users can get a detailed overview of all the domains linked to their website. This information is essential for understanding the authority and trustworthiness of these domains.
SE Ranking:
SE Ranking Backlink Checker is a tool that allows SEO experts to observe their website's backlinks. This tool allows users to access the quality of each backlink and identify potential issues or spammy links. Additionally, users can view anchor text distribution, allowing them to assess the relevancy and diversity of their backlinks.
SE Ranking also provides a variety of metrics and filters to help users analyze and understand their backlink profiles in more detail. Users can view the distribution of backlinks by domain authority, anchor text, and page authority. This information can be used to identify patterns, strengths, and weaknesses in the backlink profile and to develop strategies for improvement.
Features of SE Ranking:
SE ranking allows users to track their website's rankings for specific keywords on different search engines. It provides accurate and up-to-date data on keyword positions, allowing businesses to monitor their SEO efforts.
It enables businesses to analyze their competitors and identify their strategies. Users can compare their website's performance with competitors, track their rankings, and analyze their backlink profiles to gain insights and stay ahead of the competition.
SE ranking conducts an in-depth website audit to identify and fix any technical SEO issues that may be affecting website performance. It checks for broken links, duplicate content, missing meta tags, and other aspects that can impact search engine rankings.
It provides recommendations like how to optimize website content to improve search engine rankings. Along with that it also analyzes key on-page factors such as title tags, meta descriptions, headings, and keyword density, and provides suggestions for improvement.
Seobility:
Seobility Backlink Checker is a powerful SEO tool that offers a comprehensive analysis of backlinks. It offers consumers comprehensive data on the total number of backlinks, the strength of their anchor texts, and the domains from which the backlinks originate. Website owners and SEO specialists can evaluate the quality and significance of their backlink portfolio by utilizing this information.
The quality of backlinks is accessed by this tool using an exclusive algorithm. It takes into consideration a variety of factors such as the authority of the connecting domain, the importance of the linked content to the target page, and the variety of the anchor texts being used. Users are able to identify possible harmful backlinks that might be harming the performance and search engine rankings of their website with this analysis.
Features of Seobility:
Seobility provides a Link Quality Assessment that evaluates the quality of each backlink based on various factors, such as domain authority, trustworthiness, and relevance.
It offers a Link Monitoring and Alerts feature that continuously monitors the backlinks and alerts users about any changes such as new or lost backlinks. This feature enables users to quickly react to any changes in their backlink profile and take necessary actions to mitigate risks.
Seobility Backlink Checker has the ability to detect and analyze the link structure of a website. It can find broken or dead links, redirects, and any other issues related to the linking structure.
Ubersuggest:
UberSuggest is a popular SEO tool that is widely used for keyword research, content optimization, and competitor analysis. It's one of the best features is its backlink checker. This feature of UberSuggest offers several useful metrics to analyze backlinks. These include the Domain Score (DS) which indicates the overall authority and quality of a linking domain and the Page Score (PS) which determines the strength of an individual page that contains a backlink.
UberSuggest's backlink checker allows users to filter backlinks by different criteria such as do-follow vs nofollow, new vs lost, and top pages with the most backlinks. This helps users identify high-quality backlink opportunities and also keeps them informed about any lost backlinks that enable them to take necessary actions to regain them.
Features of Ubersuggest:
UberSuggest Backlink Checker allows users to generate custom reports on backlink analysis. Users can export the data in various formats such as (PDF, CSV, etc.) to share with colleagues and clients or to keep for future reference.
This tool constantly monitors and identifies new backlinks pointing to a website. The feature helps users stay updated with their backlink profile and ensures that no new backlinks go unnoticed.
UberSuggest Backlink Checker easily integrates with other SEO tools such as keyword research tools or website analyzers. This integration enables users to analyze the correlation between backlinks, keywords, and other relevant SEO factors.
SEO review tools:
SEO review backlink checker is a tool used to evaluate the backlinks of a website for search engine optimization purposes. Backlinks are essential factors that search engines such as Google, Bing, and Yahoo consider when they rank a website in search results. By using this owners regularly analyze and review their backlinks to ensure their website's visibility and ranking on search engines. They can also review their competitor's websites and find out their strategies and ranking pages on search engines.
This backlink checker examines the relevancy, authority, and trustworthiness of each backlink related to a website. With the information provided by the backlink checker, website owners can take necessary actions to improve their backlinks. They can reach out to the websites from which they have acquired toxic backlinks and request their removal or disavow them directly to search engines.
Features of SEO Review Tools:
It provides a Link Quality Evaluation feature to assess the quality of backlinks by considering various factors such as the authority and relevance of the linking domain, the trustworthiness of the source, and the overall link profile.
It has a feature of Disavow File generator that allows users to create a disavow file that lists all the toxic or spammy backlinks they want search engines to ignore.
SEO review tools offer customizable and white-label reporting options. This allows users to generate professional-looking reports with their own branding.
It offers additional features for link outreach and building. This includes finding contact information for potential link-building prospects.
Buzz Sumo:
BuzzSumo is a well-known backlink checker tool for digital marketing that offers various features for helping businesses improve their online presence and get more traffic to their websites. Using this backlink checker is very easy for users to simply input the URL of the website or webpage they want to analyze and then BuzzSumo will generate a detailed report. The report includes data such as the total number of backlinks, the number of linking domains, the domain authority of the linking websites, and more. This tool also provides a comprehensive list of all the backlinks that allows marketers to view each one individually.
Backlinks that are generated from other domains are essential for the authority equation that ranks content on search engines. As we all know for ranking on the search engine result page we need to create continuous new backlinks.
Features of Buzz Sumo:
Buzz Sumo backlink checker tools provide a user-friendly interface that makes it easy to navigate and understand the data. Its dashboards, clear visualizations, and advanced filtering options help users quickly find the information they need.
It provides historical data on the website's backlinks that allow users to track the progress of their link-building efforts over time and identify any sudden changes or trends.
It provides a Link Disinfection feature that helps in identifying potential harmful backlinks that may negatively impact a website's search engine rankings.
Link Miner:
Link Miner is a comprehensive backlink checker tool that enables users to analyze and evaluate the backlinks of any website. Link Miner is Developed by Mangools and this feature is a part of their larger SEO toolkit of KWFinder. Link Miner is user-friendly and provides visual representations of backlink data such as charts and graphs that make it easy for users to analyze and interpret the information. This tool offers a reliable backlink analysis process that makes it feasible for both beginners and experienced users.
Backlinks have long been known as a major factor for search engine optimization. They work as votes of confidence from other websites that indicate to search engines this website is trustworthy and has high-quality content. Link Miner assists users in understanding their backlink profile and tracking the success of their link-building efforts.
Features of Link Miner:
Link Miner provides a Link Tracking feature that allows users to track the progress of their link-building efforts over time. By monitoring the addition or loss of backlinks, users can assess the effectiveness of their strategies and make necessary adjustments.
It provides a Broken Link Identification feature that finds broken or dead links that can harm a website's SEO. Link Miner detects any broken links within the backlink profile and notifies users about it.
Link Miner offers a Link Profiling feature that allows users to filter and sort their backlinks based on different criteria such as link type (follow or nofollow), anchor text, or referring domain.
OpenLinkProfiler:
OpenLinkProfiler is a highly useful backlink checker tool that assists users in analyzing and monitoring their website's backlinks. It provides an in-depth backlink analysis. One of the standout features of OpenLinkProfiler is its comprehensive backlink analysis. The tool provides detailed information about each backlink, including the linking page, anchor text, and link influence score. Users can filter the backlinks based on various parameters such as link type, industry/niche, country, and domain authority.
With the help of OpenLinkProfiler users can easily identify and disavow toxic or spammy backlinks that may harm their website's rankings. This tool assigns a Link Influence Score to each backlink that indicates its impact on the linked website's search engine rankings. This link Influence score allows users to prioritize high-quality backlinks and identify potential risks from low-quality or harmful links.
Features of Open LinkProfiler:
It has a Link Age feature that provides insights into the age of the backlinks to help users understand the historical growth of a website's backlink profile.
Open LinkProfiler provides a feature for exporting backlink data in various formats such as CSV or Excel.
It provides a Link Context feature that gives information about the context of the backlinks including the link type such as (text link, image link, redirect, etc.) and link location on the source webpage.
Open LInkProfiler offers a Link Velocity Trends feature that helps in analyzing the growth or decline of backlinks over a specific period. It helps in identifying link-building patterns and creating link-building goals.
Final Words:
In conclusion, for increasing website analysis, backlink checker tools are an essential part. They provide you with valuable insights into the quality and quantity of the backlinks pointing to your website to help you identify areas for improvement. You can monitor your backlink profile, analyze your competitors' backlinks, and utilize the data for SEO purposes that can significantly enhance your website's search engine rankings and overall online reputation. So, make sure to make the most of these tools and stay ahead in the digital world.