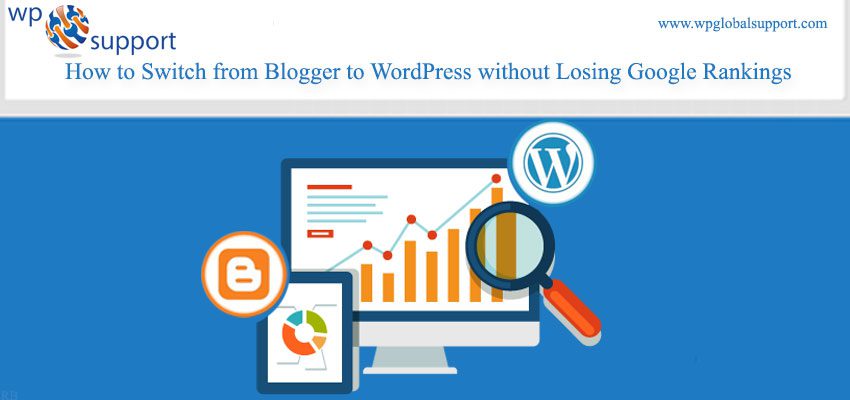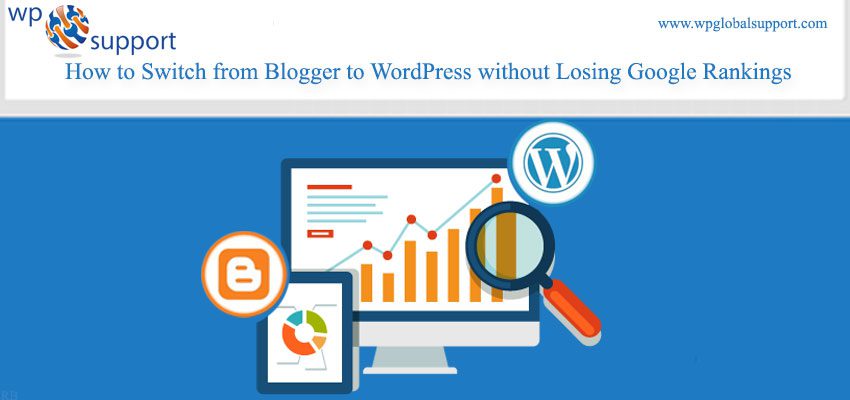 Are you thinking about switching your blog from Blogger to a self-hosted WordPress platform? So users, you are on the right track to earning more control over your blog or website and good customization options.
Many people will start on Blogger because it's free and simple to use. Blogger is a good platform to start learning the trade of blogging and website building.
Moreover, once you start getting more traffic and subscribers, a self-hosted WordPress blog generally makes more sense. You can also read our article Comparison between WordPress And Blogger: Which one is better for you?
Steps to Switch from Blogger to WordPress
1. Find a Host and Install WordPress
Firstly you need an account with a third-party host. A web host is a company that stores your blog files on their servers. Unlike a free host like Blogger a third-party host does not own your content. You can get more storage space, bandwidth and more by paying a third-party for web hosting as opposing to use a free service.
Web hosting is one of the key components of every successful website. Here, selecting a suitable and cheap WordPress hosting plan for your WordPress site is very important for you in order to make it cost-friendly in your pocket.
Web hosting can cost anywhere from a few dollars per month to several hundred relying on the types of features you need. PC Magazine has filed many different web hosting companies to use, but after maintaining more than 20 different blogs, I've found that HostGator is probably the best in terms of cost and performance.
Once you select a web host and pay for your account, register and set up your custom domain name. Next, follow your host's instructions for installing WordPress as your content management system in your domain.
Most hosts make this setup process very simple, Moreover, it may differ from host to host. You can always contact your host for illustrating step-by-step instructions for installing WordPress on your site.
Read Also: 4 simple steps to Install WordPress
2. Import Your Blog to WordPress
For migrating your blog from Blogger to WordPress it offers a super simple tool for doing just that.
Just start by backing up your XML template on Blogger just to be safe. For doing this select Template from your side menu on your Blogger dashboard, and then click Backup and Restore.
Next, access your WordPress dashboard. Your host might give you your login and password information while installing the software on your site. Select Tools > Import from your sidebar at your dashboard. This shows up a list of different blog platforms you can import from. Choose Blogger from the list.
Next, you'll see a pop-up asking if you want to install the Blogger importer. Click Install and after that WordPress will download the Blogger Importer plugin. Click the link that says Activate Plugin and Run Importer Once the plugin successfully installs.
On the next page, click Authorize.
You'll be directed to your Google account where you will have to authorize WordPress to access your Blogger account. Just click Allow Access to continue. Now you'll be redirected back to WordPress. This window will display a list of all your Blogger blogs. Click the Import button next to the blog you want to move to WordPress. Now your blog has been imported to WordPress.
Here, Templates are those files which control how your WordPress site will be displayed on the Web. These files draw information from your WordPress MySQL database and generate the HTML code which is then sent to the web browser.
Read More: How to Migrate WordPress Site from Subdomain to Root domain
3. Assign an Author
After importing your Blogger blog, you'll be taken to a page that asks you to assign a WordPress user to the Blogger posts. If you're the only user on the site, simply select your name.
If you have more than one WordPress user, choose an suitable user from the drop-down menu to attribute all the posts to. Save your changes.
4. Edit Your Permalinks
For editing your permalinks go to Settings > Permalinks in your WordPress dashboard, and just make sure your links are set up the same manner they were in Blogger. Possibility are your links were set up like given below:
/%year%/%monthnum%/%postname%.html
Choose the custom permalink option and insert this code into the box. Here, permalinks are the permanent URLs of your individual weblog posts, as well as categories and other lists of weblog postings.
5. Redirect Your Blogger Posts
Redirect your Blogger posts to your new site. It means that every time someone clicks on an existing link that marks to your Blogger blog, they'll be taken to your WordPress site and the equivalent pages/posts instead.
Here, The articles posted by the admin of a WordPress site are called posts and pages are like posts. Pages can be managed in a hierarchical structure in WordPress. Your links will still be live, but all your traffic will go to your WordPress site.
This also allows search engines notice that your blog has moved.
If you know nothing about HTML, getting the code to redirect your Blogger blog is literally quite simple. Begin it by downloading the Blogger to WordPress Redirection plugin. Where, a plugin is defined as a type of software that contains a group of functions that can be added to a WordPress website. They are used to provide additional functionality to your application.
First of al,l Go to Plugins > Add New. Then after install the Blogger to WordPress plugin.
On the next page, activate the plugin.
Navigate to the plugin's settings by going to Tools > Blogger to WordPress Redirection. On this page, click Start Configuration.
Click Get the Code. This will give you the code, paste into Blogger to implement the redirection. Highlight and copy the code.
Navigate to your Blogger account and click Template from your sidebar menu. Scroll to the bottom of the page, and click Revert to Classic Template.
Scroll down unless you see the Edit Template HTML code box. Paste the code you copied into the box to replace the rest of the code. After that Click Save Template to make your changes.
Just Check that everything worked by entering one of your Blogger posts URL into your Internet address bar. In case you're entering your Blogger domain, it should take you to your WordPress site.
6. Redirect Your Feed
Just make sure that your feed subscribers are also redirected to the new site. If you're adding new content to the WordPress site but people are still subscribed to the Blogger site, they won't notice you've made the switch.
Navigate to Settings > Other on your Blogger dashboard. Under Site Feed, click Add next to ìPost Feed Redirect URL. Paste your new WordPress site's feed address, and then save your settings.
CONCLUSION
There are various free migration tools, but if they don't do what you need you can pay for a more complete solution. For large sites, CMS2CMS could save plenty much time in migrating the images alone.
Migrating Blogger to WordPress isn't so much difficult with the right tools. For keeping your traffic and SEO just make sure to go through all of the steps like setting up your permalinks. We hope that the above article helped you to switch from Blogger to WordPress without Losing Google Rankings.

In case of any help related to WordPress talk to our WordPress Technical Support Team to get instant help, dial +1-855-945-3219 (Toll-Free).