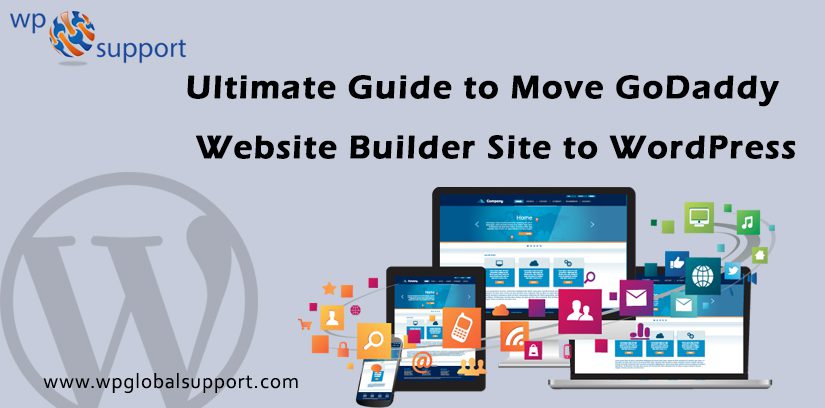 Want Your Business To Be Next? Pivot on WordPress, As off – It Is A Key To Success Your Business!
As we all know that in godaddy website builder, Website Builders are the great tools for webmasters that allow the users to create a site without any coding knowledge.
But, WordPress is a platform that allows users to create a site without any coding knowledge as well as it also allows users without having any web design knowledge.
Continuously, GoDaddy is a good site builder, but it has the limitation in comparison of WordPress. Because of the nature of WordPress, it is more flexible and easier to customize. This is the reason why many people move from GoDaddy to WordPress.
Hence, we will illustrate to you How to move GoDaddy Website Builder to WordPress.
What To Do Before Start Migrating?
The success of your WordPress site mainly depends on the WordPress hosting that you have to choose. In case you are facing difficulties to select it then move ahead to our article on How to choose the best WordPress Hosting.
If you already have GoDaddy's hosting service then you can use that for your WordPress Website.
We recommend you Bluehost if you wish to move to a new host. As these are one of the largest hosting companies worldwide and official WordPress hosting partner.
Move GoDaddy Website Builder Site to WordPress
There are several steps to migrate GoDaddy site builder to WordPress which are as follows:
Step 1: Preparing to Migrate from GoDaddy Website Builder to WordPress
WordPress has import tools for most of the services and tools like Blogger, LiveJournal, Tumblr, etc. However, it does not have an import tool for Website Builder.
This is the main reason you will require to backup your Website Builder site manually. It can be a bit consuming depending on how much content you have on your site.
Backing up GoDaddy Website Builder Content
If you have just a few pages then you can back up by saving images and copying text into text files on your computer.
Next, you can visit each page on your website in your browser and then press CTRL+S (Command+S on Mac) on your keyboard. Now, you will see the save dialog box. Just Select 'Webpage, Complete' in the 'format' or 'save as type' field.
Repeat the process for whole pages on your website. You have to make sure that you have downloaded all your images and text. Disconnect internet on your computer and then open the files you have downloaded to double-check.
You can use the free HTTrack tool for copying the website on your computer. HTTrack is a website copier. You can easily enter the URL of your website and it will make a copy of it on your computer.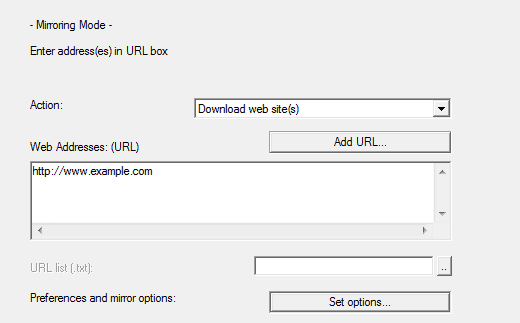 The main problem is that GoDaddy website builder and its templates save their files on various CDN servers.
The name and addresses of these servers changes from one site to another.
Content Delivery Network (CDN) allows browsers from anywhere location to connect to a server that is more close to them.
This makes it difficult to download all your image files. In case your website is mainly based on text and you don't mind losing images then Httrack is the quickest way to copy your website.
After disabling godaddy website builder you will not be able to get back to your website. Just take your time to make sure that you have a backup of all your website data.
Want quick support related to WordPress Backup and Restore get help from one of our Experts dial + 1 844 897 0441(Toll-Free).
Backing up Your Link Structure
To do the same, you will require redirecting people visiting your old site's URLs to the new URLs in WordPress. For doing this, just have a list of all URLs on your website.
In case you have just a few pages then you can simply copy and paste the URL of each page on your website in a plain text file.
Another option is – you can use online tools for extracting URLs from your site. For this, you can use Klipper, a Google Chrome extension to save URLs in a txt file.
Step 2: Move Website Builder Site to GoDaddy Shared Hosting
This step is only for users who will be using GoDaddy's hosting service for running their WordPress site. In case you are using some, another WordPress hosting provider like (Siteground, Bluehost, Hostgator) etc. then skip this and jump to the next step.
WordPress hosting providers
Siteground – SiteGround provides the cheapest Startup shared plan too. However, they are also known for the best in class customer support. SiteGround also has fast and reliable hosting plans too. Its WordPress optimized hosting includes everything you will desire to create your own website and grow to get a successful business.
Bluehost – The Bluehost hosting provider has become the largest brand name when it comes to WordPress hosting. They are an official 'WordPress' recommended hosting provider. Bluehost offers a range of products and services to help you get started with your website or online shop from shared and WordPress hosting to website builder tools.
Disabling GoDaddy Website Builder
If you wish to use GoDaddy's hosting service for your WordPress site then you cannot install WordPress on that domain unless you deactivate Website Builder service.
For this, log in to GoDaddy account and tap on your username on the toolbar at the top. This will display a flydown menu where you require to click on 'Manage Website Builder'.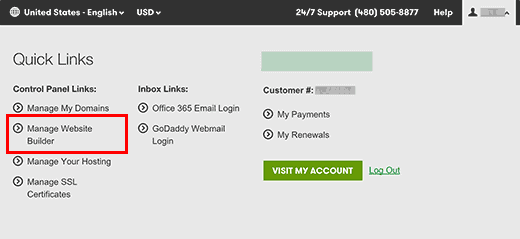 This will display your Website Builder account just tap on the options button next to your domain name and it will bring you to the Website Builder options page.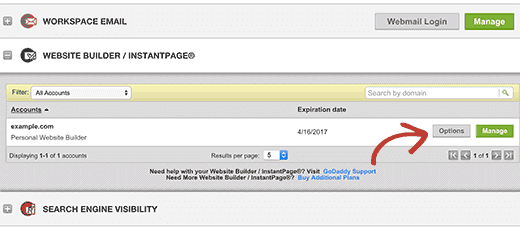 You will find a link to cancel your account under the overview tab. Click on it for deactivating Website Builder on your domain name.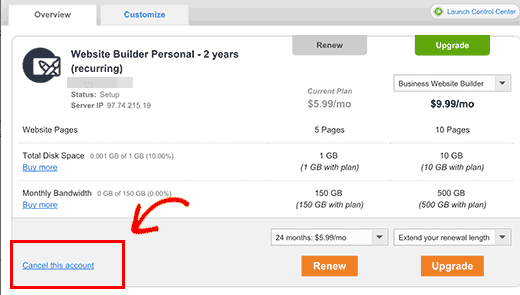 Now, your godaddy website builder account will be deactivated. The domain would become available to host your WordPress Website and it will take nearly an hour before your godaddy website builder account is fully deactivated.
Add Hosting to Your Domain
Now your domain is free from GoDaddy website builder just add hosting service to that domain. Tap on web hosting under account manager and then click on the manage button next to your account.
However, this will show you to the cPanel dashboard of your hosting account. Just scroll down to the domains section and then click on Add on domains.
Also, you can enter your domain name. The subdomain and document root fields will be automatically filled.
For creating an FTP account you are required to check the box. Just choose a username and password for your FTP account. At last click on the add domain button.
Step 3: Pointing Domain To Other WordPress Hosting Services
This is for the users who have the domain registered with GoDaddy. And want to use it with some other WordPress hosting provider like BlueHost or Siteground.
The very first thing, you have to log in to your GoDaddy account and tap on your username on the toolbar at the top. This will show a flydown menu where you require to click on manage my domains.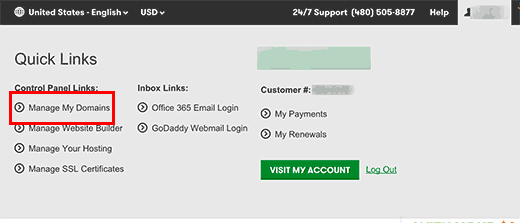 Now choose your domain from the list and click on the Nameservers button on the top and then select set nameservers.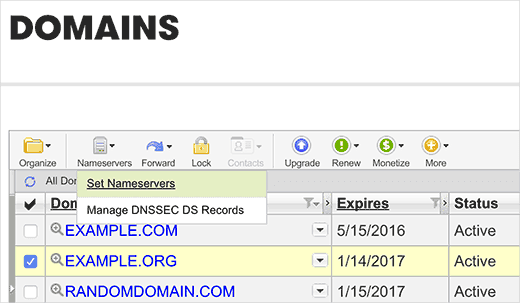 This will show up a pop up where you need to click on custom and then tap on the link to enter custom nameserver.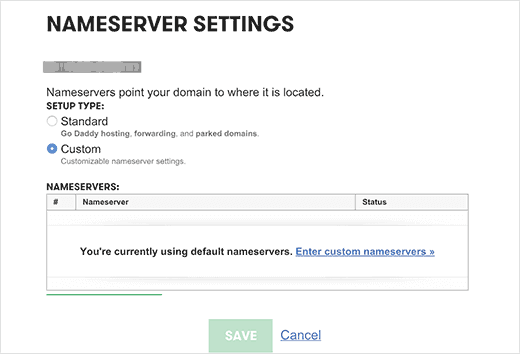 However, a new popup will show with two fields. Just add your new WordPress hosts nameservers here. In case your WordPress hosts more than two nameservers then you can click on the Add Nameserver button for adding another line.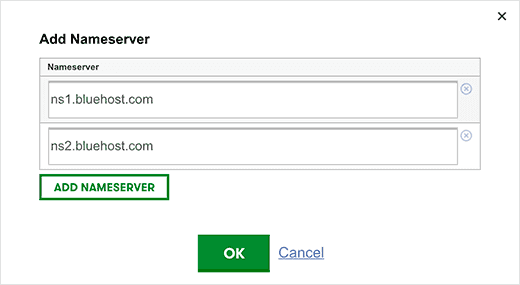 Now click on the OK button and then press the save button to save your settings. Just keep in mind that DNS changes may take up to 24 hours to propagate throughout the internet. It generally takes a few hours.
After your domain start pointing to your new WordPress host, you can proceed to the next step.
Step 4: Installing WordPress
Now your domain should be pointing to your hosting service and you are ready to install WordPress. WordPress is popular for its 5-minute installation.
There are most of the hosting companies offer 1-click installers for new WordPress websites which lets you install WordPress on your website with just a few clicks.
For more information refer to our guide on 4 simple steps to install WordPress.
Step 5: Importing Website Builder Content in WordPress Site
You will have to manually backup your Website Builder content as it is not viable to automatically import content from Website Builder.
WordPress comes with two built-in content types called posts and pages by default. You are required to create new pages or posts on your site.
Then copy and paste your GoDaddy website builder content. As creating posts and pages in WordPress is very easy.
Step 6: Setting up Redirects
In case you have the lists of links from old website builder site then you can go right ahead and set up redirects.
Firstly install and activate the Simple 301 Redirects plugin. See our step by step tutorial on how to install a plugin in WordPress.
After the activation visit Settings » 301 Redirects page. Just enter your old URL under the 'Request' field and enter the new WordPress URL for that page in the 'Destination' field.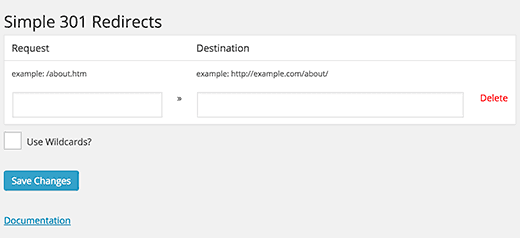 Click on save changes button for saving this redirect. Repeat the process for all other URLs.
Step 7: Customizing Your WordPress Site
WordPress comes with thousands of elegant themes both paid and free. Move ahead to our guide 7 Top WordPress Themes Marketplaces to Find the Best Themes.
But the most powerful feature of WordPress is its flexibility which comes from plugins.
Also, there are thousands of WordPress plugins that let you do essentially anything imaginable.
Summing Things Up
Well, this leads to the end of this blog for godaddy website builder. If you use Website Builder we highly suggest making the switch as soon as possible. The sooner you switch the less content you'll have to anxious about.
Although making the switch is a copy and paste process the flexibility and ease of using WordPress are worth the effort and will pay for itself in the long run.
Now we'd like to hear from you! Have you migrated a website from GoDaddy's Website Builder to WordPress? Did you use the steps I discussed here?
Let us know in the comments as your comment is far precious to make this article more resourceful.
Thanks for Giving your valuable time to Read this article. You are always welcome to visit here anytime soon if you have any other queries.

In case if you need any further help, contact our WordPress Technical Support number at toll-free +1-844-897-0441.
You may also like:
How to Migrate Your WordPress Website from Joomla to WordPress? Best of 2021
Migrate a Site from WordPress Multisite to Single Install 5 Easy Steps