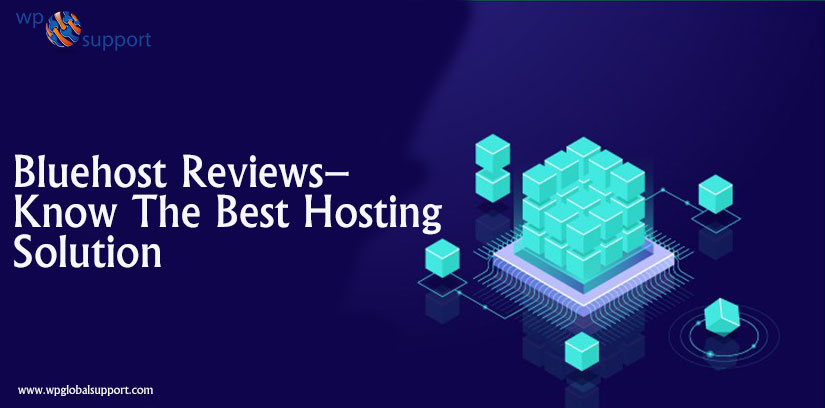 Well, there is various web host or hosting providers in the market to offer you the best hosting products and plans. Therefore Bluehost Reviews will help you to know everything about it. However, with Bluehost Hosting, you never have to worry about your website being slow even when there is a lot of traffic. The Bluehost 24/7 expert support is always there to help you. When you need it either by phone, email, or live chat.
Because they are rated no. 1 in web hosting for small businesses. They feature 1-Click installations in all their plans. In addition to offering a full range of web hosting services, Bluehost Hosting plans provides marketing training, SEO services, social media marketing, content creation, graphic design services, email, domain names, and local business listings to grow traffic.
---
What Is Bluehost Web Hosting?
The Bluehost is a web hosting company was founded by Matt Heaton and Danny Ashworth in Provo, Utah. Its one of the oldest web hosts, Bluehost was founded in 2003 and has since grown to become one of the world's largest providers of reliable and cheap web hosting.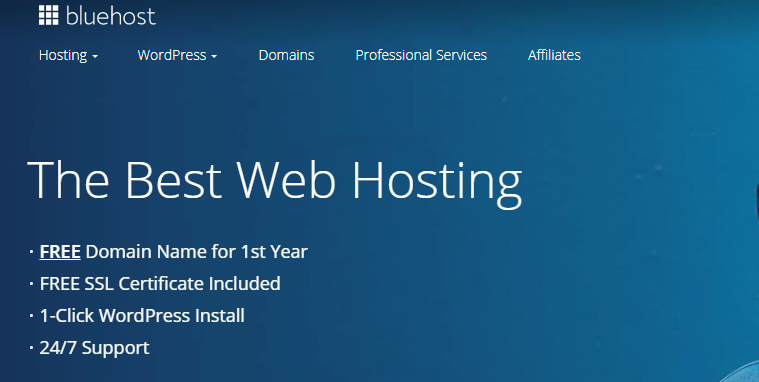 The Bluehost hosting provider has become the largest brand name when it comes to WordPress hosting. They are an official 'WordPress' recommended hosting provider. They have a well-maintained staff of 750 people, who work round the clock.
Bluehost offers a range of products and services to help you get started with your website or online shop from shared and WordPress hosting to website builder tools. They have a special focus on meeting the digital marketing and training needs of small businesses.
Why Bluehost Is Ment For You?
In a nutshell, all Bluehost plans offer their customers 24/7 live chat, unmetered bandwidth, and five email accounts. Similar to many other website hosting companies, they too offer their new users a free domain for the first year. Bluehost plans start from $3.95/mo and include improved security, backups, and a free SSL certificate. These help to keep your blog or website protected and safe.
Briefly, all Bluehost hosting plans offer their customers unmetered bandwidth, 24/7 live chat, and five email accounts. However generally, like any other website hosting companies, Bluehost also offers a free domain for the first year to their new users. Bluehost plans start from $3.95/mo and include improved security, backups, and a free SSL certificate.
All these features will help you to keep your website safe and protected. Although Bluehost is a well-recognized brand name in bargain web hosting. Therefore it powers over 2 million websites worldwide, with the help of a large volume of business, they are able to offer steep price discounts.
Bluehost Reviews of Performance
The most concerning performance metric that you should figure out is the speed and load time of a website. These not only affect the user experience on your website. But also it affects WordPress SEO rankings of the site. The latest studies show that a single second drop in website speed can decrease your conversion rate by 7% at least. Similarly, a three-second delay may cost you 50% of site traffic.
Although choosing the right web hosting service is a bitter experience. Because hosting either can make or break your website completely. Therefore, you have to spend several hours doing research. Trying to understand and then comparing all these hosting companies. Here in this article, we will tell you Bluehost performing best at this level or not?
Bluehost Speed Test
Well, having a fast website is very important for many different reasons. Because a fast website has a competitive advantage over others in terms of Google ranking factors. This means it increases the visitors to your site.
When it comes to the matter of user experience. Thus if your site loads fast, then new visitors are more likely to engage with your web content and convert to clicks. In addition, fast websites can unlock all the best opportunities for a website.
Therefore this is the best way to figure out the speed of the web hosting company's servers have both hosting companies are served with exactly the same webpage from the same location. Therefore a small difference in page size is due to the server level caching. Because both hosting uses different types of servers.
The test of Bluehost servers would respond with increased traffic, using various testing tools that send virtual users to the site. They gradually built up to 100 visitors to see how the server would handle increased requests from multiple connections at once.
Therefore if the server load remained stable throughout the test even at peak traffic then it's good to handle the load. Certainly, if you are looking for a really fast website? then Bluehost will be the perfect fit for you. It is also important to note that it didn't record any downtime during the testing.
Bluehost Server Response Time
When you are testing a live website using various tools. Then you are basically seeing how everything on your website loads. This includes images too because it takes much longer to load than plain text. Although overall the last 24-month performance of Bluehost has been good.
Bluehost is clearly at the top with its fast load time of 405ms (0.4 seconds). If your target audience is in the United States (USA). Then this would benefit your website. However, if more of your users come from other parts of the world, then you can change your server location too.
Pros And Cons of Bluehost Hosting Provider
However, all web hosting companies have their own pros and cons. But with some of them, you can live with and some of them are such you cannot ignore. Well, here are the pros and cons of Bluehost that you need to consider:
Pros:
Well, at first, let us now take a look at the advantages of Bluehost hosting providers that make Bluehost the top choice among the users and website creators.
Pricing: Bluehost hosting plans are well within the reach of most users, particularly those who are just starting out.
Reliability: The Bluehost powers a large number of websites with minimum downtime.
No hidden charges: There are no hidden fees when signing up for your account.
Free domain: In addition, you will get a free domain name for a one-year duration when you signup.
Cons:
However, like others, Bluehost has not come without some disadvantages. Therefore you should aware of such disadvantages before signing up for the first time.
Costly renewal: It has a higher domain renewal price. Even the free domain renewal price is also very higher than average.
Upselling Addons: Bluehost has an aggressive upsell process during signup. However, you can uncheck all the addons easily, if you do not need them.
Bluehost Reviews of Services & Hostings
Bluehost value hosting packages comes with unmetered bandwidth, SSL certificates, free global CDN. Also, you will get free daily, weekly and monthly backups. That is on a powerful proven platform that is built to scale, optimized for speed, and security. Bluehost has the cheapest hosting plan worth $2.75/mo.
Well, If you are looking for something basic and inexpensive. Then shared hosting is probably all you need. This is the reason most beginners and small businesses are shopping for it. Besides, Dedicated hosting is the most expensive hosting of it. Thus it is best suitable for large commercial firms. Those who need full control of their resources.
Although with Bluehost's dedicated hosting, you can essentially renting a physical server. The VPS hosting plan is a middle-ground option for you. Where you share a physical server with others. But still, you have a virtual operating system, therefore the server functions as if it is physically yours.
WordPress hosting is certainly what it sounds like a hosting that optimized for WordPress customers. Bluehost offers a variety of hosting plans and packages available for all budgets and sizes. Bluehost offers shared hosting, VPS hosting, dedicated server hosting, cloud hosting, WooCommerce hosting, WordPress hosting, and many more.
Let us now take a look at the plans provided by Bluehost:
Bluehost hosting providers offers five types of hosting plans:
Shared hosting
VPS hosting
Dedicated hosting
WordPress hosting
Cloud Sites
Shared Hosting
These hosting prices are all pretty good. But you can make sure you get the best price. Although at the Basic level, you have one website with 50GB of space and unmetered bandwidth. You can also get one domain, five parked domains, and 25 sub-domains. Also, it gives additional features of five email accounts with 100 MB of storage each.
However, With the Plus or Choice Plus plans, you can get unlimited websites and unmetered space and bandwidth. Also, you get one domain included, and you can have unlimited parked domains and sub-domains. Email accounts and storage are unlimited, along with marketing offers.
In addition, it includes Global CDN and one SpamExperts as an extra benefit. The highest level plan is Business Pro. It includes extra annual benefits. That including two SpamExperts, one dedicated IP address, one premium SSL, domain privacy, enhanced performance, and SiteBackup Pro.
VPS Hosting
VPS hosting prices are in line with typical costs for industry-wide VPS hosting. However, The speed for the first two plans is 2 CPU cores. But up to three and four cores for the top plan. Although you can get 30GB SAN storage at the lowest tier, and up to 120GB at the highest level tier. However, RAM ranges from 2 GB up to 8 GB.
You get 1 TB of bandwidth at the Standard level, and up to 3 TB at the Ultimate level. Each tier includes one domain. The Standard plan of it includes one IP address. But you can get two with the rest. Every plan of Bluehost is backed up by 24/7 support and a money-back guarantee.
Dedicated Hosting
If you choose Dedicated hosting then with the Standard plan or Enhanced plan. You can get a 4 x 2.5GHz CPU. The Premium hosting plan offers you a 4 x 3.3GHz CPU. Storage is ranging from 500GB to 1 TB. Also, the RAM starts with 4 GB at the Standard level, ranging up to 16 GB at the Premium tier.
Also, you can get 5 TB of bandwidth at the Standard tier, 10 TB at the Enhanced tier, and 15 TB at Premium plan. One domain is included with every plan. You can get 3 IP addresses at Standard plan, 4 at Enhanced plan, and 5 at Premium plan. All Bluehost plans are backed up by 24/7 service and a money-back guarantee.
WordPress Hosting
Well, these plans may look as same as Bluehost shared hosting plans, Also, they cost you the same amount. However, at the end of the year, Bluehost introduced a new category: WordPress Pro.
WordPress Pro
These plans are quite expensive compared to their simple WordPress hosting and what some competitors offer (many hosts sell WordPress hosting plans at the same prices as general-purpose shared hosting plans). WordPress Pro at Bluehost hosting is a big deal.
However, this is one of the company's most popular services. Because of more than a million sites hosted by the company. The WordPress Pro plans are running on the high-performance VPS and offer you improved site speed.
The plan features at the Build level include Basic Jetpack Site Analytics, 100 Free Premium Themes, Marketing Center, daily backups, and Malware detection and removal for added security of your website.
Its Grow plan is a step up with Jetpack Pro. Therefore the Business review tools let your visitors leave positive feedback, Google, Bing, or Yahoo, reviews for your business directly from your website.
Search Engine Optimization tools give you real-time optimization tips on how to increase your search engine rankings? It's integrated into the Marketing Center. Where you can see statistics that how you are performing in major search engines?
Cloud hosting
Bluehost Cloud hosting is a more reliable upgrade to the Shared hosting plan basically. A cloud hosting plan allows you to utilize multiple cloud servers at the time. Also, it allowing your website to automatically switch to a different server in case of a hardware failure or high traffic.
Conclusion
Well, here in the end section we are hoping that all the information given above will help you to decide whether to choose Bluehost hosting or not? Also, you can check out the Bluehost hosting plans and packages to select from and start your journey with the best web host provider like Bluehost.