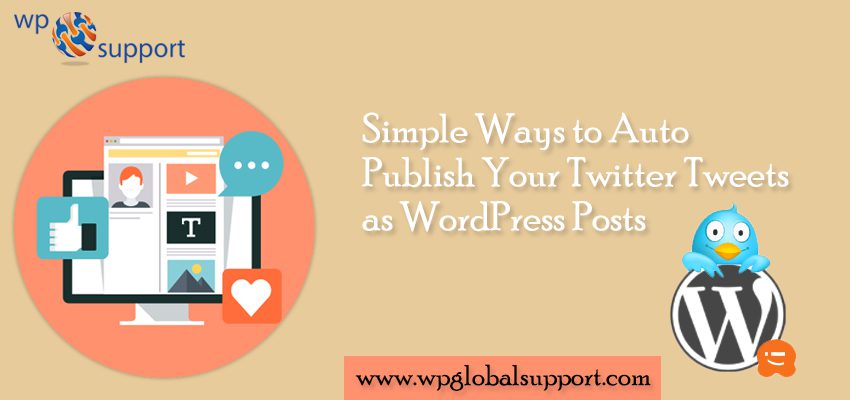 Wondering how to Auto Publish Twitter Tweets as WordPress Posts? Don't worry! We will tell you in this post. We are going to use a Twitter Tool plugin by Alex King to auto-publish Twitter Tweets as a New WordPress Post. This plugin makes full integration between your WordPress blog and Twitter account.
Let's get cracking!
Read More: 2 easy way to show total number of Posts in wordpress website
Auto Publish Your Twitter Tweets as WordPress Posts
Firstly, you need to download the Twitter plugin and then activate it. If you haven't done this before then take a look at our guide on How to install a WordPress Plugin. Once you have done this thing then follow these steps as shown in below.
Create a category where you want to post all your automated posts. You can like this category daily digest, twitter, or anything you like.
After that, Go to the settings of the Twitter tools plugin in your WP-Admin.

Here, Enter your username and password.

Enable posting option when you tweet. If you don't want to create a personal post for each tweet, then your solution is the next option.

And then, Enable the option to create daily digest with all your tweets from that day. And modify the other settings like the title of the post and the title (also you can set it for weekly digests).

Now, choose the category you made in step 1 to post your tweets.
You have completed the above steps once, then you have completed the setup. Now it's ready to go.
Display Tweets in the Sidebar
But this plugin has too many features. Also, you can show your recent tweets in the sidebar through this plugin. However, you have to use a dynamic widget or another way, paste the code as shown below to your sidebar.php ar any other place that you want it displayed.
<?php aktt_sidebar_tweets(); ?>
If you want to display your last tweet, so use this code:
<?php aktt_latest_tweet(); ?>
Some other features of this plugin
Archive your Twitter tweets (downloaded every 10 minutes).

Create a Tweet on Twitter when you post on your blog, with a link to the blog post.

From WP Admin screens, you can post the tweet.

Post a tweet from your sidebar.

And you can pass your Tweets to another service (through API hook).
Some Limitations of this Plugin
When tweets are deleted from Twitter, they are not deleted from the tweet table in your WordPress database. Delete the tweets from your WordPress database, by using a database admin tool like phpMyAdmin.
Only one Twitter account has been supported (per author, not an account).
Some of the Other Plugins which helps you for Auto Publishing Twitter Tweets:-
Import Tweets as Posts – It lets you to easily import tweets from user's timeline or search query
Twitter Auto Publish – It allows you to publish posts automatically from your blog to Twitter. You can easily publish your posts to Twitter as a simple text message or a text message with the image.
Twitter posts to Blog –  Twitter posts to Blog Plugin helps in Streaming Tweets To your blogs.
Conclusion
Here, in this blog, we have discussed step by step "How to Auto Publish Your Twitter Tweets as WordPress Posts"?
Now, you know how to auto-publish your Twitter Tweets as WordPress posts. If you are facing any problem related to this, tell us in the comment section. We are here to help you.
Well, that's all on our behalf. If you need any additional support or help try calling our WordPress customer support phone number Toll Free : +1-855-945-3219.
More Useful Articles:
How to Load Posts Button in WordPress Website? – Best of 2023
Easiest Ways to Change and Remove Author from WordPress Posts – A Comprehensive 2023 Guide