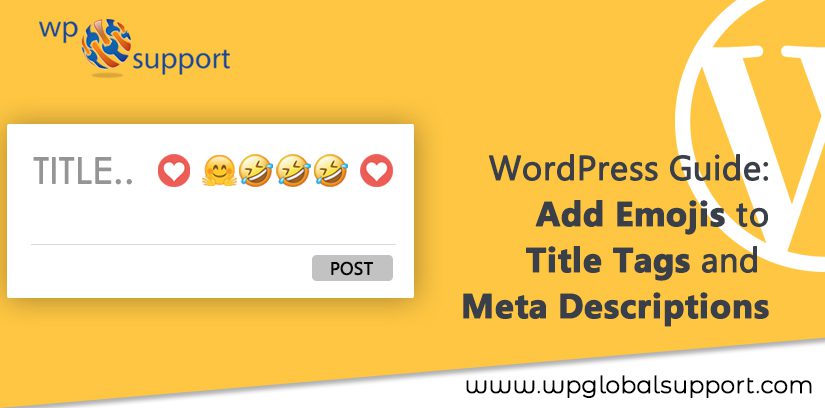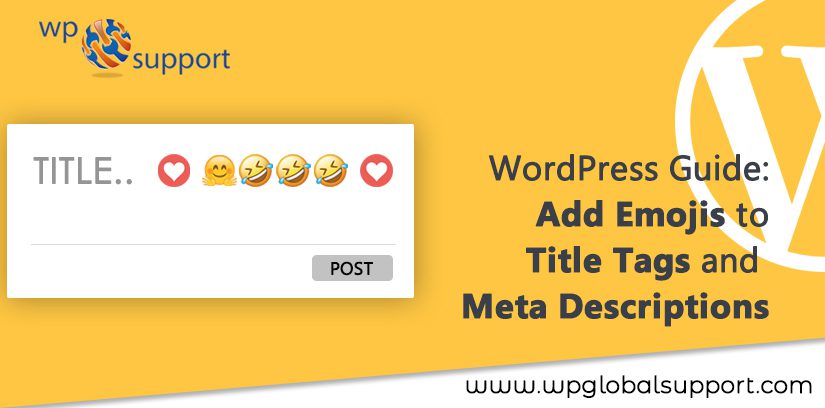 Getting an emoji in your page's meta tags can be exceptionally difficult unless you know how. Read on for our article to getting them to display in your pages search results.
During this article, we'll show you the way to add Emojis to Title Tags and Meta Descriptions in WordPress. WordPress customer service number provides the best possible service and information related to all things for WordPress. So let's get started:-
About Emojis

These are the symbols which are universally recognized across various platforms and devices. It means they should display on your windows computer or Apple iPhone. They can be helpful to draw attention to results and creating SERP snippets with expanded click-throughs. Here,
Being at the top in SERP gives competitive advantages to WordPress website so that you can beat your competitors easily and far behind.
Emojis, the term has come from Japan and the meaning of it is deogram or pictograph. For making the title tags more stunning and better influential now the webmasters are using small images or icons. As with tags, it is possible to get instant traffic for a blog or blog-based site for an empty niche on the internet.
Here, the traffic is very important because higher rank in search result generates the traffic on the site as well as increases the brand's position and works as a key to business assets.
Also, A tag in WordPress is one of the default tools one can use to categorize their WordPress posts. Where, the articles posted by the admin of a WordPress site are called posts. Posts are arranged in reverse sequential order in WordPress.
If you're using WordPress, you've likely tried finding this out by either copy + pasting emojis via a WordPress plugin. Or trying to type the formal Unicode notation into your title tag field all to no avail.
If you are having one of the more recent versions of WordPress SEO by Yoast, then you already have Emoji support for your title tags and meta descriptions. Here are the instructions to use Emojis on the WordPress based websites having the Yoast SEO plugin.
Here, Yoast SEO is the most popular plugin, worldwide. Basically, it can do everything in the aspects of SEO that an SEO professional want. It comes with plenty of features that make your site search engine friendly. As Yoast provides open graph information so images shared through social media will be automatically displayed.
Steps to add Emojis to Title Tags and Meta Descriptions
1. Firstly Find the Emoji You Want
To discover an emoji go to iEmoji.com and search for an emoji of your choice. This one shows the code that seems to work in Yoast.
2. Get the Code for Your Emoji
After you have found an emoji you want to use look for the "Decimal HTML Entity" or "Hexadecimal HTML Entity". Then copy whatever of those two codes you'd like to use.
You'll see on some emojis listed there are various code sets called: Softbank, DoCoMo, Unified Unicode, KDDI, and Google. Unified Unicode is the most popular due to its use on iOS 5+ devices. Running a test showed that this code was indeed indexed and presented by Google as well.
Some common measures of structure Emojis
There will be no any sign of display except a rectangular plot if a user has not the Emojis feature on the device.

There is no any option to make a preview and this is the reason that each and every step should be taken sincerely.

Both of the Unified Unicode and Google code do not possess the features of the preview.

Emojis are not placed on the desktop screen in most of the cases, but the same is available on the mobile screen. There will be a rectangular plot and the specific browser cannot encode the Emojis code.

When you are going to fetch profile data to Expedia or WordPress, there will be a different view. In the source code of Expedia, there will be the instance of the image but WordPress will only display the code.

It requires character space and in that case, you have to frame the title tags shorter than the normal size. Basically, there is a need for at least 9 characters and a space for placing the Emojis.
So, here we have defined about the implementation of Emojis. This is the new trend to make a title tag more beautiful.
Concluding Remarks:
So now it's a wrap for this post and we hope that you truly liked this post. Your comment is far precious to make this article more resourceful. So do not for forget to leave your opinion. Offer a chance to your friends and followers to think of the article by sharing the post to your social circles.
In addition, keep an eye on the very blog and our website www.wpglobalsupport.com as: We will be adding more resources for WordPress in the coming weeks.

We hope that this blog helped you completely. If you're looking for someone who can help you with WordPress security then you can dial our Toll-Free number +1-855-945-3219. As we will be glad to help you.
Read More Blogs:
Top 10 WordPress Plugins to Engage Visitors of Your Website – 2018