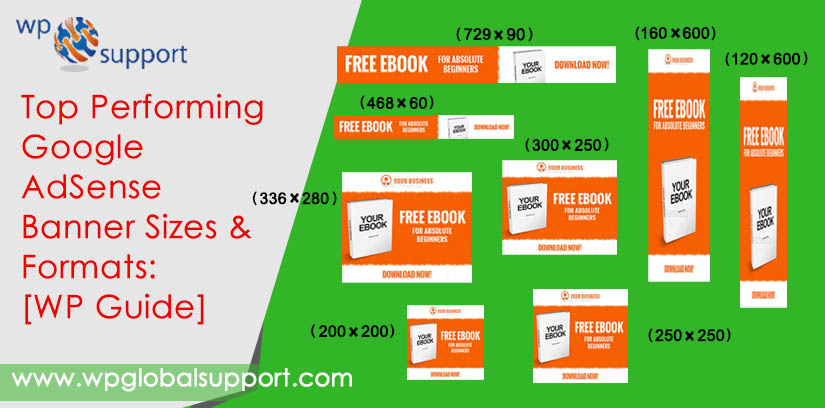 Are you really happy with google adsense performance? if you are using google adsense to engage an audience and give traffic too much your site.
Running google ads is the most effective way to increase traffic. it's a more important thing to know when you run any ads through google adsense you must be sure to take the right display banner size and format. It is basically used to advertise your brand on a different social media platform. Different types of Google AdSense banner sizes are available over the internet which helps you to grow your market digitally. Google represents a diverse range of AdSense banner sizes which can use by 90% of internet users worldwide.
You all over know every digital marketer professional should always be aware of giving the best performance also regarding & remembering the most common thing about the ad sizes & formats supported by the google display network. through this resource, we complete the discussion about the most famous google display ad sizes, google display mobile ad sizes, and more things. now I'll go to illustrate them. Read carefully the whole of the article.
Do Google Adsense Banner sizes really matter?
Whenever you are going to put a Google Adsense banner ad on a different website or network. The most important factor will you need to address is the size of the banner.
Designing an ad is a very easy task but the trickiest task is to choose the best size and network for advertising.
Suppose you are advertising your Google Adsense banner to some other websites or networks then the Websites that advertise your banner to their size have all the control over which the banner gets to advertise on their website. So you don't have any right if they want to advertise your banner as a half-page ad.
Meanwhile, if you really want to run your campaign successfully then it is very important to choose the right banner size. This will also help to target a specific niche and make your ads more effective together.
According to a survey it is found that certain Adsense banner sizes tend to get more impressions than their counterparts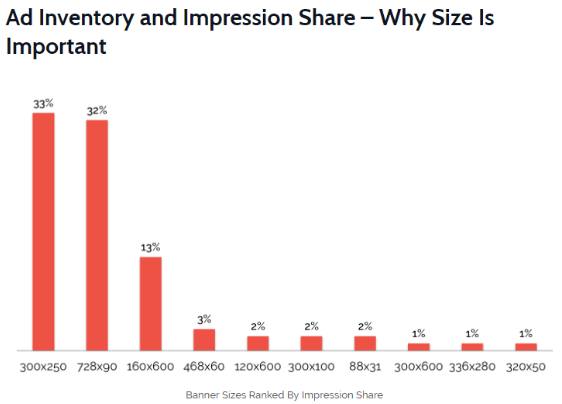 As you can also see from the survey results that in most of the cases the ads whose sizes are 300×250 and 728×90 will get the most eyeballs. So if you want to get your campaign more popular and successful then you should opt for the given banner size to advertise on other networks.
Not only the size of the banner matter. In fact, it is also the design which really attracts more and more audience to your website. So if you want to grow traffic to your website then you should also have to work on your Adsense banner size and design.
Sometimes it all depends on the type of network and environment to make your add more successful. Some sites offered only small sizes banner due to their mobile responsive so your Adsense banner will fit perfectly for both mobile and desktop views. A responsive theme makes your site mobile-friendly so that users can view it on their mobile devices and can read your site information easily.
Responsive means portability, it means – if your site has a responsive theme function then any user can view your site on the mobile devices also. However, WordPress theme developers usually use those codes that allow the whole website to resize with the screen size adjustment. This includes all the dynamically re-sizable images, which increases readability of the site.
Why Some Google AdSense Banner Sizes & Formats Work Better?
The Google AdSense has the various banner sizes and ad formats that you can add to your sites for increasing your site earnings. But, not all of them provide the same level of results.
Furthermore, the Ads which are closer to the content and visible on page load easily will obtain you a higher CTR (Click Through Rate). Where CTR stands for click-through rate: a metric that measures the number of clicks advertisers receive on their ads per number of impressions. To be ensured that, you have to opt for the ad size which is easily noticeable.
A few of Google AdSense ad sizes are very small or some are large that affect the user experience (UX) which is to meet the exact needs of the customer, offering the customers a seamless merging of the services.
The next factor affects the ad performance on your site is how many advertisers are running their ads for that format. However, there are a few ad banners and formats that are popular among advertisers. Using them you get a huge inventory and better-paying ads.
Finally, some formats are optimized for the mobile. If mobile users give you more traffic than these ads are performing better on your sites than other sizes.
How To Setup Google AdSense On WordPress?
The very first thing, you have to do is sign up for a Google AdSense account.
Thereafter, you can place the AdSense ads to the sidebar of your site by default. However, there are a few WordPress themes that offered separate dedicated areas to display the ads on your website.
But, the best way to manage your ads in WordPress is by using ad management plugins like AdSanity. It is easy to use & allows the users to insert ads easily into sidebars, post content and anywhere as per user's choice.
Top Performing Google AdSense Banner Sizes and Formats
Most of the site's owners try various types of google banner sizes to determine which format performs better for the website. However, the engineers of Google AdSense also run their tests to see how ads are performing on websites.
Here, we have the top-performing Google AdSense banner sizes and formats which provides the greater value for advertising real estate.
1. The Medium Rectangle (300×250)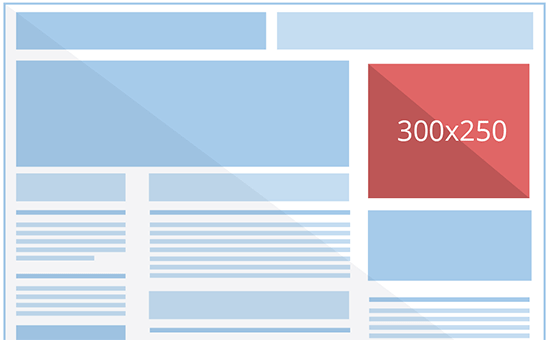 This Medium Rectangle ad format supports both text and display ads. It is also one of the most widely used Google AdSense Banner Sizes ads to be used over the internet. It can also be used on the mobile layout.
The medium rectangle size is very easy to fit in the sidebar or inside the content area without irritating the users. It also eliminates banner blindness which basically a phenomenon in which a user ignores banners because they thought that some irrelevant ads will be present there.
For this reason, this ad format obtains a huge ad inventory. Means to say more and better-paying ads for your website. However, it is the best-sized for in-content ads and also reported to have the best CTR for most sites.
2. Large Rectangle (336×280)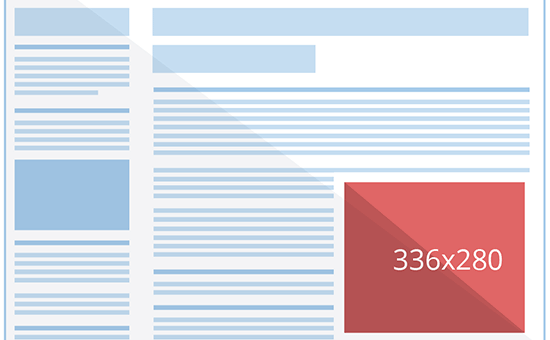 The Large Rectangle ad format is large and more noticeable than the medium rectangle. It supports both image and text ads also. According to this article – it takes the second position from the list.
There are the disadvantage of this ad format is that, it is not fit in all site sidebars and also it is not available in a mobile-optimized format.
If the sidebar of your site is a bit narrow, then the ad could extract the content that it is not good for the user's experience. However, the large rectangle could easily outperform the medium rectangle if it placed inside the content area in between the paragraphs.
Because of its size and ideal placement that is next to content, this ad's size gets the best ad inventory also. Due to it's larger size this banner size can be proved as a good choice for branding as it can easily be caught by the eyes of the people.
3. The Leaderboard (728×90)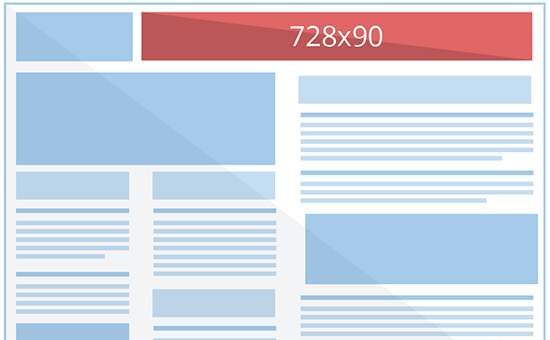 The Leaderboard (728×90) ad format is the best banner size for the website header in Google AdSense Banner Sizes. Along with this, it supports both the text and the images and does not support mobile ads.
It also offered more inventory for advertisers and also considered as one of the most served banner format on the display network after the medium rectangle.
The popularity of this google ads banner size can also be possible due to its mobile responsive nature which means that it can be used on any type of mobile and desktop screens.
Not only this, it is ideal to be placed on the inside or after the website header, it gets the more ads that means better ads for your sites. This ad format has good size and placement. Therefore, it works better with most of the sites.
4. Half Page aka Large Skyscraper (300×600)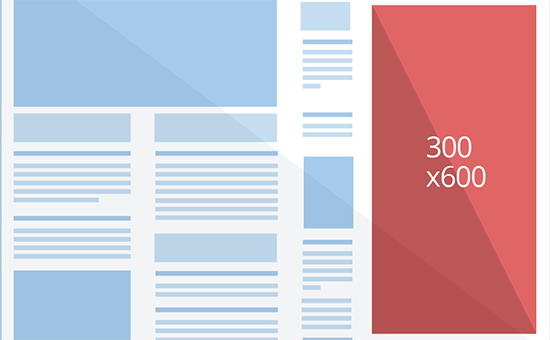 This Large Skyscraper ad format is a broad banner. Because of its size, it is also known as half-page. It gets the attention of advertisers who want more ad space to communicate during retargeting.
Further, it is a more popular ad format among publishers, that's why it tends to give more exposure to brands that means better-paying ads.
Meanwhile, according to google this type of format is considered as one of the fastest-growing sizes by impression because it provides more visual impacts to the customers.
However, you can place this ad format in the sidebar or next to the content. The disadvantage of this ad format is – because of its size, it may not be fit for all sites.
5. Large Mobile Banner (320×100)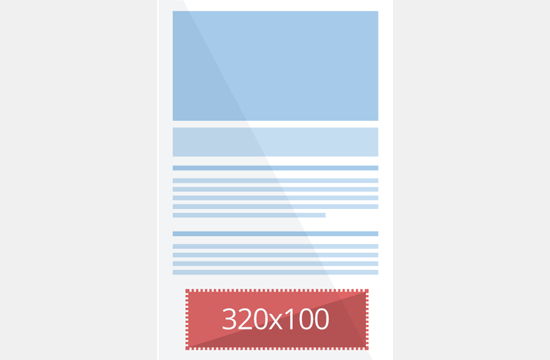 This Large Mobile Banner (320×100) is the mobile ad format. Further, this one is similar to the Leaderboard in terms of effectiveness but only for mobile devices. Where Google AdSense Banner Sizes ideally, it works best when it placed on the top just below the header.
They comfortably fit the screen of the web page and can easily be caught by the eyes of the people. The most important factor about this banner size is its mobile responsive nature.
A good thing is that the mobile traffic makes up a good chunk of users for many sites, this ad format gets the better ad inventory. It also can be placed as a less intrusive ad and also as an alternative to the medium rectangle ad format.
6. Mobile Leaderboard (320×50)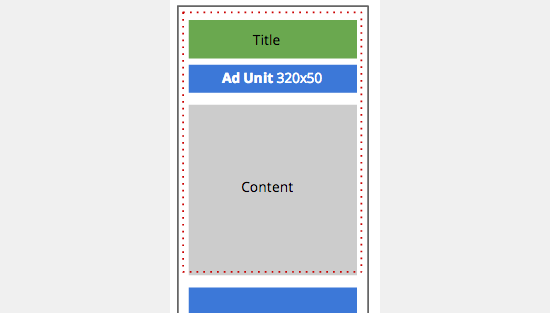 This ad format is half in height compared with the large mobile banner ad format. It is extremely less effective and also less intrusive. And also offers better ad experience on smaller mobile devices.
It is also very less effective in driving the traffic to your website in desktop view as most of the people usually ignore it by considering it as a spam advertisement.
However, the Mobile ads are very popular among advertiser that means it gets a sizable ad inventory. With proper placement, it works better with mobile traffic.
7. Wide Skyscraper (160×600)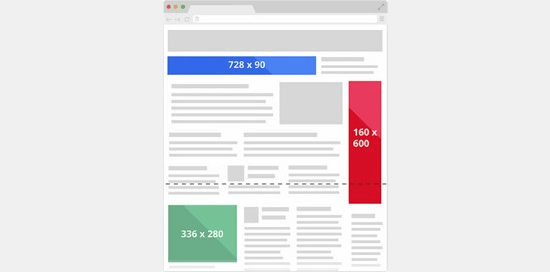 Wide Skyscraper is a vertical banner ad format designed especially for narrow sidebars. Further, it supports both images & text ad formats and it is also popular among advertisers.
Moreover, it is an extremely less intrusive ads option. Not only this, but it can also blend easily with the design of your site.
It is the third most popular google display banner sizes available for advertisement as it gives about an impression share of about 13% on the internet.
However, it is less effective in comparison to the wider half-page banner ads that tend to draw more visitor attention towards the ad.
8. Portrait (300×1050)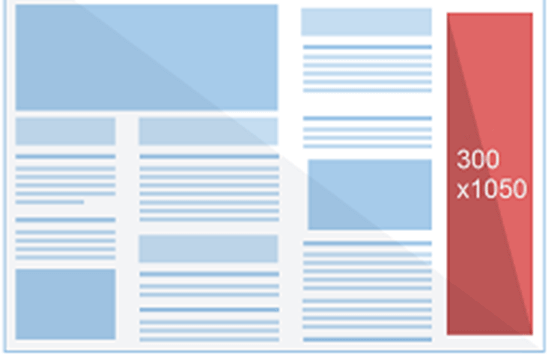 The portrait is also one of the extremely broader and longer vertical banners. Because of its own size, this one attracts the brand-centric advertisers who want more ad space for their message.
The main key feature of this banner size is that it can be fit with the content and layout of most of the gdn banner sizes. It gives an opportunity for advertisers to create engaging, creative content.
Faultlessly, it is placed as per your choice – in the sidebar or next to the content where it is more notable as the visitors scan the contents of your page. There is also a tricky part is – to implement it without affecting the user experience on your site.
9. The Billboard (970×250)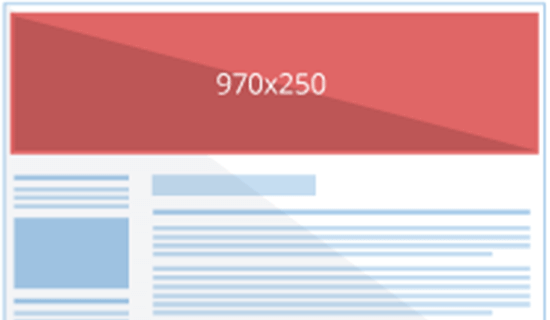 This one is another brand-centric ad format. Further, Billboard is also a broad horizontal banner ad format that can be kept on the top of your pages. It tends to obtain good ads because of the space it offers to the advertisers. But it also has a smaller ad inventory.
It can also be proved to be very useful for those advertisers who want to show larger google ad sizes on a display page.
However, if it fails to attract your site's enough ads, it could be a hit or a miss, that depends on your site's keywords and content.
10. The Square (250×250)
Basically, for Google AdSense Banner Sizes in most of the cases, huge ads are more notable. Whereas, not all sites are designed in the same way. However, this Square ad format could fit beautifully in your layout if you are using a minimalist WordPress theme and still be notable.
It is very less popular as in most of the cases advertisers don't want this kind of banner size because this google AdSense banner size is very small in size.
The bad thing about this ad format is that – it has a smaller ad inventory which results in low paying ads. In case your site is in a competitive industry, then it can work better without affecting the user experience.
Less Common Formats of Banner With Sizes
Although the possibilities of using Google AdSense are more then you think. Because it does not end up with all those ten banner sizes which we have discussed above. In addition to Google AdSense banner sizes, plenty of other different sizes or formats are available for you to know. All these banner sizes can show you the true flexibility of the Google AdSense platform. Here we are going to list them in a shorter way if your WordPress website needs some different appearance to create ads.
All these less common formats are given below:
Banner (468×60): This is used for any website headers, this type of banner gives you a smaller space for creating ads that are good than other normal leaderboard banners.
Half Banner (234×60): This type of banner is good for the headers section, it provides a smaller space for ads than a normal size leaderboard banner.
Skyscraper (120×600): This type of ad banner formate is specially designed for both the narrow places and also for tall advertisement places.
Wide Skyscraper (160×600): However, this kind of Skyscraper banner size is a little wide than the normal Skyscraper. it is also designed for narrow and tall advertisement places especially.
Large Leaderboard (970×90): This is the opposite format to create some large ads which are different than the previously mentioned leaderboard sizes because it is used for some larger header spaces.
Vertical Banner (120×240): This is one of those banner formats which is best fits for any small or verticle spaces also due to its size it does not disturb the users very much.
Small Square (200×200): This is the smaller version of square banner space that has very limited usage because the form does not usually suit modern website designs.
Small Rectangle (180×150): Well this format is the reduced size version of the most famous Rectangle banner format which is used for the websites with a lack of free space.
Button (125×125): This is the all-time smallest format for any type of website, however, it does not focus on an advertisement at all.
Few Regional Unique Ad Banners
Well, you will glad to know that there are some other types of ad banners available, which is also worth considering that Google AdSense provides the extra support of some unique ad banner sizes and formats for a few different countries. From Google AdSense Banner Sizes, the examples for these special banners are given below:
Top Banner (930×180) for Denmark
Triple Widescreen (250×360) also for Sweden
Vertical rectangle (240×400) for the Russian segment
Panorama (980×120) for Norway and Sweden
Billboard (750×100) for Poland
Double Billboard (750×200) for Poland
Exclusive Triple Billboard (750×300) for Poland
Netboard (580×400) for Norway
Adsense Most Excellent Ad Units
Although every type of ad format has its own success rate. It totally depends on the performance of any Google AdSense banner sizes units. However, the performance factor is decided on the basis of a large number of impressions. This impression is acquired by each of the Ad Units according to the Google AdSense banner sizes.
As per the performance factor of Ad formats and sizes, these following are worked best and provide the maximum results.
Leaderboard size of 728 x 90 pixels
Medium Rectangle size of 300 x 250 pixels
Wide Skyscraper size of 160 x 600 pixels
Large Rectangle size of 336 x 280 pixels
These ad units not just provide extra exposure to the ads. But also these improve the ad clicks on your website. However, other types of banners also achieve well performance. Such as the large rectangle 336×280 banner size workes better than others. Besides that, with the help of these banner sizes, you can get the best results just by placing some link units on the leading positions on your website pages.
Besides these formats of ad banner sizes, if you think the other ad banners are not relevant to your website. Therefore you can block some specific sponsor's websites from being displayed on your own website. Also, you can do so with those type of ads which are displayed from your competitor's websites on your site.
However, as long as the different Ads position is involved, we would like to suggest you that you should use the Leaderboard 728×90 banner size. Also, the size of the Banner 468×60 ad format will be the best for your website logo as per your logo size. Besides that, we also recommend you to add the 328×280 or medium rectangle 300×250 banner sizes just after the title of your website article.
In addition, at the sidebars space, you can use the Wide Skyscraper of size 160×600. Also, you can try the 120×600 Skyscraper banner size in the sidebars of your website as per the specific design and space available.
Different Types of AdSense Formats Testing
Although if you want to earn more money with the ads of AdSense. Therefore you should test everything. Because no one can tell you about what is surely work best for your website. The reason behind this is that they usually change from blog to blog. Therefore if some types are working well for some sites they may not work well for your website.
Thus if you are not sure about which Adsense ads will work well for your site. Then you must test the various types of ad sizes. Suppose if you are currently using the square 250×250 banner sizes on your website, you can test some other most performing sizes like medium rectangle 300×250 and large rectangle 336×280 banners for some fixed period of time on your website.
After completing the testing of all the different sizes. Now it is time to examine the results of it. However, to do so you need to go through the Number of clicks, impressions, CTR, and total earnings for that test data from your Google Adsense publisher account. Although with the help of this analysis you can get the most performing Google Adsense Ads formate for your website.
Besides that, if you take some lessons from the information we provide you above. Then you should keep on testing on a regular basis to get updated information on most performing Google AdSense Banner Sizes ads as there is always scope for improvement and thus higher chances of making more money from your ads.
Additional Tips to Make the Most Out of Your Ad Space
Throughout this article, we also instruct you some tips to ensure that you are entirely utilizing the potential of your site when using Google AdSense to generate revenue.
Display multiple ads: Google AdSense lets you show the multiple ad units at a time on a page. Try various placements and ad formats to test which combinations work is best for you.
Test different ad placements: Try various ad formats to find out which formats give you a better CTR and which formats give you better ads.
Optimize website performance: Research displays that faster websites usually get a more engaged audience. Means to say higher CTR for your ads.
Think of users first: Whenever ad revenue is crucial for the survival sites, then you have to think the same as of your users. To place the ads in a way that affects the user experience would affect your website's user engagement as well as your WordPress SEO.
Know The Methods of Placing Ads
Although getting the best Adsense banner sizes for your own website is not the complete winning formula to earn. However, the second most concerning thing is nothing but the correct placing of your ads in your website pages and blogs. Because the right placements of these ads increase your overall earning form such ads. Thus here we are suggesting some of the useful ways to you for better ad placement in your site to enhance your earnings.
Showing Content Always Better Than Ads
Although this is always considered as the biggest mistake when you showcase a huge part of ads then the content. Because most of the people make a similar mistake when they suppress their content while placing the ad banners on their website. In addition, they give more importance to placing the ads all over their content which is not good at all.
It ultimately leads your website to bad user experience. Also, it is the reason for higher bounce rates and lower Adsense earnings. Therefore you must have a look at the following illustration to understand it better. Because you can see that if website layouts highlight the content fields.
Therefore they can give better results, in terms of CTR, revenue, user experience, and many more. However, the website layout that pushed the content below to the fold may produce bad results for your website. So you must give more importance to content and not to the ads.
Balancing The Ratio of Ads vs Content
Well, if you want to keep a good balance between your ads and content. Therefore you should make all of these ads in a more natural way. In addition, you must take care of the thing that does not place these ads on unnecessary places in your blog posts. Also, your ads should be as the supplement of the content on your site and not give the irrelevant content.
In other words, if your website provides the free downloads of content to your visitors such as videos, mp3 files, eBooks, stock free images, and many others. Then you should make sure that the download links of such content should be above the fold and also easy to get by your visitors.
Although you should think about using the native ad units if you want to keep your ads to look natural. However, with that, you can easily balance your content and ads ratio very well. Certainly, this is the correct way for you that can also increase your ad earnings without bothering the user experience.
Try To Use Heatmap Tools
Well, apart from other things you should give a try and use the heatmap tools on your website. Because these tools can help you out to understand the behavior of your website's existing user or new visitors. However, to do so you should use a few heatmap tools such as Crazy Egg. Because this tool can really help you with many of the things.
This is useful to find out how often your website users visit a page.
Also, you can know about what kind of content is most popular on your website. In addition, you can find how the users of your website are navigating your website from entry to exit. Although based on the above things, you can easily experiment with your ad units, and improve your placements of ads for overall conversion rates and CTR.
Mobile Responsive Ads
Here we are providing the most useful mobile Adsense ad formats and ad unit sizes. That is currently available for you to use such as ad format of 300 x 250, ad format of 320 x 50, ad format of 320 x 100, ad format of 250 x 250, and ad format of 200 x 200 is most relevant.
If you are getting a lot of traffic to your sites from mobile devices (or even tablets), you should definitely consider using mobile responsive ad units which are mentioned above. The great thing about using these responsive ad units is that they automatically adjust their size, appearance including the ad format to fit just about any available ad space.
These responsive display ad units leave the work of testing and optimization to Google and ultimately enable you to focus on better ad performance to generate more click-through rates and income.
Place Less But Effective Ads
Sometimes placing fewer ads is more beneficial. It is true for ad placement too. Don't place too many ads. If your website users can't find what they're looking for, they may go elsewhere. It can kill your conversions and also lead to high website bounce rates. Ultimately bad for your search rankings. So be thoughtful and try to put a combination of ad units, link units, and search boxes on each page of your site.
Some Other Tips To Improve
Try the best AdSense plugins. If you are using WordPress, you are fortunate. There are a ton of plugins out there that can help you maximize your Adsense earnings. Here are some of them which can help you boost your earnings.
AdSense Invalid Click Protector: This plugin is helpful for protecting your account from invalid clicks. If you're getting a ton of unusual invalid click activities and click bombings, this plugin is a must for you.
Easy Google AdSense: This is another useful plugin for WordPress AdSense users that makes it easier for you to try ads as there is no need to manually add AdSense code to different parts of your website. Just enter your Google AdSense Publisher ID in the settings and Google will automatically start showing ads at optimal times.
AdSense Plugin WP QUADS: This is a widely used free AdSense plugin where you can get incredible features like AMP support, mobile-optimized and responsive AdSense ads, disable ads on mobile, tablets, desktop, etc and so on.
Conclusion
We hope this article will help you find the top-performing Google AdSense Banner Sizes and formats. As there are different types of Google AdSense banner sizes available over the internet which helps you to grow your market digitally. If you have any problem related to google display ad sizes, tell us in the comment section. We are happy to help you.
If you liked this post, please share it with your peers.
If you have any WordPress questions feel free to ask us as you can get our expert advice. For the same, our WordPress Support team is always ready to deliver WordPress services. Just dial our support phone number +1-855-945-3219(Toll-Free) to know how our professionals can help you.