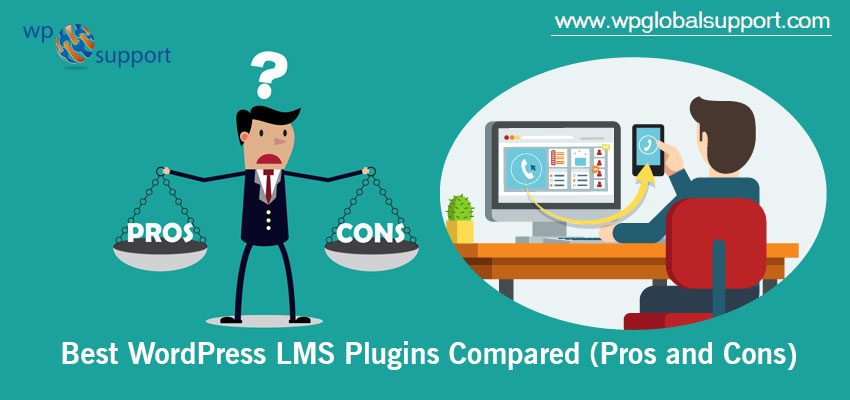 Students cannot learn much just by sitting in classes, listening to teachers, memorizing prepackaged assignments, spitting out answers, etc. You need some additional sources to learn more and new things.
In this digital world, with the help of E-learning (WordPress LMS), you can learn more and more at home, while traveling, or wherever you want. As WPLMS is an online education management system that helps students to learn more and more at home, while traveling, or wherever they want without going to any tuition or classes.
The education software is also called the WordPress LMS Plugin which is vital for such sites as you want to focus on building content and also adhere to the latest eLearning standards. No doubt, surrounding is changing very fastly, therefore, what we learn in school, colleges, and institutes is not enough. We need to learn more from the e-learning system.
E-learning means WordPress Learning Management System makes the task possible for us. Just because of online courses and classes we can keep continue our education, hobbies, and work together.
However, instead of blog posts, many entrepreneurs, bloggers, and freelancers are adding online courses and many people are joining the dance, cooking, and many other online classes day to day. Not only this much, if you expertise in any field, you can also share your knowledge on the internet with WordPress LMS plugins.
But before this let's get a bit information over LMS;
What Is The Learning Management System?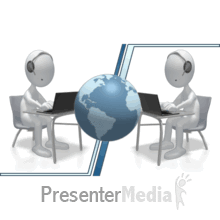 The Learning Management System (LMS) is emerging through e-learning also known as online courses. LMS is a software that helps you to manage administration, documentation, and delivery of education through the internet.
Further, this allows the instructor to deliver study material to the student, conduct administer the test, provide assignments, track the progress of the student, and manage student records.
In other words, it provides features that maintain a class without having the student in the actual classroom, means, online classes. But this task can only perform the best WordPress LMS plugin.
Hope you are cleared about LMS, now, come to its history;
The LMS is first introduced in the 1990s. As online users increased, e-learning has also increased and become a way of earning. If you are a WordPress site owner so you can start your online classes with WPLMS – WordPress Learning Management System. Additionally, you can also use some other best LMS platforms to your WordPress site.
When it comes to WPLMS, a question arises in mind what is WPLMS in actual? Let's see;
WPLMS – WordPress LMS is completely designed for an e-learning system. This means to say, to provide education through the internet. Further on it allows you to create coaching institutes, training centers, educators academy, and student management systems.
It is an entirely flexible and scalable system that comes with a complete package to provide you online education system.
Coming back to the topic!
There are a lot of WordPress learning management plugins that help you to create classes, enroll students, share coursework, and quizzes like Udemy and WP101 – Popular online classrooms. As plugin provides additional functionality to the application.
However, the best WordPress e-learning plugin comes with advanced features to handle your subscription, your online course content, evaluating quizzes, and accepting payments, etc.
What to look for in a good WordPress LMS plugin?
As we have discussed above the functionality of LMS, now let's talk about some best LMS plugin for WordPress. There are numerous WordPress online training plugins available in the market, but choosing the best one is quite difficult.
That's why here we will illustrate to you what you should look at in a WordPress LMS plugin to start your e-learning process. Have a look;
Ease of use: The plugin should easy to use to create and manage an online course.
Course building: It is necessary to have the best course page builder to upload files in various methods such as PDF, videos, links, and other content. Here, you publish your course content by putting it into a template. As Templates are those files which control how your WordPress site will be displayed on the Web.
Course progress information: It shows the performance of your students, how they perform. Further, it keeps the user motivated and acts as a bit of a reward.
Content dripping: It works to release slowly some of the course material as the student progress.
Instant feedback: A good LMS software offer instant feedback option so that students can determine what they know.
Tests and Quizzes: As the name suggests, this feature performs tests and quizzes so that learners can identify how much study material they absorbed.
Grading system: It shows the progress of students. This is the best way to make learning fun.
Automated emails: This feature provides a way by which students can see how their tutors progress and ask them to increase the incentives.
Financial marketing tools: These tools convince more people to register for your courses. However, these tools deal on the coupon, affiliate program, or commission basis.
Certification and Gamification: Certificates are more valuable than email confirmation because learners can print them and feel good. That's why the plugin should provide a certificate as a reward when learners completed their courses successfully.
Payment Gateway support: This feature adds more flexibility to the plugin. Therefore, choose the WordPress plugin which supports the best payment gateway.
Homework Options: This makes the submission process easier for students. It's possible to send assignments on most over the platform, but it's quite difficult for students to submit assignments back without any problems.
That's it!
Now, bending towards the point!
Best WordPress learning management system plugin comparison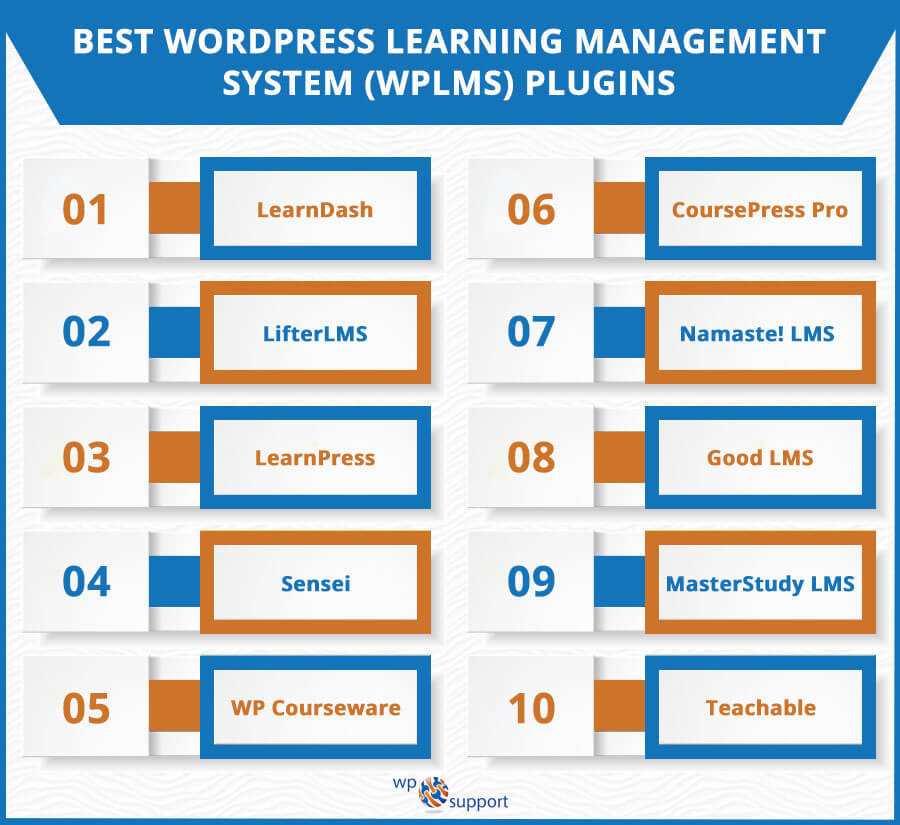 To choose the best WordPress LMS plugin see the illustrated below comparison. Let's get started:
LearnPress

|

2

. Good LMS

|

3

. LearnDash

| 4.

LifterLMS

| 5.

Sensei

| 6.

WP Courseware

| 7.

CoursePress Pro

| 8.

Namaste! LMS

| 9.

MasterStudy LMS

| 10.

Teachable

| 11.

Tutor LMS

| 12.

MemberPress
Let's get cracked in detail!
1. LearnPress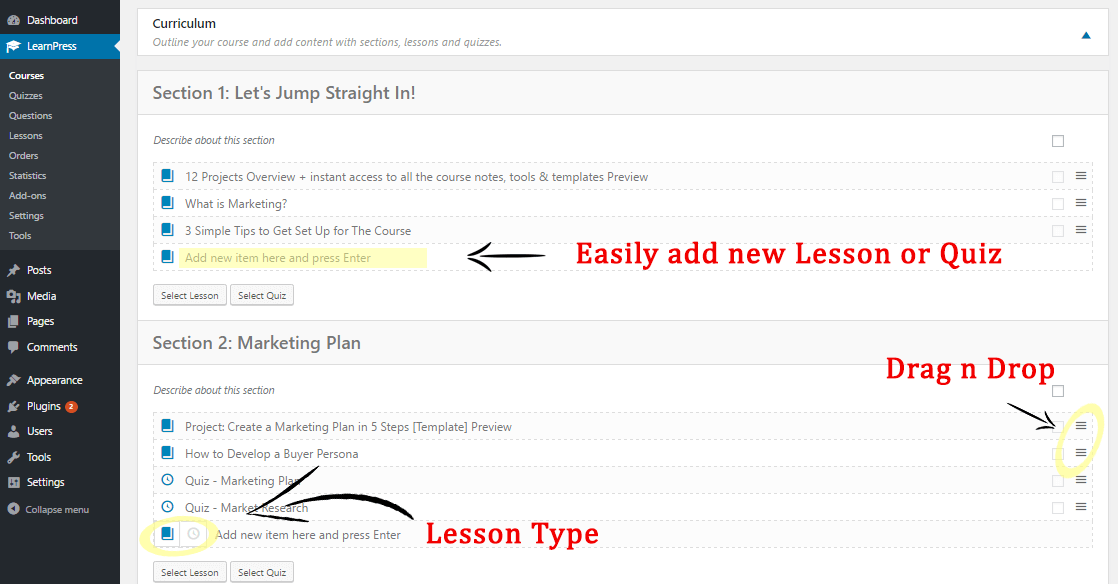 In the WordPress LMS plugin world, LearnPress is the best choice of people. It is completely free LMS but you will have to pay for LearnPress compatible theme. A theme is a group of stylesheets and templates that are used to describe the appearance and display of a WordPress site. A theme changes the layout & design of site.
However, most of its add-ons are free, but if these are not enough for you, thereafter, you can choose its premium add-ons like co-instructor support, certificates, WooCommerce support, etc. Additionally, the best is you can get an email request-response within 24 hours.
More so the best LMS comes with tons of powerful features allows you to create course easily with the help of quizzes, lessons, and questions. You can also import & export your content and use it on other WordPress sites by using LearnPress.
Not like other LMS that come with the setup wizard, here you can set on your own. Furthermore, It integrates easily with bbPress, Buddy social networks, WooCommerce, and WordPress membership plugins.
This plugin has created some LMS WordPress themes for your use. By using these themes you can save your site from plugin and theme compatibility error.
Listed below are addons that LearnPress offers:
Wishlist: here learners can add courses in a wishlist.
Prerequisite courses: To enroll in other courses students need to pass certain courses.
Course review: By publishing user-generated reviews on your site you can add social proof.
Key Features
This plugin offers a landing page template for linking with ads, course discussion, curriculum, etc.
By creating a landing page, it allows people to become an instructor.
Multiple payment gateways supported like Authorize.net, 2Checkout, and Stripe.
The main plugin is free, that's why you can create a simple online course, but you have to spend approx $30 for payment gateway integration and approx $50 for a theme. The best thing is you will not have to pay a yearly recurring fee.
It has multiple instructors to manage one course.
It offers drip-feed content, certificates, prerequisites, assignments & quizzes, WooCommerce add-ons, and paid membership.
Pros: Feature support revenue strategy.
Cons: Like premium LMS the customer support is not dedicated.
Grade: B+
Pricing: Free + Paid add-ons and support. But you can get the LearnPress pro bundle for $249 with all add-ons.
Review: According to our experience, this plugin is more flexible. Its initial setup is difficult for starters. PayPal supports by default and rest gateways supports as paid addons.
Provides customer support from official forums and only for paid addons. It also offers support for free users but limited.
2. Good LMS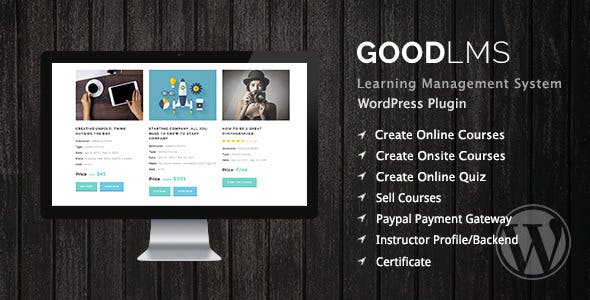 [Image source file: codecanyon.net]
Good LMS is another paid WPLMS plugin which is available on the CodeCanyon marketplace. With this plugin, you can easily create online courses – similar to the WordPress post. Where the articles posted by the admin of a WordPress site are called posts.
Not only this much, but it also allows you to create courses, quizzes, and certificates. It also offers some other features in which coupons codes, real-time countdowns, process lines, student backend. All these features allow you to see their scores and progress, course badges, quizzes, retakable, and much more.
Further, the course rating is also available that's why this plugin is the best choice for the users who wish to create a course marketplace.
However, it is the least expensive plugin, you can get support and updates for one year at $31, but if you want some advanced features like one-time payments, you have to pay some extra money.
Key Features
Like Udemy, it also allows you to create a simple course marketplace with teacher commission settings and course ratings.
The cost of this plugin is far less in comparison to others.
It has the option to modify the quiz setting so that learners take the quiz with multiple options
Certificates and course badges are offered after course completion.
This plugin allows you to create and edit course similar to a WordPress post.
Grade: B
Pricing: This plugin is available at $32 for a permanent license includes future updates and 6-month support from GoodLayers. You will have to pay some extra amount of $10.13 in case you extend your support for 1 year.
3. LearnDash

LearnDash is the oldest plugin on the e-learning concept, started in 2012, and become more and more popular very fast. It is widely used by the industry and promoted as the LMS for WordPress.
Further on, it is a mobile compatible plugin that supports all devices such as mobile, tablets, laptops, etc. LearDash also has test and quiz management tools with multiple question types by which you can set some limitations for learners – like before going to the next lesson to finish the first one.
Not only this much, but it also comes with multiple monetize options in which a one-time purchase, shopping cart, subscription, and membership are included. Multiple payment gateways supported such as Stripe, PayPal, and 2Checkout, etc.
The plugin also integrates with WordPress e-commerce plugin, bbPress, and WordPress membership plugin like MemberPress.
More so it also provides the best customer support with the ticketing system through the best industry-leading experts.
Further on, it comes with a lot of features such as drag and drops course builder (one of the best), drip-feed content (that allows you to deliver your all lessons at a time), course points (student can earn points after completing their course and unlock other courses), and dynamic forums features, etc. We have discussed all features in detail.
Key Features
Its key features are divided into four categories (a, b, c, & d), elaborated are as follows:
a. Courses
LearnDash courses are engaging, dynamic, and provide the latest in e-learning management system trends. It also has some features as shown below:
Intelligent drag and drop course builder: One of the best features of this plugin. So, take a deep look at this.
As we have discussed above, with this feature you can create courses and their categories, lessons, topics, quizzes, and assignments. You can also rename any labels according to your choice. For instance, you can rename 'lesson' to 'modules'.
Further on, each course that LearnDash creates has two core elements i.e. Lessons and Topics.
Lessons are the larger section but can be broken into various topics. But how it can be – A drag & drop course builder feature can perform this task easily. See this in action below:
According to the requirement, you can create new lessons and topics in the editor, thereafter, add the actual content by going back to the post edit screen.
Note: you have to use the normal WordPress editor to create content for each lesson and topic.
And, you need to use the included shortcode builder to show your course on the front-end of your site.
Advanced quizzing: Eight question types, question banks, custom message, etc.
Drip-Feed content: Here you can drip-feed your content according to schedule.
Lesson Timers: You can set up a minimum amount of time that you will spend per lesson.
Dynamic forums: You can create course-specific forums – here learners or students can interact among them and help each other.
Flexible Prerequisites: With this, you can identify which courses you need to be taken and in what order.
Course Points: with the course point feature student can earn points after completing their course and use these points to unlock other courses that you offer. Generally, we can say this a gamification technique that increases the student's engagement on your site.
Certificate & Badges: It provides you a certificate after completion of your course.
b. Monetize
Selling online courses is quite difficult, that's why boost your sale by setting up the price and choosing the schedule. It includes various options like:
One-time purchase: It supports subscription, one-time price, shopping cart, etc.
Membership: Sell traditional membership access for all of your courses.
Course bundles: Sell your courses at once or create bundles.
c. Administration
With this LMS plugin, you have more control over your courses and learners in comparison to other LMS. You can do altering progression, clearing data, revoking access, re-printing achievements, etc. It includes:
User profile: It offers front-end profiles so that students can track their course activity.
Email notification: You can easily communicate with students and team leaders.
Detailed reporting: This feature capture all the details of your students and courses including course progress, quiz performance, live activity stream, time on course, progress breakdown, pending approval.
Assignment management: Comments, approve, or award points on submitted assignments.
d. Technical
In both WordPress and e-learning industries, it supports all the latest tech tools includes:
TIN CAN API & SCORM: With LearnDash you can use a program like Adobe captivating, Articulate Storyline, iSpring, or H5P.
Multisite enabled: You can use LearnDash and Propanel on your network if you are running WordPress multisite installation.
Mobile compatible: It offers a mobile compatible theme.
Use any theme: You don't need custom coding. It can work with any modern WordPress theme.
Industry experts: Offer best customer support from e-learning experts with extensive fortune 500 experience.
Pros: eLearning standards-compliant, good architecture
Cons: moderately expensive, lacks social features, design quality
Missing Feature: Lacks a good easy to use course creation, Social features such as private messaging, Scorm courses
Code Quality: 4/5, quiz question saved as meta information, price integration, memberships integration missing.
Pricing: The cost of LearnDash is as the Basic Package $159 per year for 1 site, the Plus package $189 per year for 10 sites, and the Pro package $329 per year for 25 sites.
Grade: A+
Review: This LMS system is user-friendly for WordPress users. It can integrate with many third-party plugins and tools. Finally, this is one of the best LMS tools for a training organization, entrepreneurs, schools, and coaching centers.
4. LifterLMS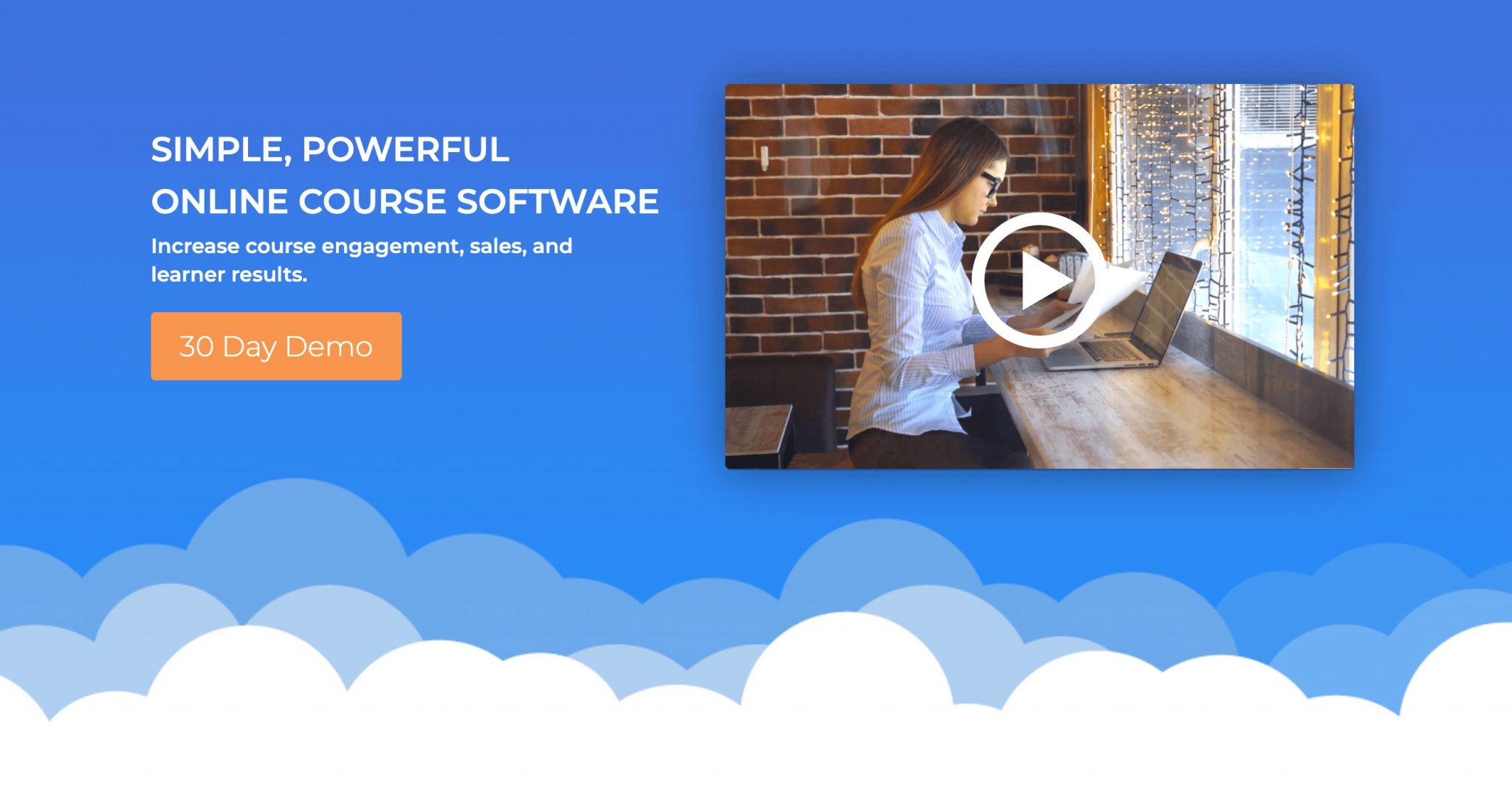 LifterLMS is also a markable plugin for WordPress that facilitates the online course creation on your site. Further, this plugin is multi-tier courses supported by lessons, training modules, categories, etc.
The most interesting thing about LifterLMS is – it is easy to install even in the existing WordPress site. It provides tons of features to boost user engagement like achievement badges, certificates, social learning, 1:1 private coaching, etc..
With this WordPress online learning plugin, you can also create smaller courses or a full-fledged degree program by adding multimedia lessons containing audio, video, text, images, and much more.
Like LearnDash, it comes with drag & drops course builder, content dripping, course prerequisites, and group memberships features. Not only this much, but it also has the number of add-ons by which you can connect to your email marketing service, manage affiliates, integrate with e-commerce plugins, etc.
Further on, with this best WordPress LMS plugin, it is simple to sell your online courses using WordPress. You can also set up payments method like credit card payment, one-time or recurring payments, coupons, course bundles, etc.
This allows you to add powerful extensions like Stripe, PayPal, MailChimp and can accept payments with them or manually via check. Further, this plugin also integrates beautifully with Divi and beaver builder.
Next, it also lets you start a multi-instructor platform. You can also give multiple instructors for a single course.
More so by using the lesson, forums, timeline, comments, and private coaching areas students or learners can interact with the instructor easily.
Using below various methods you can monetize your WordPress LMS:
Bundle: To increase your revenue you can sell your course bundles.
Membership: Sell site-wide membership so that learners can get access to each & every course.
Members-only pricing: Here learners or students can make individual course purchase. Additionally, you can also set this method to create a more valuable premium membership.
Key Features
This plugin lets you integrate directly with the WooCommerce set up to sell your courses individually or as bundles.
It has a drag & drops course builder that attracts beginners who want the easiest design experience. Also, it allows you to create numerous courses.
This plugin technically lets you create a simple online course site freely. You will just have to pay for an add-on.
Best customer support like live office hours, technical support, and many free training courses.
It supports various types of content like multimedia, drip content, quizzes, assignments, and a beautiful course builder.
Provides certificates to learners after completion of their courses.
It assigns an instructor for courses. And also has course discussion areas such as forums, lesson comments, etc.
Provides private coaching upsells (one of the best).
It offers a course import and export tool.
You can make money with multiple marketing and money-making tools such as various payment gateways, recurring payments, coupons, and the number of pricing models.
Payment gateway performs multiple actions to finalize the entire transaction
With this, you can use a "social learning" tool that unlocks Facebook likes to improve how students view your courses and interact with you.
Pros: Feature support revenue strategy.
Cons: Comparatively expensive than others.
Unique Feature: LifterLMS Monetization.
Code Quality: ⅘
Grade: A
Pricing: It also has a free version. The cost of LifterLMS is in packages like the Addon package is $99 per year for one site, the Featured package $299, and the infinite bundle $999 per year.
5. Sensei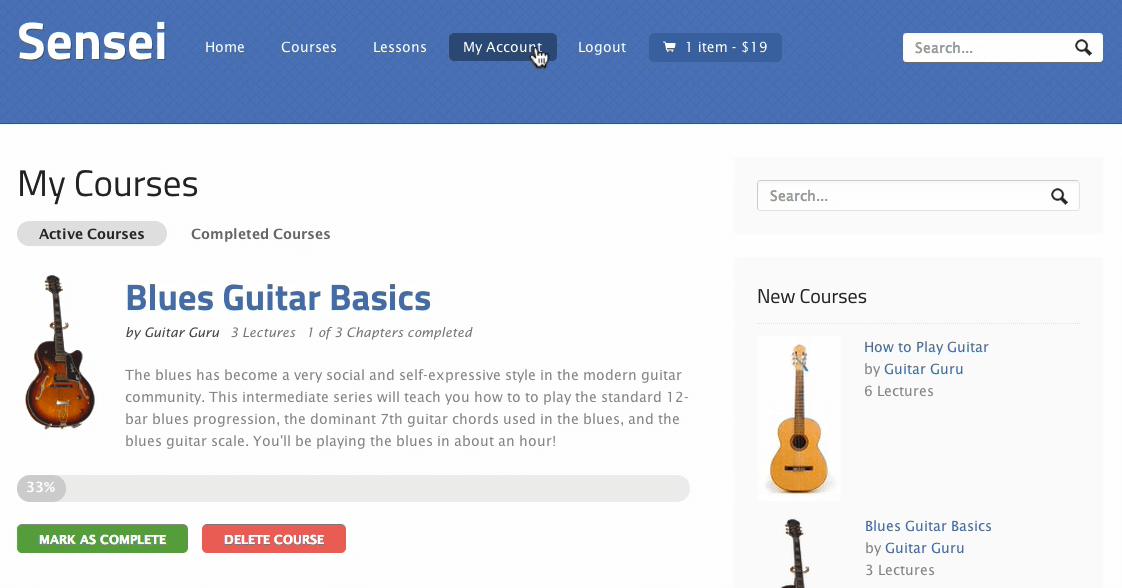 [Image source file: managewp.com]
Sensei is an LMS plugin instead of a theme, which suggests that it will be employed in conjunction together with your favorite WordPress theme to make the proper online course delivery platform. It is a good choice only if the developers maintained.
The sensei LMS plugin developed by Folks behind WooCommerce. It integrates seamlessly with WordPress, serving to its options to mix in with the remainder of the core WordPress practicality.
Further, with this plugin, you can create courses easily. Like other LMS solutions, it is not much powerful. It lets you run assignments, quizzes, grade them manually, or automatically. Not only this much, but it also provides certificates to learners.
Here you have to use WooCommerce for selling your courses and accept payment gateways. Further, you need to create a product for each & every course – that you want to sell and thereafter, link it for the same course.
There are a few third-party integrations available. But still, this plugin can integrate with the membership plugin – note that no addon available for that.
Finally, Sensei has been created to keep WordPress in mind, that's why WordPress user does not have any problem to create a course because they create regular WordPress post.
To the fact, to function properly, this plugin does not need any WooCommerce theme because it has a lot of well-coded WordPress themes. As WooCommerce is a huge open-source e-commerce plugin that helps the user or software in attracting more clients to the WordPress website and increase the sale.
Key Features
This plugin beautifully integrates with WordPress and WooCommerce.
It offers a lot of well-designed WordPress themes.
It allows you to do user registration through WordPress.
Sensei has a simple course analytics feature that gives information on student registered, grading, and course completion.
It shows question bank based random quizzes you set earlier to launch.
Provide, certificates, drip-feed content, course progress. And also you can set quiz grading automatically.
Pros: Good architecture
Cons: Expensive but a demanding plugin
Missing Feature: Easy course creation, Social features
Code Quality: 5/5
Grade: B
Pricing: It cost around $129 per year for a single site.
6. WP Courseware

WP Courseware popular premium plugin by fly plugins with target selling courses. This is largely focused on selling your courses.
Emails are in high focus, the only different platform that specializes in emails is WPLMS that comes with over 64 templates. However, after adding the WooCommerce add-on you the sale you course online.
The pricing of this plugin is far less complicated in comparison to others. To the fact, you will get the two-site license as a bonus for the least expensive package – starts from $99 per year.
Here, before taking any plan, you can get its free trial – on-site demo (that's the closest thing).
No doubt, WP Courseware has tons of features like the content drip, course prerequisites, etc. all start with drag & drop editor. As editor may refer to a pre-defined user role. As an editor, users have the authority to edit, write, publish, and delete posts. This includes posts which are written by other users.
With the help of this plugin, you can create small or large courses easily and save these from being stolen. Each course may have various units, modules, and quizzes.
WP Courseware has a lot of integration options such as WooCommerce, BuddyPress, OptimizePress, and Visual Composer. Among them, WooCommerce is the best option.
Further, it has a question bank – using this you can create quizzes for various courses and modules. Not only this much, but this plugin also supports instructor grade books, instructor profile, custom emails, student grade books, etc. to engage user's experience. More so it helps you with monetization features to sell courses on your site.
It also comes with an inbuilt shopping cart option through which you can connect directly to Stripe or PayPal and start to sell your courses. However, it also lets you create free courses and give some valuable content to your users at free of cost. You can also sell the paid content but only for recurring subscription or one-time purchase.
However, some of the universities of the world such as the University of Wisconsin Madison and the University of Illinois using this top LMS system. Now take a look at their key features:
Key Features
It provides a two-sites license at a very cheap price ($99/year) in comparison to other LMS plugin.
It provides drag & drops elements and some important tools such as drip content, course protection, and email notifications.
You can view grade books and export them to analyze how well your students perform.
You will not only depend on WooCommerce or any single payment gateway. It allows you to sell by integrating with your favorite e-commerce plugin.
It provides multi-instructor, drip content, quizzes, grade books, prerequisites, certificates, and email notification.
Pros: Strong Marketing skills.
Cons: Poor architecture.
Missing Feature: Easy course creation, Social Features.
Code Quality: 3/5, a saving of emails in a table structure.
Grade: B
Pricing: The cost of WP Courseware is in the package like Teacher package $129 per year for 2 sites, Professors package $149 per year for 10 sites, and the Guru package $199 per year for 25 sites.
Review: This is a flexible plugin to create your online courses. It allows you to make an engaging learning environment. Without creating any issues, it works with all WordPress themes.
7. CoursePress Pro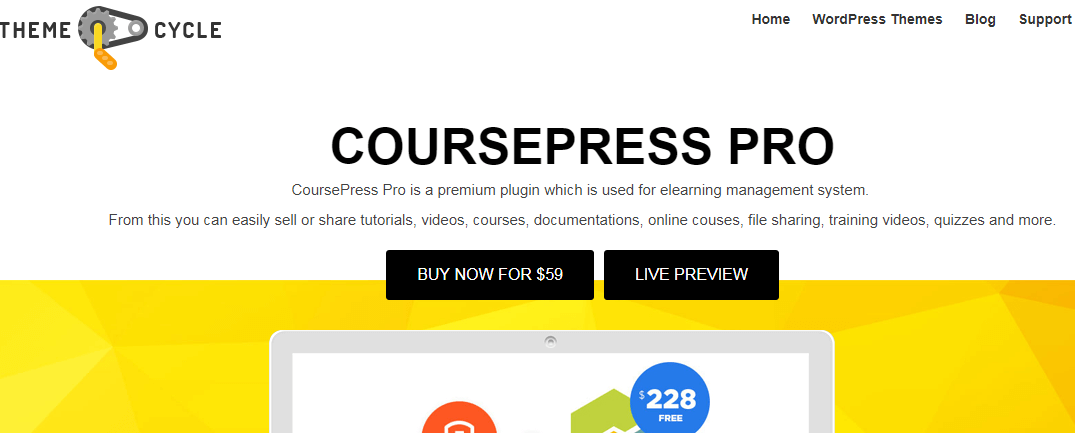 CoursePress Pro is also another best LMS system allow you to create multiple learning website. It is one of the plugins of WPMUDev that's why you need to buy membership costs at $49/month.
Further on, it comes with some best features to make a Lynda-like site. Using a powerful quiz builder it can access the students or learners by creating various types of quizzes. It offers certificates after completion of the course.
However, CoursePress Pro is an expensive plugin but the good thing is you can get so many other premium plugins with this – that's the reason people love more and more this plugin.
It is completely integrated with WooCommerce and Marketpress. Not only this much it also has various inbuilt payment gateways to accept the payment.
Key Features
It supports over 13 payment gateways. And also has support for invitation-only automated processing, courses, and course previews.
It allows the students to download the quizzes.
You can set instructor feedback manually or automatically.
With this, you can upload video, audio, text, and course files.
Provides free and paid courses to learners.
It sends email notification and schedule lessons.
It provides email marketing options.
Also has a discussion feature for learners and instructors to interact with and help each other.
Grade: B
Pricing: $49/month for unlimited sites.
8. Namaste! LMS

Namaste! LMS is a free WP learning management system for WordPress. This means to say, you can download this plugin without spending money and create a valuable online course.
The plugin allows you to add different rules for accessing the course after completing the prerequisite courses. Student earns the certificate on completing the online course.
Further, the plugin allows the analysis of student performance by using the grading system. Moreover, you can showcase award badges on any website. Students can see their progress bar on the website.
However, the Namaste LMS is also a fully-featured premium theme that starts at $47. Further, it's pro version comes with the number of add-ons and premium support for the year.
Not only this much, for paid courses you can enable shopping carts and integrate with the WooCommerce or WP Simple cart plugins.
Key Features
You can create and edit a course is similar to the WordPress post editor. It's very simple for beginners, but still, you need to access to more customization options.
It provides a tool to save your files from unwanted intruders.
This plugin allows you to create a gamified atmosphere to force learners to work harder on the lessons.
It offers certificates to students after their course completion.
Using the grading system you can analyze the grading system.
Pros: Free of cost
Cons: Comparatively have limited features
Unique Feature: Analysis By grade system
Code Quality: 4.5/5
Pricing: Free
9. MasterStudy LMS

MasterStudy LMS is a fully-featured plugin available in the market. You can create, customize, and manage your WordPress education site. Further, it is a free plugin and compatible with each & every WordPress theme.
The best option is they also have their MasterStudy premium WordPress theme – with this the plugin comes with advanced features. The theme cost is $25.
Also, with this plugin, you can create good lessons with graphs, slides, and videos, etc. To make management and creation simple all powered by the editor. One of the best things is all the key elements of this plugin are created with Vue.js that increase page loading speed and smooth page transitions.
Key Features
Offers 3 types of lessons i.e. text, videos, and slideshow.
The real-time countdown timer in the quiz.
It shows results that represent the performance of learners.
It has an easy to use User interface.
You can set up easily with PayPal and Stripe integrations for the recurring subscription.
Inbuilt course rating.
Generate certificates after student's course completion.
Pricing: It is free. But also has a premium version with advanced features at $69.
10. Teachable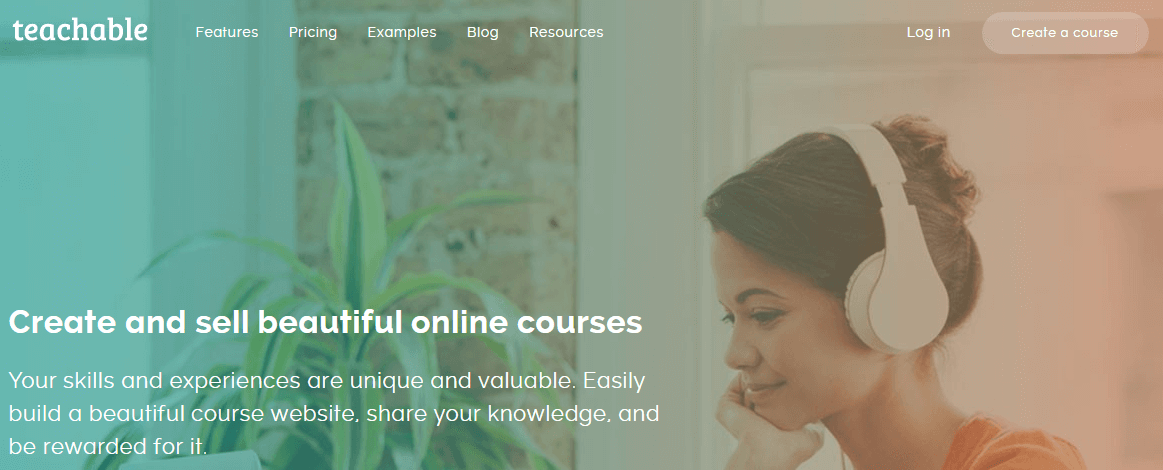 Teachable lets you create online courses easily. It is an online course builder, not a WordPress plugin but can be used on a custom domain, subdomain, or adding a link to your school's page.
Further, it also provides analytics, email marketing integration, and some other marketing tools. When it comes to payments, so this plugin will handle your course fees. However, payment periods will depend on your pricing plan.
Further, it also offers a quiz and discussion forums option to interact with and help each other.
Key Features
You can create an awesome site with drag and drop builder.
It allows you to create multimedia lectures such as image, text, audio, and PDF files.
With this tool, learners can see their content from computers, tablets, and smartphones.
It also offers certificates after course completion.
It supports, quiz, discussion forum, student feedback,
You can send emails based on enrollment, completion, code redemption, and some other filters.
This plugin supports coupons and promotions, advanced pricing options, affiliate programs, customizable sale pages, and much more.
Accepts international payments.
Grade: B+
Pricing: It comes with various pricing plans such as Basic, Professional, and Business. Basic starts at $29/month (billed annually), Professional starts at $79 per month (billed annually), and Business starts at $399/month (billed annually).
However, its basic plan has all basic features like coupon code support, drip course integration, custom domain support, affiliate marketing, etc.
Note: With the basic plan for each sale of paid courses you need to pay 5% transaction fees.
Review: This plugin comes with a set of tools that help you to create, manage, and sell online courses. Further, with this, you don't need to worry about updates and backups. The disadvantage is that it is an expensive WordPress learning management plugin in comparison to others.
11. Tutor LMS

Tutor LMS is a WordPress learning management system plugin, which is one of the best and reliable plugins among others in the market. In addition, this plugin provides you some great and unique features such as the drag and drop quiz creator, frontend course builder, and powerful theme support that comes from its parent company named Themeum.
However, the core plugin is free of cost, but the premium plan of this plugin starts at $149 for a single site and a single license. Although the premium plan license allows you to get access to some of the premium add-ons such as Multi-Instructor, certificates, course previews, and much more.
WordPress Tutor LMS will provide you the top tier content security and coding practices.
Also, offers you a very safe and secure platform. The Tutor LMS also has a growing list of integrations with eCommerce plugins, page builder plugins, as well as other popular ones like GamiPress, BuddyPress, and so on. Overall, the feature set of Tutor LMS is very similar to that of the big names like LearnDash and Lifter LMS, but with a few alterations here and there.
Key Features
You will get the access to frontend course builder with the pro version
New WordPress user can ignore the backend course builder
Therefore they can create courses from the front-end of the website
Question and answer with Student Forums
More than 10+ types of question in the quiz builder
Yo can monitors earnings and tracks withdrawal settings with the help of the Instructor dashboard
It is unable to give you detailed information, but it is able to help you with most of the use-cases
With the premium version, it will give you valuable add-ons such as Assignments, Certificates, and Gradebook
This plugin will also give you one-click migration tools
The migration tool will help if you are planning to switch platforms
This tool currently supports LearnDash and LearnPress
But the list of the supported platforms will grow in future
Many eCommerce plugins are supported such as Restrict Content Pro, WooCommerce, Paid Membership Pro, EDD, etc.
Pricing: Although the Tutor LMS plugin is free, Still there are a few different pricing plans for Tutor Pro LMS. you can host one site for $149, for five sites you have to pay $199, and in $299 you can host unlimited sites. However, all of these are full-featured.
There is the only difference in the number of sites and its license that you will use. Also, you can buy an annual license, which provides you one year of support and updates for one site at $399, five sites at $599, and unlimited sites at $999 only
12. MemberPress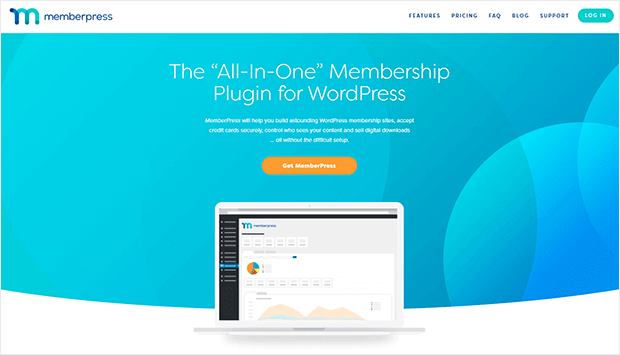 MemberPress provides you the WordPress Learning Management System plugin. However, to set up this LMS plugin is far much easier also this plugin is able to work with any WordPress theme easily and effectively. Although this amazing online membership software allows you to use it and create many courses online.
Besides that, you can also use the MemberPress plugin to protect the online course materials. In addition, you will be able to provide your users with a secure place to interact with each other. Also, they can download the information, and can also receive updates.
Although there are various useful add-ons for you in MemberPress. One of them is the LearnDash add-on that you can use with MemberPress. Therefore you will get a comprehensive membership also the online learning solution too.
However, the MemberPress can restrict and can also manage access to your content. On the other hand, LearnDash manages course progression and learning content delivery. But it is not an end here. there are some more interesting features in MemberPress.
Key Features
Unlimited access rules and restricted content
Automatic upgrade/downgrade prorations
Full subscription and transaction management
Unlimited members and memberships
Content access drip and access expiration
Locking of the standalone files, specific hierarchal posts, pages, posts, etc.
MemberPress also includes comprehensive reporting
Custom registration and account fields and Built-in integrations
Price: The Pricing for the MemberPress software starts at just $149/year only.
Pros: It is useful for those people who want the necessary ways to restrict access to learning courses and materials.
Cons: MemberPress works for online courses If it is linked with a WordPress LMS plugin such as LearnDash.
Some other WordPress LMS plugins
Listed below are some other WordPress Learning system plugins;
Evidently
Now, if we come to the theme – a compatible theme is also required for eLearning Websites. For the WordPress LMS theme, you can read our blog on 20 best WordPress Education Themes for your WordPress Website.
However, there are various reasons why you should not associate with a membership plugin for e-Learning:
A membership plugin is not standards-compliant. Your content is locked down.
A membership plugin is built for membership communities not entirely focusing on e-Learning.
Lack of e-Learning features like activity tracking, or three-tier course structure.
Lack of Quizzes and marking structure.
There are some other LMS that are exclusively working on e-learning. Let's have a look!
Learning management system other than WordPress
List of the top-ranking learning management system:
Moodle
Edmodo
Blackboard
Canvas LMS
Litmos LMS
Let's get cracking in detail!
1. Moodle
The most outstanding being the open-source software "Moodle", remaining all different choices are approach too high-priced for any startup. However, upon using these LMS you presently realize that they are complex software, and therefore the learning curve to know and use it's a little too higher.
Also, it lacks design, simple use for building your content and courses, this is where I found WordPress.
WordPress is the preferred CMS that is extremely simple to use and presently empowers over 70% of the sites designed by CMS. it's secure, easy to use, and features a powerful content building platform. To convert WordPress to an eLearning site all you wish is an LMS plugin or theme.
2. Edmodo
Edmodo has a perfect framework for online learning that it offers free to school districts and teachers to support them to provide extended learning programs or distance education. Moreover, all educational institutes can build their connection with each other by using the LMS for best practices and insights.
However, each school can grow a network with all the students and parents in their community.
The LMS has a satisfying set of tools for teachers to maintain data of administrators, publishers, students, and parents. The LMS contains polls, community pages, badges, online classrooms, and progress tracking.
3. Blackboard
Blackboard LMS design for both business and the academe giving instructors and learners with a reliable virtual ecosystem. Furthermore, the cloud UI offers course management with configurable settings and features that match your current needs. It fulfills the need for small business and enterprise.
The remarkable part is that the LMS is accessible by desktop and mobile devices and that's why it keeps the learners connected to their courses and instructors from any location.
On the other hand, instructors can add various methods to increase learning engagement and motive course completion.
4. Canvas LMS
Canvas LMS is a reliable LMS for teachers and learners that can be customized to your scenarios and can be accessed through the cloud from desktop and mobile devices. It has features like notifications, collaboration space, and online conferencing. Also has a framework that allows you to add new apps to intensify your courses.
Moreover, non-technical users both admin and students can simply learn the features and optimize the education process.
Other key features which make this LMS different from others is that it allows audio and video messages, LIT integrations, social media integration, and RSS support.
5. Litmos LMS
Litmos LMS features active cloud deployment, an instinctive UI, and an array of combinations for extensible functionalities. The solution benefits small business and enterprise requirements for corporate training, customer introduction or industry, and professional regulatory compliance. You can go for a free trial at $4.
As a training platform, Litmos LMS supports you to manage global training practices, such as agendas, pricing, resources, assessment, and task assignment. With self-regulation and optimization, you can estimate the performance easily as your team expands, with features for certification, training passes, paid agreements, and investment management.
That's it! Now,
Which WordPress plugin you should use?
According to the comparison we have mentioned above these ten WordPress LMS plugins are the option to choose from. Therefore, you can compare these solutions and go with one of them as per your requirements.
The best WordPress LMS plugin with advanced and valuable features: Our first choice is LearnDash, Lifter LMS, and thereafter, WP Courseware.
The cheapest plugin: LearnPress, MasterStudy LMS, and Good LMS.
Best plugin to create an online course like Udemy: CoursePress pro and Good LMS.
Ideal LMS for beginners: Lifter LMS
Finally, we recommend the first LearnDash because it is easy to use and comes with tons of features. More so the second choice is Lifter LMS – it also comes with an easy user interface and a lot of features.
Conclusion
Starting your eLearning classes is an interesting idea to be executed. Because when you know more online and learn with others in a virtual world, then it is not just time-saving but money-saving too. You just need a platform to share it with others. WordPress LMS plugin will help you to create your online classes and you can earn from there also.
When you have so, many options to select then a quick comparison is required to select the best. In this article, We Compared the top 10 WordPress plugin to give an idea which plugin will fit perfectly for you. If you find any trouble in adding LMS to your WordPress website you can contact our WordPress support professionals for help.
Hope the information helped you to select the best WordPress LMS plugin for the e-course website. Please like and share the content with others also and share your feedback in the Comment section.