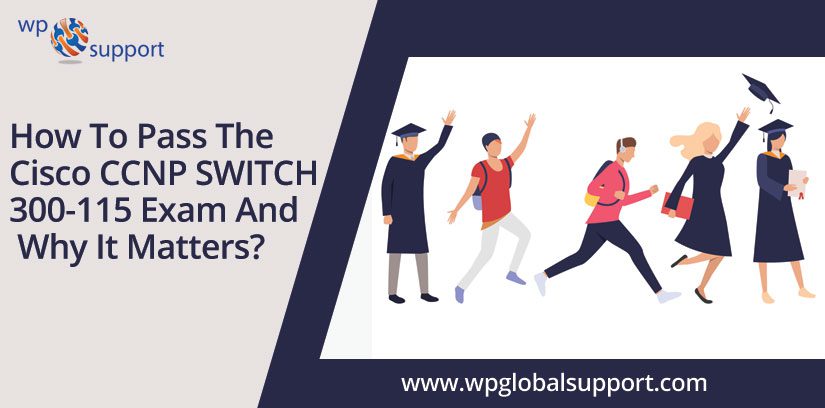 Similar to WPLMS (WordPress Learning Management System), Cisco also a global leader in IT and networking. It offers its online certificate programs to make you a Cisco Certified Design Professional (CCNP). Cisco CCNP SWITCH 300-115 Exam attracts plenty of candidates every year and it's all for a good reason.
While earning the Cisco certifications comes with plenty of benefits such as improved career prospects and salary growth, passing the required exams has never been easy. Their certification program is all-embracing to meet the specific needs of the job market.
Apart from that, they operate their online programs very securely because hacking is a growing problem nowadays. With this in mind, they conducted a survey in which Cisco TRAC found that a repository of data believed to feed potential WordPress brute force login attempts.
When it comes to WordPress, they use WordPress services & tools to add more functionality to their work like Cisco Webex WordPress plugin – It is an easy to use, cost-effective and works to exchange information and ideas online on PC or mobile device. They also offer Cisco WordPress theme that comes with advanced features.
An Overview of the CCNP Certification
The CCNP certification advances your knowledge of the network design concepts and principles for developing network components and multi-layer enterprise architectures.
This program suits Principal System Engineers, Network Design Engineers, Solution Architects and other CCDA professionals willing to advance their fundamental Cisco design knowledge.
Recently they are going to conduct a CCNP SWITCH 300-115 exam, therefore, this article highlights the key details of how they securely conduct the Cisco 300-115 exam that you need to pass to become a Cisco Certified Design Professional (CCNP). Most importantly, we also highlight a few expert tips for passing the mentioned exam. Without much ado, let's get started.
Cisco Certification Program
The Cisco certification program is wide-ranging to cover all career backgrounds and experience levels. The certification ladder commences with the entry-level certifications that include the CCENT and CCT credentials. These two credentials act as the starting points for individuals looking to build a career in the networking industry.
The next level includes Associate certifications. These are the foundational level credentials that are suitable for individuals looking to expand their networking knowledge. You can choose an Associate level Cisco certification by the CCNA path or the CCDA for network design. A few honorable mentions in this group include the CCNA Routing and Switching, CCNA Collaboration, and CCNA Cloud to mention just a few.
After the Associate level credentials come to the Professional level certifications. From their name, it can be deduced that these are advanced-level credentials that showcase more proficiency with networking technologies. Some of the most popular certifications include CCNP R&S, CCNP Cloud, CCNP Wireless, CCNP Security, CCNP among others.
The Expert level credentials form the next step in the Cisco certification ladder. Here, you will find the Cisco Certified Internetwork Expert (CCIE) that is globally accepted as the highest Cisco networking accreditation in the industry. While earning it demands stringent requirements including passing a challenging exam, you won't be short of options to advance your career growth if you possess a CCIE certification.
Lastly, the Architect Certification is the topmost Cisco accreditation that suits network designers who support the complex networks of global organizations.
Now straight to the Cisco 300-115 exam and its related certification.
The Details About the Cisco 300-115 ARCH Exam
The Cisco 300-115 exam authenticates your knowledge and skills relating to the evolutions in network design. This includes your knowledge of the Layer 2 and Layer 3 Infrastructures, Network Services, Network Security, Data Center Integration, and WAN Technologies.
It's worth reminding that 300-115 test is one of the three exams you need to pass in order to earn the CCNP certification. The other two exams in this series include the Cisco 300-101 and 300-115.
Cisco 300-115 Exam Description
300-115 exam is a 75-minute assessment that tests your knowledge of 60-70 items related to the evolutions in modern network design. The test is offered in English and passing it with the two mentioned exams qualify you for the CCNP credential. The exam question formats can be anything from multiple-choice single answers to multiple-choice multiple answers and simulations among the rest. As for the price, it will cost you $300.
In addition, the Cisco 300-115 certification exam is basically for testing the knowledge of the candidates and his switching skills. When the candidates are eligible to prove that they are experts and can do the implementation of the complex enterprise solution for switching. Therefore the candidates are allowed to give Cisco 300-115 exam, which is conducted under the Cisco Enterprise Campus Architecture.
Who Is the Eligible Candidate For Cisco 300-115 Exam?
Well, the Cisco 300-115 certificate examination is most probably conducted and well suited for the following type of candidates:
The most eligible candidates for this exam are those students who are already studying and completing their IT degrees. Also, those candidates or students who want to have Certified Network Professional Switching certification. Because this certification can help them when they step their foot into the real world of IT.
Besides that, some of the experienced IT professionals are also suitable candidates. And such a person who needs to enhance their skill set. Because with this certification they can get a better job and many business opportunities. In addition, those candidates are also eligible who are looking for specific jobs in the industry that target some expert-level networking solutions.
So all these discussed above are some of the people who are the best-suited candidates for this Cisco certification. Besides that, even if you do not belong to any of these categories. But you are interested to be a certified networking professional, then you must do it.
Know The Eligibility Criteria of Cisco 300-115 Certification Exam?
Well, you will be happy to know that there are not any pre-set eligibility criteria to pass the Cisco CCNP switch 300-115 examination. However, the only thing which is required is that to be eligible the candidate needs to be 18 years or older to attend for the 300-115 exam. Besides that, it is also preferred that the desired candidate must have some experience in the area of networking. Therefore it can be more helpful to him or her for scoring well in the Cisco exam.
How Much Fees You Have To Pay For Cisco Exam?
Certainly, this is an important part to know. So the desired applicant needs to pay the fee amount of $300 in order to get enter into the Cisco CCNP switch 300-115 exam. In addition, the eligible candidates can participate in the Cisco examination as many times as they want.
Also, if they do not get success in their attempts then they can reappear in this test. However, the candidates will have to pay the required amount of fee each time they participate. Besides, the certificate is valid for the lifetime. But it must need to be renewed from time to time.
Requirements
Any valid CCIE/CCDE, CCDA or CCNP R&S certifications are preferably to have before getting the Cisco CCNP switch 300-115 exam certification.
The Cisco Certifications Is Valid For How Long?
Well, the certification of CCNP Routing and Switching or the certifications of CCDP are valid for the 3 years only. However, the renewal period of time keeps on changing. Therefore you must keep an eye on the latest news. So that you can come to know that exactly when to renew your certifications again. Besides that, for renewing the Cisco certificate candidate must have to participate and pass another exam.
The Exam Pattern of Cisco Certification
Well, the exam pattern of the Cisco CCNP switch 300-115 exam is very simple and straight. So the 30-40 questions will be given to the candidates in the exam. Also, they must have to solve all these questions within 120 minutes of time. As we said about 30-40 questions will be given.
So the reason behind this is that the number of questions keeps on changing every time. Hence you must have to be ready to solve around 30-40 questions per paper. In addition, the students are able to give the Cisco CCNP switch 300-115 exams in two languages, those are English and Japanese.
However, the questions that will be given in the exam are different kinds of multiple-choice questions. Although the candidates must have to pick the best and correct answer among all the four options. So that they can go forward to another question in the Cisco 300-115 computer-based exam.
Basically, there are three main topics, which covered in the Cisco CCNP switch 300-115 Exam. All these three exam topics include the following:
Infrastructure Services
Layer 2 Technologies
Infrastructure Security
Besides that, the desired candidates also have all the required knowledge of verifying, planning, configuring, and implementing the complex enterprise switching solution that belongs to the Cisco Enterprise Campus Architecture.
Where To Find Study Materials For Cisco Exam?
However, there are a large number of places where the interested candidates can find and get the required study material for this examination. So here we are suggesting some of the types of study material that you can get anywhere without much effort very easily.
Certainly, you can get the best-required self-study material on the official website of Cisco for this exam. In addition, if you will search on the website for the Cisco 300-115 certification exam. Then the study material will be shown to you, that can be bought directly from the website.
Although the Cisco press is the only place where you can get all the required books related to Cisco 300-115 certification exam. Hence you must read those books if you want to crack the exam. In addition, some of the students like to join the online classes, where the study material will be provided to them.
However, they will also get one on one guidance for each topic that needs to be covered in the Cisco CCNP switch 300-115 Exam. Besides that, the students can also refer to the online dumps and other free study material that is available at a variety of websites all throughout the internet.
Exam Preparation Options
Cisco provides excellent training materials for its certification exams and the Cisco CCNP switch 300-115 Exam is no exception. In addition, your preparation strategy for this exam can also depend on how much time you can spend in preparation to cross the Cisco 300-115 exam.
Well, to do so you must also solve some practice papers on a regular basis. The practice papers will help you in gaining speed, planning your paper, and will also help you score better in the exam. A few training options from the Cisco official website are covered below.
Classroom Training
Cisco partners with certification experts to offer helpful courses for easy passing of the Cisco CCNP switch 300-115 ARCH exam. Such training courses could go a long way towards ensuring your success in the test even if you are seeing the exam for the first time.
e-Learning
Like WordPress Learning Management System, Cisco's e-learning network is a worthy source of helpful study materials for aspiring exam candidates. This platform gives you access to self-directed courses and helpful resources to help you pass your ARCH exam easily.
Practice
You can build your hands-on skills for the ARCH exam using Cisco's training labs that are geared towards the Cisco CCNP switch 300-115 Exam.
Other Training Options-ExamSnap Website
ExamSnaphas virtually everything you may need to ace your certification exam. For exam 300-115, you can use their 291-page study guide to help you prepare for your exam the right way. This Cisco 300-115 study guide is designed by industry experts with vast knowledge of the CCNP certification for guaranteed excellence in the test.
Along with the accurate ARCH exam questions that are verified by IT experts, you will also enjoy 90 days of free updates if you choose ExamSnap for your exam preparation needs. Guess what! The reliable study guide goes for only $29.99.
The Bottom Line
As an IT professional, it should be obvious that attaining a relevant certification is the proven way to cement your status in the industry and climb the corporate ladder. Hopefully, the highlighted tips will streamline your certification journey and bring your career aspirations to fruition. Don't forget that ExamSnap has everything you may need to pass the mentioned Cisco CCNP switch 300-115 Exam and other IT certification tests.