WordPress Excerpt is basically the blog summary with a link on 'Read More' or 'Continue Reading' tag that directs the visitor to the whole article. In other words, an Excerpt is defined as a term hooked to the summary of an article and holds a link to an entire page.
Excerpts can be automatically generated by a WordPress theme or by simply using the <!–more–> tag inside the content of the post. But you can create it manually. On the Post Edit screen, you just have to enter the summary of an article in Excerpts field, doing this your excerpt will be created successfully.
By default, this is not displayed in WordPress post edit screen. To enable it, go to the screen options button on the top right corner and enable it. However, excerpts show more content in less space. To be seen, it is very useful for blogging sites such as magazines, news, etc.
Generally, the excerpt is used in many places such as RSS feed, archived pages, and search pages. Automated generated experts take a part of the post with a number of words limit. The default limit of the excerpt is 55 words.
In WordPress, there are three types of excerpts. They are:
Manual Excerpt: Which is manually entered into the post.
Automated Excerpt: Which is auto-generated from a post with first 55 words.
<!–more–> tag Excerpt: Which uses the post up to the specified part where the tag is inserted.
 However, it can also be defined as an optional summary or description of a post; in short, a post summary.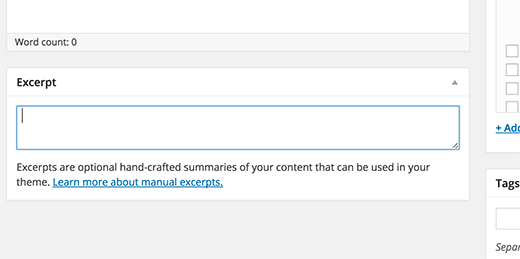 There are the two main uses of Excerpt, which are as follows:
It replaces the full content in RSS feeds when the option to display summaries is selected in Dashboard › Settings › Reading.

In accordance with the WordPress theme, it can be displayed in places where quick summaries are preferable over full content:

Search Results

Tag Archives

Category Archives

Monthly Archives

Author Archives
Read More: