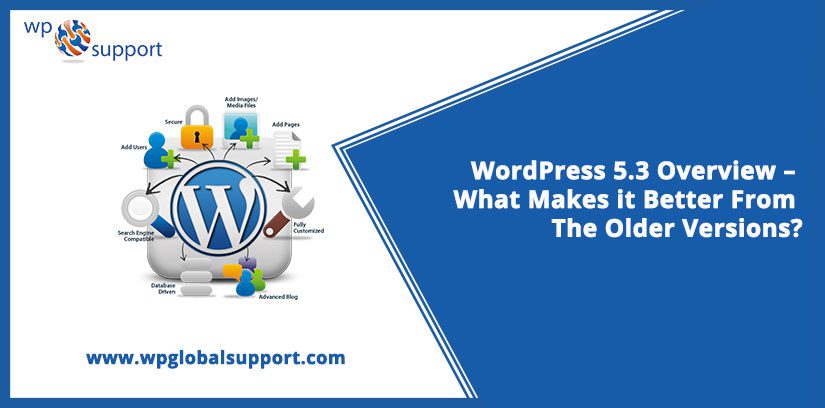 Nowadays, technology and innovation are developing at a very rapid pace that even yesterday's invention has also become history today. Similarly, WordPress has also launched its new update WordPress 5.3 so that your WordPress site will also meet the day to day user needs and hence provide a better innovating platform for the users where they can show their creativity. The new update was released on 12 November 2019, it will be the last major release of the year 2019 form WordPress.org.
If you are also curious and have the eagerness to know about the new update and wanted an overview of functionalities that have been released recently then this article is really very helpful for you.
WordPress developers always try to find new and innovative ways through which they can help their customers who are using their services and themes.
This article will help you to reveal all the new changes in WordPress. We'll discuss each and every change in fine detail which we have tested through the new version of this theme.
But first, we will discuss what is in the previous version of the WordPress theme.
Features in the WordPress 5.2+ version:
It was one of the biggest and significant changes that take place in the WordPress core and its subsequent minor versions. It was released on May 7th, 2019 and comes with various improvements.
The main objective of releasing version 5.2 was to implement better functionality for fixing problems with server configuration or fatal errors in PHP that might affect your website.
1. Site health check tool
It is a very useful debugging tool that is very useful for fixing problems. This feature will provide you with the following resources:
Site health status – this feature will help you in determining any problems and difficulties on your WordPress site, e.g. with WordPress configuration, PHP version or website's security. Before WordPress version 5.2 the site health was only displayed by showing the percentage. Meanwhile, the latest version of WordPress only shows a colored symbol(depends upon the health of your site) with text recommendations, such as "should be improved" or "can be better".
Site health info – this allows you to give a practical overview of the WordPress site on the basis of basic setting and technical parameters. From here you can easily find the information about the current WordPress version, active themes, and plugins and information about server and database. The main aspect of this facility is that all the is available in one place so that you can easily solve the problems very quickly
2. PHP error protection
The WordPress version 5.2 enables the protection for PHP updating. If the system detects any fatal error then it immediately suspends the theme or plugin that causes the problem.
However, only the admin has the control to log into the backend and fix the error. It also blocks the white screen caused by a fatal error.
3. Improvements in the blocks and the block editor
This version loads the blocks faster as compared to the other older versions. Not only it increases the speed of the blocks, in fact, it also improves the image and blocks resizers through which you can display a better quality of infographic and picture to the users.
4. General changes
Other significant changes that are worth noting are:
Php coding standard updates
Developer enhancements (e.g. for writing Javascript)
New emoji and dash icons
Security enhancements
So afterwards, without wasting any time we are now going to discuss the new WordPress 5.3 features so let's have a look at it in detail.
What is the new and exciting in WordPress 5.3?
The first basic and foremost change is that it has merged the Gutenberg plugin form 5.4 to 6.6 version. This implies that a huge number of features and enhancements for both users and developers. The plugin also plays a very important role in boosting the performance of your website.
Not only this but there are a lot of features that are included in the new WordPress update which includes Site health tool, a brand new default theme(TwentyTwenty), enhancements in the Admin User Interface, it also provides better support for PHP 7.4, improved accessibility, and much more.
We know that it is really not that easy to understand right? So, let's have a deeper and easier look at WordPress 5.3.
What is new with the Block editor
The Block Editor has gone through various changes since it was first released in the year 2018. However, the new releases are not merged into the core as soon as they're available.
Many updates are done from time to time to improve it and to enhance the user experience and WordPress 5.3 also comes with tons of enhancements for the block editor.
It is very interesting to know that the release of 5.3 thirteen releases of the Gutenberg plugin has been merged into the core at once. So, if you haven't used this theme by far or haven't updated this theme regularly then you can easily find a lot of enhancement and new features in the Block Editor with the release of WordPress 5.3.
The overall performance has also been improved very much. As compared to the earlier version. So let's have a look at some of the improvements which are made in the Gutenberg block editor:
1. The Group
This is a whole new experience for all the users who have used the previous version of this block editor. This feature allows you to group blocks together. You can easily organize the layout of your block by dividing them into different groups. It will help to make your site more attractive and user-friendly.
You can easily set the group width according to your choice whether it is wide or full-width the decision solely depends upon you. It also enables you to choose a background colour for the group container.
You can add a new block into a blank group or you can also select different multiple blocks, and merge them into a whole new group. Through this,you can easily interact with these blocks together. For example, you can add different blocks into one group, and then save it as a reusable block.
2. The columns block
This is another interesting way through which you can create interesting layouts in the WordPress editor. The new WordPress 5.3 update features major changes to the column block.
The first and foremost change is that now you have the access to control the layout for columns and you can also adjust their width according to your choice.
Secondly, you can set any individual column to be wider, you now what was the best part of it that the rest of the columns will adjust automatically.
Meanwhile, after the new update the placeholder is easier to use as it clearly visible so you can add blocks inside a column more effortlessly.
It enables vertical alignment feature to set the vertical alignment for columns. It means that it can automatically align the spaces for proper alignment of content in each column.
3. Improved Button Block
The new update enables you to add button in posts or pages with an improved button block. This will allow you to select border-radius yourself.
You can set the button link to open in a new window and make it nofollow if necessary.
4. Block Previews
This feature will help you to see a preview of your block. In the previous version, it was only available at that time when you are using the Add new block icon at the top.
5. Block Navigation Mode
The whole new Gutenberg 6.3 version introduced the Navigation Mode where you have the power to easily navigate between the blocks using the Tab or arrow keys without going into the block content. A user has the authority to switch from the Navigation Mode to Edit Mode and back just by pressing the Enter or Esc key.
This new improved feature is far better in usability as compared to the previous one. It is also very beneficial for the screen readers as they now can see the blogs in a new and improvised version.
6. Heading colours
WordPress 5.3 let you choose a colour of your choice for the sub-headings inside your articles. Now each of your article and blog will look more attractive and eye-catching to the user.
7. Reorder Gallery Images
In the new WordPress 5.3 version features new and improved gallery which allows you to reorder images inside the gallery.
8. Image block styles
Image block feature allows you to choose a style for your images. A user has two different choices to give style to their images i.e. Default and Circle mask.
9. Improved table blocks
The table block brought many enhanced features for WordPress users. It now features table header and footer, text alignments in columns, and background colors.
10. Improved latest posts Blocks
In WordPress 5.3 update the Latest Posts block will now also shows the excerpt and post content iteration.
There is a new feature in the block settings panel, it contains a section where the user can easily toggle on/off post content. If the Post Content is active, you can choose between Excerpt and Full Post options. At last, a slider allows you to control excerpt length if Excerpt is checked.
11. List block enhancements
This feature will allow you to list the items in a precise manner. You can list the items in ascending, descending order. It also supports indent/ outdent shortcuts, ending value, starting value, and reverse order support for ordered lists.
12. Additional improvements in the Block Editor
As a pile of Gutenberg plugin versions have been merged into the core, a lot of changes, improvements and bug have been fixed in this new update. Only a few of them are mentioned below which are as follows:
The Media & Text block now supports vertical alignment
The button block features a link target option.
Separator block will now support border-colour
Cover blocks are easy to customize and resize
Improved typewriter experience, which is especially useful for the mobile.
A brand new social links block has been added through which you can link your blocks to different social media handles like facebook, twitter, Instagram, etc.
The gallery block now support for the Gallery captions
Design and user interface upgrade
The all-new WordPress 5.3 version comes with several changes which has not been seen in the previous WordPress versions. These changes enhance the overall appearance of the WordPress user interface. These notable changes bring consistency to the overall appearance of the admin area.
Through this new user-interface you can add borders around form fields, this will make them more attractive and noticeable. The new update also improves the accessibility of the WordPress admin area which will help to make it a good user-friendly experience for all the users.
The site health Component is now improved in the latest version
When WordPress 5.2 was launched it brought the site health tool that provides information about a website's health. The tool helps the site admins to recover their websites at that period of time when they are facing any type of technical difficulties. With the release of WordPress 5.3, various changes are also made in the Site Health tool so that it can provide better interface for admin.
So let's have a closer look at the changes that are made in the latest version to improve the site health component:
1. Eliminate the site Health grading
If you have used the WordPress 5.2 version then you are familiar with the percentage score grade that was shown at the top of the Site Health status page. However many issues are encountered due to this system as some people considered this tool incorrect and confusing. Due to this tool the WordPress users try to reach a score of 100, they neglect all the credential details and information which are best for their website.
In the latest version the Site Health Tool show doesn't show this indicator in fact it now shows two options i.e
2. Enhanced recovery emails
Before this update, if any failure occurs to your WordPress site then the WordPress sends a recovery email to the site admin. Meanwhile, these emails don't provide any sufficient information for debugging. You only get to know that something is wrong in their WordPress site.
But now in the latest version, you will get a better informative way to restore the WordPress website as WordPress 5.3 introduces the recovery_email_debug_info filter.
Now the recovery email also includes the basic information that will help you to troubleshoot your website. So, we can also say that handling of a WordPress site is now easier than ever before.
3. Features filters for Complete site Health Status tests
The site_status_test_result is a new filter available in the new update that allows the developers to filter the output of a finished status test to extend the result of a test.
Developers can also use these filters to provide additional actions according to their choice.
The main benefit of this filter is that it is available both in PHP, for direct tests, and as JavaScript implementation, for asynchronous tests.
Image upload is now easier and better in WordPress 5.3
In the previous WordPress versions it is usually seen that whenever you upload the large images from your phone or camera, your server would time out before the upload could finish.
But this will not happen now as WordPress 5.3 annihilate this issue.
The new version automatically saves the image creation process so you don't have to upload that picture again as it will automatically get saved into your WordPress site. Now you can resume uploads without breaking anything.
Now it is much easier to fix the image rotation issue using the EXIF metadata. An EXIF metadata is usually something that you add by your description about the image which you add by your camera or phone to the original image. You can now use very large image sizes in for WordPress posts and pages.
Admin experience Enhancements
The WordPress 5.3 update not only improves the site health tool but it also comes with several
Admin UI enhancements that improve the overall site experience. Now an admin can have a better option for it's WordPress dashboard through which he can easily improve the design of his WordPress site and create an attractive user-friendly WordPress site.
Some of these features are mentioned below. So, let's have a closer look at these enhancements specially made for an admin.
1. Improved color contrast
In the previous WordPress versions, you can't add that much color variations and contrast to your blogs and pages. But this no going to be in latest version as the color contrast has been improved very much, so now you add more color contrast to your website and make it easy and attractive for the users. Many accessibility issues have also been fixed to improve the functionality of your WordPress site.
2. Changes in the Admin email verification
In the previous WordPress versions you don't have that much accessibility, you only have the authority to change the admin email address from the Setting >> General page.
The email address is very important as WordPress sends notifications to change the passwords and other important information to this email address.
In the new WordPress 5.3 version, it is mandatory to verify the new email address, this is very important as it will help you to ensure that you don't miss any such type of future emails.
By default in the new feature if you haven't log into the admin panel of your WordPress for 6 months then, automatically the admin will get an email notification so that an admin can have a closer look at its website. You can also set a particular time interval to get this type of email notifications.
You can also use the following filter to disable the new email verifications:
add_filter( 'admin_email_check_interval', '__return_false' );
3. Resuming uploads
Previously, when you are using your smartphone to make changes to your WordPress site it is often seen that things break in the middle of the process so you have to continue that process again.
But this won't happen again as WordPress now supports resuming uploads feature whenever things go out of your hands. So, now you can easily continue the upload and make changes according to your needs.
4. Automatic rotation of high- resolution images
In the latest updated version of WordPress5 also brings support for high-quality images. now an admin will get a better way of processing all those images. The main benefit is that now the images will automatically get rotated on uploading according to the EXIF orientation metadata.
A brand new default theme: Twenty Twenty
Each year WordPress releases a new and default theme which is generally named after the upcoming year. This year WordPress 5.3 consign with Twenty Twenty as the brand new default WordPress theme.
The main aim of designing this theme was to upgrade the functionality of your website and allows you to take full advantage for the WordPress block editor. Now you can easily create an awesome and stunning content layout for your articles and pages.
The theme uses the inter typeface (font), which makes your headlines more attractive and beautiful. The fonts look great on any type of device you are using whether it is smartphone, tablet, ios or desktops and also provide better reading experience across all of these.
Twenty twenty theme is a single column WordPress theme which implies that no sidebar is available for blog posts or pages. It also doesn't support any widget area at the bottom.
It offers you to use the full-width templates with your posts and pages. This template works very well with the block editor as well as other page builder plugins.
In short, we can say that the Twenty Twenty theme basically works as a showcase that promotes the available options for using the blocks within the WordPress block editor. The theme is suitable for both your business websites as well as your personal blogs.
Changes for WordPress Developers
WordPress 5.3 brought several changes and improvements for WordPress developers. As there are many changes so we have mentioned only those which are really that much more important to understand:
1. Date/time core component improvements:
It deals with all the issues that are related to date, time and timezones in WordPress.
2. New aria-current Attribute:
With the help of the new WordPress version, it is now very easy to point out the links to the same page. It also offers a chance to the theme developers to add specific styles to those links. The change can affect the given core widgets:
Recent posts
Navigation menu
Pages
Category
Archives
3. New aria-label Attribute:
With the help of this feature, the developer can now add support for keyboard navigation in the web pages by using the landmark roles.
The ARIA landmarks help to give an overview of the web content and it is also very helpful for adding support for attributes in posts and comment navigation.
4. The REST API in WordPress 5.3:
The new update brings different changes and improvements in the REST API.
the REST API will now supports complex metadata types like 'array' and 'objects'.
Now the developers have the opportunity to create complex meta-based blocks via REST API. For more information you can also see The REST API in WordPress 5.3.
Other helpful changes in WordPress 5.3
The other useful changes that occur WordPress 5.3 are as follows:
Improved checks of permissions when comments are being added by different users.
Text zoom for better work with content
Fixes the time/date components
Simplified switching between blocks
Experimental facility to add non-local blocks in 1 click
New animation
Multisite will now store database version as meta
Php spread operator
Improve compatibility with PHP 7.4. So, it is now easier to remove the deprecated functions.
Fixes that minimize potential compatibility issues with previous versions
How to update your old WordPress version to the new WordPress 5.3 version
The all-new WordPress version was available for download from November 12, 2019. Anybody who wants to update its theme can download it from the WordPress official site or you can also download it from here.
It is common to see that every customer's site is different so we highly recommend in utilizing the one-click staging environment. You can easily clone your live WordPress site at a short span of time. This will help you to create a backup of your WordPress site so that you can check whether your existing themes and plugins are compatible with the new WordPress 5.3 or not.
Now we are going to discuss how you can update your previous WordPress version to the new WordPress 5.3 version. To do this you will have to follow the following steps:
To update your existing site with WordPress 5.3 the very first thing you have to do is to click on the "Updates" icon in your WordPress admin dashboard.
Now click on the "Update Now " button.
After the installation process ends you will see a "Welcome to WordPress 5.3" screen. And that's it! Now your previous WordPress version website is updated with the new and WordPress 5.3.
After this process you will get a notification to update your database to the newer version. So all you have to do is just click on the "Update WordPress Database" button and now you are ready to use the new version of WordPress.
Note: during the installation process your site will be under maintenance mode. As soon as the updation process ends, your site will return back to it's normal mode.
Wrapping Up:
After having a long discussion it is now the time to wrap up this article. Here in this article, we have learnt a lot about the exciting features and improvements in WordPress 5.3.
The new version comes with thirteen versions of the Gutenberg plugin that are merged into the core of WordPress. It comes with several new updates like improvements in the site Health tool, new default Twenty Twenty theme, provides a better admin interface. To upgrade the functionality of the WordPress site new functions and features are introduced by the theme developers and theme designers.
The new WordPress5.3 provides better support for PHP 7.4 and also minimize the chances of failure of the website. The developers created this update by rendering small changes, bug fixing and deprecations so that the admin and the user both can enjoy a user-friendly interface.
We have tried to mention each and every specific detail in a more informative way so that you can easily understand the exciting features and benefits of using the WordPress 5.3 version.
So now it's your time to update your old WordPress version to the whole new WordPress 5.3.
We hope that you really like the article, and if you have any queries related to the new update or wanted to share something which we don't have mentioned in this article then you can mention it in the comment box.
We, here at wpglobalsupport.com, provide all types of support and help related to the WordPress themes and plugins so if you are facing any kind of difficulties in your WordPress site or themes and plugins associated with it, then you can contact our developer's team through toll-free no – +1-855-945-3219.