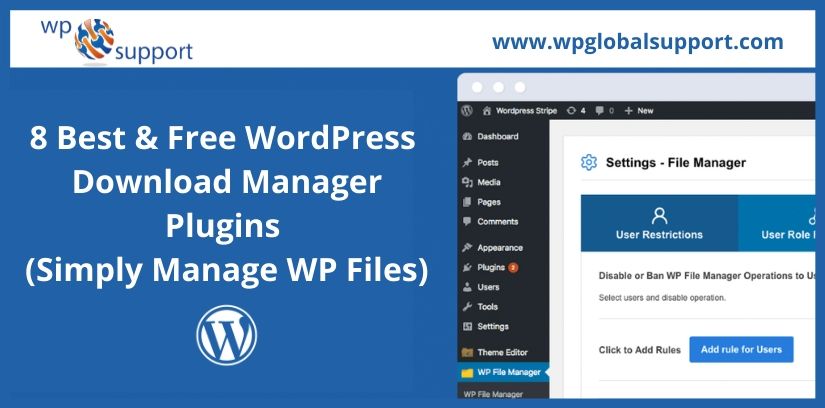 WordPress is the best platform for blogging or hosting a website. It is now a powerful content management system that powers over 27% of the world-wide-web. With a few external plugins in WordPress, you can handle a variety of file download needs.
The native WordPress user interface has the ability to managing file downloads. But this is not the simplest or most efficient way to manage files.
Relying on your needs, with the best download manager plugins, you can add password protection, organize files, track the number of downloads and stop unregistered users from accessing files. You can use a file download plugin for tracking file revisions and collaborate with a team.
So in this blog, we are going to discuss the 8 best & Free download manager plugins that can wonderfully work for you for the specified tasks.
Best Download Manager Plugins for WordPress
Download Manager Plugins Characteristics
Before deciding on which WordPress plugins you choose, you should think about the following features that should include in a perfect WordPress Download manager;
Password protect content.

Track how many downloads take place and track the earnings from your downloads.

Organize a variety of digital downloads you offer.

Monitoring files for revisions when you use downloads or uploads in WordPress for collaborating with others.
Best Download Manager Plugins for WordPress Website
WP-Download Manager
It is a simple download manager plugin. It was developed by Lester Chan. WP-Download Manager has a long list of features but is still a usable option for webmasters who don't want all the bells and whistles. Currently, it has 10,000+ active installs with a rating of 4.6 out of 5 stars.
WordPress Download Manager

The WordPress Download Manager includes limited viewing, password protection and works on multiple domains. The password protection package lets the user protect a full package of files or each particular file in a package by using passwords. It's simple and easy to use a download manager.
WordPress Download Manager is one of the most actively updated WordPress download manager plugins.
Easy Digital Downloads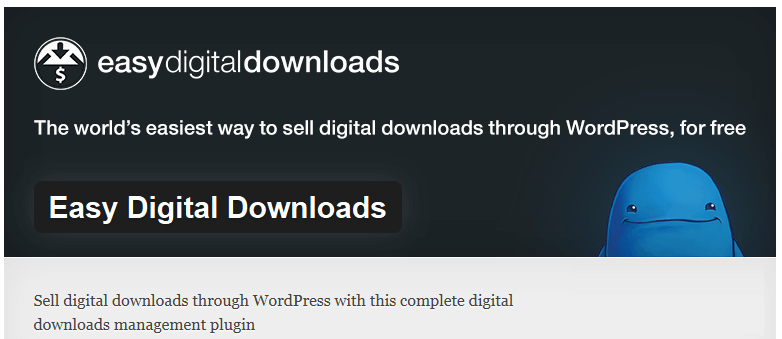 It is primarily an e-commerce solution for any type of digital download. It can also manage multiple file downloads per downloaded product. This makes it the best option if you have different prices for multiple products or have bundled products.
Easy Digital Downloads comes with PayPal and Manual as the default payment options but others can be added for a fee. It currently has 60,000+ active installs.
Features of the plugin belonging to file downloads
Cart system to purchase multiple downloads at once

Multiple files per downloadable product

User purchase history and power to re-download files
Download Monitor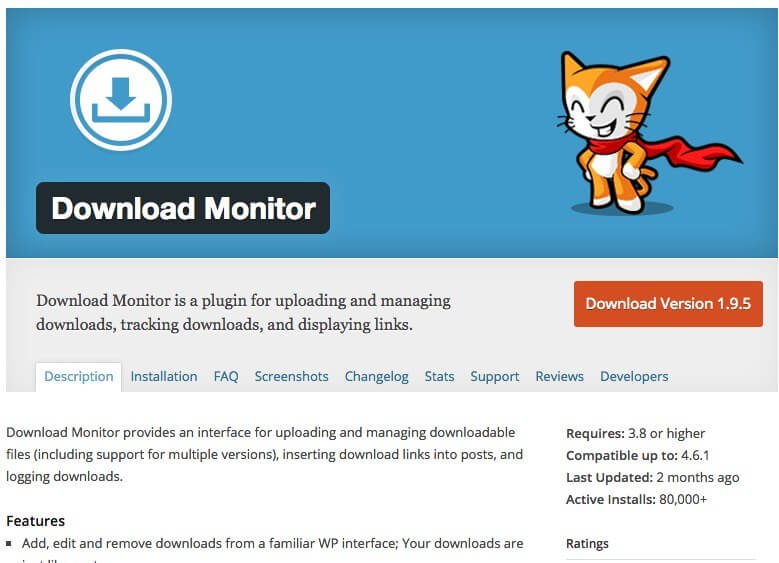 WordPress Download Monitor has an intuitive UI that lets you upload and manage downloadable files and insert download links to files in posts.
The main goal of this plugin is to help users keep files organized and to provide a way to track files. As of writing this it currently has 90,000+ active installs.
Features of Download Monitor
Add multiple file versions to downloads

Tracks download counts & logs user download attempts

Quick-add panel to add files while you are editing posts

Has shortcodes to output downloads in various formats including buttons, plain text links, and boxes
Delightful Downloads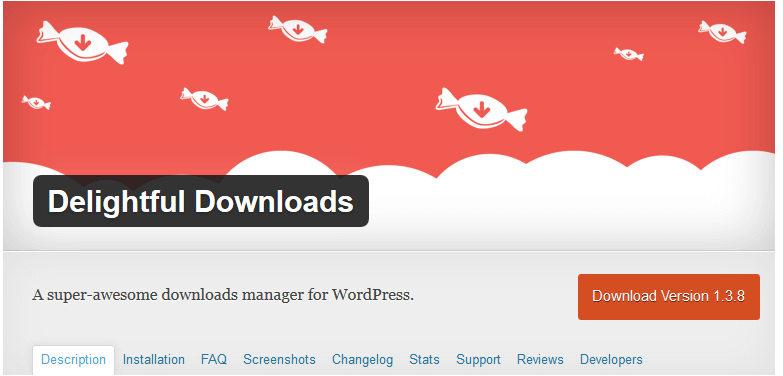 It is also a downloads manager for WordPress that allows you to add download links, buttons and as well as download information to pages, posts and widget areas.
Then you can track your download statistics from right within the WordPress dashboard. It currently has 10,000+ active installs.
Some of the features include
File upload using the WordPress admin area.

Shortcodes for displaying download links, buttons and download the information within pages, posts and widget areas.

Categorize and tag downloads.

Password-protected files.
WooCommerce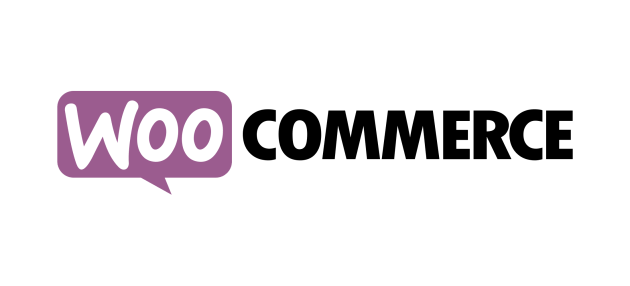 WooCommerce is a free eCommerce plugin that allows you to sell anything, attractively. It is one of the world's favorite eCommerce solution that gives both store owners and developers full control. It currently has 3+ million active installs with 4.6 out of 5-star rating.
You can manage downloadable and virtual products with the newer versions of WooCommerce.
Lana Downloads Manager

Lana Download Manager plugin is simple and free. It allows the management of local files via WP upload and remote files. However, this works excellent in case you are looking for something basic and lightweight. Some of the features include:- Counter system and Log system.
CM Download Manager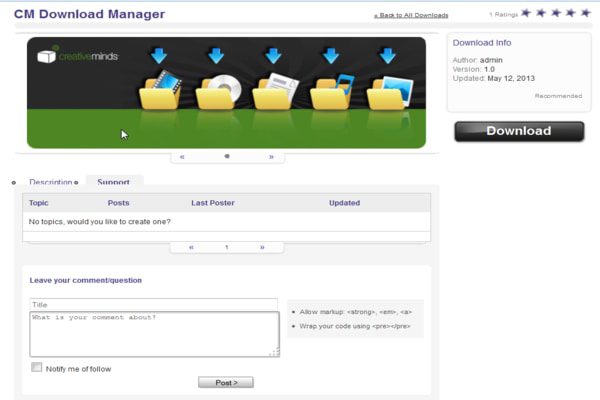 CM Download Manager plugin lets you upload, manage, track and support documents or files in a directory listing structure. They do have a free version but it is very limited but the premium version has a lot of features
Some of the features include
Download categories
Voting
View counts
Internal search
User notifications and permissions
Password protected
Upload restrictions and moderation
Multisite support
Multiple file uploads
Shortcodes and log statistics
Conclusion
There are many reasons why you would prefer downloaded content on your WordPress Website for collecting leads, provide supportive documentation, generate revenue or even collaborate with others.
You should have a download manager plugin that reduces the process and increase your ability to oversee what's happening with all of it.
If you're looking for someone who can help you with WordPress Support then you can dial WordPress customer service number +1-855-945-3219(Toll-Free). One of our Professional Expert will guide you instantly.

Thanks!
Recommended Blogs