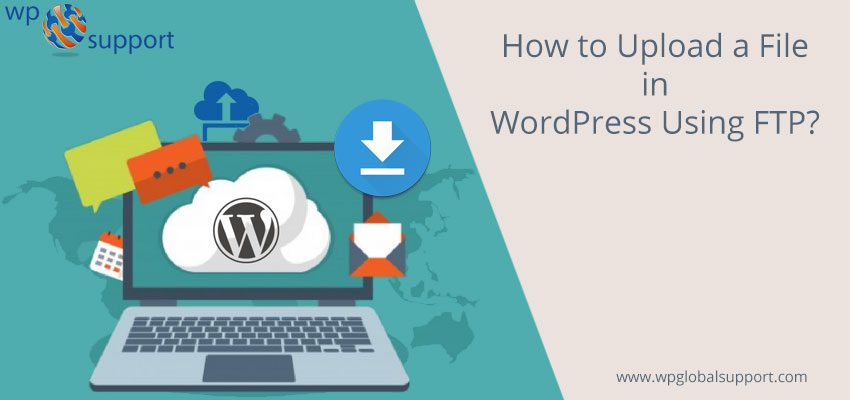 Are you facing problem to Upload a File in WordPress Using FTP? FTP stands for "File Transfer Protocol". And it's the simplest, easiest and fastest method to do so. The FTP program provides you access to root files and directories of the website.
File transfer protocol smartly simplifies the transfers by allowing you to upload large files such as PDF documents, videos, slideshow projects and images to your business website. In this blog, we will illustrate you How To Upload a File To WordPress Using FTP.
We are whispering a word again and again FTP. Thus, we arrive at a question:
What is FTP?
As discussed above: FTP in short stands for "File transfer protocol". Thus, it allows you to transfer files from your PC to your website hosting account or to another PC.
Whereas, you might be thinking that there is already a media uploader inside our WordPress admin area. Which is used for uploading files like images, video, audio, PDF and much more?
Then why we came to FTP (File Transfer Protocol). Another question is as:
Why do we need FTP?
FTP is needed for uploading files manually in WordPress. Because WordPress Website sometimes wouldn't work properly due to an error.
Else you do not need FTP to upload a file at all. You yourself can easily upload images from WordPress Admin Area. And even you can upload plugins and themes from WordPress itself from your working PC.
The very first thing you need to do is: Download and install an FTP client on your PC (Personal Computer).
Here, the FTP client is an app which helps you to connect your website. And transfer the files using the FTP protocol from your PC.
Below are the most famous FTP clients. That you can install into your Website.
Thus, to move along with an example: we will be moving with FileZilla. Which is completely free for Windows, Mac, Linux. Consequently, you may use any other FTP client which you like the most.
When will you require to upload files while working on WordPress site?
Often you may control a lot of things from the very admin panel. There are many instances while uploading which will be more beneficial than all. This is true! If you custom design your own code for the sake of WordPress site.
Thus you will need to do for certain parts of the website like:
For Custom Files.

For Video Uploads.

Unable to Access the Admin Panel and
Upload a File in WordPress Using FTP
First, you have to download an FTP client to your computer and then install it. The FTP client is an app that helps you connect to your website and transfer files using the FTP protocol.
Here are some of the most popular FTP clients you can install:
For this tutorial, we will use FileZilla. You can use whatever another FTP client you like. Regardless of the software you use, basic concepts are the same.
Connecting To Your WordPress Site Using FTP
While connecting to your site using FTP software. You will be asked to connect to your website using your FTP login credentials from your PC.
Now, FTP login credentials are sent to you via email. While you sign up for your WordPress hosting account from your PC and working on Website. Hence, your hosting account panel dashboard may have your FTP account information.

Whereas, if you didn't find your login credentials. Then you may contact your hosting provider to get the information about the relevant task.
As quick as you get the information you wish to open FileZilla FTP client. And after that, you wish to follow the path as File » Site Manager.

Following this path will bring up a pop-up window. Where you can add your site information. Now press onto the "New Site" button and type a title for your website.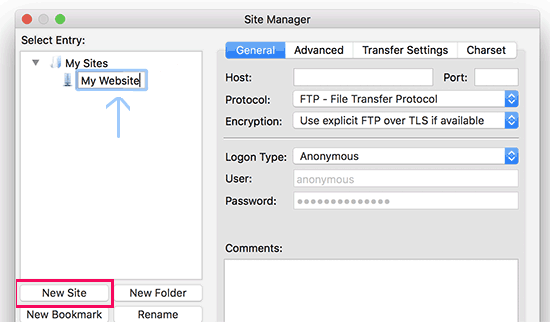 After that, in the very next column of your working window page, you will be asked to enter your host. The host you enter is usually the domain name.
Note: Within the protocol section you have to enter or choose SETP. Only if your hosting provider accepts it or supports it.
Thereafter, enter the Login Type, and choose the "Normal". Hence it not the all about, now you have to fill the FTP User and Password. With your willing but the FTP Username and password should be strong.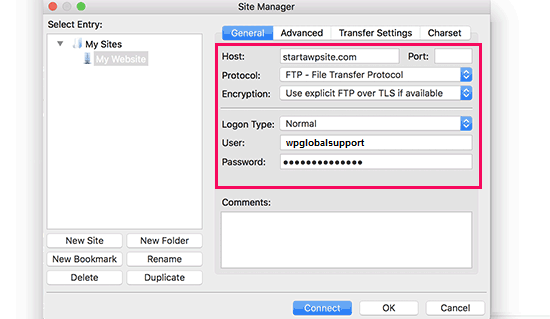 Moving forward press the connect icon or tab to continue from your working window page. FileZilla FTP client now will save your website settings. This is saved to your PC for further logins and for opening a new FTP connection to your website.
And the popup shown below through pick shall come to your window page. If you connected for the first time to your website from the working PC.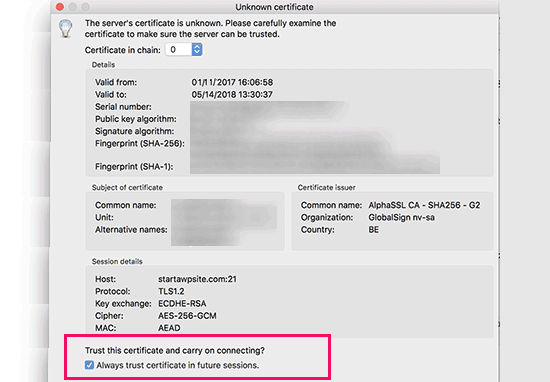 Let's find the tab/box before the "Always trust certificate in future session". And after that mark yes with a left click on it.
FileZilla FTP client will now login to your WordPress site using the details you entered a few minutes before. And after getting connected, you will look at the list of files and folder on your window page under "Remote site" column.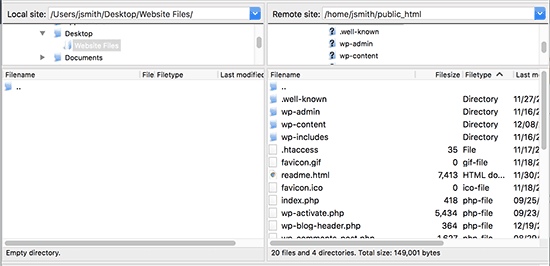 The first thing is to look at the Local site and Remote site. We examine that the Local site displays the files and Remote site displays files and folder on your window page.
From here you can browse the Local site to locate the files on your PC. That files which you want to upload to your website. The next and upcoming thing you need to is right press the file and choose upload from the menu option from your working window page.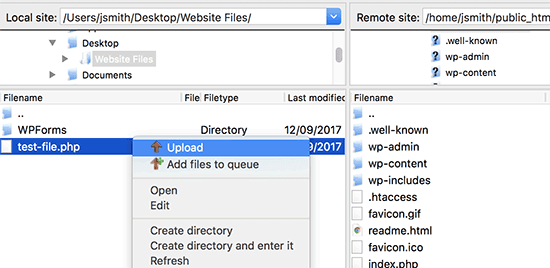 FileZilla the FTP client will now transfer all the file from your PC to your Website.
Whereas, WordPress site wish to have certain files and folders in the specific locations to work in a proper manner. It means you can not upload a file anywhere on the PC. You must know where we have to upload a file and folder on WordPress site.
Like: If you wish to upload a plugin manually to your site. Then first you have to download the plugin to your PC and after that, you have to do the above job.
Thereafter you will need to unplug the plugin files from your PC. Within the zip file, you will find the plugin folder from where the website will look for plugins. The path to follow is: /wp-content/plugins/ folder/.
After following the path in the Remote site column of your site. You can upload the plugin folder from your computer to your website.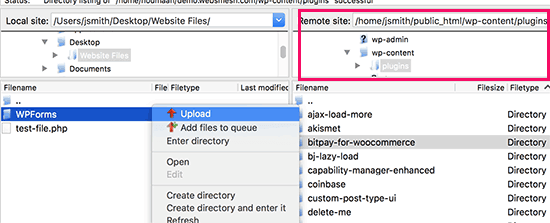 And after uploading the plugin you wish to visit the plugins page. From your WordPress site admin area to activate the plugin, you have just installed. To know more just refer to our guide on How to install a WordPress Plugin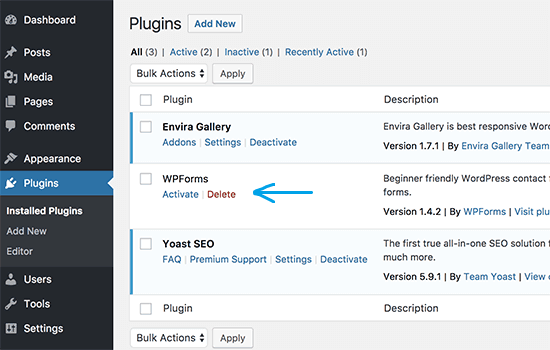 Consequently, if you want to upload a premium theme to your Website. Then you have to first download and unzip the theme folder from your PC. And after that, you can do your job. Thereafter, upload it to /wp-content/themes/ folder on your site.
File transfer protocol is not only used for uploading files from your PC to your website. FTP is too used for downloading files from your website and to edit them.
For doing this job: simply right-press onto the files or folders. Which you want to download from the "Remote Site" column and press onto the download button from your working window page.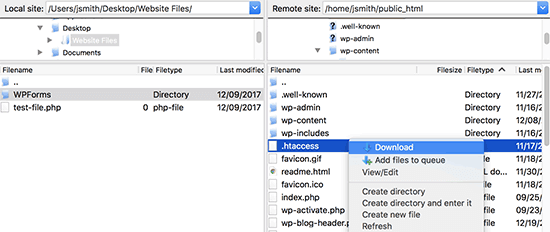 However, FTP to can be used for backup all WordPress files from your Website. As WordPress Backup and Restore is essential in all stages. For doing this: select all files and folders and download them to your computer.
The backup only contains your WordPress files. And it does not include your content database. However, if you want to the backup database too then create a manual backup of your WordPress database.
Wrapping Up
Here, in this blog, we have discussed the Way To Upload a File To WordPress Using FTP. Often to conclude this we have added its definition, needs, and its client. After that, we illustrated the process of the very task Uploading Files In WordPress Using FTP. You are on your way to getting more exposure.
We also support you in making your website run faster as we provide the best techniques to speed up WordPress Website. Dial our Toll-Free number +1-855-945-3219.