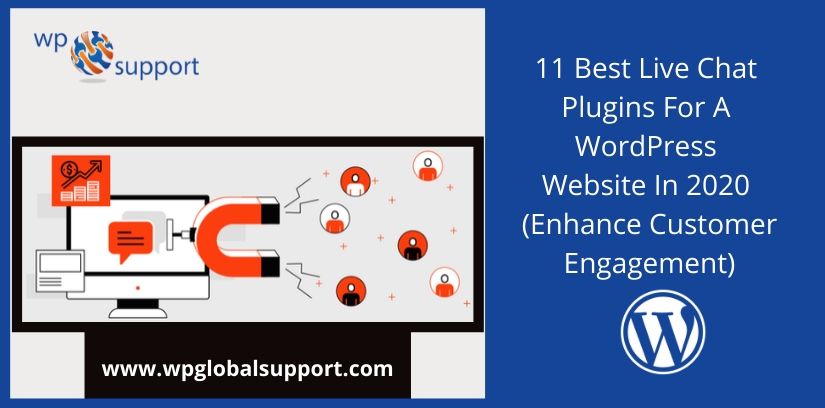 User engagement is key to success for your business. In the online business world, providing quality customer support/help to your customers or users is the prime thing that can help to grow your business. As you know, each & every user wants to search for a quick response to their queries.
Hence, your immediate support can make your customers happy so he/she might go for a long term engagement with your Website. Furthermore, if you have noticed that – Nowadays, peoples are not eager to talk on the phone. This is because the phone support is often more frustrating when it takes a long time, slow response, and background noises, etc;
In this modern era, peoples prefer to communicate through the chat process as it is a more enhanced and interactive way to express their thoughts. If you have a WordPress site then it is your chance to look for the best possible methods to achieve this task.
Live Chat benefits
Live Chat is one of the most important channels that makes communication between the users and business owners. Further, it provides simpler and more approachable communication without inconvenience.
Continuously, out of 100, there are 90 e-commerce site owners add the live chat plugins to their site. Because it is the best way to boost the conversion rate and confidence while shopping experience.
In addition, live chat can be helpful in several ways like – it helps in making easy communication with customers, boost the goodwill and sales, it can save time & money, to fix the problems efficiently, and much more. If you wish to crack the feasibility, nothing can beat the live chat.
Here, we are just intended to provide you with the best live chat WordPress plugins to make sure that you can enhance your user's engagement or interaction that can simply put your ideas and responses in their minds easily.
Best Live Chat Plugins For WordPress Site
Best Live Chat Plugins For WordPress
Live Chat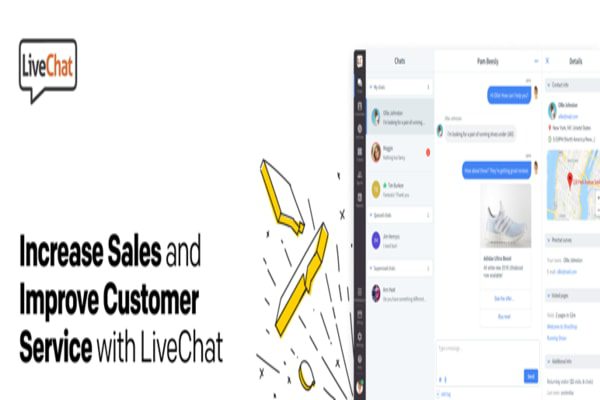 'Live chat' plugin for WordPress is just made to provide the live chat support to your WordPress Website. A plugin that can serve your customers with its instant and quick answers functionality can also be the best to make your site do well in sales.
Apart from the chat support, it also paved the way for an efficient ready-made ticketing system that gives 24/7 customer service. Its distinct chatbox widget provides multi-tasking such as in the absence of a chat operator, it comes with a ticket form so that customers are conveniently getting in touch with their queries.
Features
Work with any WordPress Site Builder
Work with any WordPress theme without any modifications.
Partnered with all the major e-commerce platforms.
Easy to customize and extend
Tawk.to Live Chat

Tawk. to Live Chat gives you the ability to monitor and chat with site users. Further, it is not only great for a live chat but for producing the new sales and leads.
Also, this plugin is compatible with all web browsers. It has developed free apps for Android, iOS, Windows and Mac OSX. Tawk.to is free and offers 24/7 customer support.
Lately, according to a survey, over 1,000,000 business owners use the Tawk.to free live chat plugin. No catch. No spam. It's truly a free plugin.
Features
In real-time when you monitor your site visitors, then it gains valuable insight.
Be in contact with your customers from the computer or mobile.
It helps you to generate better customer support and higher conversions.
WP-Live Chat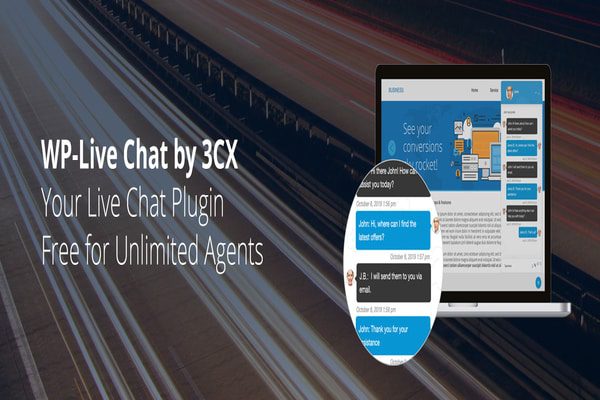 This plugin is aimed at small businesses looking for a cost-effective chat solution. WP Live Chat is one of the most famous WordPress chat plugins. As it comes with a long list of great features.
For example:- It includes six predefined live chatbox themes, the ability to drag and drop the chat anywhere on your page, the ability to have as many unlimited simultaneous chats, translation capabilities, etc.
In addition, by communicating directly to your visitor, it boosts your conversion rates. The best thing is that, in order to better understand your users, there is no need to pay for live chat monthly subscription.
Features
Integration with GIF.
Anonymity for your users.
Directly live chat with your users.
Change the live chat box colors.
Integration with Google Analytics.
Unlimited live chats simultaneously
Access historical live chat records.
Compatible with translation plugins.
Fully responsive admin chat dashboard.
Fully customizable live chat experience.
Ease of use for both admin and the user.
Most popular live chat plugin for WordPress.
Edit all text fields that are displayed on the live chatbox.
While live chat is switched off, offline messages are now stored
Tidio Live Chat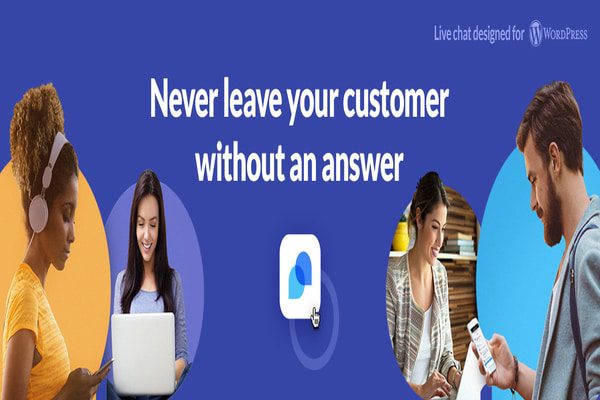 Tidio Live Chat plugin was designed with the WordPress community in mind. Further, it allows you to chat with any visitor on your website.
Continuously, this plugin supports 140 various languages to help you with global reach. Tidio offers three sleek and gorgeous designs, analytics and an offline message option.
The best thing is that, there no need for registration. Just install the plugin and start taking full advantages of this plugin.
Features
Very easy installation.
Available in two outstanding designs.
Keep track of who visits your website.
Manage the color scheme as per your needs.
The integrated widget supports 183 languages.
Contact any customer that visiting your site at present.
When users leave the cha, then contact them via email.
Use an app for mobile and desktop devices (iOS, Android, Windows, OS X, Chrome).
JivoChat Live Chat

JivoChat Live Chat is one of the best on the market for increasing customer retention and sales. Using this plugin you can boost sales by using a chat widget that pops up and says whatever you want it to say, like offering a discount.
Another feature is that all chats have SSL encryption and promises 100 percent uptime with a scalable and fault-tolerant geographically-distributed backend on Amazon.
More than 180k sites worldwide, it helps over two million users per month with our chat app.
Features
Pointer.
Typing Insight.
Automatic Translator.
Not Slowing Down Your Site.
Visitor Monitoring & Triggers.
Instant calls feature for visitors.
CRM Integrations, API, Webhooks and Mobile SDK.
Connect your Facebook Page, Viber and Telegram accounts.
Zendesk Chat

Zendesk Chat – A better way to talk to your customers.
It is built with triggers to boost the chances of high engagement; everyone receives the trigger so no one chat is particular to a representative.
Also, this plugin is mobile optimized which helps in the extra accessibility. You can easily access advanced analytics to monitor who is coming to your website.
With the help of this plugin, you can answer your customer's questions in real-time and give them ease into the purchase. Additionally, through the widget, the users can chat directly to you and can manage multiple conversations through the online dashboard.
Features
Proactive Chat
Mobile-Optimized
Advanced Analytics
Olark Live chat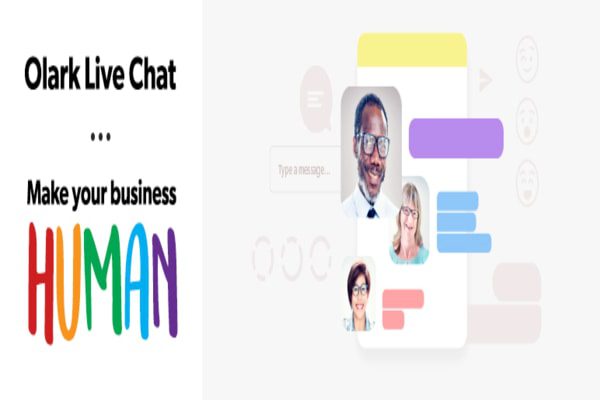 It is a fully-featured live chat solution. Further, Olark Live chat can be easily integrated with your WordPress website through a handy widget.
Generally, you get a piece of code directly from Olark, which you can then embed wherever you wish.
Features
You get chat reports – operator responsiveness, track chat frequency, and customer satisfaction.
There's CRM Integration and you can set rules to hide and show the chatbox, automatically send messages, and assign chats to various departments.
Helpdesk integration.
White label feature. Remove Olark's branding.
Formilla Live Chat

Formilla Live Chat is an excellent freemium live chat solution. You can try Formilla for free if your website has modest traffic figures. Also, it allows your users to chat with you if they have any queries or need support.
For those looking for live chat plugins that can handle the volume, 30 chats/month won't be enough for everyone, though, so most of you will require upgrading.
Features
Smart Messages.
Chat Broadcast.
Chat Transfer.
Pro-active Chat.
Installs Instantly.
Desktop Notifications.
Require Email Address.
Advanced Customization.
Mobile Ready Chat Widget.
Real-time Visitor Monitoring.
Language Support (International).
Integrate with hundreds of apps using Zapier.
Mobile Apps for iPhone, iPad, and Android Devices.
Pure Chat

Pure Chat is one of the most popular live chat plugins because it creates beautiful chat boxes. Any part of the chatbox can be customized with unlimited colors, eye-catching animations, and custom images available.
It is also a very skillful live chat tool. Some of the functionality includes multi-chat management, powerful analytics, and proactive chat triggers.
Also, you can schedule when the live chat function is online and when offline. Your live chat box converts into an opt-in form for any MailChimp email list.
Features
Unlimited Chats.
Customizable widget.
Up to 3 operators for free.
Native iOS & Android apps.
Powerful operator dashboard.
Free WordPress Live Chat by OggFlow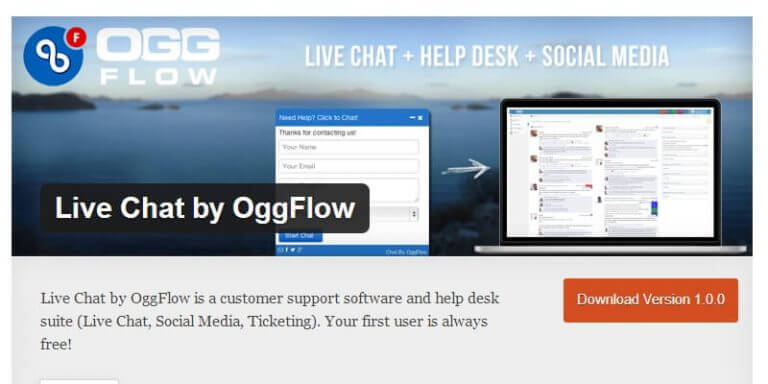 It is a customer support software and helps desk suite (Social Media, Live Chat, Ticketing). Live Chat by OggFlow for WordPress enables you to add beautiful live chat to your blog or site.
It helps you manage all your customer service related work–emails, live chat, Twitter feeds, tickets, Facebook feeds and Gmail shared folders all just from one easy and familiar interface.
However, you can respond promptly to customer requests and boost your customer satisfaction and sales.
Features
Beautifully Simple Live Chat
Email Ticketing and Team collaboration.
Customize the widget look and feel with custom CSS, logos, and messages.
Powerful customer service suite with 3rd party integrations to email and social networks.
Wise Chat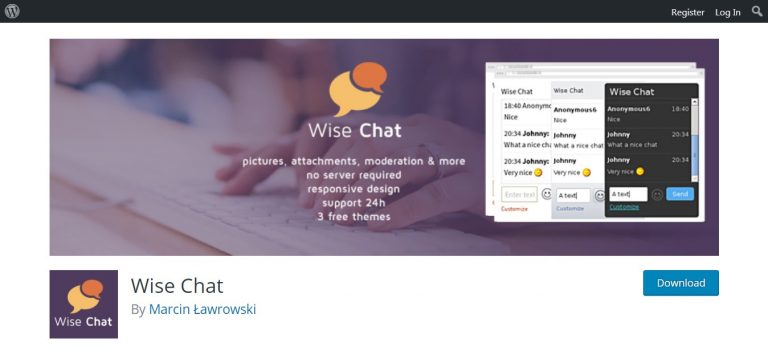 Wise Chat is easy to install a free plugin for creating a social network that helps in increasing customer engagement for your website as it provides the users to exchange messages in the chat rooms.
It has a fully responsive design and can be used on mobiles. Users can participate in chats and keep their identity hidden through anonymous features where they get an auto-generated username.
In addition, the installation & configuration process of this plugin is extremely easy. Also, it has a growing list of features and constant support.
Features
Mobile ready.
Notifications.
Flood Control.
Easy installation.
Registered Users.
Read-only mode.
Anonymous Users.
Private Chat Channels.
Users limit in channels.
Posting links and images.
Unlimited Chat Channels.
Messages auto cleanup.
No external server required
A lot of themes
EngageBay – Free Live chat software
Pricing: Free
Features:
Free live chat
help desk
marketing automation
free CRM software
landing Pages
360-degree customer view
EngageBay's free WordPress Live Chat plugin helps you assist and engage visitors and customers on your website. This not only enhances customer service, but also helps you grow your sales and retain customers. All of this right from within your website.
Talk to your customers in real-time, track the complete customer journey, send proactive messages to invite your customers to a live chat session, gain insights from chat transcripts and lots more.
EngageBay's powerful free live chat software lets you take your customer support to the next level.
features, provide real-time assistance to convert visitors to happy customers. Track, prioritize and solve customer support tickets in minutes.
Conclusion
Live chat plugins are very useful for better user interaction. The plugins we provided above are just what you need so that you can't miss any customer related queries that can lead to your site's performance to a downfall.
Now, we can wrap up this post with the hope that you will gain an overview of the top live chat plugins and their characteristics. If you have any questions or feedback, please, let me know in the comment section below. Your response is equally important to us just as selecting the best Live chat Plugin.
If you're looking for someone who can help you for your WordPress Site, then you can dial our WordPress technical support number +1-855-945-3219. We will guide you instantly.

Thanks!
Read More Useful Blogs: