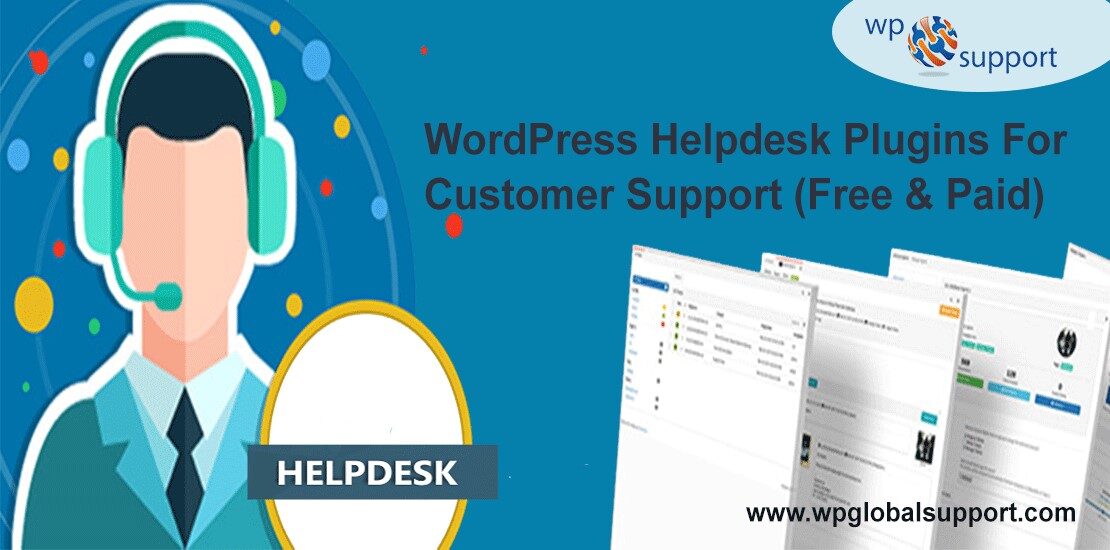 Well, as we all know that the satisfaction of a customer is the base of any successful business. In fact, the customer support system is a huge part of a successful business. In this modern era, On a daily basis, there are millions of peoples that are getting connected to the web for their online queries.
In this regard, establishing an effective support system with the best WordPress Helpdesk Plugins can make it easier for your customers to keep in touch with you. These plugins will not only influence your system but also tell the clients about your business, products, and services that are most concerned with them.
However, it is good to be active in order to provide effective customer service. As you never know he/she going to motivate someone who can share his/her own experience with your online business with the rest of the world.
Even though, the use of a free live chat process is easy, that allows you to open up a chatting window with your users that can be used as a support management platform.
In this blog, we provide various WordPress Helpdesk Plugins that can help your customers in a better way.
Best WordPress Helpdesk Plugins for Customer Support
JS Help Desk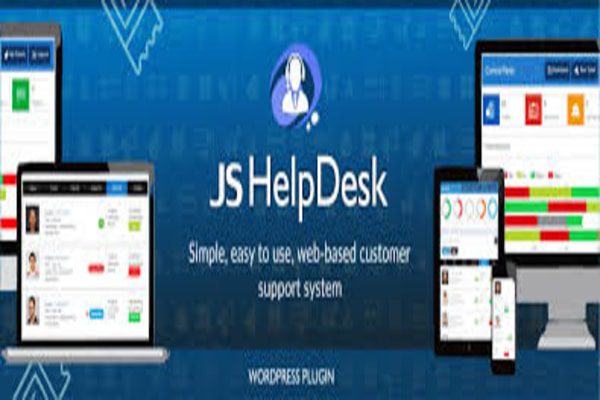 JS Help Desk is also the free & open-source WordPress support platform for WordPress users. In spite of being simple and easy to use, it's the main attraction is its colorful interface.
Furthermore, it has a free version which includes a lot of additional features. Apart from this, it offers a premium version also in which you can get to choose from three plans:
It offers 12 months plan- it costs $55.
For 24 months plan, it costs $99.
For 60 months plan costs $199.
The JS-Support free version has features like filters on tickets, multiple file attachments, ability to create unlimited departments, custom fields for tickets and ability to download a plugin's translated version.
In its free version – an auto-responder feature is included that allows an email to be sent automatically to the users after creating a ticket. Additionally, by using the Bootstrap a UI is designed, which is very colorful and interesting, but it can be a little confusing for some users.
Next, it's paid version offers you some additional features such as Email piping, Staff permission, Agent's satisfaction reports, etc.
There are some many other JS Support Ticket plugin's features:
Ticket export.
Email blocking
Ticket priorities and highlighted priorities.
JS Support Ticket CAPTCHA and Google ReCAPTCHA.
Awesome Support

Awesome Support is an open-source WordPress helpdesk plugin that runs completely on your WordPress site. It is available for free and is good enough to be used as a full-fledged help desk system. It is the most versatile support plugin for WordPress.
Further, you can increase the features using paid add-ons. It provides a ticketing system, restricted access, email notifications, file, and media uploads. You can also add your own fields to boost the ticket forms using custom fields.
In addition, as the name suggests, Awesome Support is one of the best WordPress helpdesk plugins. Continuously, with free and paid themes this plugin is too 99% compatible like another customer support counterpart.
However, this plugin also packed with multiple features. If you want to make it, even more, best you can get their premium extensions which include E-Mail Piping, Gravity Forms, Canned Responses and much more.
Facing error while installing the plugin see our detailed guide on how to install a plugin in WordPress.
The best thing is that – it one is the mobile responsive plugin so the users can enjoy it on their mobile phone and submit the tickets on the go. Meanwhile, to say, the developers, freelancers, bloggers, and writers can take the huge benefit from this WordPress support plugin.
Few of the Awesome Support plugin's features:
It provides free of cost- unlimited tickets, agents, users, departments, products, tags, channels, custom fields, private tickets.
Unlimited custom priorities free with color-coding.
Unlimited custom labels/statuses free with color-coding.
On behalf of users, agents can create tickets free of costs.
Agents can view their and all tickets (Free).
Agents can get email notifications by email for ticket events like a reply to the ticket, new ticket, etc. (Free).
The users can also respond to tickets through email (Premium: E-mail Support add-on).
Many agents can work at a time on the same tickets (Free).
Users can transfer the ticket from one primary agent to another (Free).
Internal notes on the ticket (Premium: Private notes add-on)
The users can open the tickets through email (Premium: notifications add-on).
Notify the agents of ticket events by SLACK (Premium: notifications add-on).
The users can create custom notifications for the events of status based custom change (Premium:
Notification add-on).
Sola Support Tickets

Sola Support Tickets is another easy to use WordPress Support plugin for dealing & opening with support tickets. Further, it is the best way to add help desk & support ticket in WordPress.
Continuously, its additional features include the capability to keep the notes about each ticket, making it simpler to track progress. You can simply manage support tickets by tagging them as pending open or solved.
Sola Support Tickets plugin adds a full-fledged ticketing system. The free plugin only comes with one support agent so you will require purchasing the paid add-on to get the full benefit of the plugin.
However, submitted tickets can be filtered by priority, status, department, privacy, and assigned agent. It has also the paid add-on if you need more advanced features.
For WordPress Website Maintenance Service, Dial Toll-Free number +1-855-945-3219.
Some Sola Support Tickets plugin's advanced features which are listed below:
Internal notes.
Single support agent.
It receives email notifications for new support tickets.
You can add a Submit Ticket page to your WordPress site.
It manages the support tickets whether it is pending, open, or solved.
Priorities – Add the priorities to your support tickets ( urgent, critical, low, high).
WP-Live Chat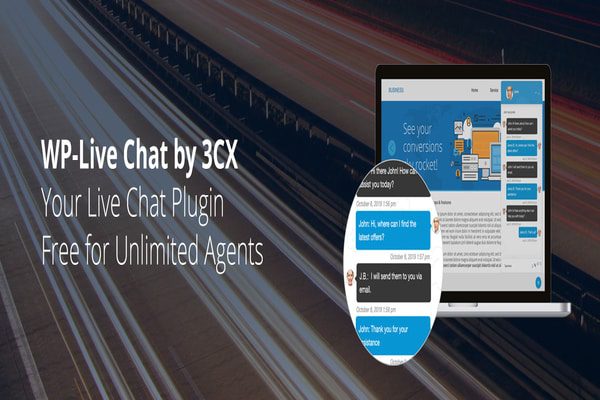 WP-Live Chat plugin is the most cost-effective plugin for WordPress. With the help of this plugin, you can chat with your users for free.
In other words, we can say – In order to understand your customer in the best way, you don't need to pay for live chat monthly subscription. By using this, you can boost your conversion rates by communicating directly to your users. Finally, it is a completely functional live chat plugin.
Continuously, it provides multiple options for its both free & paid versions. However, it uses the same organic structure of a typical live chat plugin, with an easy navigating interface type of features that will make live chatting experience a breeze.
However, mostly WordPress plugins (including cache plugins) works out of the box. Further, when a new live chat window is opened, you can choose an option to receive notifications of your desktop (all missed live chat are recorded in the database of this plugin).
Either you can display the live chat box to all users, or you can choose to show the live chat box only to members.
Some WP-LiveChat Support plugin's features, which are as follows:
Google Analytics integration.
Access historical live chat records.
Unlimited simultaneous live chats.
Live chat directly with your visitors.
Compatible with translation plugins.
Apply animations to the chat window.
Change the colors of the live chatbox.
Fully responsive admin chat dashboard.
Entirely customizable live chat experience.
It is the most popular WordPress Chat plugin.
6 predefined live chatbox themes to choose from.
Ease of use interface for the admin and user.
Edit all text fields on the live chatbox.
Offline messages can be stored.
Zendesk for WordPress

Zendesk for WordPress is popular customer support and ticket system for businesses. It usually supports teams, multiple products, docs and works well with WordPress based sites.
Further, Zendesk lets logged in users on your WordPress website to access the helpdesk without switching accounts. You can see your tickets in your WordPress dashboard and can convert comments into support tickets.
In other words, this plugin works in a nice manner and featured a single sign-on. However, the plugin also lets you add the Zendesk Dropbox tab to any page on your WordPress site.
Continuously, being a modern support platform, it provides some openly unique features. For example, you can convert easily your WordPress blog comments into particular and best support tickets.
With the help of this plugin, you can click on a button that is next to the commenters name (if there are questions and feedback), and open up a new support conversation. Instead of doing an open-up conversation you can do this. Along with this, you can add a dynamic help widget to any of your site's pages that are included by the developers.
Finally, this widget will allow your users to remain updated about your lately published support articles and product information. Furthermore, it also provides a simple feedback tab that permits the users to reach out to you directly.
Some of the Zendesk plugin's features which are as follows:
The Zendesk Support Web Widget.
The Zendesk Support Feedback Tab.
A simple contact form, on the dashboard.
A single sign with Remote Authentication of Zendesk.
The users can access your tickets from the dashboard.
With a single click convert your blog comments directly into Zendesk Support tickets.
WP Support Plus Responsive Ticket System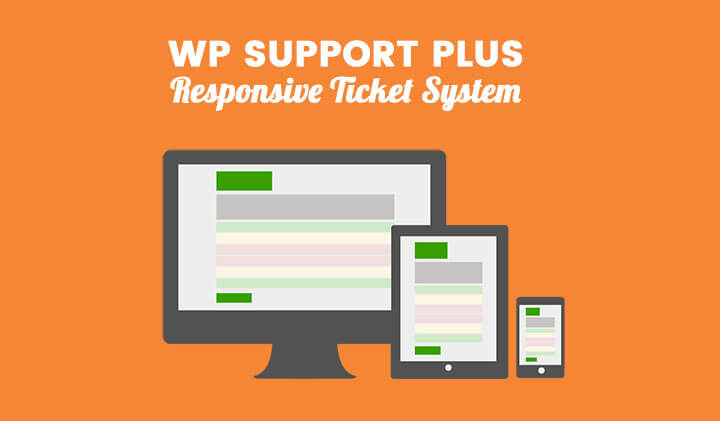 WP Support Plus Responsive Ticket System is another free and open-source WordPress help platform for WordPress users. Further, it is easy to use the customer support system on your WordPress website.
Moreover, this plugin is responsive and uses the Ajax functionality making ticket submission and customer support faster. Subsequently, it is one of the plugins, where the functionality limitations do not matter and can be increased, but with the additional costs that are attached to it.
Meanwhile, to say, it features has unlimited ticket submission via the WordPress admin area and on the frontend. However, the email templates are also available for editing email contents.
It has also the paid add-ons which are also available for advanced features including WooCommerce, Easy Digital Downloads integration, Email Piping, making ticketing system a breeze.
Now comes to its cost – it provides the personal plan for the single site at $99 per year. And another is a plus plan for 5 sites at $149 per year. Further, until the license expires providing access to all the paid add-on.
Few additional features of WP Support Plus, which are as follows:
User group.
Ticket export via CSV.
Google calendar event integration.
A timer to calculate the total time spent on a ticket.
WSDesk – WordPress HelpDesk & Support Ticket System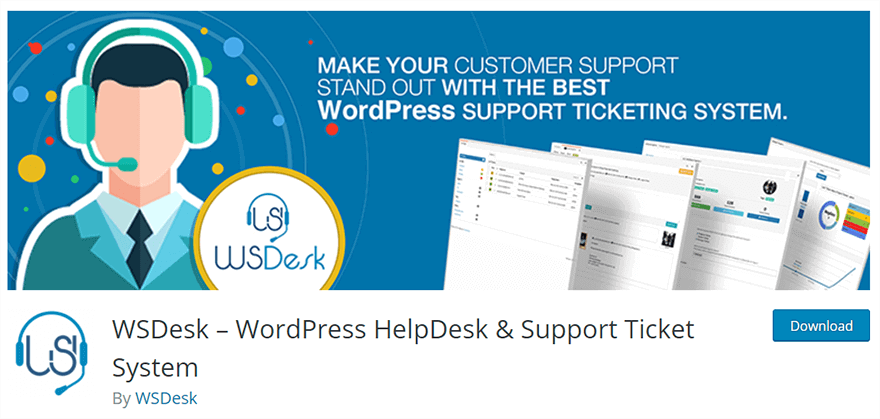 When it comes to value for money, then WSDesk – WordPress HelpDesk & Support Ticket System is the awesome WordPress helpdesk plugin.
Moreover, the best thing about WSDesk is that – It's free version packs a number of premium features like Email Piping, Agent Performance Analysis, Unlimited Agents & Tickets, and Reports, etc.
Apart from this, in it's paid version – a number of advanced features are included with its costs as low as $89 for single-site & $129 for 5 sites. In case the product does not meet the requirement of customers, then it also provides the 30 days refund policy.
Continuously, an outstanding mention should be given to its interface and ease of use. WSDesk uses AJAX-based design with multi-tab ticket view taking the ticket accessibility to an all-new level
In case you require Automation, WooCommerce integration, Backup & Restore and much more you should go for the premium version. The premium version has an option to simply import tickets from Zendesk and WC multi-vendor compatibility.
However, this plugin has one of the best features in its paid version is – Its ability to recommend the solutions automatically via articles & forums before a ticket even submitted. This eliminates the extremely requirement for ticket generation.
Here is a list of WSDesk plugin's advanced features:
Triggers and Automation.
The satisfaction of agent rating.
WooCommerce integration.
WSDesk backup and restore.
Auto-tagging & Auto-assigning.
---
Conclusion
These WordPress helpdesk plugins provide the chance to your customer to initiate contact and get WordPress help wherever & whenever they are stuck on their own site. They also provide you the possibility to help your website users well organized since it's simpler to create, manage & track WordPress support tickets from your admin dashboard.
Continuously, WordPress helpdesk plugins also help you to enhance user experience and boost conversions while saving time.
We hope this article helped you in selecting the right WordPress Helpdesk plugins for your WordPress site and in saving a bit of your money too. For more help on any other issues talk to our WordPress Support team to get instant advice & support, Just dial +1-855-945-3219 (Toll-Free)

Thanks! for visiting us