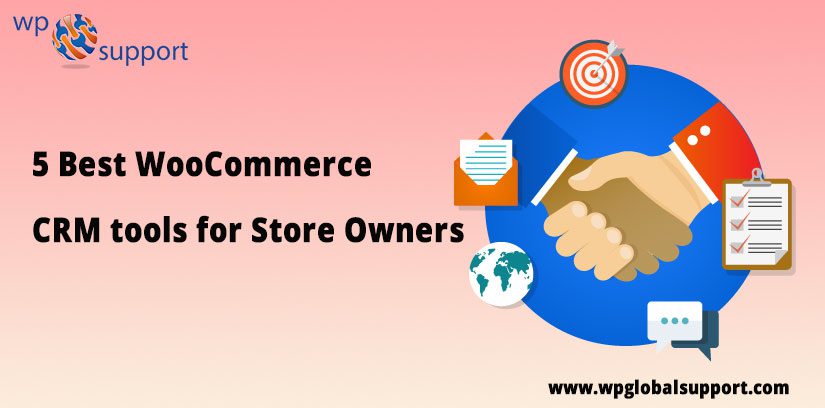 This article focuses on listing out 5 Best CRM tools you can try out on your WooCommerce store. A customer is the most vital part of your business. In this age of the Internet, if you want to attract and retain customers to your business, then there is no alternative to using CRM. And if your business is online based, then it becomes necessary for you.
And therefore, it is not surprising to see different types of customer management tools available for businesses. CRM (Customer Relationship Management) solutions are the special tools for managing their customers.
While looking for a CRM for WooCommerce, there are many criteria that the CRM must meet before being included in the list.
Here is the ranking factor for the best WooCommerce CRM. The following criteria must be met by the CRM:-
It is a Customer Relationship Manager (obviously).

It has a WooCommerce integration.

Bonus: it runs on WordPress.
Let's take a look at the best CRM tools for your WooCommerce Store.
If you are looking for the instant support for WooCommerce Setup talk to our Experts and get the awesome service. Dial our Toll-Free number +1-855-945-3219.
1. Agile CRM
Agile CRM is a solution for WooCommerce store. It is one of the most popular Customer Relationship Manager solution that is available for permanent users.
This excellent tool offers all the necessary tools for the management of your customers, creating and implementing efficient workflow, ensuring the perfect customer engagement etc.
Powerful options allow you to collect all the necessary information about your customers. You can categorize the customer as per the tag and perform several bulk actions. Also, the dashboard allows you to sync contact data, fetch the information of social media, and add different events or tasks to your customers.
This CRM supports behaviour-based smart campaigns, so you can make effective plans for the various stages and conditions of your campaign. By using these innovative features, you can enjoy additional benefits such as existing buyer, boost seasonal offers, offer holiday campaigns, reduce a cart abandonment rate etc.
When using this tool, you would not have to use any additional pop-up plugins. The integrated options enable you to show cleverly you to display cleverly designed pop-ups on separate pages such as the product page, checkout page, category page etc. Also, it supports exit-intent pop-ups.
Agile is a dedicated WordPress plugin for full integration with WooCommerce. This tool is free for two users. There are three paid packages with more features.
2. WooCommerce Customer Relationship Manager
WooCommerce Customer Relationship Manager is a CRM tool for WooCommerce store. It is also a professional developed CRM solution for WordPress. This dedicated tool comes with all the necessary options to ensure the best customer management strategy.
To add new customers is very easy, with the click of a button in this solution. Beyond the already existing fields such as address, name, contact details, social media accounts. Also, it is possible to add custom fields for the customers. With this integrated Google Maps support, you may easily keep track of the location of the customer as well.
This tool allows to your customer to leave the notes with their orders. This will be useful in specifying the size, color or another special attribute during ordering a product. You can see all the orders of a customer by going to the profile page. Also, it is possible to see the summary or detailed information about their financial activities.
At the time of using this tool, to communicate with your customer is very easy. You can send alone or bulk emails right from your site. The message body can be fully optimized by using the WordPress post editor.
The WooCommerce Customer Relationship Manager tool is completely compatible with MailChimp, Advanced Custom fields, and WooCommerce subscription. The pricing of this plugin is $55.
3. Sales Autopilot
Sales Autopilot is also well-known CRM tool for small to medium size WooCommerce business. With a dedicated WordPress plugin, it provides an easy and simple way to connect the CRM solution with your WooCommerce store.
After installing the plugin activate it and then you will find a new tab titled 'Integration' in the WooCommerce>>Settings page. Although, more information about setup the integration is available here.
The solution comes with multiple features in the fields of sales, marketing, customer support, and communication. As this tool originally started as an email marketing service, it provides superior email solutions. Also, they take pride in having an impressive rate of success in sending the emails to the inbox rather than spam folder of your customers.
Also, Sales AutoPilot is provided with several features to control the customer acquisition, sales, trust building, follow up and customer service. Finally, you will not have to buy any additional service to manage these tasks.
There is a free trial that includes all the options but is limited to 400 emails. You can add 1,000 more emails by paying $ 12. Pro version is $ 19 per month, which comes with 2,000 emails by default.
4. Metrilo
Metrilo is a powerful CRM tool with various marketing tools for any type of business. It starts tracking a visitor once when they enter the website and record the browsing activity.
You can specify the built-in or custom tags to differentiative multiple types of visitors. The profile page will provide detailed information about the orders products, and actions of a particular customer. Also, it is possible to import customers from external sources.
This CRM comes with unique and perceptive email marketing options. For example, you can send bulk emails to those customers who have been idle for a specific period. You can apply filters such as the number of orders, inactivity periods etc. for specific customer groups.
Smart Activity tracking features that will help you regain the potential customers who have left somewhere between the purchase process. Also, you can track the performance of different promotions and campaigns from the dashboard.
It offers 14 days free trial access to all premium features. There are four paid packages ranging from small WooCommerce business to enterprise level facilities.
5. ActiveCampaign
ActiveCampaign is another major CRM service provider for different businesses. With a dedicated integration system for WooCommerce, this tool can be very important in maintaining, nurturing, and acquiring customers for your business.
Advanced customer management options will help you integrate and automate email, marketing, and sales processes.
Multiple dynamic features of this tool allow you to boost the overall performance of your sales team. You can set up predefined actions as per the browsing pattern, actions, and browsing duration of the customers.
Also, ActiveCampaign always comes with powerful options for managing the new and existing customers. This tool will save automatically the activities, contact information, events for each customer, notes, and deals. Also, it is possible to import your current customer list from other sources.
As the tool allows you to track your sales funnel in real time, you can easily find the various stages performance of the process. Moreover, you can set triggers to send automatic emails that are based on different user actions, behaviours or interests.
ActiveCampaign provides three plans:-
Lite

Small Business

Enterprise
Final Thoughts
As I said in the beginning, it is almost impossible to create a successful online business without using CRM software, with automating most of the business processes, these special tools make it much easier for you to attract more customers.
Now that you know about 5 best WooCommerce CRM tools, which one looks the most interesting for you. Don't forget to let me know in the comment section below. We hope this blog helped you.
You can also contact to our WordPress Technical Support team for resolving your all kind of issues. Dial +1-855-945-3219(Toll-Free). As we will be glad to help you.