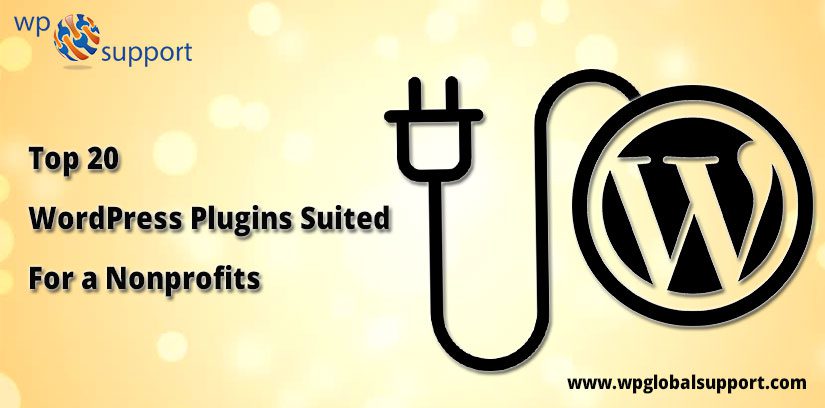 Have you ever wondered a good WordPress Plugins Suited For Nonprofits to attach functionality, and security to nonprofit sites? Well, we have shown a list of suitable WordPress Plugins to help you. If you are not well known about choosing the right plugin then it is difficult to find it and your time will be also wasted.
If you will execute a nonprofit plugin, the possibility is online influence has a direct effect on your company. Even if it is from participant signup, donations, or information about an event, your website is essential for getting the word out and encouraging people to become involved. WordPress is great for nonprofits for bases of these reasons: accessibility, easy to use, SEO optimization and customizing. So let's have a look:-
1. Jetpack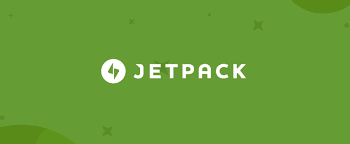 Jetpack is one of the very famous plugins and provides to use some popular features on your WordPress website. In between these features work directly out of the box weather others from a user account and you need to connect your site to WordPress.com. It will keep your site be secure, maximize your traffic on the web, and attract your readers.
In the case of security, you have to stop worrying about data loss as helps to scan the malware, code and resolve the threat and have two factor for authorization and securely logs in. It monitors at the time growing up and declining your site and give protection to the attack of creative things. Also, it will store the backup of your site.
Next one is traffic of your site. Traffic is essential for any website. The plugin will provide statistics and analysis of your site, automatic sharing on social sites like facebook, twitter, Reddit, Tumblr, and all others. It will provide search engine optimizations on these social sites and includes advertising on the several ads sites.
It will use high-speed CDN for editing your site like carousels, tiled galleries and slideshows and present ad-free and high definitions resolutions of video.
2. Donations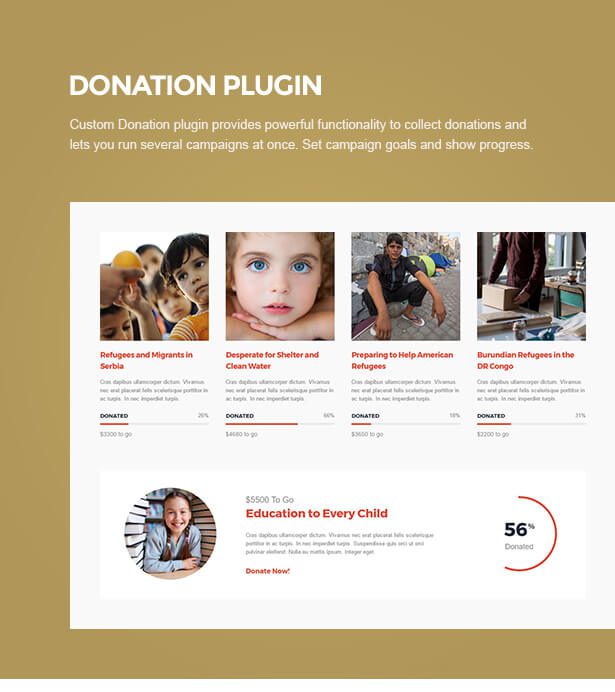 For several reasons, it is beneficial to accept online donations. Lots of companies are connected their site to a third-party payment service like PayPal, Network for Good, Pledge, Click and Razoo, etc. These choices are easy to use, easily affordable and secure to your site. It is the best way to start to link with PayPal, and PayPal Donations plugin will help you to attach the perfect PayPal button on your webpage. It will provide the features like:
Customizable donations forms to

directly embed to your website.
PayPal and offline support
Unlimited Campaigns to achieve a goal
Customizable emails

Free Donations management, no add-ons are needed
3. GRAVITY FORMS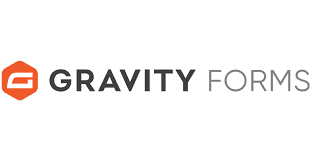 Gravity Forms is the plugin for adding forms with advanced functionality on your Website. These are built with responsive design so users can fill out forms on their mobile devices.
4. Give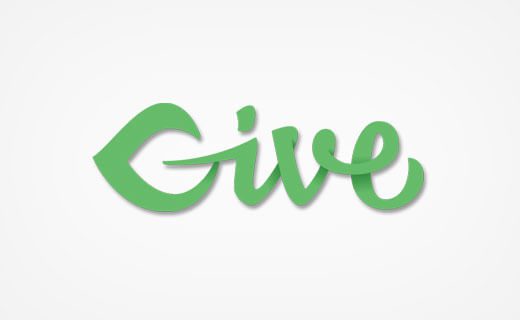 Give plugin are getting more popularity, fame for providing nonprofit to your WordPress. It is a donation plugin for a WordPress site to build editable donations forms simultaneously it will add goals, various giving amounts, custom amounts and terms and conditions. Give easy way to add a payment gateway, donations forms and etc. It is a statistics of your sites donations and you can combine it with another service like PayPal, Aweber, etc.
5. Ukuupeople

Ukuupeople is a CRM tool. It comes for your help to managing your human relationship and holds your maximum communicated contacts and collects the details of your contacts together with it authoritative master and give a list of your contacts. Now you can follow the relationship using touchpoint and easily handle meetings.
6. Yoast SEO

Yoast SEO is fully an optimization tool for your WordPress site. It permits you to optimize your page and posts for any search engine(Google and Bing) and no need to install a big number of other plugins. If you are facing error then read our article on How to install a Plugin in WordPress. You can easily install it and set up the configuration of the Yoast SEO plugin.
7. Google Analytics by Yoast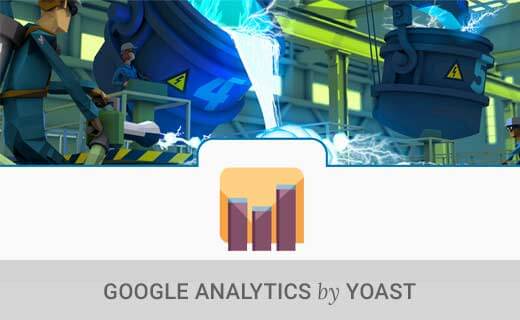 Google Analytics of a WordPress plugin will provide easy and powerful perceptions that how the user will reach and use your site. It is all about from where your user is coming, what pages are looking for them and how much time they provide to your website. It also provides strong information about the activity of the user and measures to your conversion goals. Also helps in connecting Google Analytics to your WordPress site and you can handle it by yourself.
8. Sucuri Free Scanner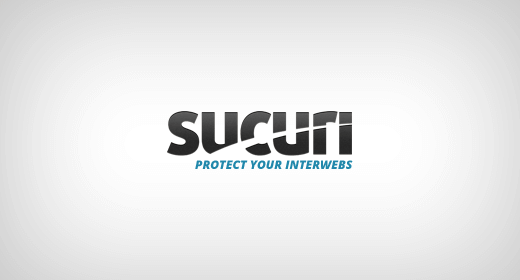 Sucuri is an authority which is universally identified in all things related to security of your WordPress website. It means any website can be targeted of hacking attempt or malicious code. This is a free scanner for your WordPress site to detect and secure from the malicious code and malware. It provides an opportunity for its users with lots of security features for their site. Some of these features are:
File Integrity Monitoring
Security Activity Auditing
Remotely Scanning of Malware
Post-Hack Security Actions
Effective Security Hardening
Monitor the Integrity of a File
Website Firewall(premium)
Security Notifications

Blacklist Monitoring
9. Testimonial Widget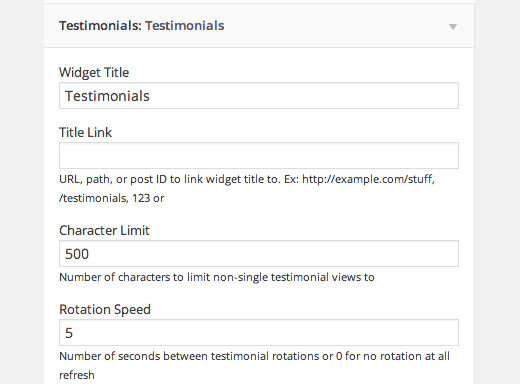 Testimonials Widget will give you randomly selected notes, reviews, quotes or text with any images or videos on your WordPress website. It makes easy to attach social proof on your site. It permits you to handle all testimonials within an admin area of WordPress. You can put these testimonials at anywhere you want in your site by shortcode, widgets along with category, functions of theme and selections of tag and having several display choices as an unplanned or particular ordering. It filters the content of slideshow by the categories of WordPress, post ID and tags.
10. TablePress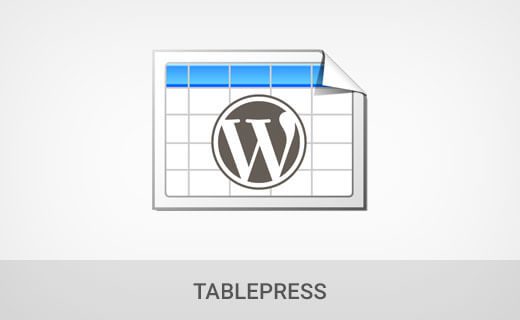 TablePress is a free plugin for WordPress which allow to create and manage tables on your site. No need get a good knowledge of HTML, it is a visual editor which provide an interface to do any changes in your table data or even formulas will be solved. A javascript functionality that can be attached quality to your table like pagination, sorting, and more.
Read Also: Top 8 WordPress Plugin for SEO
11. BackupBuddy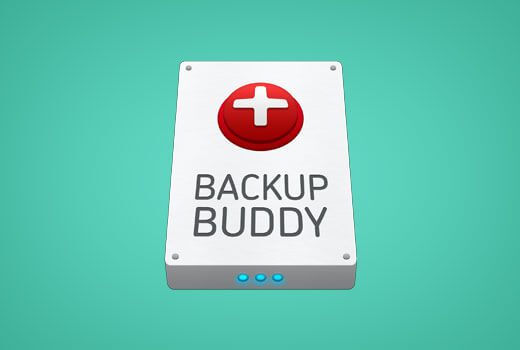 Your WordPress site is getting the need for a backup plan. By the using of BackupBuddy plugin of WordPress, you would not lose your data and all. It comes in 2010 to fulfill the need of backup solution of the WordPress site. It will generate a database and backups of files and store it in a cloud storage. And it is easy to restore the file or backup to the new server. For more information see our article: 5 Best WordPress Backup Plugins.
12. Forget About Shortcode Buttons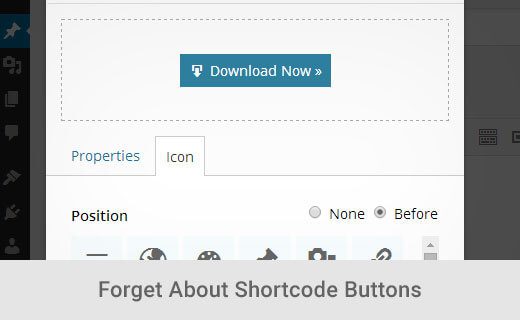 This is a visual way to create and add CSS buttons to the editor and to your template themes. As a non-profit, you need to create effective content by giving a feature of actions on buttons placed on your site. Through this Forget About Shortcode, Button plugin create a button to your WordPress site. It makes easy and natural process of adding button and enhance the appearance of your button.
13. Quick and Easy FAQ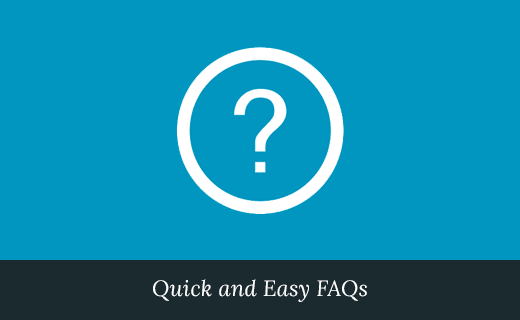 This Plugin will provide an instant and easy way to add FAQs with a specific answer by using a custom post type and after that will show them nicely on your site. You can present FAQs as a normal list. FAQs section in your site will be used to add regularly asked questions.
14. Floating Social Bar

Floating Social Bar is need of each site but it can seriously affect the speed of your site. It will create a Floating Social Bar attached to social sharing button on your WordPress page without affecting on the speed of your site. This WordPress plugin is not burdened on your site, it is a light-weight plugin that will attach a horizontal floating bar to your pages and post. It is capable to permit this eye-catching this social media bar to gain a maximum number of share.
15. Simple Calendar – Google Calendar Plugin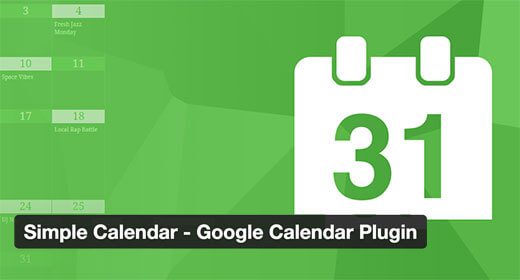 Simple Calendar is the simple way to add Google Calendar occasion with your WordPress site. It doesn't waste your time to set up and provides the look as you want to attach, well designed and also flexible with the mobile screen. Now user can subscribe to your calendar and will be informed on any occasion.
Manage the occasions on the Google Calendar.
Fully flexible with your mobile and present in the list views
Connect many calendars within a single screen.
Excellent features are given with add-ons.

It is an open source plugin.
16. Polylang

Polylang provides the functionality to generate two or more than two languages on your WordPress site. Due to that, the language would not stop your path for non-profit to details its posts. You can define your post in the different languages. It is very simple to use and can add different languages of users on the interface of your site. Our users will be easily capable to change the languages.
17. WPForms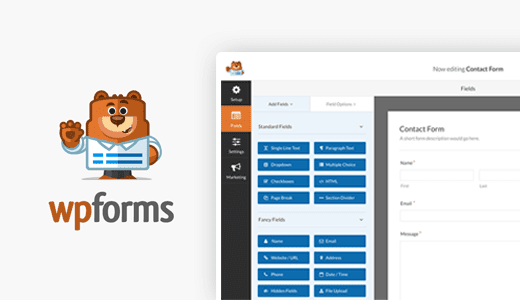 WPForms is creating very users friendly forms plugin for a WordPress site and no need to hire a developer to generate a contact form. It has drag and drops feature to build an easy and strong WordPress site. It will generate a very nice contact form, payment forms, subscription forms and other forms to your site within a minute. Here no need for user experience only use built-in templates and it will grow your site forms in a beautiful way. Also flexible with mobile, laptop, and desktop.
18. Revive Old Post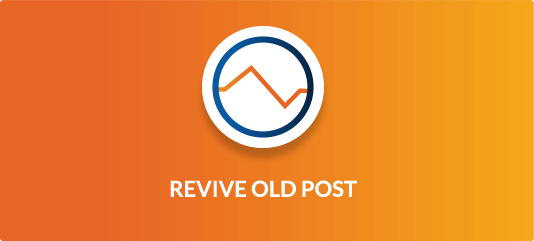 This plugin is helpful to stay alive your old posts by automatically sharing the post and manage lots of traffic to them from Social Networks. With the help of this plugin, our followers will spend more time on social media. It is helpful to develop your content. You are able to set interval of sharing and drive the traffic of shearing of a number of posts. Auto share property of this plugin is helpful to auto-poster on facebook or twitter.
19. MapPress Easy Google Maps
Google Maps is very useful nowadays to share any maps and directions on the internet. This plugin will allow a simple way to attach a Google Maps at anywhere on your site with an exclusive editing screen. It can use for attach highlight markers, directions, and to attach layer to your map
This plugin is based on the new Google Maps API v3
Show real-time traffic

Provide street view and many more features it has.
20. WordPress CRM Integrations
A WordPress CRM (Customer Relationship Management) system will give a feature to handle guide or help and be in the contacts of customers. Below are some best WordPress CRM plugins to nicely manage your guides.
Routing through a third-party: In the order of connecting a form directly with their CRM, most of the nonprofits are like to use a third party service which is friendly with the CRM as a donation processor, Zapier to obtain information into their CRM. Lick as most of the nonprofits will give a MailChimp subscription form into their site and then collect all new subscribers to their database. As a result, this nonprofit will decrease your cost and easy way to get up and growing.
Salesforce Integrations: Your site will get success with the Gravity Forms Salesforce Add-on in simultaneous presence with your form plugin Gravity Forms, while it is displaying its age and need to become an upgrade. Easily we can manage and use this plugin. Uses of Zapier account and Gravity Forms' "Zapier add-on" is the best objective for extremely confusing sites. Salesforce can be connected with form building service by using a popular Form builder as "FormAssembly".
We hope that this article helped you. You can also contact to our WordPress Migration team in case of any assistance. Dial +1-855-945-3219(Toll-Free).