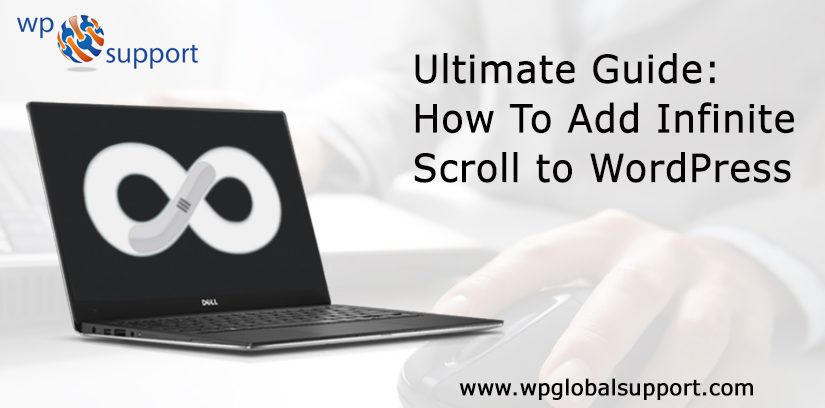 Are you willing to add Infinite Scroll To WordPress and make your blog as addictive as your Facebook news feed? So through this post, we are going to help you. Although you don't have much traffic as Facebook, by adding infinite scroll to WordPress. But you can get that same cool "endless scrolling" effect for your WordPress blog.
In case you're not well-known with the Facebook news feed, 'infinite scroll', sometimes known as a continuous scroll. It means whenever a visitor scrolls to the bottom of the page, your website will automatically load new content, quite than forcing the user to click 'next' to perform an action. So read the whole article carefully as we are going to illustrate completely about Adding Infinite Scroll to WordPress.
What is Infinite Scroll?
An infinite scroll meant quite easy and simple. It means that a user can keep scrolling indefinitely. Instead of reaching the bottom of a web page and clicking through a new way or change its way. Therefore, the infinite scroll enables the next set of information to just keep loading the page.
However, this means that visitors do not have to wait to load a new page anytime. As long as they scroll down, the content only keeps on flowing continuously.
Although it can be extremely effective, infinite scroll is not for everyone. Thus, before you make the switch from the page. It is worth to consider your audience. As well as the type of website you are running. Just to see their compatibility.
Should Every Website Use Infinite Scroll?
No. Unlimited scrolls are great for some sites. But this is not right for every WordPress Website.
Infinite Scroll is not a good idea to call "goal-oriented" sites. This is where the visitor is trying to find a specific "thing". Like, if you have a blog about technical topics. Then, that demonstrate "things" could be an article about.
Now, let's have a look towards how it can help your website. This raises a question as follows:
How Can An Infinite Scroll Help Your Website?
Infinite Scroll can help in engaging your readers. However, this may lead to lower bounce rate, higher time, much time on the website, and leads to more page visit by the visitors.
Like: here are some of the proofs of large publishers supporting infinite scroll. As follows:
The Time.com team has reduced its bounce rate by 15% after transferring the infinite scroll.

Time.com offers users a rate of 21%.

NBC.com increased by 20% visit per page.
These things lead by adding infinite scroll to your WordPress site.
When is Infinite Scrolling Good?
Often, a nice question to answer! Well, having a website, where each unit of the content is at the same level of the hierarchy. And there is a similar probability of interest for the users. However, It's a great way to say that the Infinite Scroll can work well if you have a website. Where more visitors are interested in some of your posts, instead of just a specific post made by you on your website.
This means that if you have a blog about a casual, fun subject, then Infinite scroll can be a great idea. However, it is no coincidence that Infinite Scroll is used by all major social networks such as Facebook, Twitter, Pinterest, Instagram, etc.
Now, let's get cracking the process of adding the very task. Often, this task can be performed in any way. Here, we are going to elaborate two of them.
Adding Infinite Scroll To WordPress Using Jetpack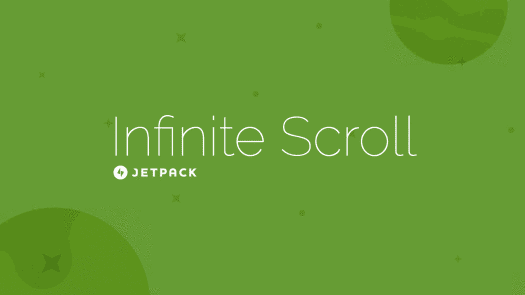 If you think that the Infinite Scroll is looking like a good fit job for your blog post. Then the easiest way to add the same is by using the JetPack plugin. However, if you are not familiar. Then JetPack is a plugin that has been developed Automattic. Which includes a suite of helpful tools.
Let's get started with it, before that we have a note for you. Which is illustrated as follows:
Note: Jetpack Infinite Scroll has a small chance, that it won't work with your WordPress Theme. Although most of the themes have built-in support. But I can not guarantee that each and every theme will work with Jetpack Infinite Scroll. However, if you struggle with your theme working. Then following the link provided below will take you out of the very problem.
Thereafter, you need to follow the steps for performing the same process of adding.
Step 1. Install and Configure the Jetpack Plugin
The very first thing, you need to do is just install and activate the Jetpack Plugin. If you aren't familiar with that. Then feel free to move along with our blog on how to install a Plugin in WordPress. After that, you need to sync it to your WordPress.com account.
However, if you don't have any WordPress account then you also need to create an account.
Step 2. Activate Jetpack Infinite Scroll Module
After following the first step. You need to go in, and finally activate the Infinite Scroll Module.
For that, follow the path as shown as follows — JetPack >> Settings >> Theme Enhancements Section. After that, scroll the reader. And load more posts as represented below. Through a picture, further, check the box to make sure the settings are saved.
Step 3. Configure How Infinite Scroll Works
However, at this step, the Infinite Scroll should already be active on your WordPress Website. Often, if you wish to have a bit more control. Then you may configure more options by moving towards the Settings >> Reading.
After that, press right click next to the Infinite Scroll Behaviour. To make a check to load post as you scroll enable.
Step 4. Confirm Infinite Scroll Works On Your WordPress Website
Here, at this point, you need to confirm the same. However, load your blog store page which is archived. And scroll down! Consequently, if everything is working properly.
Then might your website should automatically load more posts. When you reach the bottom of the current working window page.
Adding Infinite Scroll To WordPress Using Ajax Load More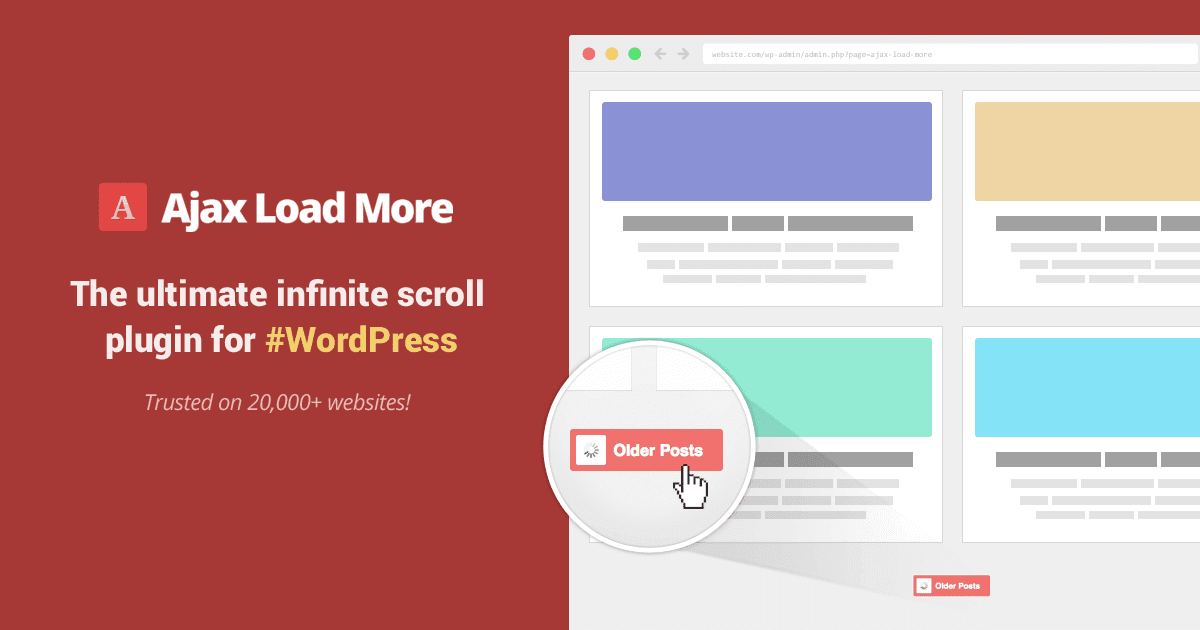 If you want more control over Infinite Scrolls on your website functions. Then you may use the free Ajax Load More Plugin. Similarly, you need to install and activate the same plugin.
However, this plugin is more complex than that of JetPack plugin. So, if you are getting started then I suggest using the above method.
Well, if you are comfortable working with some basic PHP code. Then, you will have a lot of flexibility by using Ajax Load More Plugin. Because this plugin lets you do the following:
However, it customizes the template for your content.
Finally, Select to trigger the Infinite Scroll. To start loading.
Somehow, you will need to do the following. To use the very plugin.
Create a content repetitive template with PHP. by default, some of the templates are provided by the plugin.

Insert repeat template into the page/post. Using the plugin's shortcode builder. An image to illustrate this is as follows:
Essentially, you'll replace your regular blog archive page. With a page having an "Ajax Load More" shortcode.
CONCLUSION
Here, in this blog, we have discussed How To Add Infinite Scroll To WordPress?
Often we concluded its layout, its definition, should every site use it, how can it help your website and the process of the very job. Performing this we came across the two methods which are as follows:
1: Adding Infinite Scroll To WordPress Using Jetpack.
2: Adding Infinite Scroll To WordPress Using Ajax Load More.
We hope that this post helped you by adding Infinite Scroll to WordPress.
If you are looking for the best support for WordPress Migration so you can talk to our Experts by dialling our Toll-Free number +1-855-945-3219. One of our skilled professional expert will guide you instantly.