Professional WordPress Support Company


WPGlobalSupport is a group of technical WordPress developers & designers with over 9+ years of experience. They all are highly proficient to handle small as well as large issues. We'll fix, secure, protect, and optimize your WordPress site. Start Today!
How Our WordPress Technical Support System Work
One Time Fix Services
Tell Us Your Problem
First of all, you need to explain your problem to our experienced WordPress experts and give them login credentials to resolve it. 
Troubleshoot Execution
We copy your site in the staging environment so that any change we make cannot harm your site. Once fixed, we apply it on your live site.
Ensure Everything Is Ok
Once issue is fixed, then our WordPress online support experts verify it and explain to their customers how to avoid this error in future.
Pay For The Fix
You only need to release the payment, once you are 100% satisfied with our effort.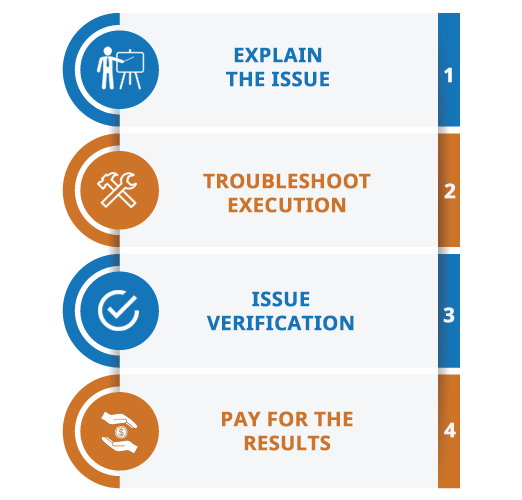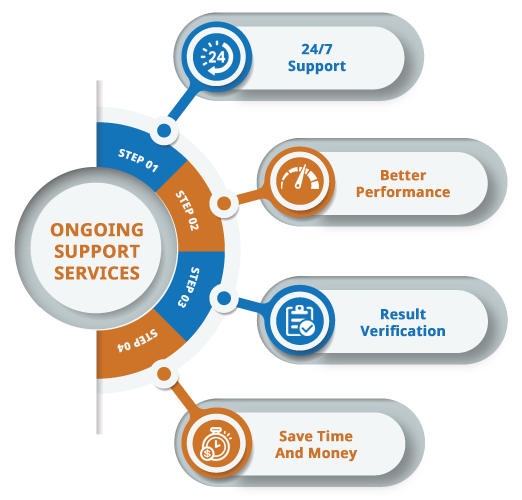 Ongoing WordPress Support Services
24/7 Support
Our experienced WordPress support developers provide 24/7 help services. Send your request anytime our WordPress online help team of experts will take care of it.
Better Performance
In order to get the most out of your service, we will optimize, secure, and maximize the performance of your WordPress website.
Result Verification
Once the error is resolved, check it and verify the result.
Save Time And Money
Give your site to our expert's hands and spend your time for the activities that you want to enjoy. Our WordPress online support professionals will take care of it.
What Our Clients Say About Our WordPress Services
WPGlobalSupport team seriously saved my website. I want to say thanks to Mr. Shadab and Sam V to recover my old blog posts. I ended my account without saving copies of articles, WordPress Backup was completely out of my mind, then and there, I came across wpglobalsupport which provides the best WordPress Services in all.

Amanda Seyfried
Sales & Marketing, Alien Ltd.
The support I have received from Wpglobalsupport professionals was fabulous. When I lost my site's loading speed after an upgrade, the support team worked tirelessly to identify, fix the issue, and re-installed the upgrade to ensure everything and this all went very smoothly. Absolutely, above and beyond my expectation.

Cintia Le Corre
Chairman, Harmony Corporation
I have migrated my website a few times and have been more than impressed with the response time and quality of service they provided. Wpglobalsupport professionals are responsive, thoughtful, and they even explain the situation very well. I spoke David on my last migration issue and everything was handled on the spot without any hesitation.

Christian Marcil
Owner, Grandier Co.
There are many reasons we love WPGlobal Support. Without them, we would be seriously stressed. It helps us by making fixes and small updates fast by providing the instant service. They deliver one of the best WordPress support in the world. This means the best service, fastest response and highest quality of development work at a good price.

Bianca Hammound
Managing Director, Ericsson
Dial our Toll-free WordPress support Phone Number
With all demands of running your own business, how good would it to be know your online business is being cared for and protected from all mishaps. So don't worry anymore dial our WordPress customer service phone number +1-844-275-0975 (toll-free), we will take care of it.
WPGlobalSupport team offers ongoing WordPress customer support to keep your site smooth & secure. Look at our ongoing monthly plan and hire our experts. A proficient team of experts provides you the entire solution.
You can avail our both one-time fix and ongoing support services. Hence, to get a free quote, simply dial our WordPress helpdesk phone number +1 844 275 0975 (toll-free) or fill out our contact us form.
We offer the best plan for businesses who:
Ongoing Monthly WordPress Support Plans
Essential Services
Month/Year
For Small Website
WordPress Updates
3 Small Jobs/Month
Help In Theme/Plugin Updates
Expedited Ticket
Maintenance And Bugs Fixes
Monthly Malware And Security Scans
Free Malware Cleanups
Add On Hours
24*7 Monitoring
Sign Up
Essential Plus Services

Month/Year
Medium Website Medium Plan
Dedicated Developer For Better Assistance
Performance Monitoring
5 Small Jobs/Month
Maintenance And Bugs Fixes
Weekly Malware And Security Scans
2 Publishing Jobs/Month
Help In Theme/Plugin Updates
Email/Live Phone Calls Support
Uptime Monitoring 24*7
Google Analytics
Free SSL Certificate
Support For Upto 3 Websites
Sign Up
Premium Services
Month/Year
Best Plan For Any Websites
Free SSL Certificate
Daily Security And Malware Scans
Support For Upto 5 Websites
Maintenance And Bugs Fixes
Dedicated Accounts Manager
Dedicated Developer For Better Assistance
CDN With Max CDN
Performance Booster
Unlimited Small Jobs
5 Publishing Jobs Per Month ( 3 at a time)
Google Analytics
Staging/Development Site
Real Time Back UPS
And Much More Behind The Scene Jobs To Increase The Performance For Website
Sign Up
Contact Our WordPress Customer Support Team
Avail our WordPress customer services by dialing our toll-free number +1-844-275-0975 or fill the form. Our team of professionals is there for you like 24/7 to fix small as well as large issues on the same day. 
Other Free Sources to Ask for WordPress Support and Get It
No doubt, WordPress is the most popular platform powering around 33.3% of all internet websites. However, people use this platform in various environment and for various purposes. But, all things not go always fluently and users face issues on the way.
In fact, there are a lot of common errors that most of the users encountered at least once. Therefore, to protect our users with a huge user base and a supportive community, we provide the top-notch error support service.
You can contact us via our WordPress support phone number +1-844-275-0975 (toll-free) in case of facing any type of error. A dedicated team of experts is always there for you.
Listed below are some of the WordPress common errors:
WordPress Parse or Syntax Error
WordPress Parse or Syntax Error occurs when there is a problem with semicolons and curly brackets. Means, either they are missing or the wrong ones were used.
We can say when you add a code snippet to your site through function.php. On reload, instead of your site you see something like this on your screen: Parse error: syntax error, unexpected')' in C:\xampp\htdocs\wordpress\wp-content\themes\twentysixteen\function.php on line 256
Internal Server Error
"Internal Server Error" also known as "500 Internal Server Error". Here "500" stands for server response code and "Internal" means the error is on the server side.
However, this error is caused by the server and basically appears when something goes wrong due to any reason and the server is not able to identify the error.
This error may have various causes:
Check .htaccess.
Deactivate all plugins.
Increase the PHP memory limit.
Re-upload WordPress core files.
Establishing a Database Connection Error
Establishing a Database Connection Error means – the PHP code is not able to connect to your MySQL database to recover the information. It requires a completely built page.
When you see something like this on your screen – Warning: mysql_connect(): Access denied for 'user'@'localhost'(using password: YES) in C:\xampp\htdocs\wordpress\wp-includes\wp-db.php on line 856, means the database connection error occurs.
Because of this error, WordPress cannot connect to the database of your site. Generally, it appears when a user enter or modify their database credentials incorrectly like (database username, database host, and database password).
White Screen of Death
White Screen of death is the most common error in WordPress. During this error you cannot see anything on your screen, just you will see blank screen – your browser shows you a white screen with no error. However, it can affect your entire site but sometimes it is present only in a certain section of your site.
Most of the time it happens due to:
Disabling all plugins.
Enabling debug mode.
By using a default theme.
Increasing PHP memory limit.
WordPress Posts Returning 404 Error
404 error means page not found. It happens when a web page which you are trying to access could not be found on the server. However, users can browse all section including admin area of their site. The main reason for this error is the permalink setting in WordPress.
WordPress Memory Exhausted Error
Memory exhausted error happens when the code of your WordPress setup requires more memory from the default allocated memory or when a WordPress script or a plugin exhausts the default allocated memory size limit, then you will encounter this error.
During this error, you will see an error message like this on your screen – Fatal error: Allowed memory size of 33554432 bytes exhausted (tried to allocate 2348617 bytes) in /home/username/public_html/site1/wp-includes/plugin.php on the line xxx.  Remember that the white screen of death error may be the signal of this error.
Sidebar Below Content Error
Users face Sidebar Below Content Error when sidebar appears below the content instead of next to the content. However, most of the time this error occurs via WordPress themes.
Furthermore, sometimes when users unexpectedly forgot to close an HTML div tag or add an additional closing div while adding the code snippets to their site that may result in breaking the theme layout.
One more reason is using disproportionate width in CSS or not clearing float properly.
Connection Timed Out Error
Connection Timed Out Error occurs when your site takes more time to load, then you get an error that is not available on your screen means your connection has timed out.
Another reason is when your site is trying to do more than the server and is incredibly common in shared hosting environments with limited resources.
WordPress Login Page Refreshing and Redirecting Issue
This error happens when users put the incorrect values for site URL and home URL fields in the WordPress options table. Another reason is due to redirects set up in the .htaccess file or poorly configured permalink settings.
During this error users cannot log in to their dashboard, they are redirected to the login page by WordPress again and again.
WordPress Not Sending Email Issue
Because of this Not Sending Email Issue error, users cannot receive a contact form or notification email from their website.
Generally, it happens because most shared hosting providers disable or limit the modules that are used to send email to stop their servers from being misused.
Are you finding WordPress help for WordPress.org – free and open source content management system (CMS)? You have good options –  dial our WordPress helpline number +1 844 275 0975 or choose our WordPress help chat option. Thereafter, discuss your problem with our experts, they will listen to your queries and give you the exact solution of you as per your needs.
We provide affordable WordPress help services that fit on each & every budget. Our experienced WordPress help team works in a different way. Finally, hire our WordPress help developers to get the exact solution to your queries.
WordPress.org support forums
There is a support forum for this self-hosted WordPress Installation. It is a place where anyone facing any issue related to WP can ask for help from others. Those who have experienced the same situation before or have the knowledge to handle it, they answer your question.
The WordPress forum is a handy source to get the support, sometimes you may not be able to get it. This may happen because of the communication gap or any other problem. You can check out this guide to use the forum effectively.
WordPress Codex
You can use The Codex resource if you are a pro WordPress developer or designer. There are some different resources available on different topics which you might be struggling with.
More so it is a useful resource for developers but not always a great place to troubleshoot the problems. There are various pages contain outdated information.
WordPress codex also offers a list of WordPress most common errors that may be useful to identify any error. It also provides documentation for finding WordPress help and list of common FAQs.
WordPress Events
WordPress organize face to face Meetups and Wordcamps (locally organize conference). WordPress Meetups are the collaboration of community members of all expertise level, here every person shares their ideas and experience. However, WordCamps includes discussion session to improve the use of WordPress more effectively.
WordPress TV
WordPress.tv includes presentations, tutorial, videos, and screenshot about WordPress from WordCamps, Meetups and other groups. It is the best place to learn about all activities and development in the WordPress community. It acts as a good source of WordPress knowledge.
Using Search Engine
In this digital era, most over the people are addicted to using the search engine. Just type your queries and press the enter, you will get quick results of top sources providing the exact answer.
But before that, you need to know how to search properly in the search engine. You need to be a pro WordPress user to read the solution and apply it properly.
Some other sources from where you can find help with WordPress
WordPress StackExchange Community – It is a community of developers usually exchanges WordPress technical knowledge.
Plugin & Theme Support– Plugins are not a core part of WordPress. It is actually additionally installed to increase the functionality of WordPress. In case you are facing plugins related issue, you can ask your question in the Plugins Forum. Most of the time the developer takes time to answer the people queries.
WordPress Theme Directory is a repository of all WordPress theme. You can ask questions regarding any WordPress themes and Templates section of WordPress forums. Many of the WordPress themes have their own support portal. That's why, before exploring the forum go for that portal first. For developing WordPress Plugins and theme documentation you can visit WordPress Developer site.
There are many resources available to get WordPress support. Here we will help you to determine the best place to ask your question.
If you have a paid upgrade version of WordPress then you can use Contact support form. For paid upgrades – it provides WordPress live chat support. If the chatters are available, they will respond quickly otherwise they will follow up by email.
For unpaid upgrades, you can ask the question in Community forums.
If you need support to change font, color, rearrange hiding, and displayed a feature of your theme. All these things come in the CSS. For this, you can get WordPress support from  CSS Customization forum.
When you need online WordPress help with the premium theme, then post the query on the premium support forum for your theme.
If all your comments are being marked as spam, then you can contact the Akismet team.
Use Jetpack support if specifically want to ask about Jetpack plugin.
Documents: WordPress is serving support through documentation to answer all your queries like videos, screenshots, walkthrough detailing of frequently asked questions. You can go through this documentation before asking any question on the forum.
Forums: WordPress.com forum is a great place to raise a query and go through a discussion with WordPress experts and the volunteers who are willing to help. The forums contain categories like CSS customization forums, premium theme forums etc. You can use the search feature to find out the right forums for you. To get help about the forum you can go through this document.
Locked Out from WordPress Admin
Sometimes when you try to login to your WordPress admin panel but it shows error. There are various reasons for this:
When you lost the username and password.
It also happens when a hacker changes the username and password of your site, So, unfortunately, you will lock out from the admin panel.
Another reason is the poor database connection – when your database gets corrupted or your web server has an issue so this error occurs.
At last, Lost admin privileges – it happens when the user permissions are modified and you will not able to see the functionality of your WordPress website.
RSS feeds error
This error occurs due to poor formatting. WordPress take out the RSS feeds in XML which is strict markup language. Any missing line or extra tab can break the format.
The RSS errors notification may vary with a different browser. The notification you will receive when you subscribe for an RSS feed is given below:
Improper migration of outlook version.
Error synchronization between outlook and RSS clients.
Incorrect authentication for RSS Feed on outlook 2007
Using outlook mail account on different systems (change of location address).
Facebook Incorrect Thumbnail Issue in WordPress
When you share something on Facebook from your website and then auto select a thumbnail image from your page to display with your link. But Sometimes it picks wrong thumbnail image which even not related to your post.
Facebook use open graph tags and many WordPress plugin add them to your site to avoid missing thumbnail issue. This also may happen due to having a different image with the same tags.
Troubleshooting WordPress Errors on Your Own
The beauty of WordPress is its plugins and themes. But some of the free themes can cause an error. This error continuously breaks your websites working and you even don't realize the cause of an error.
Outdated version of your WordPress plugins and theme also leads you to face so many errors. To deal with this error you need to go through different steps like backup your website, deactivate all plugins, switch to default team, refresh permalinks, backup and delete access file, fix WordPress Site URL. Check reading settings, and scan for malware and backdoors.
Maximum Execution Time Exceeded in WordPress
WordPress is mainly coded in PHP programming. Every PHP script is set for a duration. Some of the hosting providers set this limit at a higher level and some of the set at the lower level. When the script reaches maximum execution then it shows maximum execution time exceeded error.
This error can be fixed by two methods:
Editing .htaccess file Manually: Adding a simple tag in the .htaccess file will change the maximum execution time to 300 seconds.
By using a plugin: Similarly, with the plugin, you can adjust the clock to 300 seconds to increase the maximum execution time.
Missing Buttons in WordPress Visual Editor
You may observe that sometimes the WordPress visual editor disappears and start showing blank white place instead of buttons. This error occurs when the javascript is not working or because of some plugin also.
This error can be fixed is simple – reload your website after removing the catch files from the browser, replace your TinyMCE folder or change your javascript. It may take time to understand the reason but to fix this error is quite easy.
Image Upload Issue in WordPress
When your website is showing error in uploading an image and all the images of your site are faded then it is an Image Upload error. This error may occur due to improper file and directory permissions in a WordPress installation. If the upload error occurred with one image only then rename the image or decrease its resolution.
If the upload error will occur with all images than fix it by deactivating plugins, especially those plugins which optimize images, expanding your site's PHP and WordPress memory limits, check whether the PHP version you're using is causing issues. switch file permissions, remove the file path on the Media Settings page.
Scheduled Maintenance Error in WordPress
When your site is in update mode and somehow the update is incomplete and interrupted then you get a schedule maintenance error. Because of this, your entire site gets locked.
WordPress generates a .maintenance file in the root directory. When the update is completed then WordPress auto removes the .maintenance file. If the update is interrupted WordPress is failed to auto remove the .maintenance file. Due to which a schedule maintenance error occurred on your WordPress website.
"This site ahead contains harmful programs" Error
Google displays this error when it founds something wrong and suspicious codes in your site. The most common reason for this error is hacking and another reason is low-quality ads on your site which contain malicious code.
A regular malware scan is suggested for every website to avoid hacking and unwanted codes on the website. Always keep a backup of your site to protect your website data. A good security plugin can remove malware from your website but that is no 100% successful. Read more about it here.
Missed Schedule Post Error in WordPress
Schedule post is a wonderful feature of WordPress. Most of the bloggers depend on it. But, sometimes it happens WordPress delay the schedule post or even miss the post, then you get a missed schedule post error. The Error can occur due to many reasons and if it is repeatedly then you need to fix this.
You can go for a missed schedule plugins give you full compliance with hyper DB table query formatting, repairs of 10 items in every 10 minutes session, to remain compatible with WordPress default feeds syndication. Get WordPress help from the best WordPress support service providers.
You Make Changes And Nothing Happens
Most of the time it happens that you make changes to your website. But the changes are not visible in your browser. This error occurs due to cache files in your browser.
What happens is the browser stores cache file of your searches and that's why when you search for the same content in the same browser it loaded fast. The same thing happens when you search for your site in the same browser after doing change it may open the stored cache file besides the newly updated website. So, the error can easily fix by clearing the cache files from the browser.
How do We start a WordPress blog?
To start a WordPress blog is an easy task has performed within some basic steps, elaborated are as follows;
First of all, you have to choose the right platform for your site. We recommend WordPress.org-self hosted.
Thereafter, sign up for a web hosting account. The web hosting account is like the home of your site.
Now, choose the domain name. This is like the address of your site.
once you signed for a hosting account, thereafter, install WordPress and start blogging.
How much does it cost to build a WordPress website?
WordPress is completely free and open source platform allows you to start blogging. You just need a web hosting account and a domain name to live your site, but for these, you will have to pay.
Sign up a shared hosting account by spending approx $100/year, thereafter, you can use a free WordPress theme with some important WordPress plugins.
The cost varies on your requirement if you want advanced features, tools, and services, so you will have to cost additional money. We can also build a website with different categories are as follows:
Building a WordPress website with a low budget, building a WordPress website with more features, for small business, for e-commerce business, a custom WordPress website, etc. 
How to install a plugin in WordPress?
Basically, you can install a WordPress plugin easily. Just follow the listed below steps:
Open your WordPress admin area.
Thereafter, go to the Plugins>>Add New and search for the plugin by entering the name that you want to install.
You can also install the third party developer plugin, but note that those plugins come as zip file.
You just have to do is to navigate the Plugins>>Add New page and press the upload button.
Thereafter, press the choose file button and select the plugin zip file, then press the 'Install Now' button.
For more detail; Installing a WordPress plugin
Which WordPress plugins you should install on your website?
There are so many WordPress plugins are available in the market. The plugins will add amazing functionality to our site and make it great. The basic difference between free and premium plugin is that premium plugin gives more features in comparison to free plugins.
We can use these plugins freely. These are Everest Forms, Google XML Sitemaps, WP-Optimize,  BJ Lazy Load, Redirection, Social Icons, Disable Comments, etc.
These plugins are not available freely. You will have to cost money for these plugins. Premium plugins are: WP Rocket,  VaultPress Plugin, Yoast SEO Premium, Social Warfare Pro, Sumo, Thrive Leads, OptinMonster, Author hReview Premium, Visual Composer Premium, MemberPress, BackupBuddy, etc.
How to select a theme for your WordPress site?
Themes provide the designing, different layout and attractive look for your WordPress Site. The WordPress theme is also categorized as free and premium. Both are good, just the difference depends on the features. You have to remember the following things during the selection process;  
Test the theme is responsive or not for different users.

Browser compatibility

The theme is plugin supported or not.

Feature to create a multilingual website.

Use page builder plugins.

Theme performance estimation (check it by customer rating and reviews).

Try simplicity (sometimes we don't need to use those WordPress themes that come with lots of colors, different layouts, attractive animations, etc.)
How to install a WordPress theme?
Once you have selected a WordPress, thereafter times to install it.
However, installing a WordPress theme is really simple. You just;
Login to the WordPress admin area and go to the Appearance>>Themes page.
Thereafter, press the Add New button on the top.
Now, search for the theme from WordPress.org directory. In case you have already picked a theme as a zip file, so choose the zip file by clicking on the upload button and install it.
How to add a blog post or page in WordPress?
By default, WordPress has two content types i.e. Posts and Pages.
The main difference between WordPress posts and pages is that posts are dynamic activity displayed in a reversed chronological order, whereas WordPress pages are a static activity and not a part of the blog.
Come to the topic and add a blog post by going to Post>>Add New page.
Further, to create a new page, you have to go to Pages>>Add New page.
With some minor changes, both post's and page's edit screen are similar in look.
How to embed videos in WordPress?
Uploading a video in WordPress is not a big deal. You can upload videos directly to the WordPress site. But we don't recommend it.
To upload a video, use a hosting service like Vimeo and YouTube, First upload a video to one of the services, thereafter copy the video URl and paste in your WordPress post editor where you want to add. WordPress automatically fetch the URL and started to show your video.
For directly uploading;-
Go to the post editor where you want to add. 

Thereafter, copy and paste the video URL in the post editor screen.
For more detail: How to embed a video in WordPress
How to add a navigation menu in WordPress?
Basically, the navigation menu appears on the header section used to navigates users to different pages of a website. They help users to find and browse information through different sections of website.
Steps to add a navigation menu in WordPress, elaborated are as follows:-
Open your WordPress dashboard and go to the Appearance>>Menus.
Thereafter, edit the menus item (this section is divided into two parts i.e left and right)
Change appearance or formatting of menus item according to the site.
Finally, apply changes and save these settings.
How to use categories and tags in WordPress?
Categories and tags are defined as a searching strategy through keywords for the user's simplicity. Both of them allow you to sort your article into topics or a single word. This makes it easier to organize content for you and to find it for your users.
Categories are for larger topics, they also have sub-categories. For example, a news site has various categories like international news, national news, entertainment news, and op-eds.
Whereas, we use tags for more specific for more specific topics that we discuss in a content.
To add a category;
First of all, open your WordPress dashboard and navigate to Post>>Categories.
Thereafter, type the category name. You can also mention category slug, description, and opt a parent theme.
Finally, press the Add Category button.
How to start an online store with WordPress?
Setting up your own online store with WordPress is quite easy. The necessary things that we need to start an online store are as follows:
A domain name idea
A web hosting account
We recommend, choose the best WooCommerce hosting. Thereafter, create a WooCommerce store and add products in your online store. Select and customize your theme and extend your store with WordPress plugins.
How to improve SEO in WordPress?
SEO is a technique that apply on your site to get traffic through different sources as well as different methods. No doubt, WordPress is SEO friendly but that is not enough, you have to improve SEO to make your WordPress site more search engine friendly.
There are a lot of activities that will help you to improve SEO, let's see:
Choose a good web host plugins services.
Do not follow the useless or NoFollow links.
Speed up your blog using the caching plugin.
Write unique, fresh and high-quality content with proper keyword placement.
It's benefitted to get started with our own WordPress blog
Change the structure of default Permalink.
Use Content Delivery network services to increase your site's performance.
How to deal with comment spam in WordPress?
There are a lot of different methods to stop comment spam on your WordPress site;
You can stop comment spam with the help of the plugin. Install and activate the Akismet plugin because it will automatically block your comment spam.
Alternatively, open your dashboard and enable comment moderation on your site. Doing this,  you will manually approve the comments before they appear live on your post.
To do this, go to the Setting>>Discussion and check the 'comment must be manually approved' option.
Thereafter, press the save changes button.
Now, when any visitor will submit a comment, it will go in the moderation queue. To live the comment you will have to review and approve the comment.
There are also some tips to avoid spam comment;
Reduce the number of links per post

Make a list of 'blacklisted' words

Restrict comment privileges for registered users

Use an anti-spam plugin.

Go to a third-party comment plugin
How to install and activate Google Analytics in WordPress?
Google analytics basically refers to term or phenomenon by which you analyze the performance of users on your site like what they did, seeing, where they came from and other activity performed by the users on your site.
With the help of Google Analytics, we can track these key metrics on our site like the session, Page view, Traffic source, Bounce rate, conversion rate, Device type, etc. Not only this much, you can also analyze what working and what's not on your site. Accordingly, you can plan how to improve performance. 
For more detail look at our guide on How to add a Google Analytics in WordPress?
Can you install WordPress on your computer?
Yes, you can install WordPress on your computer by using two servers WAMP and XAMPP. WordPress is also known as the local server or localhost installed on our computer.
Installing WordPress locally on our computer gives us a testing environment that does not affect our live website or blog. The main thing is that if we install WordPress locally on our system then we can only see our site but for public we have to use a Domain name and Web Hosting related activities to make the site public.
However, a lot of people install WordPress to check out WordPress core, themes, and plugins.
For a detailed guide: Install WordPress using WAMP or XAMMP
How to speed up a WordPress site?
Speed up WordPress websites is necessary because if the speed of the site is slow then its badly affect the performance done by the Search Engine Optimization Process.
We can track the speed of our site through different speed up tools for example- IsItWP's WordPress speed test.
There are different methods to speed up the WordPress site are as follows:-
Use the best WordPress caching plugin, choose a good host, start with a strong theme,
Use an effective caching plugin, Content Delivery Network, Images optimization, homepage optimization, WordPress database optimization, etc.
What to do when you are locked out of WordPress admin area?
Locked out from WordPress Admin area is a common issue and it is considered in troubleshooting problem but it can be solved easily.
First of all, we have to find out the reasons for locked out from WordPress then we can easily solve this. The reasons for the issue are as follows:-
Due to error arising while establishing the database connection
Logging with an invalid or incorrect password
Due to PHP Error(i,e function or syntax)
Lost admin Credential or don't have permission to access it.
White screen of death.
For a detailed guide: solutions when you are locked out of WordPress "admin area"
How to fix common WordPress errors on your own?
Before fix any WordPress error, make sure that we have a full WordPress backup or not, we can use any tool to take the database backup. This is necessary process to fix it before going to do any further processing or activity.
Come to the topic, nowadays, there are millions of WordPress users encounter various errors that have been already resolved by thousands of other users. So you can also resolve on your own.
Issues be listed as internal server error, syntax error in WordPress, establishing the database connection in WordPress, white screen of death,  posts returning 404 error, etc.
How to protect your WordPress site from hackers?
WordPress Security is necessary for your WordPress site, because in today's era there are so many unauthentic activities are performed every day. Therefore you have to protect your site from hackers as well as malicious software.
Some tips to protect your site are as follows;
Keep WordPress up to date
Password and user permissions
Role of Web Hosting
Install a WordPress Backup Solution
Use Best WordPress Security Plugin
Enable web app firewall
Transfer the WordPress site to Secure Socket Layer/Hyper Text Transfer Protocols.
For more detail go to How to secure WordPress site?
If any of the options don't work for you, you can dial our WordPress technical support phone number +1-844-275-0975 (toll-free) or you can do WordPress live chat to connect with our team of professionals.