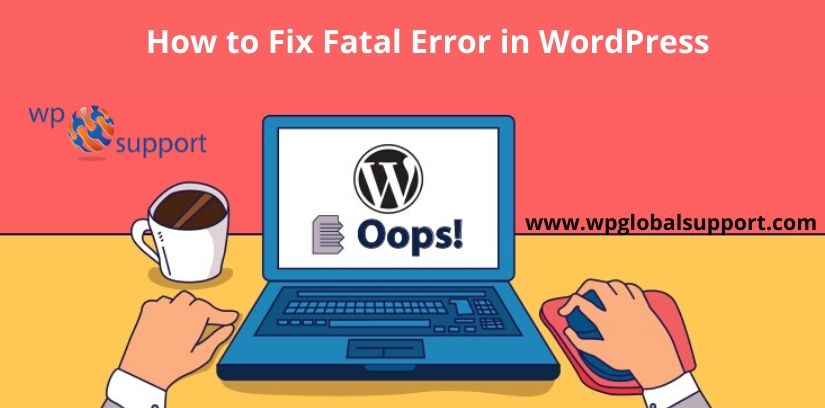 Fatal Error in WordPress
WordPress uses mainly PHP programming language. There is a definite time limit for how long a PHP script can run. This is basically to stop any possible abuse.
Fatal error in WordPress happens when a PHP script reaches the maximum execution time. At that time if you visit your WordPress website; you may see a Fatal error message on the screen.

A fatal error is the error that causes the program to abort without any warning. It terminates the program currently working. Also, it may lead to the loss of data. This error is also known as fatal exception error.
Sometimes your site stops working properly this is due to the fatal error. It is due to the conflict in the plugin or when the file gets damaged and a fatal error or warning message get displayed.
Some WordPress fatal error are
Internal server error:

– It occurs when there is something wrong in the WordPress site and the server is not able to identify or detect the problem.

WordPress post returning 404 error

:-It is the not found error.The common issue is permalink issue in WordPress.

WordPress Memory exhausted error:

-It usually shows the white screen of death or the message.It occurs when the plugin exhausts the size limit.

Image uploading issue in WordPress:

-It occurs when the user tries to upload the image and using the media uploader and it shows the error.
Don't worry as we are going to describe how you can easily fix this error. In the case, if you need to hire an expert from our WordPress customer support team you can dial +1-855-945-3219. You will get an instant solution.
Here are the list of Fatal Error in WordPress and how to fix it
How to solve call to the undefined function?
Call to undefined function: Check the plugin you have activated do not require any specific theme or any other plugins and also check the code of the file.
How to solve syntax error?
Syntax error or parse error: In case you have added the custom code in your themes use the ftp client for downloading the copy of file.you can also use the HTML editor to find the syntax errors and check the errors like the colons, semi-colons etc.
How to solve the Blank white screen
First of all, connect to the site using the FTP client and download a copy of wp-config.php file.Then after if this line exists: -define('WP_DEBUG',false); change it from false to true and then, at last, save and upload back to the server.
For better working of WordPress update your WordPress or theme on a regular basis and check the plugins. Keep checking the .HTACCESS and PHP or Caching.
Still, if you are unable to fix the WordPress fatal error problem, you can dial WordPress customer service number: +1-855-945-3219.
Read more:
11 essential tips to ensure your WordPress Security
WordPress – The Best Blogging Platform
How to Reset WordPress Password
6 Common WordPress Login Issues with their solution