How to Migrate Your WordPress Website from Drupal to WordPress?
Last Updated:

May 28th, 2018

Posted by:

admin

Category:

WordPress Knowledge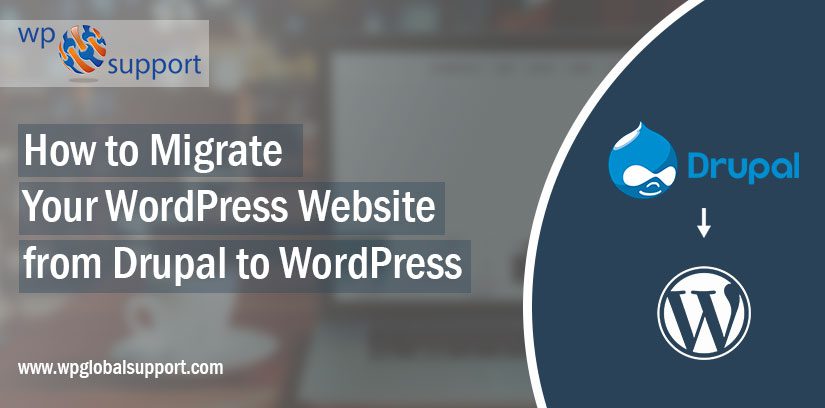 Are you looking to know How to Migrate Drupal to WordPress Website? Drupal is the most famous robust CMS (Content Management System) with a number of features in it, but its learning steps are quite difficult – especially if you are new to web development then you are no more working with Drupal in an easy manner. In this blog, we will show you How to Migrate from Drupal to WordPress.
You can contact to our WordPress Website Migration team in case of any assistance, dial + 1 844 897 0441(Toll-Free).
Migrating from Drupal to WordPress
In this blog, we will be working with the FG Drupal to WordPress plugin to complete out our migration. The tool is very simple in use, and we will cover everything: how to use it and all.
It also comes in a premium version to you, but we suggest to use free option. However, if you are looking to move multiple authors, comments, the users, and even the custom post types of your's web, then the premium version might be worthy of considering for you.
Read Also: WordPress vs Joomla vs Drupal: Which is best CMS for your Website?
STEP 1:- Install And Activate The FG Drupal To WordPress Plugin
First of all, log into your new WordPress site of your PC and locate the Plugins >> Then Add New option on your WordPress dashboard from WordPress admin area.
Then go inside, and type FG Drupal to WordPress onto the search bar.

If you did type the name correctly, only one plugin should have come up in front of you. Press the Install Now button next to its name which seems to you on your PC:
After the plugin have been installed itself, then the button will change into the read Activate Installs. Press onto it once again, and we are all done towards installation!
STEP 2: Find Out Your Drupal Database Parameters
Before using the plugins to migrate from Drupal to WordPress, just find out and locate a few and specific parameters. Which areas, your Drupal username, password, hostname, and database name with the prefix.
Thereafter you should already know a couple of these parameters, but you can also find the rest by making the delving phase into your Drupal installation core files by using an FTP (File Transfer Protocol) client – and we recommend their the FileZilla.
The simplest access to your files is by using the client, and a navigate towards the site is default directory. There you will find a file known as settings.php. Open it by using your favorite text editor from your computer and locate all the parameters.
STEP 3: Import Your Drupal Content Into WordPress
Now go to the WordPress dashboard of your WordPress cpanel, and press onto the Tools tab in the left side of the screen of your computer, thereafter pick the Import option from the same screen of your window. Working with this you will have to Update WordPress from Admin Dashboard too. A new Drupal option will appear in front of you if you have installed the plugin successfully.

Press onto the Run Importer, and you will find yourself on a new page said to be a new window with a collection of settings to configure your screen. Now go ahead and make type (or paste) the information you have located during steps and number two, under the Drupal database parameters section of your window in the previous step: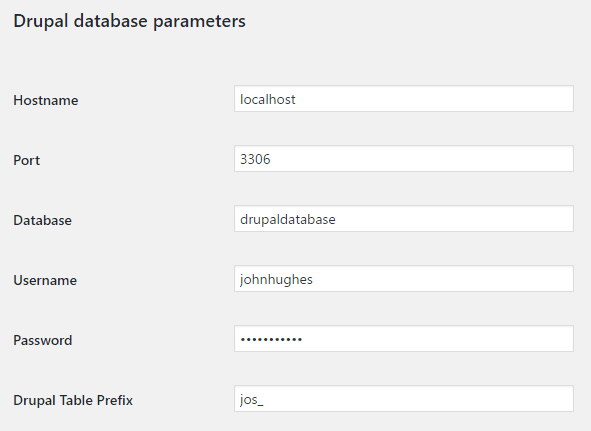 Configure how the plugin will import into your Drupal post summaries and media files of your PC. By selecting Import summary >> towards the content which will import them by using a Read more link down the section of your working area.
Thus choose whichever option you prefer the most before moving onto the Media section of your window. If you don't want the plugin to be imported into your media, check the box which is next to the Skip media option to you. Now you can also choose the images which should be set as 'featured' for your posts and page of your website, the plus point is a few extra settings related to external media is also provided to you: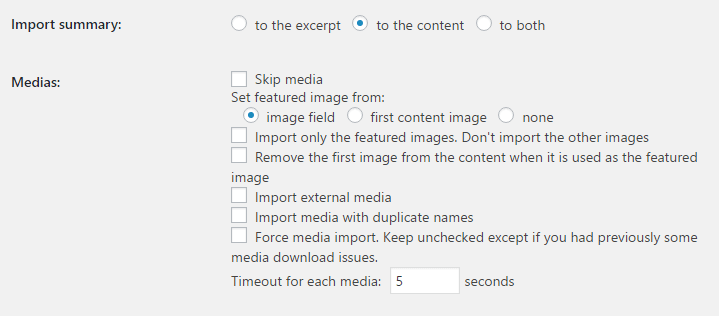 Thus your media migration should be a plain sailing, if you do run into any of the issues during the import process of your working task, and you might want to increase the timeout limit for each media file of your website, which is the last phase of setting on the configuration page as shown above throughout the pick. Thus this will account for a variable of download speed, which enables your media file to be imported successfully onto your PC.
Once you are all set, press onto the Start or Resume the import button from your screen of the website and sit back and wait while the plugin does its work completely. When the migration is done, a successful message will appear in the plugin's log in front of you.
Thereafter, scroll down to the end of the settings page and press onto the Modify internal links button from your screen which is on the sidebar of your WordPress website. This task will update any of the internal links from your site to match out its new structures.
Now you have been able to successfully migrate Drupal to WordPress!
What To Do Once You Have Migrated Your Drupal Site To WordPress
We recommend you to choose a stylish theme for your website from your domain or with the help of plugins. Thereafter you should install any plugins you might need. You must know how to install wordpress plugins very before that of.
For finding the right plugin for your website you can take some time, but it is well worth the effort depending onto the features you want to implement on your site – some are essential for the safety and security of your website.
On that behalf, you should have a look into tightening up your overall site security and minimizing your page load speeds from your website – taking a couple period of time to learn about WordPress Analytics & SEO (Search Engine Optimization) is never a bad idea either then all.
Read More: How to transfer WordPress site to new host?
Some Other ways to Migrate from Drupal to WordPress
Drupal2WordPress Plugin
Drupal to WordPress Migration Utilities
Migrate Drupal to WordPress with CMS2CMS
Java Migration Tool from Drupal to WordPress
CONCLUSION
Migrating a website to WordPress is not difficult as it seems to be. If you are a Drupal user, there are the three simple steps to move your entire website to WordPress.
Install and activate the FG Drupal to WordPress plugin.
Find out your Drupal database parameters.
Import your Drupal content into WordPress.
We hope that this article helped you in migrating from Drupal to WordPress.
Read Some Other Blogs:-