Best WordPress Forum Plugin – 2019 List
Last Updated:

Mar 30th, 2019

Posted by:

Editorial team

Category:

Wordpress Plugin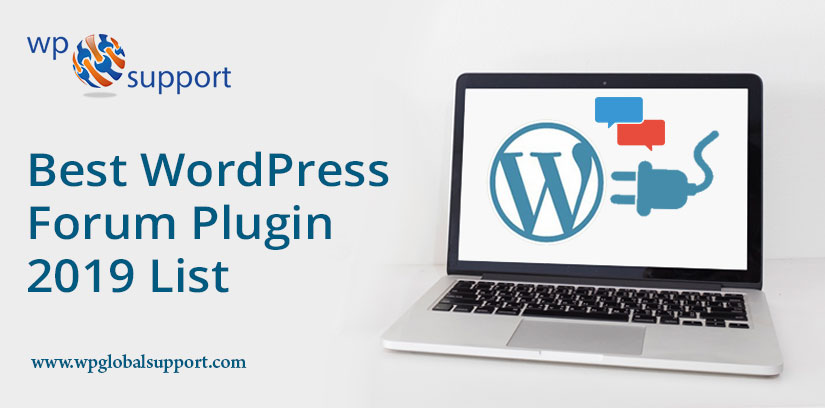 Forums are basically one of the traditional ways of online communications. It provides an online platform to create a virtual community, where people can connect to discuss, share ideas, and support each other. Being the website owner by using a WordPress Forum plugins you can make a community for your entire website users and provide them a chance to learn as well as share or contribute.
WordPress (blogging platform) actually promotes forums as WordPress support is based on forums. WordPress forums play an important role in keeping and strengthening such a worldwide community of WordPress and who wouldn't prefer such a powerful forum on their WordPress website.
Benefits of having a WordPress Forum
Develop customer loyalty
In a forum, all the members can help each other out. Expert members can advise others, thus acting as a lead role in solving your customer's problem. This turns up your forum into a self-help community. It benefits you like more of the customers will continue using your products and services when they know they have such a community to advise them whenever they need it.
SEO value
Often lesser but the forum can provide great SEO value in an incredible way. Sometimes, there is the most useful content in the forum thread, like if it's not anywhere, rank it at the top of search results and bring lots of search traffic.
Support your Customer
When your customers have a technical or general support question, they can have a look in the forum and check to see if the problem has already been posted. If they have a new problem, they can post and get their problem solved.
Plugins require testing to find out whether you are going to like the user's experience and enjoy the way it looks on the front of your site. This is especially true for forums because you have to manage the community and make the forum good, so people want to come back more and more.
The WordPress Forum Plugins mentioned in this article are given below, moreover, we recommend you to go through the in depth of each and every plugin:
bbPress
Asgaros Forum
DW Question & Answer
Forum -WP Foro
Discussion Board
CM Answers
Website Toolbox
BuddyPress
Vanilla Forums
AnsPress
Let's have a look at the WordPress forum plugins and how to add them to your WordPress website to build a community:
1) bbPress:
It is a completely free WordPress plugin and an OpenSource project, so many developers contribute to the plugin. For the user, OpenSource means that you often get frequent updates and, of course, the plugin is free. The bbPress website also provides some interesting resources to improve your platform.

It's installation:
Visit Plugins>>Add New!
Search for 'bbPress'
Activate bbPress from your plugins page. (Your welcome page will be welcomed.)
Go to 'Forums> Add New' and create some forums. (You can delete them later.)
If too many permalinks are enabled, go to yourdomain.com/forums, or if not then, go to yourdomain.com?post_type=forum.
The bbPress Forum plugin is the best choice you can use to apply a forum to your website. There was a lot of offerings in WordPress for some time ago for forum plugins, but this one pushed most of them out.
2) Asgaros Forum:
It is a lightweight and feature-rich discussion board. All you need to do is configure some basic settings, copy the shortcode, and add it to the page where you want to display your platform.

It's installation:
Download Asgaros Forum plugin.
Upload plugin files to / wp-content / plugins / asgaros- in the forum directory or install the plugin directly via the WordPress plugins screen.
Plugins in WordPress Activate the plugin through the screen.
Create a new page for your forum, add [forum] shortcode to it and save the page.
Add this page to the menu of your sites so that you can access it.
You will be able to find a new menu on the left side of the administration area, that is your forum.
Configure your options and create categories/forums there and you are done.
This plugin also works with widgets to add different modules on the side of your forum. The Asgaros forum is very consistent, and it provides a mobile theme for your users to have conversations through their mobile as well.
3) DW Question & Answer:
This plugin helps in building a complete question and answer system for your WordPress site. It supports shortcodes, multilanguage, reCAPTCHA, e-mail notification system and many more, just like in Quora or StackOverflow etc.
Contrary to a common forum plugin, it allows your users to vote for answers as well so that the best answers come to the top and get less meaningful answers to the end.
It's Installation:
Upload Dw-question-answer to / wp-content / plugins / directory.
Activate the plugin through WordPress Plugins.
Log in to your WordPress dashboard and go to Menu Dashboard> DW Q & A> Settings then choose the page where to submit the questions to the form and the list page.
Due to its design, DW questions and answers are an excellent option for creating a support forum (either for your products or a general topic). But if you just want to create a regular discussion forum, then this plugin is not for you.
4) wpForo Forum
wpForo is a relatively new WordPress forum plugin. It's turning out to be popular in such a short time thanks to regular updates and helpful developers. It is a free plugin which comes with so many design and customization options. It is a fully developed yet easy and lightweight platform solution for your WordPress website.
The modern and responsive forum comes with layouts and styles. This WordPress Forums plugin brings everything you need to run an efficient and professional community. Powerful and beautiful platform with unique features.

It's Installation
Install the wpForo Forum plugin in the Dashboard> Plugins Admin page. Then activate it.
If you have more than 100 users, the wpForo Forum plugin prompts you to synchronize users.
Manage forums in the Forum Admin Page, under the forum in the dashboard
Go to the forum menu in the dashboard> Appearance> menu admin page,
Manage Forum Colors by going to Styles Admin Page, under settings in the Forums of the Dashboard, you can choose here the Forum Color Styles.
This is a perfect platform for asking and receiving answers and is available for Add-ons embed, Ad Manager, Private Messages and more. The plugin responds to the built-in SEO, a cache system and anti-spam. It also helps in transferring data from itself to various forum plugins.
5) Discussion Board
You can easily add a forum on your WordPress site using the Discussion Board plugin. It is a one-click installation and has stacks of essential features that make it the main WordPress forum plugin. Here users can register and log in through front-end form, post each new topics through a simple form. Where each topic is displayed on its own page where other users can reply.

It's Installation:
Go to Plugins>>Add New.
Search for 'Discussion Board'.
Activate Discovery Page Discussion Board.
To update any settings, go to Discussion Board> Settings.
The feature of placing multiple discussion boards is only given in the Pro plugin of the discussion board. So, the free edition makes the most sense for small organizations and schools, for which only one board is required. However, to pay for any additional features, a $ 29 price tag is an affordable price.
6) CM Answers
CM is a Q & A plugin for WordPress that enables users to add question and answer (Q & A) in stack overflow style. The answering plugin allows users to post questions and answers, leave comments, vote, and upload files in a discussion board format.
There are many other unique features in the CM Answers Discussion Forum, such as voting for questions and answers, which allows administrators to customize it according to their needs.

It's Installation:
Upload plug-in folder to / wp-content / plugins / directory
Activate the plugin through WordPress Plugin Plugins in WordPress
Manage your CM Answer plugin with the left side admin dashboard
As an administrator, you can customize questions, answers, filter unwanted content, and manage users. If you want additional features like anonymous posting and payment, you can purchase plugin add-ons.
7) Website Toolbox
It's a cloud-based forum plugin that allows you to easily add a powerful, intuitive, and maintenance-free forum for WordPress without hampering its speed. Where no database, server, or coding is required.

It's Installation:
Go to "Add new" under plugins from the left menu in the WordPress Admin Panel.
Search for "Forum by Website Toolbox"
Activate the plugin.
After that, move to the Settings link under the "Website Toolbox Forum" plugin.
Enter your website Toolbox account information. If you do not already have a website then create a Website Toolbox Forum.
This forum is embedded in your WordPress website layout. Here the users get automatically signed in to the forum when they sign in to your website, thus the forum accounts are created automatically for your existing or new WordPress users.
8) BuddyPress Toolbar
BuddyPress is a small and light weighted plugin, that supports all the native BuddyPress settings plus a huge list of supported plugins and themes. It is a fully multisite compatible where you can also network enable it.

It's Installation:
Upload the entire buddypress-toolbar folder to / wp-content / plugins / directory – or upload the zip package
via package plugins> Add new> Upload in your wp admin.
Activate the plugin through WordPress Plugin Plugins in WordPress
Check out your Toolbar / Admin Bar and enjoy using the new link there.
The great part is that you can join bbPress and BuddyPress so that people can be offered a standard platform section with a region to create a more social level relationship. It has an activity stream for viewing your friends as well. You get to customize all your favorites, mentions, and all the cool features for your own brand and develop a social site.
9) Vanilla Forums
Vanilla is another free and self-hosted forum. It not only allows a great degree of adaptation, but it also promotes member involvement with a reward system and allows members to moderate threads as well. Vanilla also provides hosted services for forums and communities. It provides a native mobile version which is suitable for viewing forums on mobile devices.

It's Installation:
Upload vanilla-forum folder to / wp-content / plugins /
Activate the plugin through WordPress Plugin Plugins in WordPress.
Configure the plugin in WordPress Settings> Vanilla Forum menu.
One can easily migrate to Vanilla from any other platform, with the help of the ready-made exporters for vBulletin, phpBB, bbPress and many more. It is truly an open source, fully customizable and standards-complaints. At Vanilla the online community is unique, intuitive and engaging where you can create a customized community that seeks positive participation, automatically curates content and lets the member drive the modulation.
10) AnsPress
It is an open source and developer friendly plugin for WordPress used to create a question and answer network just like StackOverflow and Quora. It supports multiple languages, shortcodes,push-notifications, e-mail and many more.

It's Installation:
Search for Add New in the plugin Dashboard.
Look for AnsPress from the options available.
Click on 'Install Now'.
Now activate the plugin on the plugin dashboard.
It not only supports Q&A but also can be used in many different ways such as BugTracker, Company Internal, Companies internal QA Board as well as a support ticket, FAQ and many more. This is used widely by many popular companies and sites at large scale.
Conclusion
All the plugins excel in one or the other way depending upon the need and the type of forum your that is best suitable for your Website. Going through each of the plugins you might have got a slight idea about which one to choose to makes your forum the best.
Although just to make it easy, we would recommend bbPress as the best among all since it is the major plugin with more than hundred of extensions, thus providing you almost all the feature you can think in a forum. Just name it and bbPress have it.