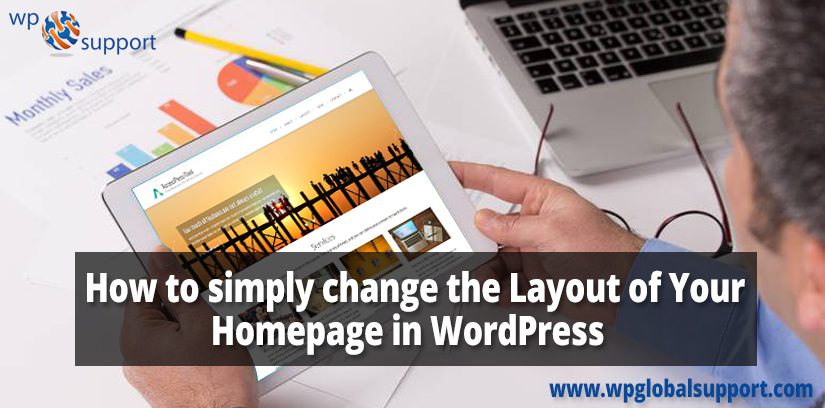 Are you facing error while changing the Layout of Homepage? If the layout of your homepage doesn't look right you may lose out on traffic as it is instrumental in retaining visitors. The traffic is very important because higher rank in search result generates the traffic on the site as well as increases the brand's position and works as a key to business assets.
As one of the major factors that causes a low conversion rate is website usability. It is crucial for every website. Generally, it's all about making it simple for users to interact with your website. This also plays a vital role in attracting visitors to your site. It is the key to keep visitors around your site and determines the level of comfort and ease that visitors enjoy while browsing websites.
It can be done in two different ways without excessive HTML coding. The method we are going to describe below depends on the theme's built-in functionality while the other concentrates more around using shortcodes from plugins. But out of these, it is better using the customization in the theme.
Read Also: 5 Things you homepage needs to stand out from your competitors
Changing Layout of Homepage with a Theme in WordPress
When developers create a theme they may add a big number of sections that can host a large array of content. But not whole themes are designed the same. As choosing one of the best WordPress themes for your business is a very hectic task because there are many available in the market. We have analyzed some of the best WordPress themes. Compare and choose the one that suits your business. Click here to know more.
While one may have a various header, top-page controls and others may not. The theme you select to install will play an important role in what can be done in terms of moving information around. Also the theme changes the Layout of Homepage in a WordPress site.
Accessing the Appearance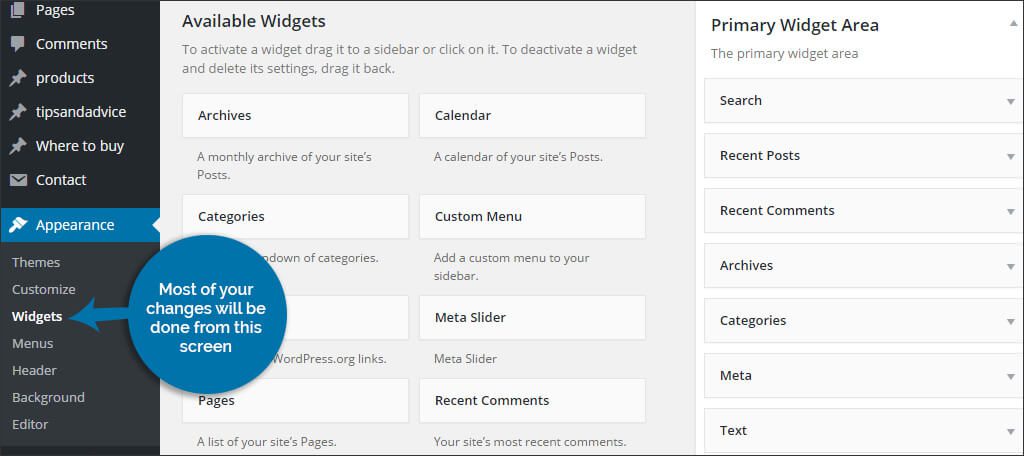 For accessing the Appearance from the WordPress dashboard, go to "Appearance" and then "Widgets." As most of your changes will be done from this screen. You should see things in this control like the right sidebar, header, footer, and other sections. These all relate to areas of your website. If you put something into the right sidebar, then it will display on the right side of your page.
Some of the themes will have layout options available in the widget area. As some widgets available which offer options like to customize and to fill the form to look, include, exclude of the data and other information, besides other customize feature and images. The appearance widget screen explains how to use the various Widgets that come delivered with WordPress. Plugins that come bundled with widgets can be found in the WordPress plugin directory.
As Widgets allows you to add content and features to your sidebar without writing any code. For example, the "Color Mag" theme has the ability to show featured posts or content from specific categories in various ways. Just drag the available widget into the Front Page Top area and adjust it to your liking. Before installing plugins for shortcodes and layout changes, look after the "Customize" and "Widgets" areas of your theme.
Using Shortcodes for altering the Homepage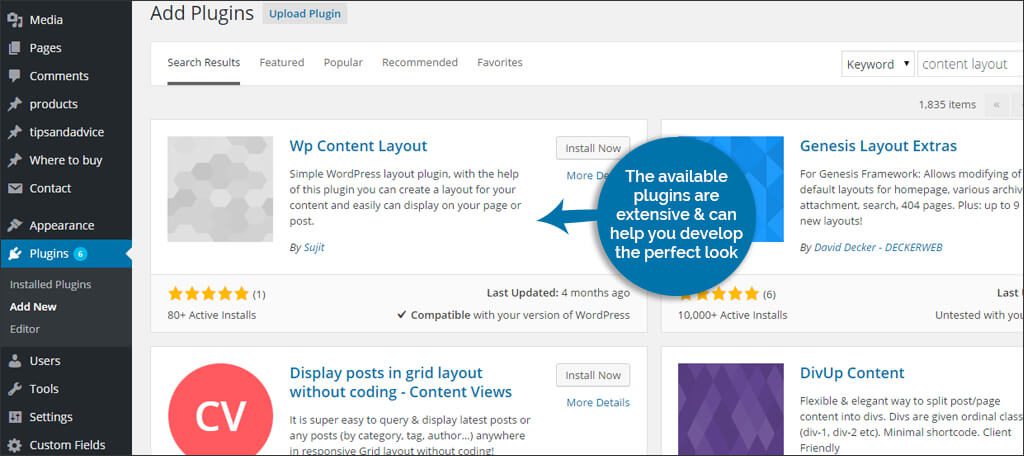 By using Shortcodes many things can be done in WordPress. These small snippets of information can be pasted virtually anywhere in the system to show general information. WordPress has some shortcodes available, there are plugins you can install that will enhance what you can do with the layout of your content. As shortcodes are those special functions/tags that allows the user to quickly and easily pull related bits of mentioned functionality into their content.
Shortcodes can contain files or also they can create objects that would require lots of complex ugly code only in one line. Plugins can make a massive change to your site, improve your site's performance or help it rank better in search engines.
As the plugins produces many factors in to change the layout of homepage in the WordPress site, the Plugins keep your site functioning and secure.
For this Go to "Plugins," click the "Add New" button on the top left and then search for content layout. There are two ways you can use shortcodes perfectly: in a widget or on a page.
In a Widget
Many themes have sections available for nearly every area on the WordPress site. In case your theme doesn't have a layout widget what should you do?
On a Static Page
Most of the people find it useful to set up a static page as the homepage and use shortcodes to perfect the appearance for a better layout of homepage in a WordPress site.. For doing this:
You may wish to go into the "Menus" area of WordPress in "Appearance" and either remove the new homepage from the menu structure or change your "Home" link to see the new page. Moreover, you may have two home links that will go to various areas of your site. It will be confusing to anyone who visits.
To change the layout of homepage it may seem complicated, but it can be very easy generally if you have a theme that already supports different layouts. As home page is used to facilitate navigation to other pages on the site by providing links to prioritized and recent articles and pages, and possibly a search box.
How to change page layout using Page Builder in WordPress?
You can change the layout of any WordPress page via the Layout Template module in Page Builder. Page builders use components to build responsive page layouts inside a grid view. The widgetized sidebar of WordPress theme is a great example for understanding the concept of a page builder.
Page builders provide similar structure and features to the page/post content area instead of sidebars. We can either use existing components or create our own components to design pages with a page builder. In short, a page builder is a perfect tool for designing websites fast, with quality design and without needing to know code.
Most page builder plugins replace the default WordPress editor with a new plugin specific visual editor. We have the ability to switch between default and plugin specific editors while editing the page layout of homepage.
We hope that this article helped you for changing the page layout of your homepage. You can also contact to our WordPress Technical Support team in case of any assistance. Dial + 1 844 275 0975(Toll-Free). We will be glad to help you.
Read Some Other Blogs: