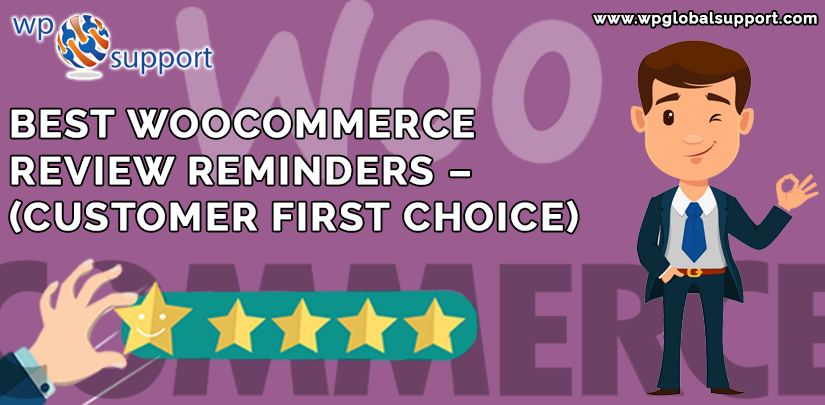 This time we gathered a ton of information over Best Review Reminders for WooCommerce site! Fortunately, we believe that customer reviews are of utmost importance for increasing the store impression. In accordance with market research – approx. 78% of your future customers read user's reviews before procuring any product from your e-commerce store.
Contiguous, In the online market era: Getting a positive review from a loyal customer is most important to boost your leads, sales, and credibility.
Moving forward towards the plugin session, WooCommerce Review Plugins which helps you to get customer evaluation, from the faithful clients, who have lately bought a product from your e-commerce store.
Usually, customers are asked to review the recent products, they purchased by sending the WooCommerce review reminder emails.
Finally, we are going to express a post that highlights: how a WooCommerce review plugin is utmost importance for the e-commerce store.
Subsequently, we have discussed it above, according to online market research – about 80% of the customers declared that their procuring decision completely depends upon the online review reminders for WooCommerce. And one another survey illustrates that around 78% of clients declared that they trust in online reviews more than personal suggestions.
Further, With Review Reminders For WooCommerce If you wish to launch your own WordPress WooCommerce store, then a review plugin is mandatory. And, If you are not very aware of the installation process, then, feel free to move along with our blog on How to simply install Woocommerce.
Well, the creation of a product review for your site is not a doodle! Especially when you wish them to be custom made. Hence, If you are willing to create a review layout in accordance with your inclination, we recommend you WordPress, because it comes with a significant number of plugins.
Top 10 Review Reminders for WooCommerce
Ultimate Reviews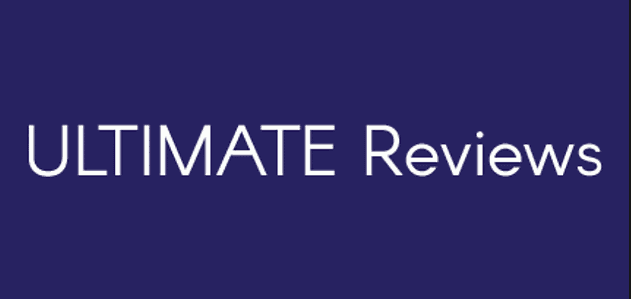 Needless to say! Ultimate reviews are the best & easy to use WooCommerce review plugin. It allows the clients to leave their feedback, rating, and reviews on various products which are available in your WooCommerce store for review reminders for WooCommerce.
This plugin consists of shortcodes, where Woocommerce shortcodes are small pieces of texts/codes written within square brackets. These codes are then placed in your Woocommerce pages and templates to show certain values from the database.
In other words, WooCommerce shop page shortcodes act like shortcuts that work for you to call a specific function in a post or page. This feature provides us an easy way to add special content almost anywhere on the website. It does not require so much of technical coding knowledge. Because of this, shortcodes are very popular and interesting to work on.
The WooCommerce review plugin also comes with two smart review shortcodes; First one – that shows your reviews and the second one – shows a form that your clients can use to submit reviews.
Key Features
It accepts and manages user reviews.
It has flexible styling via its Custom CSS option.
Filter the reviews through product name, score, and review author.
It shows you a product review made on single or multiple products.
This plugin has many rating systems sustaining points and percentages.
Quite, this review plugin allows in-depth reviews and create an extra review field like appearance, quality, value, etc.
It adds the review in the custom fields that do not impact on the score rating like, radio button, checkbox, text, and drop down the field.
WP Product Review Lite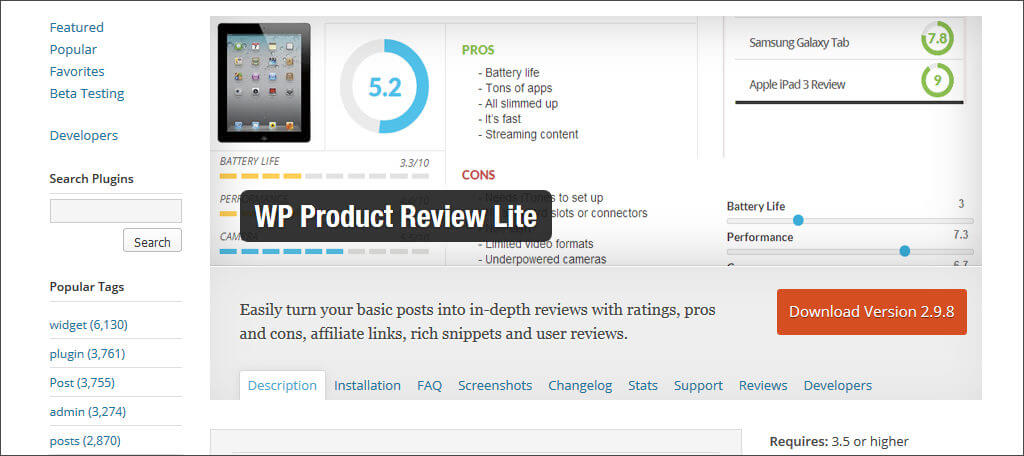 Well, It is one of the best options if you wish to convert your basic posts into in-depth reviews including advantages & disadvantages, rating, rich snippets, affiliate links, and much more.
Looking forward, this plugin encloses high customizability features and always comes in two versions: A free version and a paid version. In accordance with the title of WP Product Review Lite, the free version is available at ThemeIsle. And the paid version costs you $59 which we convince you, because, it is not a wastage investment.
However, with the help of this plugin, you can create and customize the call-to-action button like Sign Up, Register, Free Demo, etc, in the review segment. Further, you can also promote featured products of your WooCommerce store with customized widgets.
Last but not least, the addon provides you an option for the shortcode. And the shortcodes allow the users to put the reviews anyplace in the content. In addition, the Add-on authorize the users with various custom reviews icons, unlimited option, and a pre-loader functionality.
Key Features
Add rich snippets to your posts.
From the theme option, all colors are easy to update.
It also allows the user to create a top product review widget.
Add specific user review options for WordPress comments.
At the end of your articles add an awesome wrap-up widget.
With the help of this plugin, you can add the download button in the published posts.
TWB WooCommerce Review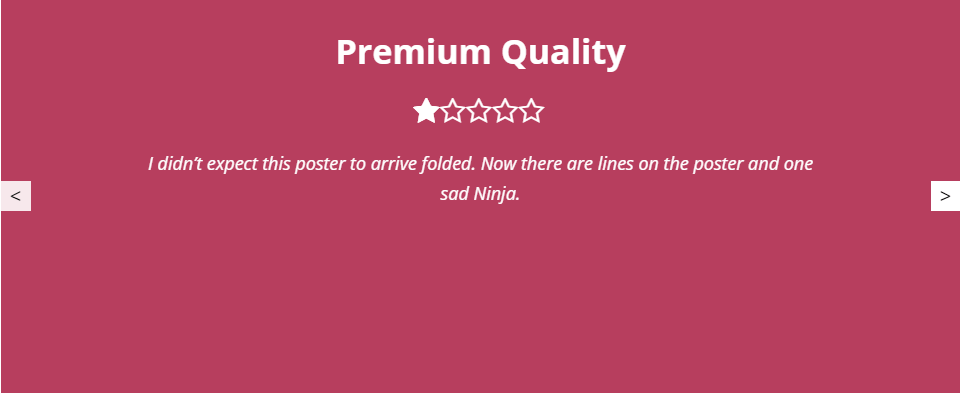 TWB WooCommerce Review plugin is another best review plugin from the top 10 Review Reminders For WooCommerce. This plugin adds a product reviews to a page or post on your site by using shortcodes.
With the help of this plugin, you can specify the reviews on the basis of per product, banish specific reviews, limit the displayed number of reviews, and much more. It also comes in two different layouts: Sliders and Lists.
The slider layout includes the slide effect and fades effect for posts, folds, review widgets, etc. Albeit, the list layout is classified into three columns such as single columns, double columns, and triple columns.
Now, by using TWB you can set your product reviews as per product preferences. Further, with the help of this plugin, you can also add custom styles to your post or pages.
Rating-Widget: Star Review System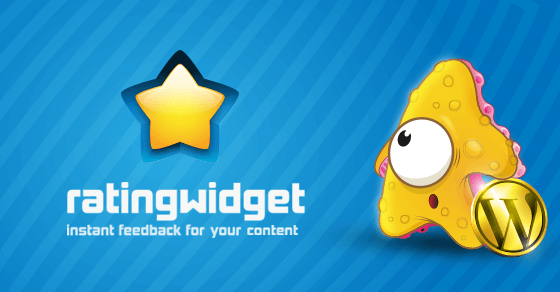 As off, we all know that the best rating system helps the customers to recognize which product is the best, based on its quality. Rating-Widget: Star Review System helps to create a 5-star system of voting for clients that visit your e-commerce store.
However, with the help of this plugin from the top 10 Review Reminders For WooCommerce, you can connect to a star based voting system by a few clicks from the WordPress dashboard area. In addition, it allows the users to prettify front-end reviews with beautiful ratings.
Moreover, one fortunate thing about this plugin is that it's easy to install and don't ask for any of the configurations. In addition, it helps in adding a rich snippet (that will automatically add star ratings) to your content's Google SERP (Search Engine Result Pages), for making it more distinctive and noticeable.
Overall one of the largest theme collection for reviews are included in this plugin. It is also a multilingual and mobile-optimized plugin. Needless to say! It is one of the best for those who have been falling down in the development market.
Key Features
Engage your customers in a click.
Immediately reviews for your product.
Decorate your content with beautiful ratings.
SEO Friendly: Boost search traffic with rich-snippets.
Taqyeem – WordPress Review Plugin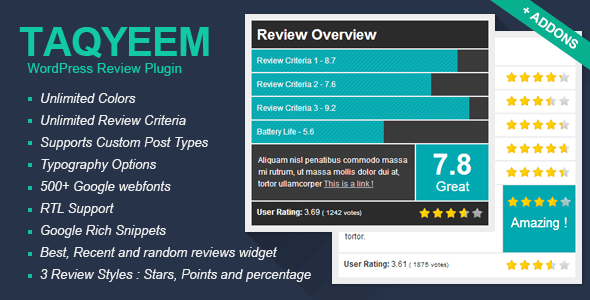 Well, Taqyeem – WordPress Review Plugin is developed by Egyptian company named TieLabs. However, it is one of the best WordPress review plugins for integration of user review's system and presentation of production review.
Further, it was assembled for adding reviews and ratings to your pages, posts, and post types. Although, by using this you can create the perfect rating addition to your site.
In accordance with Taqyeem Review Plugin, all the things can be personalized with more than 500 google fonts, three styles of notation: stars, points, percentages, and various typographic options.
Finally, as far as its suitability concerned, it is entirely adaptable to the current WordPress version.
Key Features
Unlimited colors
Translation ready
Unlimited criterion
Right to left support
Rating image options
500+ Google font options
3 Styles: stars, points, or percentage
Schema SEO snippet review microdata
Works with posts, pages, and custom post types
3 Custom widgets: best, recent, and random reviews
WooDiscuz – Woocommerce Comments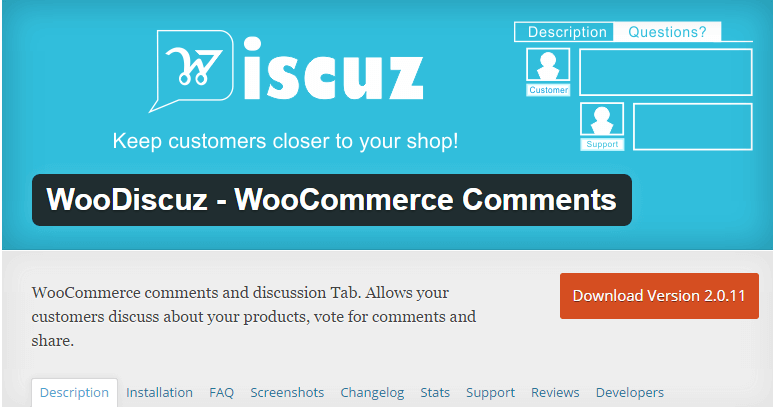 In accordance with online market research – for buying products through WooCommerce store – it has been found that over 90% online customers wish to ask questions, discuss features and takes other client's instruction before making a purchase.
Hence, WooDiscuz – Woocommerce Comments from the top 10 Review Reminders For WooCommerce permits the customers to discuss about your products and the question before making sale/purchase. Thereafter, your clients will very happy with the ability to discuss products directly on your site.
Further, it also comes with a communal and clean interface. It has the various variety of options such as hide/remove WooCommerce Product reviews and sharing features, discussion tabs, turn on/off comment voting, creating threads, deleting threads, hiding them, modify administrators, manage font colors and much more.
Key Features
Recent Comments Widget.
With the help of this plugin adds a new discussion tab on the product page.
Easy and Quick comment form with ajax validation and data submission.
Flexible options for Guests, Customers, and Administrators permissions.
Recent Reviews Widget (WooCommerce one doesn't filter WooDiscuz comments).
YITH WooCommerce Advanced Reviews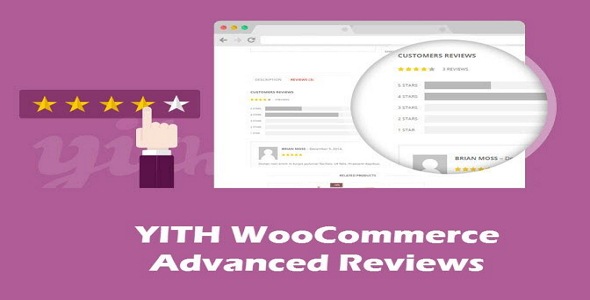 Boost your sale with the social review! YITH Woocommerce Advanced Reviews provides some more things than the traditional showing of product review and rating.
Further, it allows the user to add the title and one or more attachments to their reviews. However, for each and every product a summary is generated with a signal of how many reviews have been written for each different rating.
With the help of this plugin, you can create a histogram table for the various type of products reviews, you can add rich snippets, also customers add the titles while leaving the product reviews. And add a 5-star rating system based reviews statics bar so that your clients can rate the products easily.
Key Features
Customize the look and feel.
With the help of this add rich snippets to the reviews.
Your visitors add the title while leaving a product review.
Your customer can attach certain images to the product reviews.
By using this you can change reviews in YITH WooCommerce Advanced Reviews new format.
Add review summary bar with statistics about how many times a rating of 1,2,3,4 or 5 stars was submitted.
Yotpo Social Reviews for WooCommerce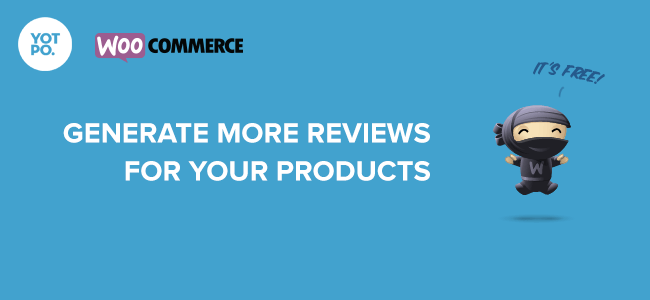 In accordance with the development market, it has been noticed that – now online stores are more transforming into the social review site. Therefore, the site owner is entirely concentrated towards directing communication to the best interest of their customer.
Yotpo Social Reviews for WooCommerce from the top 10 Review Reminders For WooCommerce is such a plugin that creates your online store on the social platform. However, It is the most effective product reviews plugin for WooCommerce store in the world. Lately, it has launched its WooCommerce extension. With the help of this, you can generate multiple product reviews for the WooCommerce store.
However, this plugin permits the users to direct traffic to a site by allowing users to post their own reviews on social platforms like Facebook and Twitter. It also offers multiple attributes for the benefit of store owners in comparison to previous user-generated content.
Key Features
It's free!
It supports all languages.
Import pre-existing reviews.
Fully customize your widget's look and feel.
You can display your reviews in a customizable format.
With the help of this, create a minisite for your SEO with customer-generated content.
This plugin sends the mail after purchasing the product to motivate the users to post the reviews.
SIP Reviews Shortcode for WooCommerce

WooCommerce SIP Reviews Shortcode plugin comes with several attributes. However, with the help of this plugin, you can display the product reviews at a specified location of your choice by using a shortcode.
Thereafter, along with SIP, you can add schema based on name, pricing, and rating anywhere on your review page or post.
As we all know that WooCommerce products pages are fabulous and unique. However, It is mandatory to market and promote a specific product via a casual post or page. And the manner to do the same is copy/paste your product reviews.
But guess what? The very plugin offers you a perfect solution! Whereas, It doesn't just limit your product review to live feeds, but it also assist you in identifying product rating, on the daily basis.
Bending towards the end, SIP arrives with the customizable options and color pickers in respect to set elements just to match your web page theme.
Key Features
Display product reviews anywhere via the widget.
It has the ability to customize product names for Schema.
Insert product Schema (name, price, rating) at any location with a shortcode.
With this plugin, display the product reviews at the specified location by using a shortcode.
With SIP Reviews Shortcode for WooCommerce, you can display any name as per your choice.
The plugin comes with a color picker for all elements so that you can easily match your theme in a few minutes.
WordPress Rate Everything Star Rating Plugin

WordPress Rate Everything Star Rating Plugin comes with multiple features. However, with the help of this plugin, you can add the star rating to any WordPress post, pages, and post types. Also, paste the shortcode from the backend or paste the PHP shortcode to create the rating work at the specified location of your choice. Where shortcode are those special functions/tags that allows the user to quickly and easily pull related bits of mentioned functionality into their content.
In other words, a shortcode is a WordPress specific code that allows the user to do special things with very less comfort. Shortcodes can contain files or also they can create objects that would require lots of complex ugly code only in one line.
Further, it allows the users to make the group of all reviews according to their preferences, regardless of how you wish to sort them. In accordance with their date, rating, and even time of post you can sort them.
Contiguous, this plugin shows the current evaluation to site visitors. When they are registered, they can also analyze by using AJAX. With this, you can create an option to sort out the same type of products according to product rating on the review tab ranging from five-star as excellent quality to single-star as lowest quality.
Key Features
AJAX based update.
It is a vote count plugin.
3-star options to select from.
It also has the ability to control the star size.
Maximum compatibility with theme development.
It also has the ability to control the number of stars.
Microdata support for better Search Engine visibility.
The various number of stars can be shown in different views.
By using this default positions can be set from the backend.
Way To Automatically Remind A Customer To Post Reviews in WooCommerce
Social evidence for the WooCommerce store is one of the underrated things that can make all the difference in sales and store owners do not realize that.
Being one of the top ways to boost the social proof of your product, capturing reviews from your previous customers is really quite crucial for increasing your product conversion rates.
However, higher conversion rates of products are equals to more orders from fewer visitors. And that in return, as a result, the total marketing cost is low.
Now, we will illustrate to you the importance of product reviews from the top 10 Review Reminders For WooCommerce.
The Best Time To Ask For A Review
Suffix the long research we came to know that – What's the best time to ask for a review? The time when your customer first experienced the product. Ideally not long after unpackaged it.
Now, after purchasing the product they are on the best spot, they are likely to give you the two things:
Their time for writing the review.
A positive outlook.
Now, you must be glancing at how to automatically ask the customer for a review? Let's get cracked to the same –
Automatically Ask Customer's For Reviews
Asking for the review; automatically from a customer is not a doddle! Hence, for the twin, a new plugin has jumped in the cooperative industry named "Easy Review Reminder." This plugin from the top 10 Review Reminders For WooCommerce sends automatic emails to your visitors, asking them for a review on the product they have purchased.
Further, you can add a list of the products they ordered from your online store, along with the review links at an individual product.
The emails go out on a schedule and you don't need to do a thing except approve the reviews when they come in. It's as automated as social proof gets.
The last longing, the email goes out on a fixed time interval and you do not need to do a single thing despite approving the reviews by their arrivalance. Often, It is as automated as the social proof.
Conclusion
These 10 best WooCommerce review reminder plugins will be a very important part to help you and your customers to rate the products and also provide better reviews which is one of the ways to digitally interact with the customers. The Audience engagement with the products will have a positive way to grow the traffic. Here these 10 plugins which we have provided are the best review reminders for the WooCommerce platform in WordPress site.
Hope this beginner guide for rich snippet & structure is helpful for you. In case of any related problem, contact to our WordPress tech Support team now to get instant help. Dial +1-855-945-3219 (Toll-Free).
Recommended Blogs