10 Best WooCommerce Plugins for Email Management (2018)
Last Updated:

Jan 15th, 2018

Posted by:

admin

Category:

WordPress Support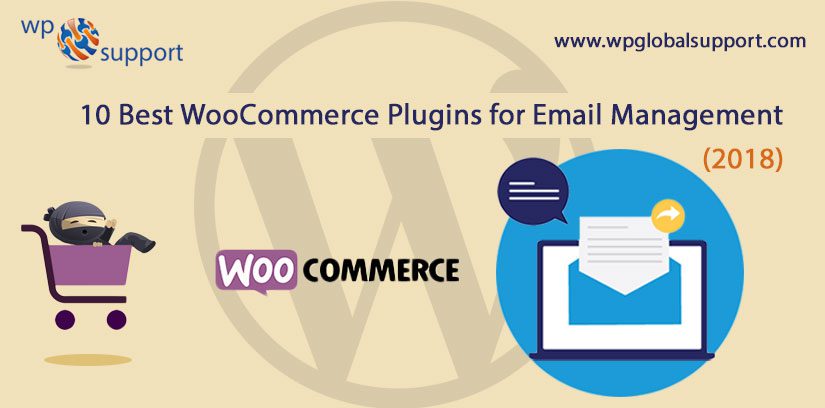 In this post, we introduce you the 10 Best WooCommerce Plugin for Email management (2018). According to Direct Marketing Association, mostly, consumer check their inbox minimum once in a day. When you see these things, email is certainly a great marketing tool for your e-commerce business. WooCommerce comes with some email templates to use the opportunity. But, sometimes you need more options than the basic ones.
In this type of cases, you should use a WooCommerce plugin. Here, some plugins are free and some are paid for customizing emails and creating new ones. In this article, we will tell you about the best WooCommerce plugins for Email management, step by step:-
For any instant Support Services related to WooCommerce Setup dial our Toll-Free number +  1 844 897 0441.
1. SIP Advanced Email Rules for WooCommerce
The first WooCommerce plugins, SIP Advance Email Rule is a fully featured plugin for adding the email rule to your online e-commerce store. The plugin permits you to send ahead working emails on the different task like weight, tax, quantity, total amount, shipping, quantity, product name, category, location etc. You have set the rule once, then the plugin will start the emails without any manual working.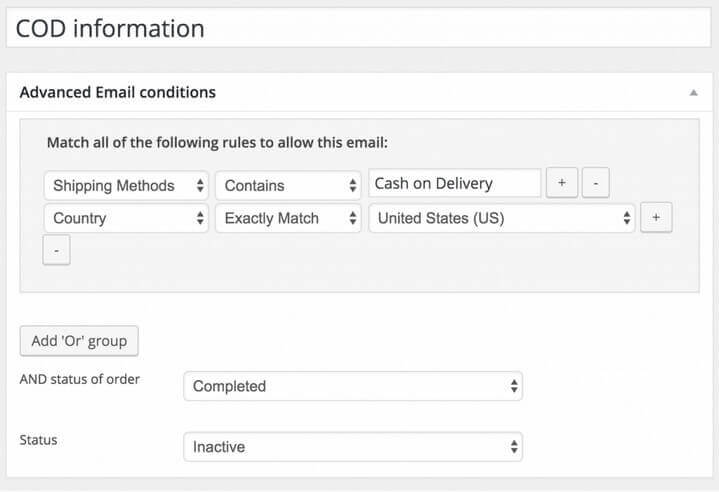 At the time of using the plugin, you can create next working email from the regular post editor. Although, you can apply some formatting and style. There are many working shortcodes add the customer name, URL, order number, item detail, shop name, coupon etc.
2. Woo Email Control
It is a free plugin, WooCommerce emails templates don't permit you to add own images to the body. Woo Email Control helps you to solves that problem for you. This plugin permits you to add product images to your emails messages. It also supports you to customize the email header image.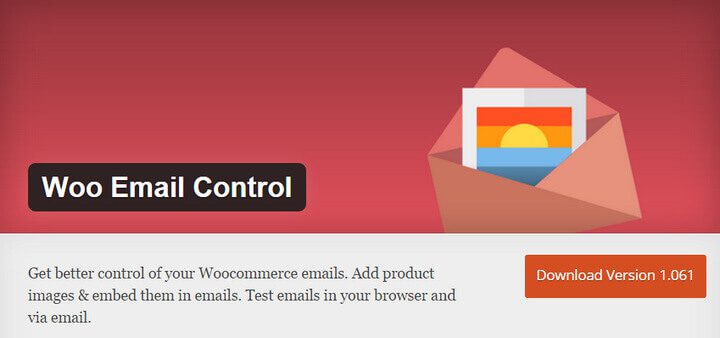 You added the product pictures once, you can check the output on your browser or use accurate data to send checked emails to your emails address. With the default templates, the plugin works with various templates, that templates provide the right hooks.
3. YITH WooCommerce Email Templates
YITH WooCommerce Email Template permits you to create and modify the email templates for your WooCommerce online site. You can create a lot of email templates for some occasion. The built-in customization supports you to style the emails according to your existing branding.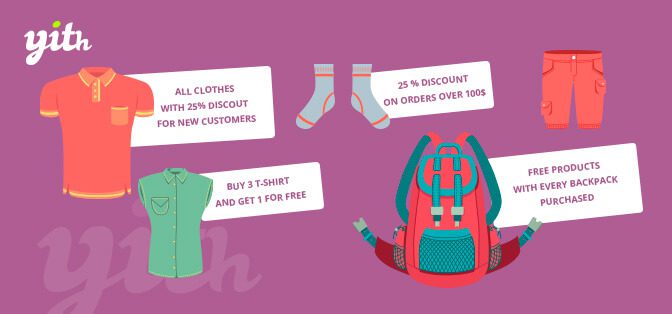 You can select the body colour, text colour, base colour, and background colour for emails. You can attach the logo of your e-commerce store. Keep the same style on your emails and site will be a good way to strengthen your brand identity.
4. WooCommerce Email Center
WooCommerce Email Center is a feature-rich paid plugin that permits you to send various transaction emails to your customers on any occasion. A lot of conditions sure that your emails will be sent to only those customers that are ready to receive them.
It is a powerful extension to control the email notifications sent from your WooCommerce online store. This plugin allows you to send the transaction emails to both the admin and the customer. For the complete security of your site have a look at our article 10 Security Tips for WooCommerce Website.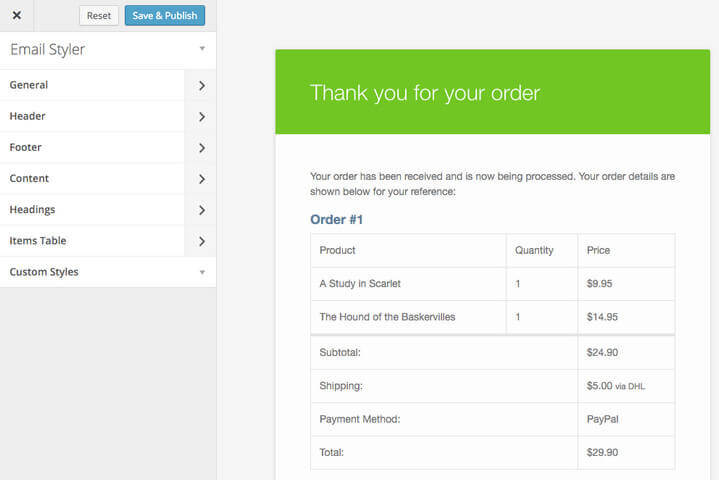 The plugin supports more than 40 macros, which can be used to add the content and create the content block is also possible.
There are some conditions for sending emails. You can set to send emails and select any of the 35+ triggers. To set multiple triggers in a single email is possible. There is an integrated logging system to keep the way of sent emails.
5. Woo Custom Emails
Woo Custom Emails is a useful plugin for creating email templates. See how to install WordPress WooCommerce Plugin. This plugin permits you to define the description, title and subject of usual emails. From the recipient's field, you can send the email addresses. Another thing, you can select to send the emails only to the customers.

The email is based on the order status of a client is also possible to the trigger. The real email can be customized in the template. You can edit or delete usual email templates from the list.
6. Adding a Custom WooCommerce Email
To create usual emails for some actions, SkyVerge is a fully customizable solution for you. Developed a usual plugin for adding email templates. Manually, the plugin will add an email for the expedited orders.
Download it from the GitHub repository using this plugin. Go to the plugin > and upload. Search the email templates on the Emails tab at WooCommerce > Setting page. You can select to enable or disable the plugin, customize the recipients, email type, subject etc. Then click the 'Save Changes' button.
To customize the plugin for the other email types is possible. You need to have a good understanding of the different WooCommerce email types. You can follow the SkyVerge tutorial to completely understand the process.
Read More: 10 Best WooCommerce Hosting Provider 2018
7. WooCommerce Pretty Emails
In WooCommerce Pretty Emails plugin, each e-commerce website uses various emails. But the most website does not apply any type of branding emails.
This plugin permits you to do that in your WordPress WooCommerce store. You should not miss the special opportunity to brand your business. You can apply different styling to each template.
Firstly, you can add a company logo to the emails. After that set the size of body font, h1, h2, h3, download link etc. Select a usual colour for the border.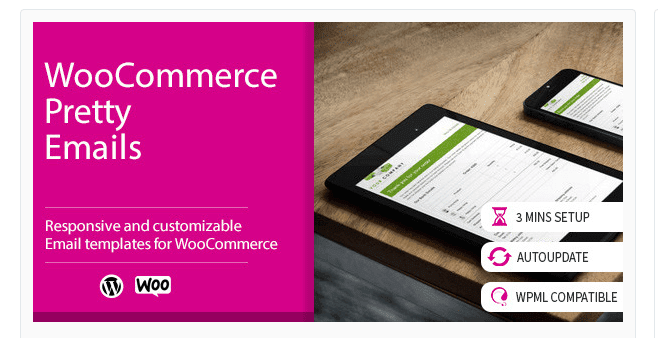 This plugin permits you to add Google+, Pinterest, Instagram, Facebook, Twitter profiles to your account. You can add actual intro text to the order processing emails. To attach files to the emails is also possible.
8. Email Customizer for WooCommerce
Email Customizer for WooCommerce setup is a premium plugin. It permits you to customize the emails you send to the customers. You can customize the header and footer formats, select the usual colours for some sections tags, and link to your social media profiles. You can control the email content in a simple way.
To check out the real preview before you confirm any template is possible means, you can control accurately how the emails should visible before the client.
9. WooCommerce Advanced Email Customizer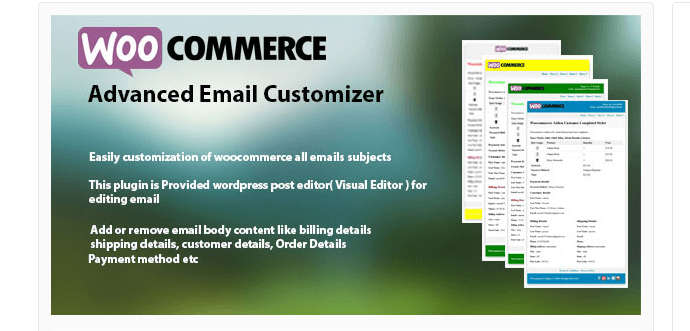 WooCommerce Advanced Email Customizer is a plugin for emails management permits you to customize email subject. The look and style of WooCommerce order emails like Processing Order, Completed Order, New Order, Cancelled Order, Refunded Order Emails & Failed Order.
10. Advanced Notifications
When running an e-commerce store, always you are required to be on top of your inventory. And if you are running a big e-commerce store, having the track of all inventories can be difficult and can be used for users of sales and notifying staff, sending stock notices to suppliers.
You can create a recipient, give them a name, email address and other details through this plugin.
Read Also: Why WooCommerce is best for WordPress E-commerce Startups?
Final Thought
When used properly, management of emails could be a very useful marketing tool. If you aren't using it yet, why don't try it now? Select one of the plugins mentioned above and get your email marketing campaign started. We hope this blog helped you to use the best WooCommerce plugins for email management.
Get help from one of our WordPress Technical Support team. As our team will help you to resolve all your problems related to WordPress dial + 1 844 897 0441(Toll-Free).
Read Some of Our Other Blogs: