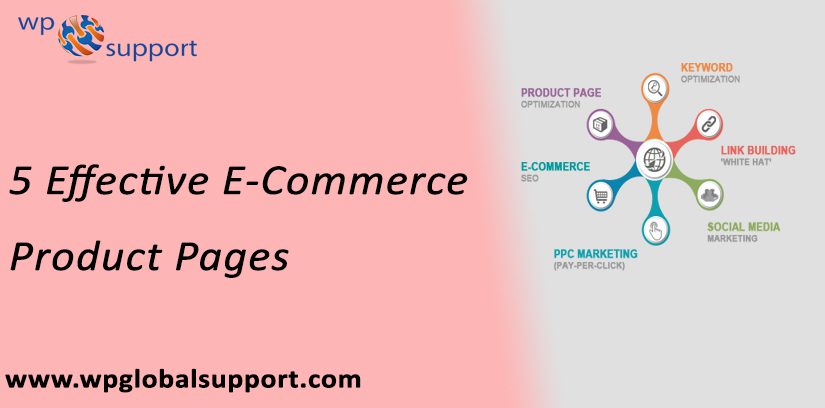 This post is primarily based some Effective E-Commerce Product Pages that can help in the betterment of your store. Product pages on E-Commerce store are a crucial step before visitors decide to buy, or not.
This blog will review 5 effective WooCommerce product pages, highlighting the strengths and weaknesses of each and all five examples come from WordPress WooCommerce websites.
Read Also: How to Add Custom Tab on WooCommerce Product Page?
5 Effective E-Commerce product pages
1. OVER Clothing: OVER Bolt Logo T-Shirt
On top of the clothing market, OVER Clothing is a Serbia-based clothing company. This grew from word of mouth referrals. Recently, this company won WooCommerce recent Golden Ticket design competition.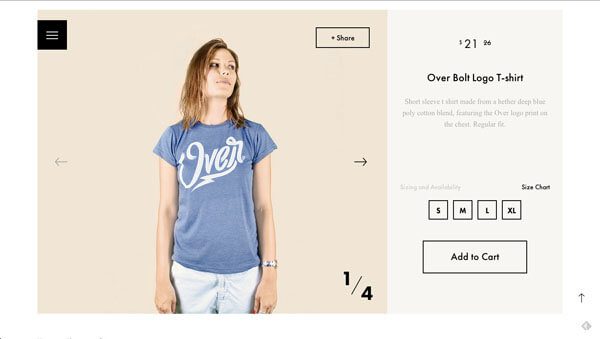 Strengths: The whole site is attractive, but product pages are exceptionally well done especially for a WordPress WooCommerce website. Harmonious pastels exude the quality and flat design, which probably helps in conversion.
Another OVER has several, highly effective photos for every product from different angles and level of expansion. Although, Add-to-cart button is big, clear and simple.
Weaknesses: The product description text is a light gray, which may look good in the design but is bad for the user experience. In addition, the description could use more details to help buyers that need more information.
2. Nic Socks: The Carnival Sock
This is the South African E-Commerce company. That sells unique socks. There are fun and bizarre products that show on your website and product page. Nick socks provide a membership, as well as the ability to purchase different pairs of socks.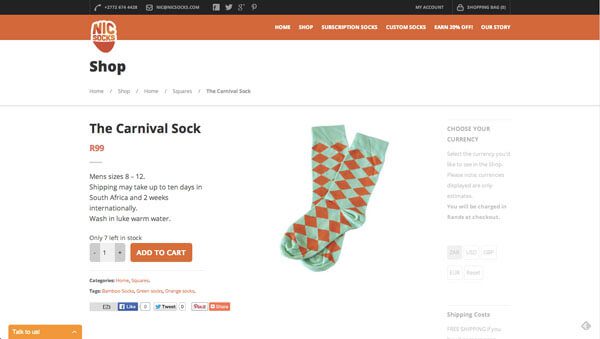 Strengths: On the add-to-cart button, product page uses the color to focus the eye. Burnt orange is the color of the button. And this is standing on the page, against the white background and gray text. Also, the "Talk to us" chat button is noticeable. The right sidebar of the text is in a light gray color, not distracted. But to provide additional information as per the requirement.
Weakness: These are unique socks at a price. Consequently, product descriptions may use additional details about why they are special. There was a reference in a description of bamboo fiber, but it is not listed on each one. Also, the site can use more images for each product.
3. Topeca Coffee Roasters: Breakfast Blend
Topeca Coffee Roaster is an El Salvador-based integrated coffee company that controls the complete process until the last roasting from the coffee seed. Also, this website shows commitment to the company's heritage and family-owned coffee farms.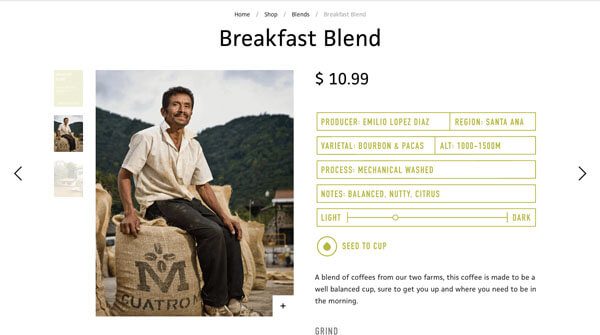 Strengths: Product pages have highlighted coffee producers and farm location. It encourages loyalty and encouragement to support a product with emotional relationship values. However, the website explains every coffee product with detail and makes it easy to purchase several quantities and roasting styles.
Weakness: The site has a built-in customer review function, but there are very few real reviews. The company should take more reviews to help build trust. Also, since the site exposes the location of the company in El Salvador, more information will be helpful on the product page about shipping time and cost.
4. Picky Bars: Blueberry Boomdizzle Bar
Picky Bars sells nutritional bars for athletes. This is invented by Triathlete and Stanford Graduate. In addition, Picky Bars were chosen by Outside magazine for the best time for retrieval of training.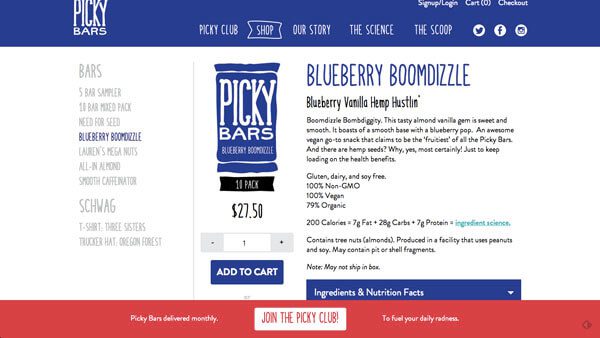 Strength: The Picky Bars product page shows the company's fun and carefree with bright typography and copy. Apart from this, the site offers detailed information about each time on the product page. Also, the site has a large add-to-cart button.
Weaknesses: Primary weakness is the lack of product photos. Although, many buyers will not be able to buy 10-packs of these bars online without knowing, what they look like.
5. Wyatt Bicycle Company: Street King Blackout Bicycle
Wyatt Bicycle Company is a La Crosse, Wisc-based company that sells bikes. The University of Wisconsin started the company in 2011 when they saw the opportunity for quality and affordably fixed gear bikes.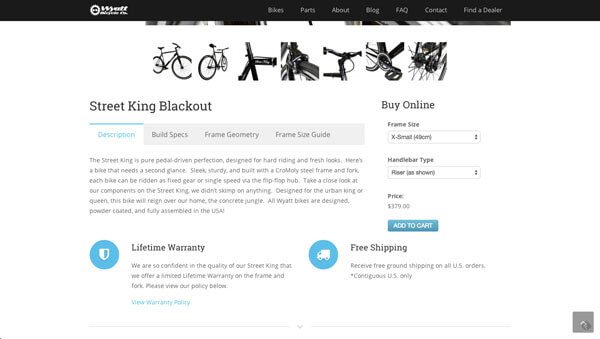 Strengths: This cart 66 built-in website shows the specificity of bicycles on every product page. It supports large, high-quality and abundant images of each product. Apart from this, many detailed specifications of each bike appear to answer every question.
Weaknesses: The add-to-cart button is smaller than the rest of the page. Another small improvement would be to add a caption below each cycle photo so that the visitor will know what he needs.
CONCLUSION
Here, in this blog, we have discussed " 5 Effective WooCommerce Product Pages".
Often, we concluded all product pages step by step:
OVER Clothing: OVER Bolt Logo T-Shirt.
Nic Socks: The Carnival Sock.
Topeca Coffee Roasters: Breakfast Blend.
Picky Bars: Blueberry Boomdizzle Bar
Wyatt Bicycle Company: Street King Blackout Bicycle.
If you have any question related to this feel free and use the comment box provided below!
If you are facing problem related to WooCommerce Setup talk to our WordPress Experts dial +1-855-945-3219(Toll-Free).