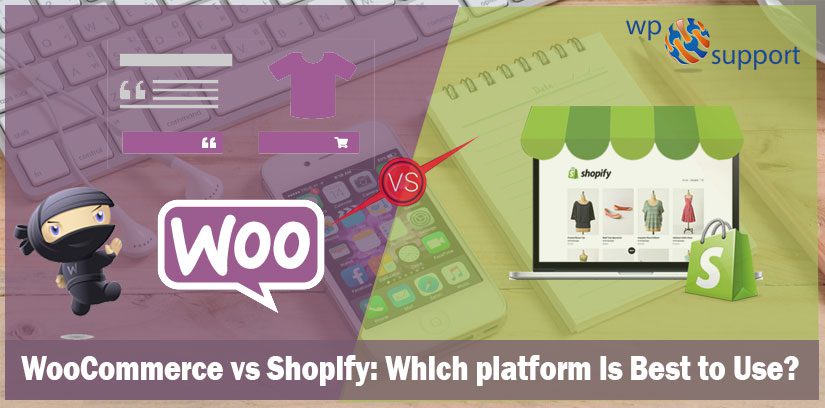 Getting confused on what platform to use from WooCommerce vs Shopify while starting an online store? Each platform has got its own multiple strengths to build an e-commerce store. It is the perfect solution for you. The good news is that you can do itself without any help from developers or professional designer.
Deciding which one is better and which one you should choose for your small business depends largely on your individual needs.
Both the e-commerce platform offers product variations, different shipping rates, attractive design, payment gateways, marketing features, and SEO; as well as different add-ons and extensions to further extend and improve your online store. If you wish you can even integrate WooCommerce and Shopify by using certain apps like Zapier and Automate.io.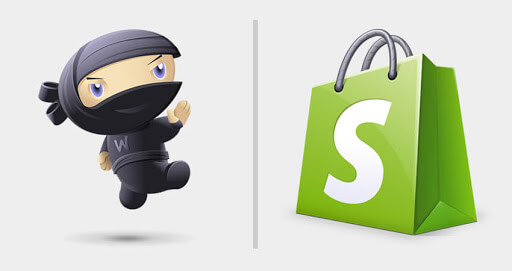 WooCommerce or Shopify is for creating a fantastic online shop. Well, as you know that WooCommerce and Shopify both are two e-commerce giants in the online market. However, WooCommerce claims it is the web's most popular e-commerce platform while Shopify stated that it powers more than 800,000 stores online.
Therefore if still, you are not able to decide which one is right for you? Then the only option is to compare the good and bad points between these two. In this blog, we will tell you, which platform is better-looking? Which is more flexible? More feature-rich, cheaper? And which one is the better eCommerce platform choice for your online business.
To Get instant support for WooCommerce Setup to contact us by dialing our Toll-Free number +1-855-945-3219. We will assist you to solve all your issues regarding e-commerce store.
Refer the topics of the content covered in this blog given below for your feasibility:
WooCommerce and Shopify: An in-depth look
WooCommerce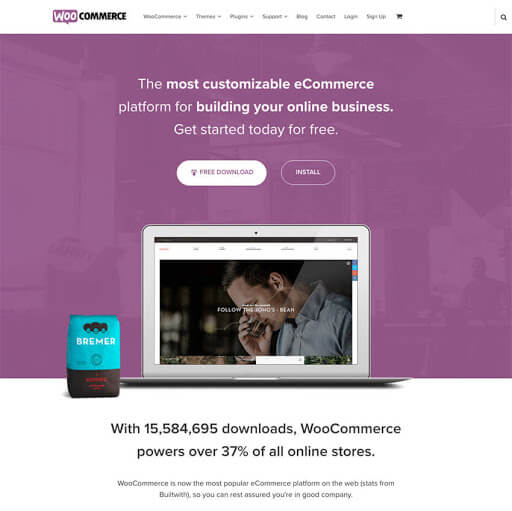 It is a plugin for WordPress. This plugin is free (freemium model) and open-source with various add-ons available that can add extra features to your online store. Some add-ons are free and some of them are paid.
Although as we know that WooCommerce is the e-commerce plugin. Also, this plugin turns any WordPress website into a robust online store. However, it is an open-source platform and thus it is free to install for anyone.
Certainly, this quality of WooCommerce is making it ideal for cost-conscious users. But on the other hand, you will have to pay for a few extra things such as hosting and security. Besides that, you are able to create a truly large and bespoke online store with WooCommerce.
Well, if you know about how to code or you like to hire someone to do so, then you can do. Besides that, in this article, we will come to know more about WooCommerce hosting provider for all WordPress sites.
Key Features
It has certain offers like free or flat rate shipping and tax setting which includes local tax rates and different tax classes.

It generates reports that include reviews, incoming sales, inventory levels, and general store performance.

Integrated user reviews, usage limit, discount options.

Different payment gateways which include BACS, PayPal, and Cash on Delivery.

It has numerous variations in its products and the ability to sell both physical and downloadable goods.

The ability to cross-promote and upsell products.
Shopify
Shopify is a self-hosted e-commerce platform. That means your online business store can get ready in two minutes as there is no other software to install. Like WooCommerce, there is no free plan. But the pricing is budgeted and there is a range of theme. And add-ons offered by Shopify which give you extra feature to your store.
Besides that, Shopify is easy to use, reliable, and a very powerful e-commerce solution. Basically, Shopify provides you lovely templates and the best customer support. In addition, you are paying a monthly premium with Shopify for a solid platform.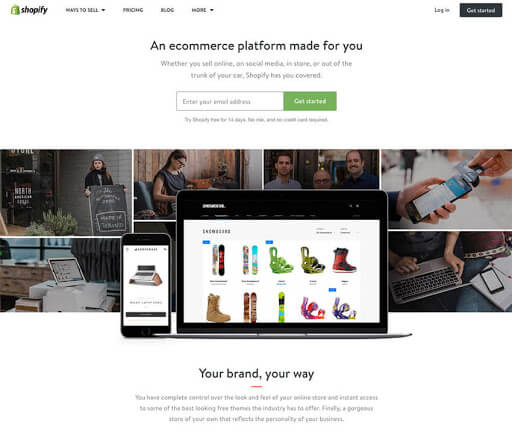 Key Features
Professional themes are enough available from Shopify and more available on our Envato Marketplace.

Full blogging platform available.

Detailed reports and site analytics

Product variations, review, discounts, etc.

Integration with social media and email marketing.

It offers a usable website builder that helps to customize the look of your store.

The ability to use your own

domain name

.

Responsive, mobile-friendly design.
What should you look for in an e-commerce platform?
When choosing the perfect e-commerce platform for your business you need to think about your own technical skill, your budget, and your business plans.
For example, when you want to expand or sell across social platforms and you've got it set in your mind, you need to look out for the right qualities in your e-commerce platform – for example, if you have no idea of coding, you'll definitely prefer 'drag-and-drop' option.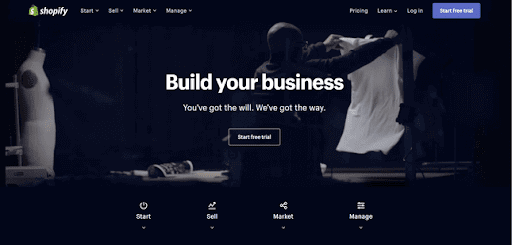 Look out for the features which will be important for your business, such as abandoned cart recovery, shipping, and inventory management. Calculate its cost and find out one which has plans to match your budget.
Don't forget about the design! It totally depends on you whether you want to base your storefront on a professionally made template, or build it yourself from scratch?
Lastly, make sure that there are plenty of efficient quality support options in place to help you out if you ever get stuck at any time. No matter whether you prefer phone support or reading help articles, it's important to make sure that there are proper help resources which suits your need.
Comparing WooCommerce vs Shopify to see which one is absolutely best
Comparison views in short;
| | |
| --- | --- |
| WooCommerce | Shopify |
| WooCommerce is a WordPress plugin that needs a hosting and working installation of WordPress to run. | A complete e-commerce solution that is based on subscription-based tools and services. |
| Here you will sell anything that you want like digital, physical, product, services. | Here you will sell anything that you want like digital, physical, product, services |
| We can use it online only (e-commerce store.) | We can use this platform online (e-commerce) and offline as well (via Point of Sale kit of Shopify.) |
| It is open -source, freely-modified and support ticket, forum, and many blogs online. There is no limitations, you have full control on your data. | It is a closed, modified with limitations platform, 24/7 chat, email, and phone support, it controls your site data. |
| It has a lot of stores designs (via WordPress themes.) Mobile friendly structure. | It has more than 50 stores designs (ten of them are free.) Mobile friendly structure |
| Hosting, subdomain are not included. Users can manually hook up a free SSL certificate, but most people buy this service. And its files storage varies on your web host. | Hosting, free subdomain with every plan (example.shopify.com) are included. Free SSL certificate. Unlimited file storage. |
| Create or use coupon codes and discounts. And you can sell limitless products. It shows sales stats and reports data. | Create or use coupon codes and discounts. And you can sell limitless products. It shows sales stats and reports data. |
| Multi-languages supported but via third-party plugins. And adjustable shipping rates and taxes. | Native support for multi-language. And also adjustable shipping rates and taxes. |
| Payment accepted via Stripe, PayPal, Cheques, Bank transfer, Cash on delivery. | Payment accepted via PayPal, bank deposit, cash on delivery, multiple payments gateways (Stripe, credit cards) and some other methods. (More than 70 options) |
Both platforms are very easy to use and have a natural user interface for easy jobs, like creating basic pages, listing products, checking orders, of a website. These setup processes are relatively struggle-free.
Both platforms have documentation and a great user base means searching answers to potential issues that may arise is fairly effortless in both systems.
The main difference between the two platforms is in the setup. WooCommerce is one of a WordPress plugin used to make the e-commerce store, that means you need a WordPress website for which you have to pay a hosting fee, install the WooCommerce plugin, and set up the store.
Still, in case you already have an installed WordPress website, setting up WooCommerce is an easy process.
Whereas, Shopify is a self-hosted solution. It means you do not have to worry about installing an individual Content Management System, searching a web host, and after that adding Shopify. If you have no technical knowledge, it is probably the easier choice.
Shopify comes with integrated blogging capabilities meaning you won't lose out because you haven't gone the WordPress route.
Now let's compare every perspective of both platforms in detail!
WooCommerce vs Shopify – Easy to use
It's not necessary to be a web designer or developers to start an online business. Because in this technical era, there are a lot of easy to use e-commerce platforms available in the market. Users should familiar with just basic concepts. Let's see which platform is more easy to use.
WooCommerce
Like Shopify, WooCommerce is not a hosted platform. Means to say, you have to install, manage, keep backups, and secure your WooCommerce store. Further, when we come to customizations, it is super flexible.
However, there are a lot of free and paid WordPress plugins available for this platform that can automate most of the task for you. With the help of more than 55,000+ WordPress plugins, you can add any features & functionality to your site.
The downside is there is no it does not any built-in drag & drop design-builder features. You can use outsource WordPress page builder services like beaver builder, but it adds to your cost. In addition, the second one downside is that – it comes with a learning curve and needs more hands to manage your site. Here you will also need to signup for a merchant account or its similar services such as Paypal or Stripe.
Basically, with WooCommerce you need to complete the following things, elaborated are as follows;
Thereafter taken care of these mentioned above things you can install WooCommerce WordPress plugin and start your online store.
You can make somewhat easier yourself by choosing the best WordPress hosting company that will take care of your WordPress installation and domain, just leaving the WooCommerce part for you.
If we come to design, it does not come with any own actual design. It's designed section depends on your WordPress theme. The best is WooCommerce supports all themes available in the market, you can choose your theme as per your choice.
Shopify
Shopify is an entirely hosted and subscription-based e-commerce solution. Means to say, you will not need to install, update, and manage anything. Further, when we come to the performance, security, backups, and compatibility issues, etc, so it is one of the best solutions.
Once you sign up, it helps you to choose a design and to add products. With Shopify, Managing products, inventory, sales are very easy because it has an intuitive drag and drop interface option.
You don't have to go to different dashboard areas to set things such as images, stock levels, name, price and much more because in Shopify all product parameters available from a single panel.
More so when you run your store – you can access each & every important option from dashboard sidebar.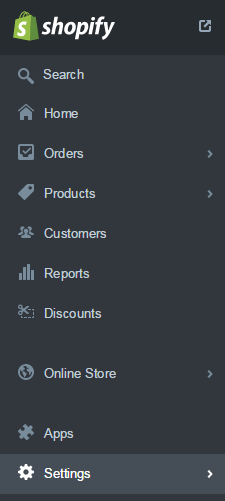 There is one downside is it limits your control. Means you can use only Shopify's tools or add-ons that are available in their marketplace. For most of the users, Shopify has a lot of themes and extensions to start an online store.
Shown below image illustrating "new product" screen: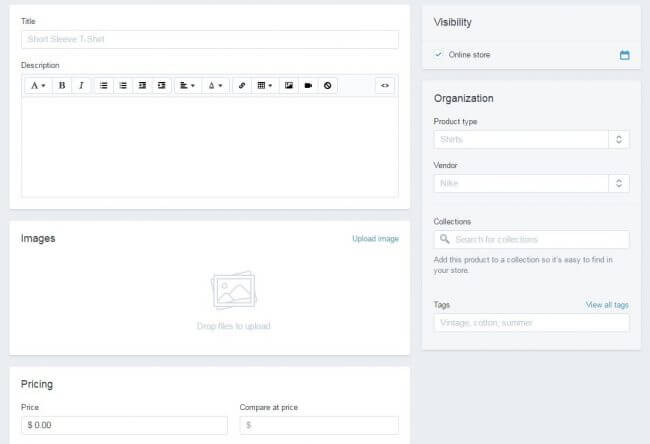 Finally, with the ease of use perspective, we can say WooCommerce is a more difficult software in comparison to Shopify – single click sign up button.
Overall Winner: Shopify
How WooCommerce and Shopify does design?
WooCommerce
WooThemes, know the importance of design whereas it comes to e-commerce. Hence, the theme selection is certainly rich when it comes to WooCommerce compatibility. But the great thing about this plugin is that it can be integrated into any WordPress theme.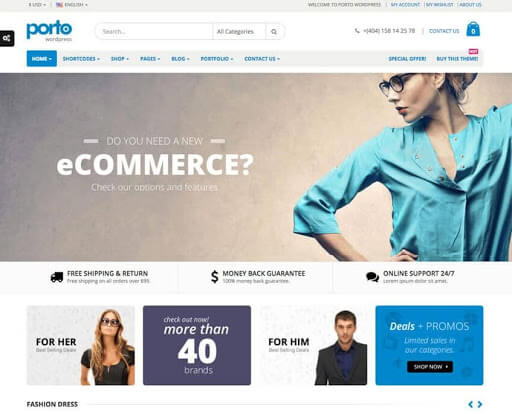 WooCommerce theme offered by Envato Market. It is optimized specially for the plugin itself. Therefore, offers sufficient useful features like integration with MailChimp, eye-catching sliders, zoom in options, responsive design, etc.
The design of the e-commerce store is most important for you, we recommend choose the theme that specially made for WooCommerce.
Shopify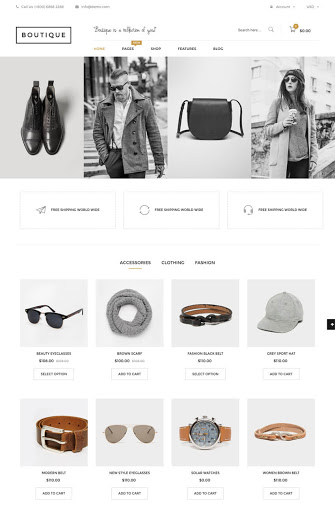 Shopify provides a good selection of themes to get you started. It is not feature-rich as some of the third party. Shopify offers some theme are free and some are paid ranging from $100 to $180, also they all are mobile responsive. If you want more features or if your store is not included. Envato Market has an impressive selection of affordable and popular Shopify themes.
However, Shopify does not design in-house, they use outsourced service for designs like a professional group of web designers. This is a good approach because you will get creativity from various companies and people that is good for you to make a better selection.
However, many webmasters choose the same theme by looking the instant attraction of Shopify designs. The best is you can change Shopify change easily, also, you can adjust styles, colors, etc.
Overall Winner: WooCommerce, because WooCommerce has more advantage in comparison to Shopify. However, Shopify has beautiful themes but they are limited. While WooCommerce is opensource that's why many developers give them different themes for different purposes.
How both of platforms help you to sell?
WooCommerce
As an open source software, it provides many features for free in the core plugin. And if you want to extend your online store likely, you will unwilling wind up looking for its extension.
The add-on store provides sufficient interesting choices which permit you to scale up such as: integrating your store with MailChimp, creating recurring subscriptions, automatically record sales in QuickBooks, selling on Facebook. The range of add-ons is from free to paid. Paid add-ons ranging from $29 to $200.
In sell perspective, you will find the following features in WooCommerce;
Numerous product and its categories
Stock level control
Mobile responsive structure
Complete control on your data
Payments by Stripe and PayPal
You can sell digital product, physical products
It is good for affiliate marketing
Works with most WordPress themes
A lot of plugins available
Free Facebook ads and Facebook store extension
Shopify
It provides a good selection of free features, not similar to WooCommerce which requires paid add-ons. Discount codes, a cart recovery system, the ability to offer gift cards, product import via CSV files, and Facebook selling etc. are included in its features.
Similar to WooCommerce, Shopify provides different add-ons which give you extra capabilities like tracking deliveries, QuickBooks integration, cross-selling and more.
In sell perspective, you will find the following features in Shopify;
Limitless file storage
Limitless product
Automatic fraud analysis
Manual order creation
Blog module
Discount codes
Free SSL certificate
M-commerce optimization
Credit card payments
Added Oberlo integration
Editable CSS and HTML
Facebook selling module
Number of languages
Manageable shipping rates and taxes
Drop shipping capabilities
Clients profiles
SEO ready website structure
Individual product reviews
Backups on a regular basis
Limitless traffic to your store
Digital and physical products
Website stats and product reports
Importing product via CSV files
Gift cards
Abandoned Cart recovery
Print Orders
Overall Winner: Tie
Price & Cost: WooCommerce vs Shopify
| | | | | | |
| --- | --- | --- | --- | --- | --- |
| | Software | Hosting | Subdomain | SSL Certificate | Top-Level domain |
| WooCommerce | $0 | $5-100/month (via 3rd party) | N/A | $100+/year (via 3rd party) | $9+/year (via 3rd party) |
| Shopify | S29/month | | | Included for free | $9/year |
WooCommerce
It is a free plugin, their costs are attached along with it. You will require a WordPress website, means you have to purchase your own domain name and set up a hosting plan. Further, the cost will vary depending on your hosting plan and the add-ons you select to improve your store.
Shopify
Shopify provides three pricing level, the lowest plan being $29 and the highest/most expensive plan being $299. It has also a medium plan $79 and a basic plan $9 strictly selling on Facebook. It offers a 14-day free trial so you can test the e-commerce platform before deciding if it is the right choice for you.
All the plans include many products and bandwidth, fraud analysis, a blog, and a free SSL certificate. You can connect your existing domain name to it and the domain name can be purchased directly from Shopify.
Integration and Add-ons: WooCommerce vs Shopify
How strong an e-commerce solution is? That's thing does not matter! You will always require third-party tools & extension to improve your online store. For instance, analytics tools, email marketing software, lead generation tools, outreach services, and much more.
Both WooCommerce and Shopify integrate with many third-party services and have a lot of add-ons and extensions.
WooCommerce
Being an open source platform it comes with more than 55,000 free and paid WordPress plugins. These plugins and add-ons can perform multi-tasks like SEO, performance optimization, payment gateways, lead generation, etc.
If seen, it has many more integrations and add-ons than Shopify. However, Most third-party's tools and services providers have their own plugins for the integration of the WooCommerce store. In addition, customization is very easy.
Here it allows outsource services, means, you can hire a WordPress support developer to create a plugin or integration.
Shopify
While Shopify has a powerful API and an App store – here there are a lot of third-party add-ons available to purchase. Further, there are also a lot of apps in the store that covers each & every feature that you want to add to your e-commerce store.
Fast forward, when it comes to lead generation process, they integrated with software named OptinMonster that assist you to improve your reduce cart abandonment and email list. They provide apps for product reviews, discount, countdowns, SEO, etc.
The app store provides both free and paid apps. Basically, free apps are created by third-party services on their own price. And the premium add-ons depend on the monthly subscription.
Overall Winner: WooCommerce
Drop shipping: WooCommerce vs Shopify
Dropshipping basically makes the work easy by allowing the e-commerce stores to fill orders directly from a wholesaler or the manufacturer. This means that the owner of the online store won't need to store products or worry about shipping. They can simply transfer the orders to the drop shipping supplier, who further manages all the inventory and logistics.
We have shared some benefits-cum-differences on different parameters that you should consider when choosing an e-commerce platform for your dropshipping business.
WooCommerce: Here this platform wins the race. For instance, if you run five different stores all based on drop shipping business then compare, then the hosting price for WooCommerce will be $50 only,
Shopify: Whereas it will cost $145 if you are running drop shipping using Shopify.
WooCommerce: You can set up in 15minutes only if you do it by managed e-commerce hosting, otherwise it depends on your expertise. To set up more than one Shopify drop shipping store, you have to start from scratch and create a store again. Whereas with WooCommerce you just have to install a Duplicator Plugin to replicate your store.
Shopify: Talking about Shopify it is far easy to set up. It only takes around 30-40 minutes to create an online store for your drop shipping business.
WooCommerce: It offers hundreds of thousands of themes for our e-commerce store where the best part is that many of the themes are free and fully customizable to complete your dropshipping store requirement.
Shopify: We have 60+ themes in Shopify for drop shipping which is considered to be good. But the disadvantage is that it provides only 10 themes which are free to use.
WooCommerce: It has more than 75000 extensions to choose from and most of them are free.
Shopify: There is an App Marketplace in Shopify having around 1200 apps where the majority of them are paid with a free trial, you can purchase the plugin and make your store look better and smarter.
Fees Payment Options : WooCommerce vs Shopify
To sell your products online, you need to give enough payment choices to your users to make it more efficient. Both the e-commerce sites, WooCommerce and Shopify offers you a choice of over 100 payment gateways. These are either in-built or added through integrations. The main ones are:
Stripe

PayPal

Credit and debit cards

Apple Pay

Square
Different payment gateways come with different transaction fees. Make sure you check first before choosing.
For example, Shopify charges 2% per transaction if you use a third-party gateway. This can be reduced by upgrading to a more advanced Shopify plan. Or you may even get rid of them completely by using Shopify Payments – the company's own option.
One big advantage of WooCommerce is that it doesn't charge any transaction fees. Though the bank charges and charges due to the payment provider (like PayPal) will still apply. When you are willing to sell a large volume of products, it might make sense at that point. It also seems appealing the to sellers who want to choose their own merchant account.
While there is a little different case in Shopify Payments. Bear in mind, integrating new payment providers with WooCommerce can cost over $70, for example, Authorize.net. Shopify may include these options as a standard option of your Shopify plan.
Scalability: WooCommerce vs Shopify
WooCommerce
It gives you the responsibility to maintain updates, security, and backup of your site. The best is, with WooCommerce you have a lot of options to manage growth because you are in full control of your site.
Furthermore, when your store starts getting more traffic, then your starter hosting plan would run out of resources. And to upgrade your hosting plan to more powerful servers, start the better management of resources.
However, you will get better control on resources after increases your WooCommerce hosting costs. Remember that here you will not paying for resources that you don't require. However, you can use a managed WordPress hosting provider such as LiquiedWeb and WP Engine to measure your online business.
Regardless of control that WooCommerce provides, some business owners simply prefer a problem-free solution.
Shopify
With you never don't worry about security, performance, and scalability because it controls the entire store's technical part itself. You can upgrade your Shopify plans once your business starting grow.
Without having to worry about security, updates, downtimes, and backups, their infrastructure can control your growing business easily.
It removes the difficult part of the growth, but it also adds the cost of business. Means to say, your expenses will increase, and accordingly, you will need to plan. The best is here you don't need to hire a technical team.
Support option: WooCommerce vs Shopify
Both platforms are extremely easy to use. But sometimes when you want to do something new on your store, you may need help. Let's see which platform provide better support option.
WooCommerce
Being a world famous e-commerce platform, it provides a lot of support options when you need. Further, it also provides support forums where you can take help from WooCommerce experts and users.
Moreover, here your hosting provider provides support for errors or issues with your server because this is a self-hosted platform. Also, for WooCommerce themes and extension, developers provide support for their products. Finally, we can say that it is extremely easy and cheaper to find developers that help you to resolve errors.
Shopify
Shopify is a completely hosted platform. Means, we can say that they control the software entirely. It provides 24/7 support via email, live chat, phone, and Twitter. Not only this but, it offers extensive documentation, knowledge-base, video tutorials, how-to guides, and forums for the users who want to fix issues or errors on your own.
Furthermore, if you want additional help or integrate a third-party solution, you can hire Shopify experts from the directory of this platform. Likewise WooCommerce, it does not provide any third-party support.
Build Time: WooCommerce vs Shopify
Well, if you are looking to build a powerful and well equipped online store. But still, if you want to get the things to work quickly? Or if you are ready to invest a bit of time to have greater control? Therefore in a core, Shopify will allow you to get your online store live more quickly than WooCommerce.
WooCommerce
WooCommerce is more suited to those users who are not looking to gain volumes of sales immediately. Therefore building online stores on this platform is more of a creative project than it is on Shopify. Because you will have a lot of creative control, and you can make the website truly your own.
Basically, it is one of the handy services that can save you time, when setting up a store with the WooCommerce. However, the WooCommerce plans include the hosting, round-the-clock support, and one-click WordPress installation, .
Although the WooCommerce's setup wizard covers the basics. But it does not answer the more complicated questions. However, it assumes a higher level of tech know-how from users and leaves you on your own at times.
Shopify
Although if you are starting from scratch or have limited technical skills, Shopify is the best option. Getting your store 'live' is far quicker and easier. You have your handheld as you set up your store, and can give it a look and feel by choosing and editing themes.
Unlike setting up a store with WordPress, the process is not manual, while Shopify stores everything you need in one place. Although we recommend Shopify if you are just starting out selling online, and want to build your online presence quickly. It's a platform that combines powerful e-commerce features with a quick setup process.
The Verdict
Well, it is another win for Shopify, because Its key features are in-built, its themes just need to be populated with your content. Also, it is very easy to use. However, if you are building an online store from scratch then the set-up time with Shopify is a lot quicker than WooCommerce.
Plugins and Integrations: WooCommerce vs Shopify
Installing apps or plugins enables you to add more strings to your e-commerce bow. On both platforms, you can install apps to add extra functionality in all areas of your business, including shipping, SEO, and marketing. But which one has the better choice of apps?
WooCommerce
As an open-source platform, WooCommerce relies heavily on plugins. There are over 50,000 to choose from, allowing you to build a bespoke website without any limitations. Indeed, WooCommerce scored 5/5 in our apps and plugins research.
Shopify
Shopify has over 1,200 free and paid apps that are all reliable. However, if you're unsure of which app to install, always check the star rating or user reviews.
The Verdict: WooCommerce outperforms Shopify in the app department. WooCommerce is open-source software, which means it relies on plugins for the majority of its features. Unsurprisingly, this is why WooCommerce does so well in this section.
Overall winner: Shopify
Let's take a closer look at each of these platforms and see What they have to offer. So you can select the better platform for your online business.
Which platform should you choose?(Pros and Cons)
Both platforms have their own set of Pros (advantages) and Cons (disadvantages). This will help you find the best platform for your new store. Let's see
WooCommerce – Pros
It is an open-source platform, where the code is already available. Thus we can say that the customization possibilities with this are inexhaustible. Your store will have a real personality.

It offers specific mobile-responsive stylish WordPress themes. Moreover, it consists of never-ending design options as WordPress themes work with this e-commerce solution, where you have a huge selection to choose from.

This e-commerce store gives you everything you need to harness the power of Search Engine Optimization and dominate the Google rankings. Further, it has access to the WordPress blogging infrastructure and possesses an ability to dig deep and edit your store's metadata.

This is a very secure platform. Also, it is regularly updated to take away your worry about

security issues

,

and bugs.
WooCommerce – Cons
You need to have an SSL certificate to ensure your website is secure, for that you have to purchase it separately.

You require to start from scratch, first, you need to sign up for hosting separately, then install it and set it up.

It doesn't provide customer support, you need to ask on forums or submit tickets when you have an issue.

It keeps the WordPress plugin up to date with your current browsers. At the same time, this platform fails to meet the updates. In case you can run some plugin

tags

as usually.
If you have already set up the WordPress platform, this platform is a good choice for you. However, installation of this platform is easy than another platform. As long as you are familiar with WordPress, it should not be a problem.
Shopify – Pros
It comes with a free SSL certificate. It possesses better SEO capabilities than WooCommerce, most notably the page loading times.

Free hosting means your store can be up and running as soon as you sign up for Shopify and start adding your products.

It takes care of the technical maintenance of running a store for you.

The

admin area

is modern-looking, flexible, easy to use, and very intuitive. It includes social media promotion and sharing which helps with both website promotion and product.

Shopify is a scalable e-commerce platform, it won't crash even under the increased traffic and sales volume. Whatever Shopify plan you take it includes hosting, as well as the necessary security certificates.

It provides 24/7 quality support, which is one of its unique selling in the level of its customer support. Where the agents are helpful, responds quickly and are effective at resolving issues.
Shopify – Cons
It does not offer more than their three default product.

To make any serious changes in your Shopify store, to need to know the company's own coding language – liquid. Which requires some technical skill on your part to customize your e-commerce store extensively.

Its features a friendly design, but for that, you need to walk through the process.
Wrapping Up
Hence, WooCommerce and Shopify are the close e-commerce platform comparison. Both are the best options for setting up your online store in a quick and efficient way. When we talk with our clients, we recommend WooCommerce because it is a fully featured platform. But users can choose as per their need and budgets. We hope this blog helped you in choosing the best platform for your e-commerce store.
We provide professional WordPress Website Maintenance Service to our Customer. Get the instant Support by talking to our WordPress Experts dial +1-855-945-3219 Toll-Free).
Read More Blogs