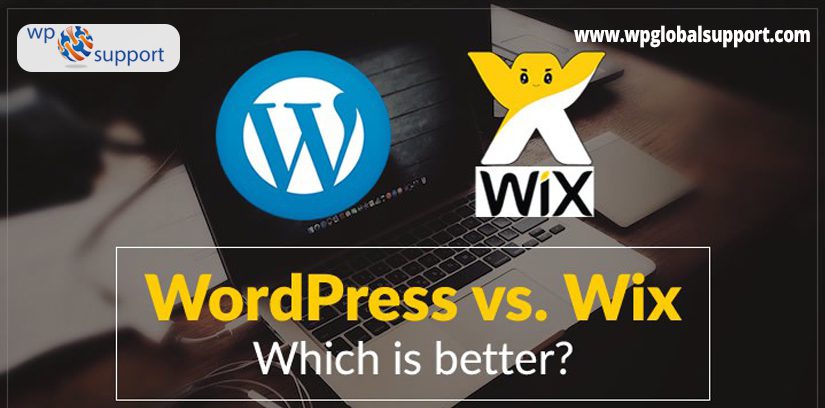 Wix vs WordPress is not an easy option to choose, to build your online business. If you are excited to build a website, then there are a lot of solution published on the web which you can choose according to your need and the type of website you are willing to make.
The most compatible and feasible nowadays are Wix and WordPress which are gaining a lot of popularity in the market. These prove out to be good for who are don't have previous experience in building a website. However, both are good platform to build an online business, but the differences both of them are impartially notable.
Both – Wix and WordPress has its own distinct features that help you to choose which one is better for you. Though the Wix is new in the market in comparison to WordPress (blogging platform), it goes easy with amateurs while WordPress came a bit before, it is more popular in the world and more of nerds-friendly (those who loves coding). People often confuse while choosing CMS (Content Management System) for best site-building. Both are likable by people, as well as try their high level of demonstration of CMS. Wix is getting popular through its online social marketing like Wix TV as well as YouTube commercials and many more.
In this blog, we will be describing Wix and WordPress in detail as well as their differences by concentrating on the pros and cons of each. This article will help you understand which platform will stand better for you.
Refer table of content to reach out your preferred topic in a wink in this long blog.
WordPress vs Wix: An Overview
WordPress
No doubt, WordPress is one of the most popular, huge, and open-source platform. Its limitless functionality allows you to use and modify its codes. Means to say, any coder, programmer, or developer can create their own themes and plugins using WordPress.
In accordance with research, as of 2018, WordPress powered approximately 33.3% sites of all over the internet – and also continuously growing. Despite being so large platform, it also may have a potential problem. As we have discussed above anyone who has a bit coding knowledge can create WordPress theme and plugin – which is quite difficult task.
Note that all these tools are not good in quality – some of them can be good and some junk. Fast forward, no doubt, WordPress is a huge community provide a lot of features and functionality that's why it's impossible to have all good quality things.
The basic metrics:
WordPress is an all-in-one packaged website software. It is similar to how macOS or Windows runs your laptop, WordPress runs your website. It acts as a background editor that makes sure that you can easily configure your website, edit and publish your content.

One can only install WordPress on a web server. One of the easiest ways of getting access to a web server is buying web server space from a hosting company where the prices of web servers start from around $5 a month.

Depending on the hosting company that you choose, you may require to install WordPress on the server yourself, or even the hosting company might be able to do that for you. (The hosting company always recommends to give you access to a 1-click WordPress install).

After that, there comes WordPress theme and some WordPress plugins, which you have to install as well. This is how you can obtain a custom design for your website and also some additional functionality. There are around thousands of themes and plugins available on the web, both free and paid as per your requirement.

To take full advantage of WordPress offers, some website building skills are required too. The plugin and theme setup can get complicated where you may require to do some coding at times. Depending on your adjustment and seriousness toward your site, you might even have to write custom code or build custom design elements. That's why you may even require to hire a designer or a developer.

WordPress itself is

completely free and an open-source where you can have access to all the components you need to build your website for free. Things that aren't free are your domain name and web hosting. The former is usually $10 a year, and the latter, as I mentioned above, usually starts at $5 a month.

WordPress is a state-of-the-art software. It has all the website management features one needs for their website. It's currently being used by nearly 30% of the entire population on the internet.

While you may get access to a dedicated WordPress community, there's no single entity that provides customer support by default.
How to use WordPress?
There are two sides to WordPress' usability:
A)

Installing

WordPress at first place and creating a bare-bones website,

B)

Managing

the website later on.
A) As we have mentioned, getting started with WordPress can be a bit difficult for beginners. The fact that you can't get everything in one place and that you first need to obtain a domain name and web hosting actually introduces some complexity to the whole process. Even though it can surely be intimidating, there's nothing you can't learn in an hour.
Once you install the software, you need to pick a design – select a theme that you want to use on your website. There are thousands of themes available. If you're lucky enough, you'll find something that matches your preference. The setting up a specific theme depends on that theme itself. It's not a mandate, but in general – it's relatively easy to handle.
Shown below image illustrate you how you install new themes: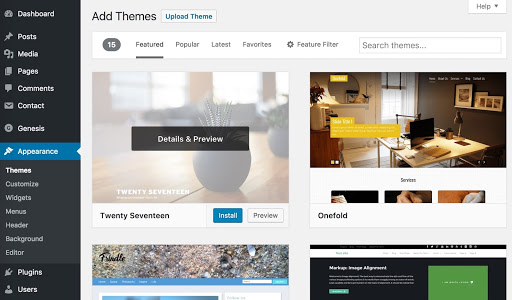 B) Managing your website is more than WordPress is extremely well-designed when it comes to its user panel and the way it handles creating, tweaking, and publishing content. And that's necessary since WordPress is a blogging platform – no wonder it's good at taking care of the content.
Here's how the main WordPress dashboard looks like: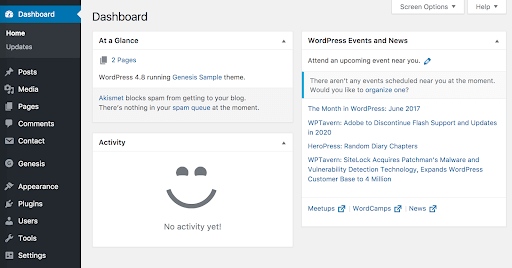 Here's how the content editing screen looks like in WordPress: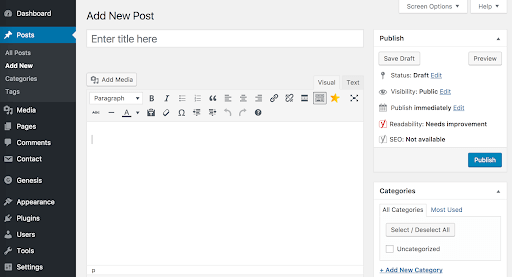 When should you use WordPress?
Use WordPress when you want to build your website on a particular budget. Even though there's a need to pay for the domain name and hosting, WordPress is still the most affordable solution in the long run on the list.

Use WordPress if "servers" and "domains" and "software" all these things don't scare to you and only if you're willing to have a peek into some source code every once in a while.

When you want to have full control of your website – this includes not having to deal with anyone limiting the way you manage your website, the designs you use, or the features that you have on your website.

Use WordPress if don't actually require customer support all the time and it isn't a problem for you. Note that you still can get WordPress customer support with your web host, but they probably won't be able to help you outside of the hosting-related issues.
Wix

Wix is also a popular and self-contained tool to create a site. But it is not an open-source platform, therefore, it does not allow you to use and modify its codes. We can say that – only Wix developers team can produce website building tools.
Fast forward, Wix is also growing their Apps Market so that users can add many more functionalities and features to their Wix site (You don't need to worry about installation because these apps are completely integrated.)
The basics
Wix is a one-stop, fully-featured as well as a self-contained website building tool. It allows you to build a fully-operational website or e-commerce store from scratch. It acts as both, operating system of your website as well as the webserver that houses the software.

There is no requirement of third-party servers you may get it all in just one place – Wix.com. It's not necessary to pay for a custom domain name, you also get a free subdomain that you can use. This will look like this:your-username.wix.com

Wix lets you start building your website right after you sign up for a Wix.com account. You won't have to deal with the technical setup.

It gives you access to more than 500 website designs that you can apply. They can all be enabled with one click. You can also find the Wix App Market that offers add-ons that lets you expand on your website's default functionality. Many of them are free though, but there are some paid options as well – particularly for online store modules or form builders.

No coding or website development skills are required to use Wix.

Wix offers a free plan, but it has got some limitations too. There are also paid plans, spanning from $5 to $25 a month.

Wix gives you the complete package that is needed to launch a functional website or online store. There's nothing more than you need to get or install on top of what you get at Wix.com. It's getting very popular, with more than 100 million people using it already despite it being very new in the market.

They provide 24/7 support, whatever problem you might have, Wix.com guys always solve your issues regarding the same.
How to use Wix?
The "Wix experience" is very friendly and easy to grasp, from the user's point of view.
If we compare, when you deal with WordPress, your experience is somewhat separated into two different aspects. Where at first you need to handle the installation of the platform itself. Only then you can actually start working on customizing your website and publishing content. With Wix, everything is in one place and you do it at once, which makes it a lot easier.
After you sign up, Wix is only going to ask you about the purpose of your website.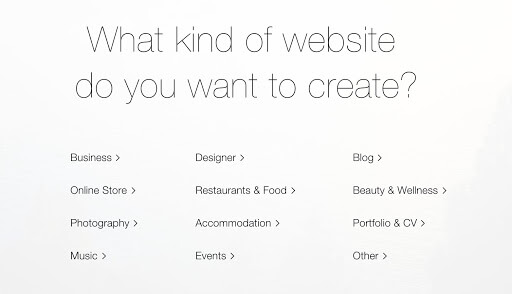 This is meant to help you get started by filtering the most optimized design and set of features compatible with your website. For instance, if you want to build an architectural portfolio, Wix will guide you through the options and filter out only those designs for you that suits best to your website.
Once you select a design of your choice, you can have access to the main site builder tool. You can just drag and drop as laying out website elements is very intuitive.
While working on your website, you can also install new apps from the Wix App Market, upload your media files (images, videos), or enable the e-commerce store module.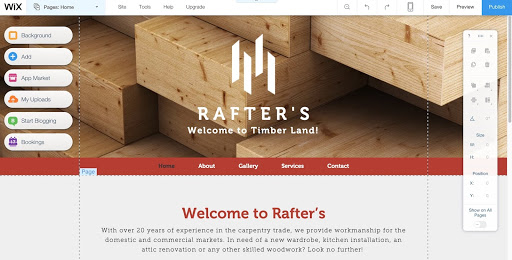 Interestingly, In the same way, Wix also has its own module for running a blog – which gets into WordPress' main territory.
When should you use Wix?
Wix if recommended when you want to build a website for free. And more specifically if this is non-negotiable.

When you want to build an e-commerce store in a few simple steps, without having to deal with external plugins or difficult setups that need coding. Wix has an e-commerce module integrated as well making it easy for you.

If you're not website-savvy and you'd not prefer to deal with servers, hosting, and domain names.

When your interest doesn't lies and coding and you just want to have a website built now and want to do it yourself.

If you don't mind your website, not in full control of yours (the issue mentioned above).

When you require customer support to help you out in case of any problem.
| | | |
| --- | --- | --- |
| Wix vs WordPress | Wix | WordPress |
| Flexibility | Limited customizability – but all functions & features are closely monitored, controlled, and tested. | Very customizable & flexible – but in case of broken plugins or tools, it may be problematic. |
| Ease of use | comes with drag & drop website builder. No need of technical knowledge. | Not beginner-friendly, and does not have drag & drop features. It requires some technical knowledge. |
| Cost and Pricing | comes with 5 premium plans – starts from $5/month to $25/month. Also, it offers a free plan for you but with several limitations. | comes with free as well as paid versions. Premium versions starts from $200 to $15,000 (depending on factors like themes, plugins, hosting, help, etc.) |
| Customer Support | Provides help via phone or email. And also it has a dedicated Wix support team for you. | come with a large community forum, but there is no official support. You will have to hire developers. |
| Ongoing Maintenance | It does not allow external developers to open platform, they control the whole site and manage all updates on your own. | Here you are responsible to maintain your site. On updating themes or plugins you need frequent maintenance and monitoring. |
| SEO | Wix performs well, you can change page titles, attributes, meta tag, etc, but in its free plan, a custom domain is not included. | it has several options but it offers more features with the help of plugins and tools. |
| Design and Layout | it has inbuilt tool that allows you to design your site as per your liking. | You can design your site with the help of WordPress theme |
| Plugins and Apps | provides their apps to use on your site. | there are thousands of plugins and themes that you can find in the free directory of WordPress. |
| Blogging | Wix comes with all basic features and functionalities of blogging that you need. But it does not provide any native commenting system | WordPress was initially launched as a blogging platform. It is full of blogging featured that you require to start blogging. |
Comparison between Wix vs WordPress in detail
Flexibility: Wix Vs WordPress
Wix: Even though you can start with Wix for free, the platform isn't an open-source and it doesn't give you access to everything. In fact, Wix can only be used in the way the author intended it to be.
You have to use the default features available in it, you can't install new features or third-party themes on your own – something that's possible in WordPress. Basically, if you can't find something in the Wix user panel, it can't be done.
Wix has total control on your website and in some extreme cases can get it offline if they feel that the website violates their terms of service anyway.
On the other hand, it eases the use when launching your website with Wix is truly impressive. There's a very little learning curve, coding skills are not required, and basically, anyone can use it to build a website or an e-commerce store on their own.
Coming to the type of websites you can build through Wix, the platform doesn't limit you in any remarkable way. There are a lot of categories to select from while you signing up for a Wix account that includes business, music, online store, photography, video, restaurant and foods, portfolio and CV, events, and what not.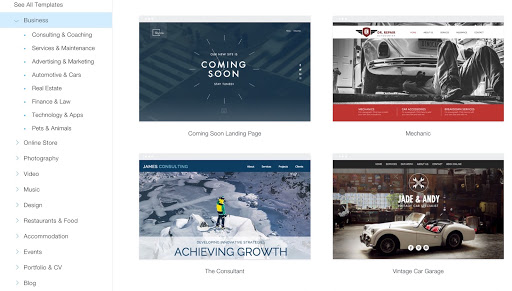 You may check out Wix's own gallery of websites built with the platform to get a slight idea of what people have created using Wix.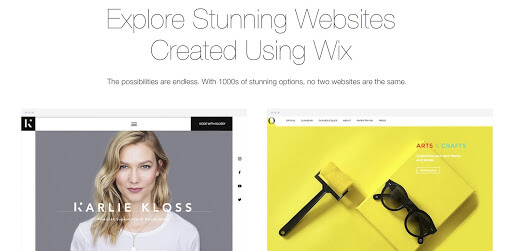 WordPress: Being an open source means that anyone can build a plugin or a theme that will extend the platform's native functionality. Many people do that.
For example, the official directory of plugins at WordPress.org offers more than 51,000 plugins to install at the time of writing.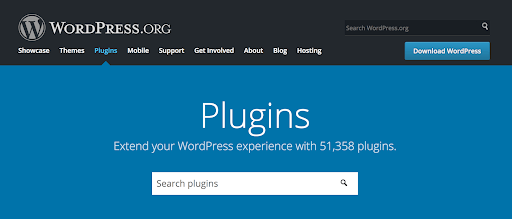 What this simply means is that if you need any feature at all, there are higher chances that someone has already built a plugin that makes it available. And what's more, that plugin is probably free.
There are nearly 30% of all websites made using WordPress – which is perhaps the main evidence of its versatility. Well-known brands like BBC or Time, famous artists like Beyonce or The Rolling Stones all use WordPress. Many online stores, portfolios, blogs, magazine websites, membership websites, business-card sites – you just name it – WordPress can run everything.
Winner: WordPress is more flexible than Wix.
Easy to use
Most online entrepreneurs choose a platform that they could handle easily. Means they don't want to hire a designer or developers. Fortunately, both Wix and WordPress are the platforms that require a little bit coding knowledge to create a site. Let's see;
Wix:
Today, Wix is very simple for website builders. But it is not an open source. Don't think about what you have in your mind. It has the visual interface is so instinctive. It has drag and drops feature, so you can put and drag your content anywhere you want, without disturbing your lines of code.
Wix will build a site very quickly and publish it, even you don't have any idea about how to make a website.
Also, there are two main drawbacks of Wix. First one is, it will add advertisements on the top and bottom in your website of it. And the second one is, you could not use the customized domain for your website.
It will don't provide needed add-ons such as Analytics, eCommerce, Favicons, etc. Forgetting extra feature and to remove ads, you need to upgrade premium charges for them.
WordPress:
It is challenging to use than Wix. It is also an open source software which is easily available. In this, you need your own domain and hosting to install it on your computer. WordPress doesn't have drag and drop feature, so for placing any content on the website it depends on how you are using set up of your template.
It provides a visual editor for writing contents and also a theme customizer that lets you edit your theme properties in a WYSIWYG environment. But it does not provide inbuilt drag and drop page builder feature by default.
For doing any changes in your website, you need to modify your codes in the template. But WordPress is a strong platform, if you will be capable to use it nicely, for gaining whatever you want, you need to change your code. If you have much experience in coding then WordPress will give an additional feature to your site than Wix.
Winner: Here Wix is the overall winner. Because with WordPress you have to learn basic information before start creating a site.
Cost and Price: Wix vs WordPress
Pricing and costs play an important role while choosing a website builder. However, developing and maintaining your site costs completely vary on your requirements. Let's compare which one suits your budget;
Wix:
Wix can be used entirely for free, but there will be certain limitations. If you get the Wix free, it will provide you with:
Free subdomain for your website, and an address with this template given below:

your-username.wix.com/sitename/page-url

Free hosting plan, you get 500 MB of storage space and bandwidth monthly. This is not much but okay enough to get you started.

Wix's branding is on your site, all free sites display Wix's logo somewhere.

Access to the Wix App Market.

Access to the Wix Help Center.
If you have a small budget to spare, here are the plans are given below: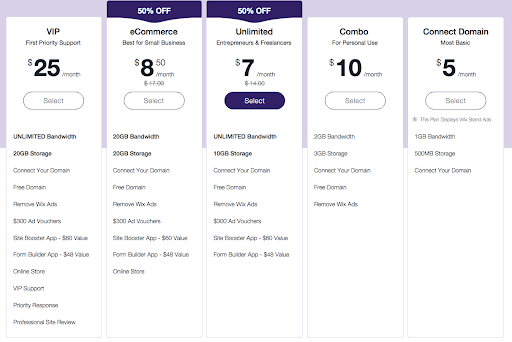 The

Connect Domain

– allows you to use a custom domain name instead of the free subdomain.

The most sensible option if you want to build a business website is the one labeled

Unlimited

(at $14 a month normally, or $7 a month if you're lucky and get the 50% discount). This plan provides you unlimited bandwidth, removes Wix branding/ads, and lets you connect a custom domain name.
About that custom domain name – it depends that if you sign up to one of the Wix's premium plans, you get your domain name for free for the first year. After that, the domain will cost you around $15 annually. That says that you can still get your domain from elsewhere and hook it up to Wix if you want to i.e you can use a domain that you already own.
If you are lucky to get the $7 discount plan, this makes it $84 for the first year. Starting from your second year, you also need to factor in the domain name, which grows your bill to $99 annually.

If you go for the normal $14 plan, this will make your first-year bill $168 and the second-year bill as $183.

The prices may vary depending on Wix's updates on packages that you choose.
For getting extra features and to remove ads, you need to upgrade additional premium charges for them. Every premium plan having another storage and bandwidth limitations. It doesn't contain any apps on your Wix website for choosing later. It has a free primary website builder.
Wix is having 5 premium plans, in between $4.50 to $24.50 per month. Still, you can use the Wix for free, but it will show a Wix advertisement on your site. You can remove it by increasing your premium plan. The top plan will provide more tools than others.
This plan will include drag and drop feature for website building interface (no need to write code). You can choose from over 500 templates and hosting services. For accessing the extraordinary feature, you need to sign up to their VIP plan. Wix is provided with all exclusive packages and services which is needed for website building.
Note that any apps are not included in this cost, you have to but from Wix app market to boost your site functionality.
WordPress:
While WordPress itself is completely free, you may need some additional components to build a fully functional and attractive website.
On adding all the above figures we should have around $70 a year to run the WordPress website (domain + hosting). If you want a premium theme, the cost grows can reach up to $110 or more.
If you are thinking to use WordPress themes or plugins then it will increase the cost of its site. However, there are also so many free WordPress themes and plugins that are available to use. You can append any feature on your WordPress site by using these plugins without enhancing your plan.
For WordPress, you need to pay your own hosting services which are around $7 per month. It differs according to WordPress hosting provider. (Bluehost is a popular WordPress hosting services ).
If you are going to purchase a premium theme, anywhere it can take the cost to you from $30 – $80 per month. (It depends upon how valuable theme you are using).
Also, you need to purchase your own domain name(it will around $10 – $15 per year ). In the initial stage of using WordPress premium plugins, it can charge $139 t0 over $200.
Winner: From a costs perspective, with its flexible plans, WordPress is the best option than Wix. The costs vary on how much requirements you have, and you can use your WordPress site as per your choice.
Customer Support
Wix:
Wix has a large support center. There are over 262,000 topics posted in the official support forum and many prompts in the editor itself.
WordPress:
You'll have no issue with searching for WordPress experts. As there's a massive community of webmasters specializing in WordPress. But there's no official support staff. More so it also has a lot of WordPress tutorials to help you.
Winner: Wix, because WordPress does not provide official support.
Ongoing Maintenance
Wix:
With maintenance perspective, here Wix technical team do itself all updates that automatically install to your website. You don't have anything to do. This is a great benefit in case you don't have any technical knowledge and prefer to work on other vital things.
WordPress:
To improve its security and fix issues, WordPress always updating its platform. Whenever this happens, at the same time you need to update your WordPress site.
If you use a custom theme or plugin and the plugin or theme developers update their products, so you need to update them. If you don't, it can be a challenging task for you, and these tools may also harm your site performance.
SEO: Wix vs WordPress
Wix:
This is another area where Wix performs well as compared to the other best website builders. You can change the alt attributes, page titles and have a great choice over headings and more. Keep in a notice that the free plan doesn't allow a custom domain and this makes it a bit harder to rank in search engines. But there is just one disadvantage that images are named automatically when you upload them.
Wix automatically renames them with some cryptic names (such as d4cccb26731e9~mv2.png) which could effect image-based SEO websites like photography blogs. You can also customize blog posts URL, but not actually the whole thing so you sometimes end up with some links like "wixsite.com/mysite/single-post/My-Blog-Post".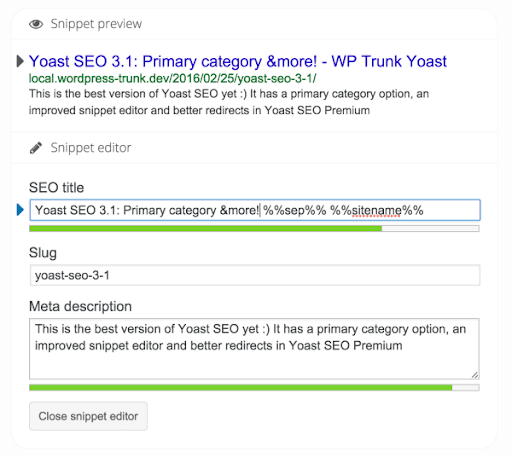 WordPress:
For WordPress, you have certain options that are out of the box, thus we highly recommend to add plugins for full SEO capabilities. For example, Yoast SEO is free and a very powerful tool for SEO and Google Analyticator as well can help with your Google Analytics integration.
Wix vs WordPress Seo capabilities
| | | |
| --- | --- | --- |
| Ranking Factor | Wix | WordPress |
| Page Title | Customizable for all pages | Customizable for all pages |
| Heading | Fully customizable | Fully customizable |
| Meta description | Customizable for all pages | Customizable through plugins |
| Image alt attribute | Customizable | Customizable |
| Customize URL | Customizable for all pages | Customizable for all pages |
| 301 Redirect | Available | Manage via plugin |
| Add Google Search Console | You need to see instruction on wix.com articles | Added manually or via plugins |
| Add Google Analytics | You need to see instruction on wix.com articles | Added manually or via plugins |
| SSL Encryption | Available in all plans | Need to configure externally |
Winner: With the plugins, WordPress offers more than Wix.
Design and Layout
Wix: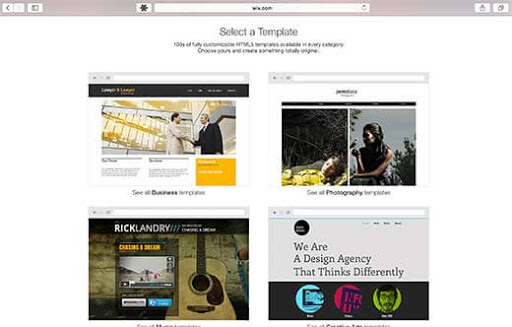 Anyone, you can select the lots of beautiful and fully customizable templates in over 70 categories. By using built-in tools, you can change the design, layout, and content of your site according to you. Here are many one-page templates (landing pages) and blank templates (With no content) that will describe the structure of your future site.
WordPress is having templates for any kind of site. These templates are divided into several categories like eCommerce, business, arts, hobbies, and crafts, personal, etc. One big drawback is that once you have selected any template, you can't switch the templates in the middle of the process.
WordPress: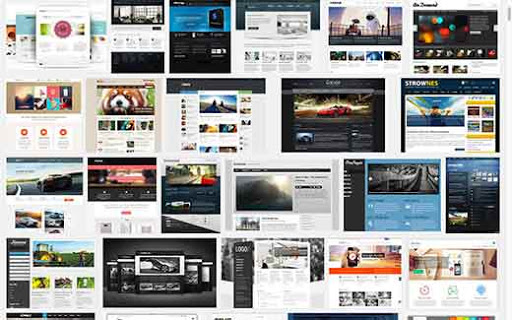 You can find WordPress Themes in the WordPress.org theme directory, it is the most formal place to get a theme and from individual theme shops and market. There are many free and paid templates themes. For doing changes in the WordPress theme, you need to read the code. Anytime, you can exchange the WordPress theme.
WordPress will not support WYSIWYG editing(but in Wix themes, it is possible to customize WYSIWYG editing environment).
If you don't have knowledge of HTML/CSS, it doesn't possible to get your wanted look.
WordPress is using simple personal sites to fully highlighted eCommerce sites. Max of these themes having their own built-in customization choice.
You can customize them by using your own child themes and plugins. WordPress is having more themes and layouts in comparison to Wix, which can be switched without any restrictions.
Winner: WordPress, because it offers themes and plugin for best designing of your site.
Plugins and Apps
Wix:
Wix comes with hundreds of apps and pretty templates themes which can be used on your site.
It covers all the big steps and makes your task very easy. So no need to worry about finding any template for your special site. These apps will give you lots of feature as the gallery, adding contact forms, email list, comments and so on.
Whether you are creating a simple site or an official site. Here all templates are flexible to use, you can edit or customize your site by your portable devices by using their special mobile editor.
In Wix, themes can be customized and you can use predefined effects.
But the major disadvantage is you can't switch any themes. Also, Wix won't give permission to edit the CSS code. Here most of the plugins and themes will take monthly payments. It has less number of plugins.
WordPress:
After all, there are thousands of plugins and themes that you can find in the free directory of WordPress, it is difficult to finish with the famous CMS. You will be able to apply in your site whatever creativity comes in your mind. Here, most plugins will be free.
However, if you are thinking to do any changes, possibly these things will already present in WordPress plugin which saves your time. Switching between Plugins and themes and briefly customize it is easy by using the default system for WordPress.
Export and import feature of WordPress will help to work with many sites as well. There are lots of themes and plugins either paid or free can be used on your site. For more information have a look at Top 8 WordPress Plugin for SEO.
Winner: WordPress is the winner because it has a huge library of plugins and themes while Wix's app library is growing but still it has limited.
Wix vs WordPress for blogging
Most users want to start blogging with an easier platform. But both Wix and WordPress can be easily used to start blogging. Let's see which one is easier;
Wix:
Wix comes with all basic features and functionalities of blogging that you need such as tags, categories, videos, photos, archives and much more. Means it also lets you add a blog section easily to your site.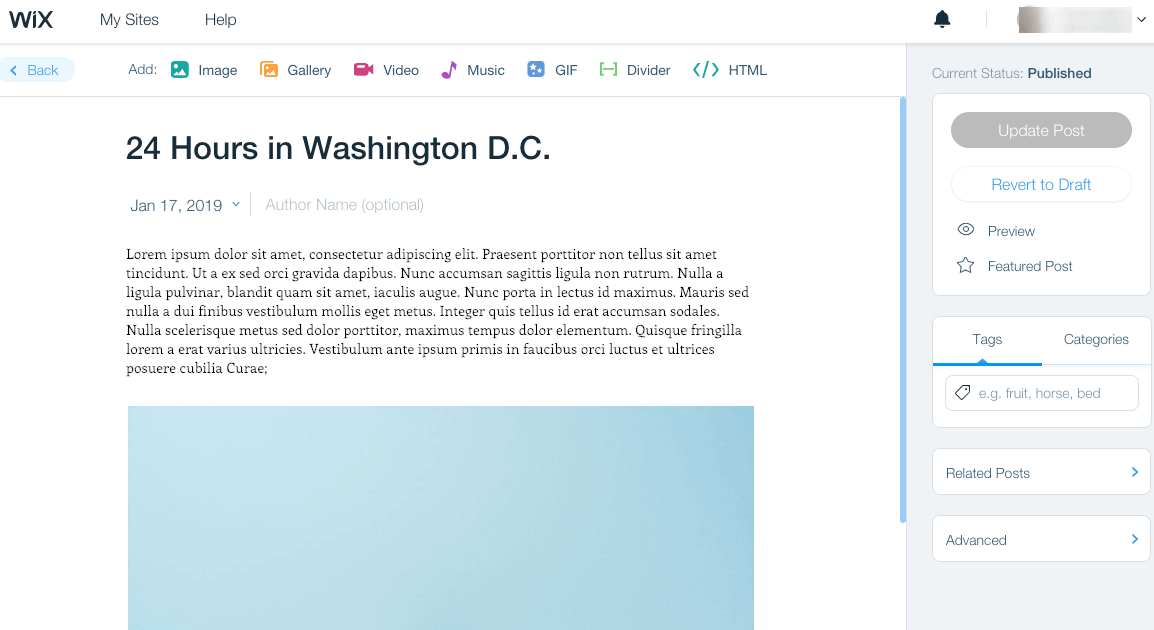 However, likewise WordPress, it does not provide any native commenting system, rather than it uses Facebook comments that are not portable.
It does not have several features like creating private post, featured images, backdating posts, and much more. It uses a plain text editor that has limited formatting options.
WordPress:
WordPress was initially launched as a blogging platform and completely developed into a website builder. And at present, it powers approximate 33.3% of all internet websites.
Fast forward, being the best blogging platform, it is full of blogging featured that you require to start blogging. Lately, in 2018 he has launched his powerful Gutenberg block editor allows users to create awesome designs and layout for your blog posts.
The best is by using plugins you can enlarge your blogs and add more features and functionalities.
Winner: WordPress is completely a blogging platform in comparison to Wix. Because Wix has not several important features that WordPress have. Finally, from the blogging perspective, WordPress is the best blogging platform.
E-commerce
Wix:
In the Wix Stores, without paying you can't run an online store. This means the user need to use their paid plan for building an eCommerce site. When you are going to build the online store, you will observe that only some third-party apps can help you.
Also, some of these third-party apps will take some dollars to you. Here, for accepting the payment on your site you need to use PayPal or Authorize.net. That means you are decreasing your clients day by day. WixStore is useful for very beginners path to manage the simple online store.
Also, there are only some third party apps that can be used for an online store. But, these apps will take more cost as monthly fees with having a limited number of payment gateways.
WordPress:
However, in WordPress, you can use your online store and run forward in a few minutes, by installing WooCommerce Plugin. You can select among their several strong eCommerce plugins which you can use to develop your online store.
It is beneficial for both beginners and professionals to use to run their online store. These plugins have their own faithful themes and these themes are made especially for work with these plugins. Here plugins are having their own addon plugins which can be used in any gateway.
Winner: If you are going to start an online store and want to the growth of it, so WordPress + WooCommerce setup has more freedom, flexibility, and choices in comparison to Wix.
Data portability: Wix vs WordPress
Data portability lets migrate your content whenever you want. Let's see which one is better to migrate your data;
Wix:
It offers a few options to migrate your data to another platform. It only allows you to export your data in XML format. You will have to download your images, videos, and other content manually. In accordance with Wix documentation, all your content can host especially on Wix's servers and cannot be exported elsewhere.
This makes it quite tough to migrate your data into another platform. But, still, you can migrate Wix site. For more have a look on migrating Wix to WordPress.
WordPress:
With one-click exporter, WordPress allows you to easily migrate your data and download it in XML format.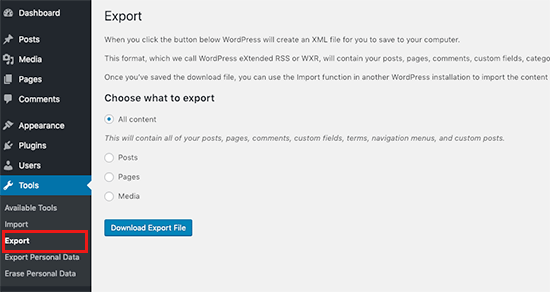 Being a self-hosted platform, it also allows you to create entire WordPress backup, download your media files, and export your WordPress database manually.
If you are not satisfied with your current hosting, so you can now migrate WordPress site to new host easily.
Winner: Here, clearly, WordPress is the overall winner because in the case of migrating and downloading your data WordPress offers more options, while Wix makes it bit difficult.
Overall Winner
Here we came to the conclusion that WordPress is more powerful than Wix. You require to learn a lot of HTML/CSS to succeed with this CMS. WordPress is the best decision if you're willing to spend your time and make an effort.
But on the other hand, Wix does all the heavy lifting for you, and the only efforts you need to put from your side are uploading your content and few customizations. It's easy and effective. Wix will help you if you don't need a simple five-page blog or a landing page, but a powerful website or e-store.
For any assistance contact to our WordPress Technical Support Team dial +1-855-945-3219 (Toll-Free). It will be our pleasure.
Read More Blogs: