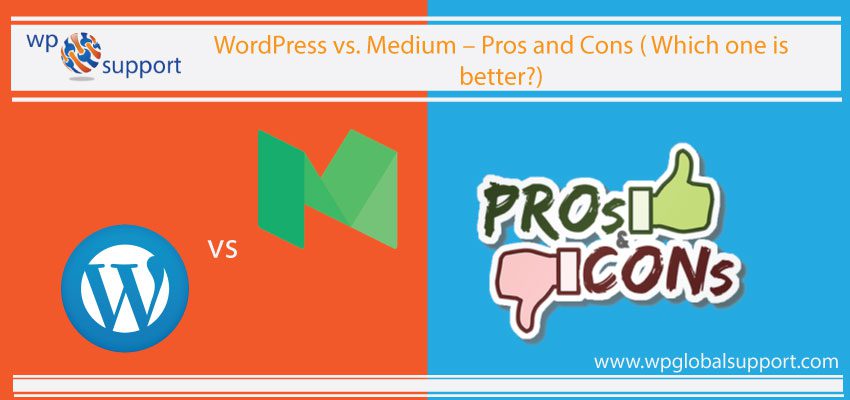 What would you choose, Medium or WordPress? People often get confused while deciding to start a business. Well, users, let's make this easy for you by comparing both in all the aspects. Most of the bloggers will have a question about the 'Medium' platform. Medium is also one such blogging platform like WordPress. Let's compare WordPress vs Medium to know their entire details.
This article consists of numerous topics, thus to make it convenient for you to search the relevant topic of your interest, list of topics is given below:
Medium and WordPress: Introduction
What is Medium?
Statistically, it is analyzed that the medium will rule WordPress in a few years because medium offers every feature which we can see in WordPress. 'Medium' has excellent growth over the past 2 years.
The medium was found in 2012 by Twitter ex CEO – Evan Williams. It is basically a blogging platform with social networking support the network for the free exchange of ideas. A place for thoughtful and authentic voices to collide, converse, and connect. Medium gives people a place to share stories, to interact and engage with them, highlight them, recommend them, respond to them, and build on each other's ideas. It had 30 million monthly visitors in 2016.
To create your own content, you can sign up for a Medium account and start publishing using Medium's user-friendly editor. You don't need to create your own website, which is convenient. But that also means that you don't own anything. You're doing it all on Medium's platform.
Now come to WordPress;
What is WordPress?
WordPress is available in two parts:
Self-hosted and totally free WordPress.org,

Or free but with paid add-ons

WordPress.com
WordPess.org: It is an open-source platform that you would have to download and host it on a webserver. Once you have hosted it, it is completely free, you can use it in any way that you want without any restriction. It is a completely customizable CMS and powered many most popular website over the globe.
WordPress.com: WordPress.com is a fully hosted blogging platform that comes with different pricing options. All you have to do is to sign up, choose your theme and start blogging. However, its free plan only allows you to start blogging, while it's premium plan allows you to remove ads and completely manage your site.
Here we are talking about actual WordPress software – WordPress.org
WordPress was launched by Matt Mullenweg in 2003, it is an Automattic product with more than 74 million users. Approximate 27% of the total websites over the globe is based on the WordPress platform. WordPress is a content management system allows no limits to its users that means you won't have any control, CSS, and coding. It has free self-hosted premium plans.
For anyone who is even remotely active on the internet, WordPress needs no introduction. It's the most popular website building platform and content management system out there, with nearly a quarter of websites and blogs relying on WordPress. Plus, WordPress can be used to power a lot more than just blogs: e-commerce stores, corporate sites, photography sites, news portals, and so on.
Features of both – Medium and WordPress
Here we will illustrate you some features through a table by which you can understand easily;
| | | |
| --- | --- | --- |
| Features | Medium | WordPress |
| Price | Free | Free some add-ons and extensions, but plugins are not. |
| Setup | Register | Install |
| Open source & add-ons extensions and plugins | | |
| Custom Domain & Design Themes | | |
| Author Information & custom article layout | | |
| WYSIWYG Editor | | |
| Add media, video, draft, tags, comments, help center | | |
| categories | | |
| Import content | | |
Let's discuss on advantages and disadvantages of Medium vs WordPress: Have a look?
Advantages of Medium
1. The medium has a great Import tool
If you have blog content anywhere on the web, the medium can import it. All you have to do is click on the "Import a story" option.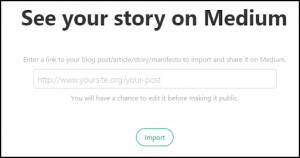 [Image source file: https://www.wordstream.com/blog]
After you've imported it, you can edit it however you want. Change your title, move around the images, and play with the formatting until you're ready to hit publish.
Medium even adds a line at the bottom of your imported post that says where and when the post was originally published, including a link to the original post.
2. You can take your audience with you
If you've already built up a good-sized social media following, there's good news: yes, you can take your audience with you to medium. So you basically have a built-in audience with no effort on your part.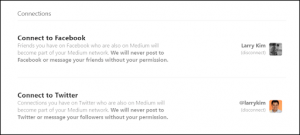 You can link your medium profile to your Twitter and Facebook IDs. Medium will then figure out which of those users are also on medium and connect you with those people automatically.
3. Engagement metrics seems real
Medium will tell you how many people viewed one of your stories, as well as how many people made it to the end. The average reading time is pretty amazing, usually between 7 and 11 minutes.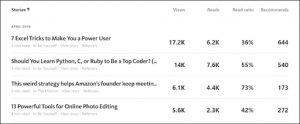 Engagement on medium is much better than on Twitter. You could get millions of impressions on Twitter, but only 50 actual clicks on your content. That's because users are spending all of 2 seconds on your tweet before all the other new tweets start flying by.
If you post something that's memorable, inspiring, and interesting, your content might just make a stronger impact on medium than it had initially.
4. You could get discovered by big publishers
Many large publishers no longer accept applications from authors. They're tired of being inundated with terrible pitches. Sadly, it's turned into a "Don't call us, we'll call you" situation.
However, publishers are still finding and adding new contributors to their sites. How? By scouting for popular authors on Medium.
As long as you're consistently publishing great posts, and you have talent and creativity, eventually you'll hit a home run. Maybe, just maybe, a Business Insider, Huffington Post, or New York Observer might ask to syndicate one of your posts – or even ask you to become a regular contributor.
5. There is no API
The medium has no API. Although APIs are essential in some ways, they also sometimes ruin social networks. Probably 99.9 percent of spam (like fake followers and people scheduling and tweeting garbage content) is due to aggressive API usage.
Unlike on Twitter (which is ridiculously noisy), the signal to noise ratio on Medium is pretty good. Way more of my 52,000 medium followers seem legit compared to your average Twitter "followers", and the lack of noise has in part helped me become one of Medium's top authors.
6. You can run your own publication
Another great way to gain exposure is by starting your own Medium publication. So even if people aren't following you individually, but they start following your publication, it's highly likely they'll start being exposed to your content anyway.
Quite a few brands have actually given up on traditional blogs and now just publish on Medium.
7. SEO Power
Do you know the biggest struggle for taking off a new website? It's the lack of SEO power in it.
Medium generates so many backlinks on a regular basis. Moreover, with such great content, it has built an excellent reputation for readers as well as search engines, which helps with higher rankings in SERPs.
Moz gives Medium a domain authority of 92/100 — which is way more what you could expect for your own domain.
In other words, publishing on Medium offers a rare advantage in today's competitive digital landscape, i.e., if you write great content and strategically optimize it for SEO, you have a solid chance of ranking for competitive and valuable keywords.
Advantages of WordPress
1. WP is cost effective
Thanks to WordPress, gone are the days when creating a website will cost you an arm and a leg. WordPress designing and development is extremely cost-effective. Also, the upkeep and maintenance expense is relatively cheap as you can do it yourself instead of hiring a designer every time you need to update the content of your site.
2. Update your site anywhere you are
If you decide to develop a WordPress Theme Website, you can make changes to your site anywhere you are as long as you have access to the Internet.
3. Search engine optimization ready
WordPress is SEO friendly. Websites built using WP have simple and constant codes making them ideal for Google indexing. SEO components for each page can also be customized giving you full control on which pages you want to rank high in search engines (i.e. You can focus your SEO campaigns on high converting pages).
4. Convenient syndication
This is a highly efficient way to earn inbound links to your site. Every time you post a new blog entry, it can automatically go to an RSS feed, making it easier for others to syndicate your content across directories and other websites.
5. Responsive web design
With mobile traffic predicted to surpass normal desktop traffic by 2014, responsive web design is no longer an option but a must. When you use a WordPress website design, you automatically get the benefit of responsive web technology without the need to develop separate websites for different devices.
6. Upgrade your site's capabilities easily
Adding new features and functionalities can be extremely cumbersome for traditional websites, especially those that are created using sophisticated platforms. This is the exact opposite for WordPress-based sites.
There are WordPress plugins that you can easily install which typically takes just three steps. Further, the WordPress community is very active and almost every best practice is documented. So if you need to add a new feature to your site, chances are, there are other WP users out there that have documented what to do.
7. Ideal for aggressive content marketing
In an era of online marketing when fresh content is of utmost Important, a WordPress theme website has an advantage over the traditional ones. In seconds you can update your site's content and you can do so as Frequent as you want without the need to go through several complicated steps.
You can also update your site's design in a breeze making it an ideal platform for tactical campaigns (i.e. Holiday promotions, etc.). Additionally, being able to update your content frequently will help you and your organization build credibility in your niche.
8. Ultimate social media integration
Another benefit if you opt to develop WordPress Theme Website is the seamless integration with social networks. You don't need to login to your LinkedIn, Twitter, Facebook or Google+ accounts one by one and automatically let your social networking community know that you have fresh content for them.
9. Increased site security
One of the primary criticisms against WordPress designing and development, when it was first conceived, is poor security. This myth has been debunked. As long as you have good WordPress web designers and developers, you can fortify your site's security and make it hacking-proof. The same cannot be said for traditional sites.
Disadvantages of Medium
1. Less Control
If you like things different, you can't do much about it.
Medium is a one-size-fits-all platform. So if you don't like how your content appears on Medium, you can't do anything about it. You have way less control on Medium than you'd have on your website, obviously.
2. Less potential for lead generation
While you could be creative and create leave generation opportunities, Medium does not have a built-in method for consistently generating high-quality leads.
This is perhaps can be seen as one of the biggest disadvantages of using Medium.
3. Fewer numbers and analytics
Medium analytics vs. Google analytics? There's no such comparison there.
While Medium does offer great insights and information regarding your published content, it does just enough.
On the other hand, if you have a website with Google analytics installed in it, you could uncover so much more about your audience, their behavior, content funnels, etc.
4. Can't leverage SEO
Another one of the biggest cons of publishing on Medium is that you can't leverage the SEO juice your content generates for your own website.
When you publish your content on Medium, and those posts generate lots of backlinks and attention, you can't leverage all that SEO power to propel your own domain up in the search engine rankings. You could have done it had you published the posts on your website.
Disadvantages of WordPress
1. Vulnerability
Unquestionably the biggest disadvantage of WordPress is its security. WordPress is an Open Source platform, and it relies heavily on plugins and themes for customization. Both the plugins and the themes are developed by different people and companies and since there isn't anyone monitoring them, they can easily contain bugs or malicious code lines.
On top of this, as stated above, today, WordPress is the most popular content management system. This fact alone makes WordPress a prime target for hackers everywhere. As a matter of fact, according to a Sucuri report WordPress is the most hacked CMS platform worldwide.
2. Needs frequent updates
Simply installing WordPress, is going to help you very much as this platform requires a theme and at least several plugins to work properly. WordPress updates can often render parts of your theme or some plugins usable. The more plugins you use, the more likely it is for you to encounter more compatibility problems.
The whole maintenance process in WordPress can be quite challenging, and you have to be ready to make adjustments to your plugins and theme in order to have a functional website. If you don't have the budget or the knowledge (design, programming), giving the fact that in general WordPress doesn't offer support, and solutions can only be found on WordPress forums, chances are that you should choose another website solution for you.
3. Customization needs Coding
To make certain change your WordPress site, you have to possess HTML, CSS and PHP knowledge. If you want to personalize in a unique way, or to enhance its design, you may find yourself needing to write numerous complicated code lines.
If you're in the category of people which possess the knowledge, things can go down smoothly, but if you try to write code without having the right expertise — most people in this category, you can make a lot of damage to your website.
4. Plugins and efficiency
To compete with Joomla! or Drupal, WordPress needs plenty of plugins to be installed. Unfortunately, these plugins influence the script's efficiency and not in a good way. Another problem arises when you need to choose a plugin for specific functionality.
Among all the thousands of plugins, most of them have their clones. It means, that any given functionality can be added by several different plugins created by different authors. Sometimes choosing the right one may take quite some time.
How to start a blog with medium
You can get started in a few seconds with medium. Just create your account and start blogging.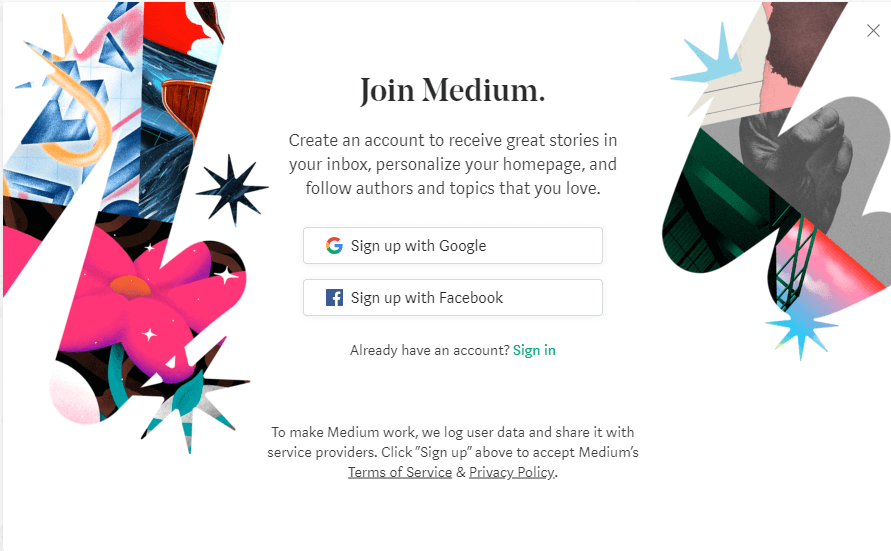 There are a lot of people love because it provides their users a great experience for writing blogs.
However, most of the people consider the Medium editor a good tool than the WordPress editor for writing blogs. Further, medium has many similarities of WordPress Gutenberg editor.
Just finish your writing and post it worldwide.
How to start blog with WordPress
When you start with WordPress, the process is a bit lengthier to start writing blogs. You will need;
Very first sign up for hosting
Buy domain name
However, many hosts allow you to install WordPress within a single click so that things are almost as simple as medium.
Even though you have to invest a little to start blogging with WordPress, but there are major advantages to this, elaborated are as follows:
You can create your own website with WordPress.
With WordPress you can add new features and change your site looks as per your choice via WordPress theme and plugins.
WordPress does not restrict your content.
WordPress allows you to make money however you want.
Let's have a quick comparison between both of them:
Comparison between Medium vs WordPress
First of all, we need to address the difference between WordPress the software, and WordPress.com, a hosted WordPress environment. If you use WordPress on your website for example without using WordPress.com, you can do almost anything and everything Medium does if you find the right theme and plugins. However, just because WordPress is theoretically capable of producing a result comparable to Medium, does not mean it is better.
In addition, it certainly does not mean it's necessarily the right solution for you. When you use WordPress.com, you are essentially getting the WordPress environment without having to worry about installing and maintaining it. In the comparisons below I'll be talking about WordPress as software and as the hosted service that has some publishing aspects as a whole.
1. Ownership of your Content
Medium: It is a free online community where anyone can share their stories. It is simple to use and built-in social networking features.
You do not own Medium. It is owned by 'A Medium Corporation', and they can decide to close, announce new pricing plans, or cancel your account at any time.
WordPress: It allows you to own your own content. As you host your own website, you have full control over your data and who you share it with.
2. Growing into your own brand
Medium: Using Medium, you are publicizing their brand with your own stories which you don't get paid for. If you are not a popular author, the biggest possibility can be that Medium users would remember reading a story on Medium without reminding your name.
Medium is also a network which means content from other authors gets visible as next stories below your own story. Taking your users far away to read articles by other authors.
WordPress: On WordPress, you have full authority on how you want to publicize your brand. As your site grows in recognition, you alone decide how to take advantage of your content and brand recognition. Your content and ideas are acknowledged by your name alone. As you have full control of your WordPress site, you can do a lot more to enhance the time users spend on your site.
3. Design Possibilities
Medium: It grants you to select a layout for your publication. You can add your own logo or image to the header. For the layout, you can select the grid or stream based layout. This drag and drop editor is very simple to use and offers multiple customization options.
But, still, your publications appearance will be limited to the choices available in Medium. You cannot select your own design and layout for your website.
WordPress: There are thousands of free and paid WordPress themes available. These themes are designed by professionals with creative designs and unlimited customization options. WordPress gives you the flexibility to create a site that looks differently yours. If you can spend a little more, then you can hire designers and developers to build any kind of website possible.
4. Freedom to Move
Medium: The medium allows you to move your data in HTML format. This makes it hard to export your data into other platforms like WordPress. Responses and likes in your articles cannot be exported.
Setting up redirects from Medium to WordPress is almost impossible. If you are using a custom domain on Medium, you will have to manually set up a redirect for each story.
WordPress: It gives you the freedom to move all your content as it is an open source platform. You can import or export your data from WordPress by using importer plugins. You can also import/export users. WordPress also comes with amazing backup plugins that allow you to restore and move WordPress site to a new host or even a new domain name.
5. Support Options
Medium: It comes with large documentation and a ticket based support system. Now, support is free for all users. Answers are contributed by Medium staff and their response time depends on the number of pending support requests.
WordPress: It is a community-driven project. It influences more than 26% of all websites on the internet. Free community support is available through WordPress.org website. You will find WordPress support on endless third-party platforms like Stack Exchange, YouTube, SitePoint, etc.
6. Security
Medium: is a fully hosted platform, which means you don't need to worry about the software. Your content is served by highly secure Medium servers. Your private information is kept secure using industry standard security measures.
WordPress: is a self-hosted platform. This means that you are answerable for the safety and security of your website. WordPress is well-known for its quick response to security issues with actual updates that are automatically installed on millions of WordPress sites.
7. Publishing
Medium: When you are posting using 'Medium' that defines you are sharing your stories and promoting the 'medium' platform. Until you are a popular writer your visitors will not be remembering your name.
WordPress: On WordPress, you have the full control over your website and you can publish your own website. You can decide to make your website growth and after your website starts growing you can merge the content.
8. Pricing
Medium: is completely free. While it doesn't sport all the features WordPress does, and you can't get a custom domain (for now), everything that is there is free.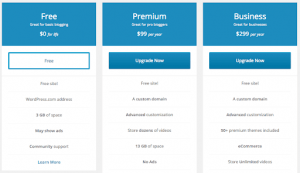 WordPress: "the software" is open-source and free. You can download it from WordPress.org and install it on your own website. Most hosts have one-click WordPress installs available, which makes WordPress both particularly easy to install and get up-and-running with.
WordPress allows you to use a WordPress subdomain (i.e. something like yourwebsitename.wordpress.com) as your blog's web address. This is free to do, however, with a free WordPress.com account, you won't be able to access a lot of WordPress's functionality. Unless you upgrade your account, you'll only be able to use basic customization options — and plugins aren't available for use at all.
A premium plan costs $99/year, or you can just get a domain name that you can use instead of the WordPress.com name for $13/year.
9. The Writing Experience
Medium: The writing experience on Medium is miles above what WordPress offers. Actually, there are no complications; it's just you and your content. What makes this even more influential is that you're actually editing content the way it will look when it will get published.
WordPress: does have a visual editor, but more often than not theme makers don't trouble to add the special CSS important for it to look like the final content. Even if they do, it'll most likely differ since the editor isn't in the same environment as the rest of the website.
10. Ease of use
Medium: When it comes to how easy to use either of these platforms is, Medium comes out on top for the most part. WordPress is a behemoth, and it shows. Countless post options, editor buttons, site settings, plugins, themes, and all the bells and whistles give you a lot of power but at the cost of usability.
WordPress: is by no means complex to the point of being impossible. That said, it does have a much steeper learning curve than Medium. The medium has a smaller feature set, so consequently, they can implement it with much more attention to detail.
11. Community
Medium: feels more like a band of talented writers. There are so many WordPress sites with a wide variety of content and quality that you don't really know what to expect when you arrive at a site. However, when you arrive at a publication or article on Medium, you feel that it's probably going to be good.
The focus on following, contributing, and promoting articles all add to this feeling and it makes Medium all the better for it. These types of community features are completely absent from WordPress.
WordPress: the software has a huge online community, there isn't a "writer's community" per se. WordPress.com does not position itself as a publisher at all. There are loose ties between websites, and once you have an account you can follow other blogs, but the functionality is limited and not too prominent.
12. Flexibility
Medium and WordPress.com are mainly for writing-focused websites. On WordPress.com, there's a great deal more room for flexibility since there are simply more options to choose from.
If you run your own installation of WordPress, that's when things really start opening up. Whether you want a chat application or a website to sell your music or handmade bottle openers — you can do it all.
In this regard, WordPress is a superior product because it's meant to be a framework, not just a writing platform.
13. Contribution As Author
This one is getting into the social aspect of things, which we will know more about when the publishing side will be compared, but it deserves a mention here, too. If you operate a WordPress website, you either write the content yourself or register a user as an author to contribute.
The author's contribution is very much integrated into your website. While you can give the author rights to the published material, it still seems very much like the site owners. Although it seems much more author-focused with the way Medium is angled as a platform which in the end feels like a big difference. Even when contributing an article to a publication, it still feels like yours.
The specifics of why are the sum of much smaller user experience and platform design decisions, so perhaps the best way to describe it. Contributing an article on Medium feels like a publication picked up your article and gave it more exposure. Contributing to a WordPress-based website feels like you're copywriting for someone.
14. Writing Portfolios
One thing that is become apparent to me is that Medium is better for authors who want to create a portfolio of their written material. The problem with such a portfolio within a WordPress website is you can not easily separate your writing the way you want to unless you have some coding chops to go with your writing skills.
The medium allows you to create publications for your thematically similar pieces and contribute to other publications and you can also create regular stories for anything else. Sure, you can create categories and tags in WordPress, but it's not quite the same. Medium gives you a sense of belonging, which gives your material more power.
15. Content Management
If you like to tweak and tune little things such as custom fields, excerpts, and SEO options, then you're out of luck with Medium. WordPress brings with it a multitude of plugins that will let you optimize your content for Facebook, Google, SEO in general, and much more.
While I don't think the above-mentioned plugins are essential for personal publications, it is a good idea to have these tools at your disposal for business websites or business blogs. As such, this makes Medium perfect for personal blogs or proper publications, but probably not a viable solution for business-related sites.
Your purpose: A personal brand or business
The question is what's your blog and what you want to achieve? There are two words – Brand and Personal that can differentiate between Medium and WordPress.
In this digital world, everyone wants to create their own professional or personal brand to share compelling stories. After all, to create your personal brand or share your stories in the form of blog then Medium is the best place. This is the best platform for beginners. It is very easy to use and simplistic.
And if you want advanced blogging and fully customization, e-commerce, and opt-in forms then WordPress.org is only one of the best options.
Now, depending on your requirements and core blogging objectives you have to decide which platform you want to access.
That's All! we have covered up yet what is WordPress and Medium and comparison between them, but now we will show you how to move from medium to WordPress.
If you are a medium user and you are not satisfied with the same. You can migrate from medium to WordPress, so let's have a look:
5 Simple Steps to move from Medium to WordPress
Step 1. Install and Setup WordPress
Unlike the medium, WordPress is a self-hosted platform. Means that you own and control each aspect of your WordPress site.
First, you have to install WordPress and setup it.
After that, you will need a domain name and web hosting for WordPress.
We recommend using the Bluehost because this is the official hosting company. To know more, read our guide on how to choose the best WordPress hosting.
After signing up for hosting, you have to install WordPress. You can see our guide 4 Simple steps to install WordPress.
After installing and setting up WordPress, you are ready to migrate your content to WordPress.
Step 2: Exporting Your Data from Medium
However, the Medium is an innovative publishing platform with a lot of features that help you publish your stories easily.
Although, when it comes to removing your data, they don't currently have the best tool for it.
With this guide, you will be able to move your articles from medium to your WordPress site. However, you will unable to import your followers, likes, and responses to your articles.
If you have a custom domain setup in the middle, then you may be able to set up redirects manually from your medium publication on your WordPress website. However, you have to do it manually for every article.
Now let's see how to export your data from Medium.
To do this, log in to your medium account and click on your profile picture on the top right corner of the screen.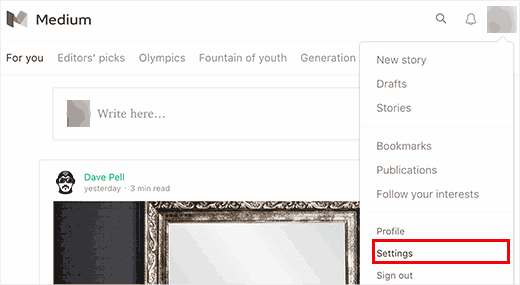 From the fly down menu, click the 'Settings' link to access your Medium account Settings page.
Now, you have to scroll down a bit to the 'Export Content' section and then click the download zip button.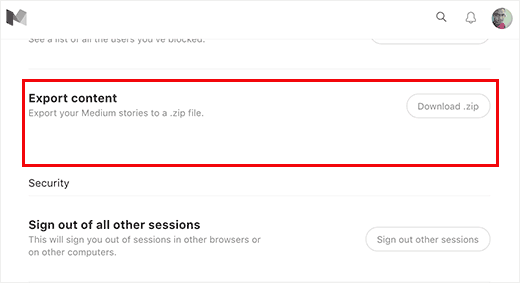 Also, it will take you to the export content page. Now you need to click the Export button. Then the medium will prepare a zip file with your articles and email you the link to download it.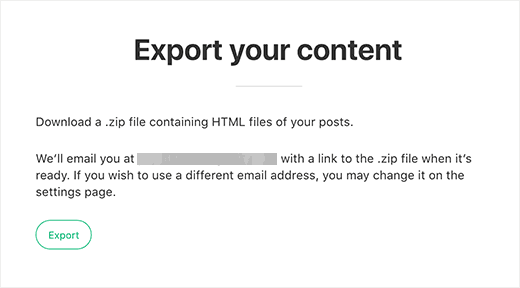 This email can take some time, so periodically check your inbox for an email from the medium. Inside the email message, you will see a link to download your export file.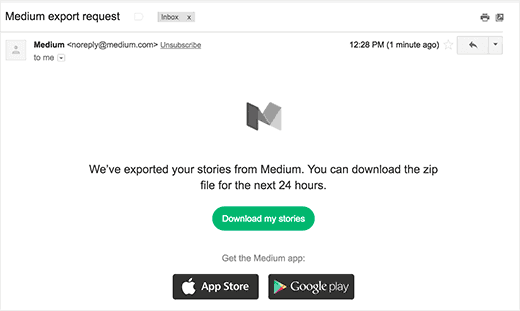 Thus, go ahead and download the zip file to your computer and then extract it.
Inside the extracted folder, you will find your middle article in plain HTML format. Also, you will get an XML file called medium.rss.
Now you are ready to import your content into your WordPress site.
Step 3: Importing Your Medium Articles into WordPress
The first thing, you have to go to Tools>>Import page and click on RSS link.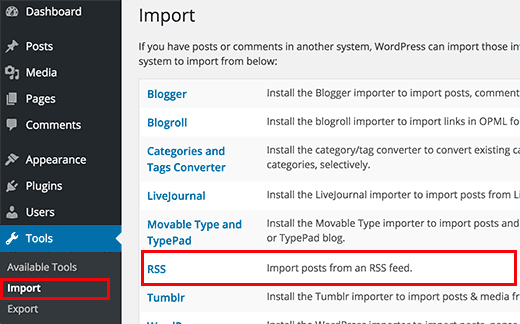 However, it will bring a Popup to import RSS Importer plugin. Now you have to click the install button to continue.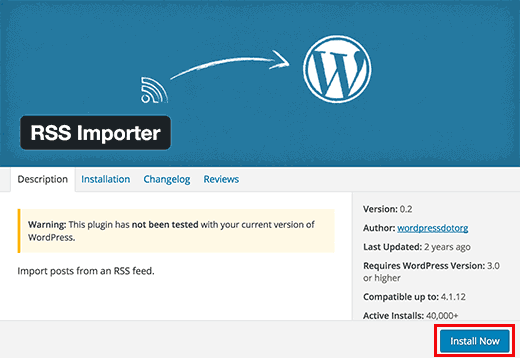 Now WordPress will download and install the RSS Importer plugin on your site. You must click on the 'Activate plugin and run importer' link to continue.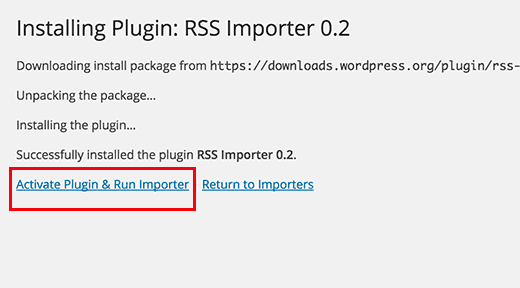 Next, you have to click on the select file button and choose the medium.rss file from your computer.
Click the 'Upload and Import File' button to continue.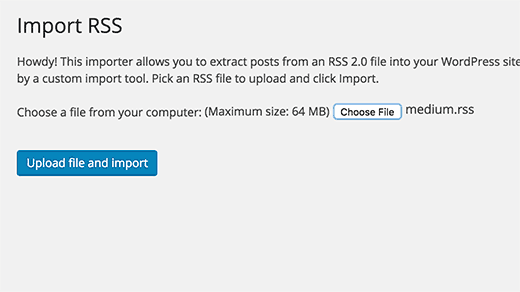 Now WordPress will upload the middle.rss file and will import your articles. After successfully importing the articles, you will see the number of articles imported as posts with an 'All done'.
You have successfully imported your article from medium to WordPress.
Step 4: Importing Your Images From Medium to WordPress
The RSS importer will unable to import images from your medium stories into the WordPress Media Library. Those pictures will still be visible. But they will be loaded from the medium servers.
We recommend that you import those images into a WordPress Media Library through a plugin.
To do this, you have to use an Import External Images plugin.
Step 5. Setting Up Redirects for Custom Domain
In case your medium stories had a medium.com URL, you cannot setup redirects. If you were using a custom domain for medium publication, you can set up custom redirects in WordPress.
First, you will require to obtain all the URLs of all your medium articles and save them in a text file.
Next, you will have to start setting up redirects for all of your articles.
Medium's Curation And Partner Program
Well, there are some additional benefits with Medium over WordPress. So if you are willing to build your own simple blog. Also, if you like to promote your blog with your own followers. Therefore you should not really need to worry about the curation approach of Medium. Besides that, if you wish to tap into the Medium's existing audience. Then it is very important for you to understand how Medium curation works.
About Curation On Medium
Although there are two possible ways for those people who want to browse your content on Medium. At first, those people who are following you on Medium. They always can see your articles without any problem. This is just a similar kind to the WordPress blog. Therefore only those people who have directly subscribed to your blog can see your content in that.
Although within the list of your most recent posts the people are allowed to subscribe to your recent post and with the help of the Follow button to be notified when Luke posts something new. However, if you like to get featured to a built-in audience of Medium. Then the Medium is needed to curate your content on it.
Thus it is the second way for people to find your content on Medium. Besides that, this is the main reason that makes the Medium a publisher. Therefore when you get curated, then all your content will be introduced to any users of the Medium who are interested in your topic. Even if those users do not follow you.
You can suppose it as a kind of getting published in the business section of the New York Times. Well, to understand it better, if your article is get curated into the food topic. Then anyone who is browsing this food topic can see your content.
It is a fact from an audience perspective that, the great value of using these Medium vs WordPress is getting curated. In addition, it is gaining the access to a built-in audience of Medium. Although the shift to the curation approach means that you can only get this benefit if and only if the Medium's curators believe that your content is reliable for being featured.
However, if you are not getting curated, then you will get only very little benefit from the built-in audience of the Medium. Therefore those people who do not follow you before they can also find your posts. Although if they search for them or they are browsing a tag that you have used.
But you are missing most of the benefit of it if you do not get curated. However, maybe you do not find the public data on the average curation rate. But most of the people like to say that approx 50 to 60% is the good rate for an average writer on Medium.
About Partner Program
Another unique thing of the Medium into the comparison with WordPress is the Partner Program of Medium. In addition, you can get paid for your work when Medium curates your content with the Partner Program.
However, the first two big cautions about the partner program are very straight. The very first thing is that you are nearly and positively not going to become very rich or turn this into a full-time thing. Therefore the only a few active writers get earned a good amount of money in a month.
However, it is said that the maximum amount that is earned for only a single story is approx $8,855. Therefore you can make a notable amount of money if your article gets a lot of attraction. This post has a great collection of earnings stats, including the two I mentioned.
Well, the very second thing is that if you are a little serious about making money from your work. Although it is very usual that you are better off going with WordPress. Because you can monetize your content in different ways. Such as selling the ads or the sponsored content.
Therefore the Medium lets you include first-party promotion such as promoting your own work. In addition, the affiliate links that are with disclosure. But you can not engage in a third-party promotion such as promoting someone else. Additionally, while affiliate links are allowed, Medium is unlikely to curate an article that contains them.
However, the Partner Program of the Midum is still interesting because you get paid just for writing. Although you do not have to worry about growing your own audience while working with your own clients, etc. Therefore you can just publish the content and if people like your content. Then you can make a little money.
However, Medium uses a metered paywall to generate the money to pay the authors. This is how most newspapers do things to encourage Medium readers to upgrade to a paid plan. Therefore this paid plan is only to consume the content of Medium. Therefore you do not need to pay to write. In addition, this paywall only applies if you are opt-in to putting your content behind it.
However, you always have the option to opt-out and make your content freely available to everyone. So you will not make money from it very easily. Besides that, if you are the author of a good story. Then you can generate a special Friends link that can allow the people to bypass the paywall.
So, while there are variations in the writing experience and technical flexibility and the publishing aspect of Medium is one of the biggest philosophical differences between it and WordPress.
Why You Should Use The Medium
In comparing Medium vs WordPress, it's obvious these are tools used for very different purposes. WordPress is capable of doing almost everything Medium can do. But this means the focus of WordPress is elsewhere, or at least the scope is much wider than just writing. What this boils down to is that Medium is far better than WordPress at creating an environment for writers.
But you are stuck with the features that come with it out of the box. Content creation may not be as joyous with WordPress, but the end result can look and feel the same, and you can always add more and more features if you need to. Although to be able to decide which one you want, I think you should consider the following:
Medium is for writing only.
WordPress allows you to do much more than just writing.
Medium is a publisher in addition to a blogging platform.
By thinking about the above, you can pretty much arrive at the answer through elimination and some simple decisions.
Foremost, do you want to create a website focused on writing? If so, you need to figure out if you need any advanced functionality. For example, are you creating a movie review site with referral links, cross-references, and other features that require specialized navigation?
If the answer is yes, Medium probably is not the best choice for you. Before we move on, so everyone to consider the answer to the above question once more. Although you may at some point need extra features, and you want to keep your options open, you probably should not choose WordPress solely on that basis.
Are you sure adding complexity will add more depth and create a better experience? Are you sure you must have quotes shown within a background image to have a good website? Adding complexity isn't always a good path, and being aware of this will doubtless help you to make a better decision.
If you are creating a writing-focused website, and Medium's feature set seems just fine, then you need to make a somewhat more subjective decision.
If you have already written a story but don't have anywhere to put it, you can sign up and publish it with Medium in about two minutes. It will look great, although the visuals will not be customizable. On WordPress.com, it will only take a couple of minutes, too. The editor and the environment itself, however, give you more options, so you may find yourself getting lost in the woods.
This is even truer if you are running WordPress yourself. Setting it up takes about five or six minutes if you know what you are doing and 15 to 20 minutes if you have never done it before. The standalone version gives you so many themes and plugins, and a complex theme may give you so many design elements to tweak that you could easily spend hours on it.
That's all!
CONCLUSION
So basically, if you just want to write and get your content seen in the easiest way possible, WordPress is a great option else spending a little effort and money to set up your own. WordPress site is going to be a better long-term decision if you're serious about creating your own brand.
Or you can even use both by creating your own site and still safely syndicating your content on WordPress to gain access to the audience. WordPress import tool makes it easy to bring your content onto the platform
We hope that this article helped you choose your preferred choice, Medium or WordPress.
If you have any problem, talk to our WordPress Technical Support Team to get help related to WordPress, dial +1-855-945-3219 (Toll-Free).