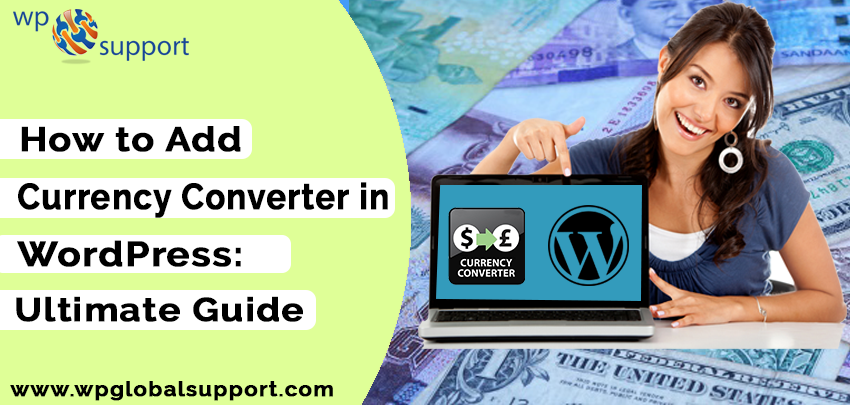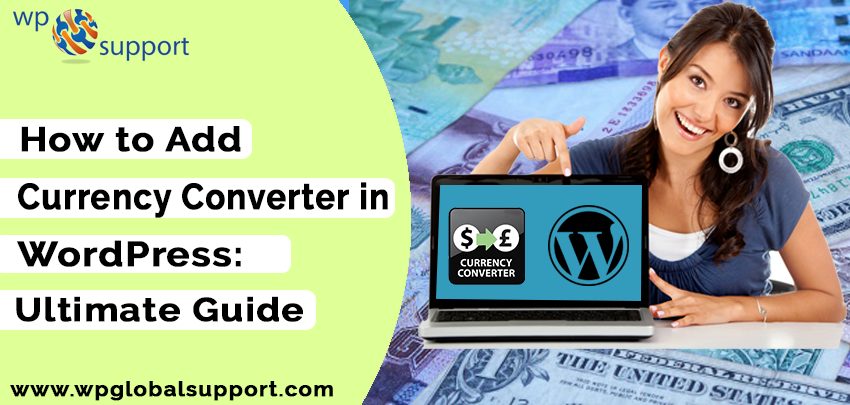 To do the business in our extremely well-connected world, you may have to consider a lot of currencies that people use to buy products. Upon purchasing products from your site, users might think about how much a specific product will cost in his or her currency. And for this, they need to add currency converter in WordPress website.
Further on, you might be thinking of what currency converter is? Thereafter, have a glimpse of adding a currency converter to the WordPress site. Keep reading…
What Is Currency Converter?
In order to check the present currency value – the currency converter is a software code. This software code is created to convert the value of one currency into the quantities of other currencies or equivalent values.
Furthermore, it can be also a form of a mobile app/mobile responsive or a part of the website that is based on bank exchange rates or the entire current market.
Where responsive means portability which makes your site mobile-friendly so that users can view it on their mobile devices and can read your site information easily.
For example, if he/she wants to check the monetary value of any country ('United States Dollar') in comparison to own country. Now a user enters an amount of money (e.g 10,000) and then selects the currency (in which the user wants to convert). Finally, the currency converter calculates and show the equivalent result (amount of money) as per user request.
In addition, this software works to preserve the real-time information on bank exchange rates or the current market.
What Type of Websites Need a Currency Converter?
Well, you can use a currency converter when you are selling something or you own an e-commerce store, small business site, as well as WordPress blog.
There are several website's examples that may need a currency calculator for WordPress:
Business Site: A business site want to see the exchange rates of various currencies of their audiences. Specifically, users whose businesses are present in various countries.
E-commerce stores: Well, if you are selling various products internationally with the help of WordPress e-commerce store, then the currency converter can help your audiences fastly to calculate the costs in their local currency.
Finance and banking websites: Finance and Banking sites can add the currency converter for their users to calculate the conversion rates.
Travel blogs: If you are travel blog holder, then you can add currency calculator to your site. Because, with the help of this, your visitors can easily calculate their costs in various currencies.
Coin and Forex exchange sites: Several sites that may deal with forex trading, cryptocurrencies, and similar categories. These type of sites requires a currency calculator so that the visitors can calculate conversion rates easily.
There are numerous other sites that may need to use the currency calculator.
Adding Currency Converter in WordPress
The very first thing, you have to install and activate WP Currency Converter plugin. For more information, let's have a look at our guide How to install a Plugin in WordPress.
As plugin is defined as a type of software that contains a group of functions that can be added to a WordPress website. They are used to provide additional functionality to your application.
Once the plugin is installed, then you have to visit Settings>>WP Currency Converter page to remove or add currencies from the converter.
In addition, here you can manage general settings and also add the API key that you can claim by following the page instruction. Where API key is like a password.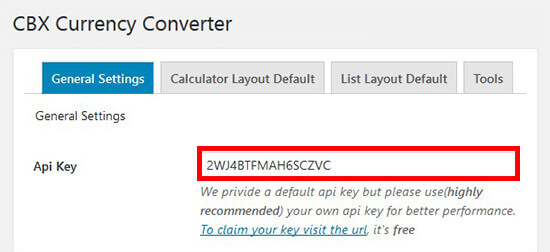 Thereafter, when you have added the API key, you can choose a layout for a currency calculator.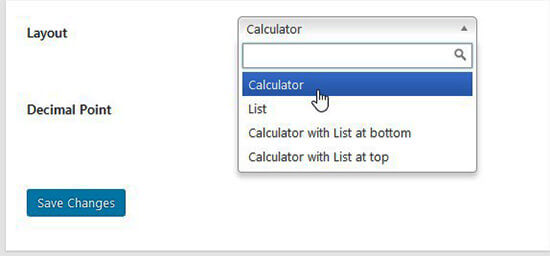 Remember to click on the Save Changes button to store your setting.
Subsequently, you can set the default value for the currency calculator. However, it permits the user to enable currencies, default amount for the main currency, set default option for currencies, and add a title to show above the calculator.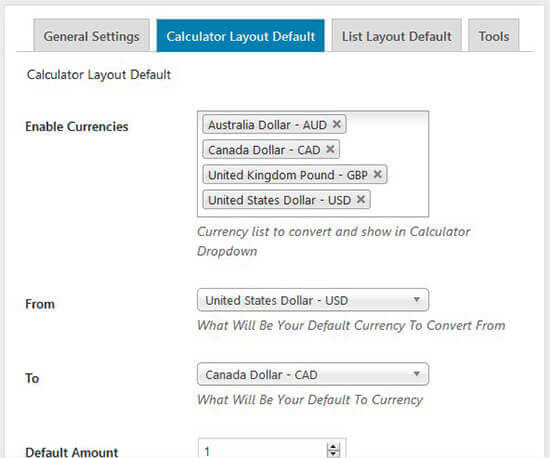 Next, you have to visit List Layout Default tab for the default setting of the currency list. Here you can pick the primary currency and then add another currency list to show in the rate list.
Similar to the default calculator settings, you can also show the default entire amount and add the title for exchange rate list.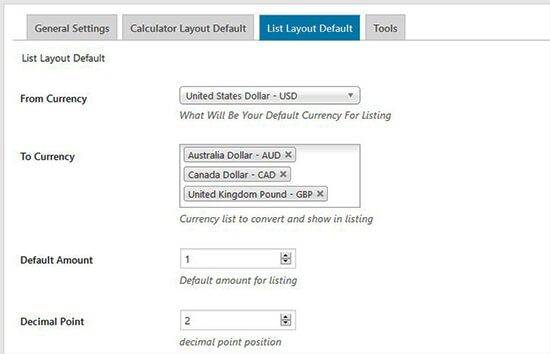 Consequently, the plugin's tools tab permits the user to reset the entire data to default values given through the plugin.
Note: After all this was done, you have to click on the Save Changes.
Displaying the Currency Converter on Your Site
Once you have added the currency converter, the next thing comes how we can add it to your site. Now let's get cracked….
To do the same – You have to navigate to the Appearance>>Widgets to drag and drop the Currency Converter widget in your widget areas.
Widgets allows you to add content and features to your sidebar without writing any code and the widget areas can be header section, footer section, sidebar, and below content and any other area in your theme.
A WordPress theme is a group of stylesheets and templates that are used to describe the appearance and display of a WordPress site. A WordPress theme changes the layout & design of your site.
However, in accordance with your wish, you may add the following shortcode on any page or post in WordPress. As shortcodes are those special functions/tags that allows the user to quickly and easily pull related bits of mentioned functionality into their content.
Also the articles posted by the admin of a WordPress site are called posts and pages are like posts. Where, pages can be managed in a hierarchical structure in WordPress.
[cbcurrencyconverter]
After all, this is done, just go to your site to see the currency converter on the sidebar widget or WordPress page.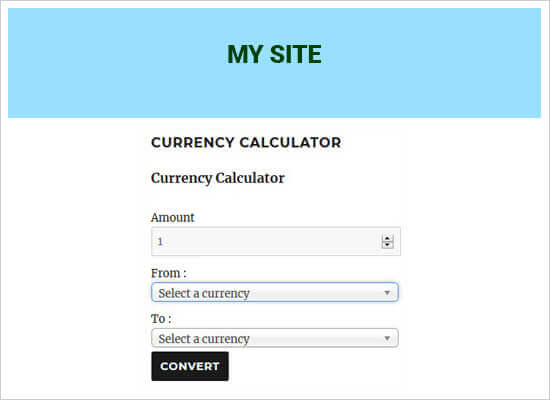 Thereafter, you can also connect a currency converter with your WordPress Woocommerce store or online business. To do this – you should have a Currency Converter Pro plugin.
When you have activated, then go to Settings » Currency Converter page and go to the Integration tab.
Here, you have to test enable option next to each setting that you want to connect within your online store.

Next step, you can use the product pages shortcode to show the currency converter on your e-commerce store. It will calculate currency rates.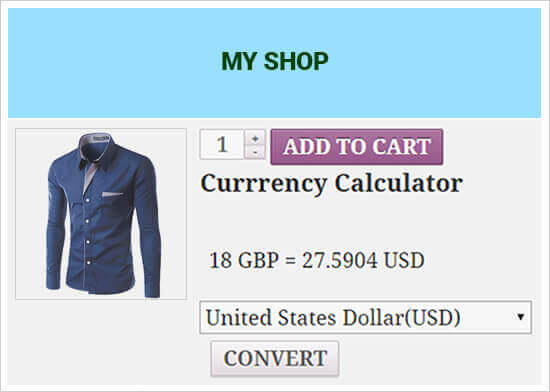 Last but not least, you may also define style your currency converter widget, shortcodes, custom currency rates, and bitcoin exchange rate on your site.
Best WordPress Currency Converter Plugins
Bending towards the plugins! Here we will show you some best plugin that will help you to add a currency converter to your site easily.
1. Currencyr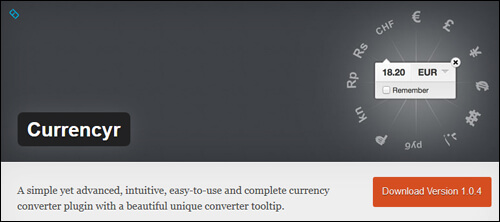 Currencyr is one of the best WordPress currency converter plugins. However, some plugins provide either a widget or a shortcode, but this is such a plugin that provides the both – widget and shortcode together.
Additionally, with the help of this plugin, users set up a pull-down menu on a price that will convert the price into different currencies.
Continuously, this plugin offers some settings that give you additional options – like choosing your base currency, setting up your numbers with various types of separators, picking where your conversion comes from.
2. Euro FXRef Currency Converter

Euro FXRef Currency Converter is another best plugin for WordPress. Further, it is a shortcode based plugin helps you to easily transform right in the middle of a text line.
In addition, by using the [currency] shortcode you can convert the value of one currency to another currency. However, this conversion is based on the rates published by the ECB (updated daily between 2.15 p.m. and 3.00 p.m. CET).
3. Currency Converter


The Currency Converter plugin is another the awesome WordPress plugin that has a lot of options including the capability to colorize the text and the widget body.
Meanwhile, to say, the currency converter converts the amounts between currencies. Additionally, with the help of this – Size, color, and layout can be customized.
In addition, it also comes with features such as to set the widget to convert into a particular currency.
4. Exchange Rate Table


The Exchange Rate Table plugin is a widget-based plugin for WordPress. Further, it provides the best features that help to make it attractive. It provides the colorful display of various currencies along with little flags at the top side.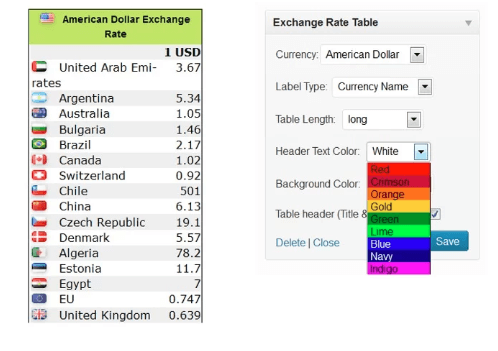 However, something like this often seems difficult, but this is really clean-looking and systematic plugin.
Bending towards the last! It show the exchange rate table for any currency worldwide. You can select a choice of table sizes and formats:
It provides 200+ currencies.
Keep single or multiple currencies on the sidebar.
Choose display formats, adjustable width, and header colors.
5. WP Currency Converter


Well, WP Currency Converter plugin is another one of the best WordPress plugins. Further, it is a straight-forward ajax widget that allows you to convert a lot of currencies.
Furthermore, it also uses the Google Finance to receive up to date foreign exchange information. However, your users don't need to refresh the page, because it entirely powered by ajax. It also provides a smooth user experience.
Conclusion
We hope this blog helped you to learn how to add Currency Converter in WordPress. If you have any issues for the same, let me know in the comment section provided below. If you liked this post then share it with your peers.
You can contact our WordPress Support Team Dial +1-855-945-3219 (Toll-Free). The door to our WordPress customer service is always open for you. We will be pleased to help you and solve the WordPress related issue.
Read More Blogs: