How to Add Currency Converter in WordPress: Ultimate Guide
Last Updated:

May 23rd, 2018

Posted by:

Editor

Category:

WordPress Knowledge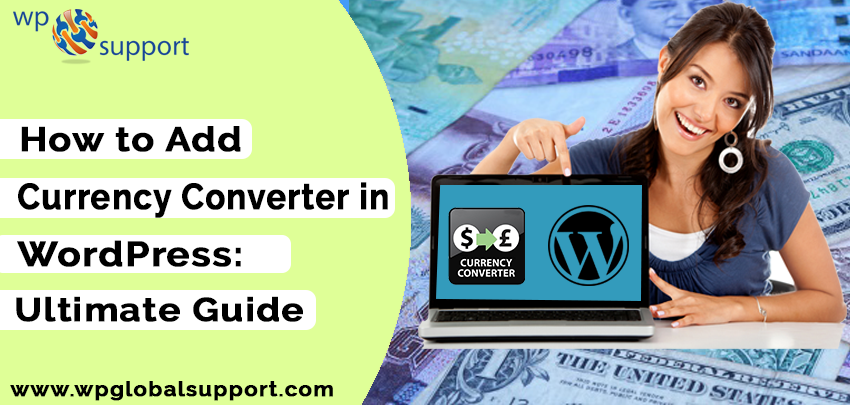 Have you ever desired to know How to add a Currency Converter in WordPress? Don't Worry! Keep reading this guide. To do the business in our extremely well-connected world, you may have to consider a lot of currencies that people use to buy your products. Upon purchasing products on your website, your users can think about how much a specific product cost will be in my currency.
However, in this post, we will illustrate you how to add currency converter to the WordPress site. So that users can do currency conversion easily on your site.
First, you have to install the WP Currency Converter plugin and then activate it.
After activation, visit Settings>>WP Currency Converter to remove or add currencies from the converter.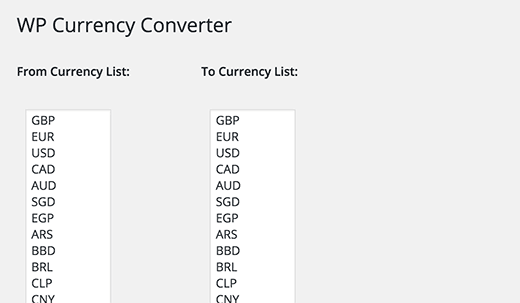 However, this plugin uses Google Finance to get the currency exchange rate. Also, it supports all the currencies that are supported by the Google Finance site.
In case the currency you want to use is not already in the settings of the plugin, you can add it by adding three-letter currency codes recognized by the ISO 4217 standard.
Adding Currency Converter in WordPress
The WP Currency Converter plugin always comes with a widget that you can add to your WordPress sidebar or any other widget-ready area.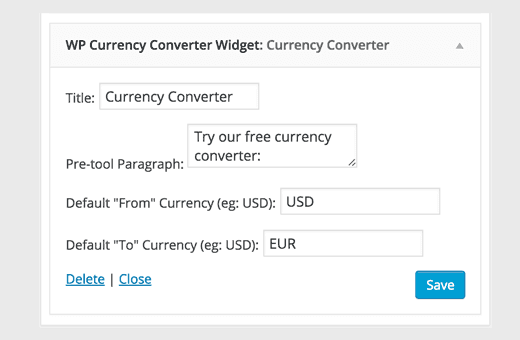 Just use the default three-letter code to add the default currencies and click Save Button to store your settings.
This is how it will appear on your website: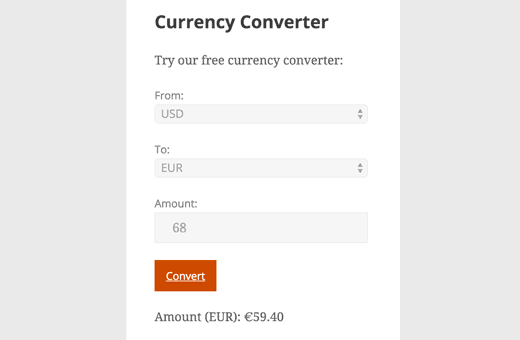 Also, you can display currency converter in post and pages by using this kind of shortcode:
[wpcc title="Currency Converter" pretool_paragraph="Try this handy currency converter tool:" from_default=USD to_default=AUD]
Feel free to change anything you want to replace the title and pre-tool paragraph text.
Accept only valid three-letter currency codes from default currency parameters.
Many other currency conversion tools are available for WordPress. However, some Forex currency information providers permit you to add your conversion tool to your site. But mostly slow down your site that creates a bad user experience.
Furthermore, the WP currency converter uses AJAX to load exchange results. Also, it retrieves data from Google Finance, so it's pretty fast. The most important thing is that you do not need to create an account on your website or display third party logos.
CONCLUSION
Here, we have discussed the Easy Way to Add Currency Converter in WordPress. Often, we concluded this article step by step.
We hope this blog helped you to add Currency Converter. Thus, if you have any issue with adding the same, let me know in the comment section provided below.
If you liked this post then share it with your peers.
You can contact our WordPress Support Team Dial +1 844 897 0441 (Toll-Free). The door to our WordPress customer service is always open for you. We will be pleased to help you and solve the issue related to WordPress.
Read More Blogs: