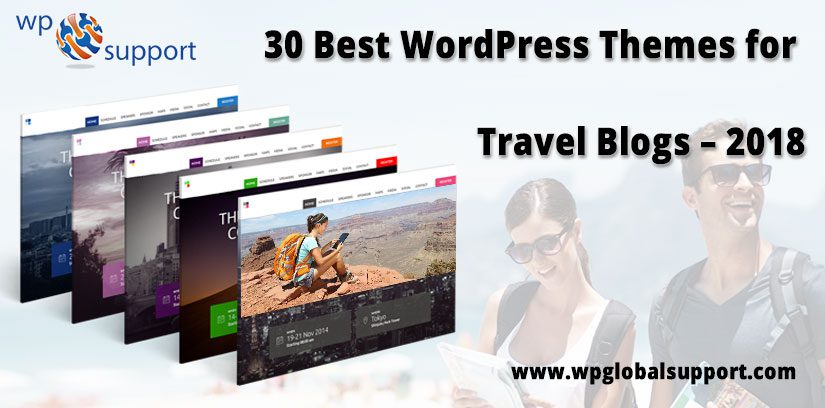 In this article, we will describe the best WordPress Themes for Travel Blogs that will help you achieve the proper look for your website. Travel websites are a truly excellent way to share your travel experiences. WordPress is the most appropriate option to create a travel related website.
Generally, any WordPress blog or business theme can be used for travel websites and blogs. But still, they may not reflect the sense of adventure of a travel website. We have compiled a list of some of the best blog WordPress themes for the travel blogs 2018.
Read Also: 40 Best WordPress Themes for Fashion Blogs
Creating a Travel Blog with WordPress
WordPress is the most flexible and easy to use platform to create a website. It is already used by many famous travel websites from all over the world.
There are two kinds of WordPress websites. WordPress.com, which is a hosted platform and WordPress.org also called self-hosted WordPress. We mainly suggest using self-hosted WordPress.org as it gives you access to all WordPress features and gives you complete freedom to build your website.
To create a self-hosted website, you will require a domain name and WordPress hosting.
Let's take a brief look at some of the best WordPress themes for travel blogs that you can install on your website.
Best WordPress Themes for Travel Blogs
Let's get started!
1. Camera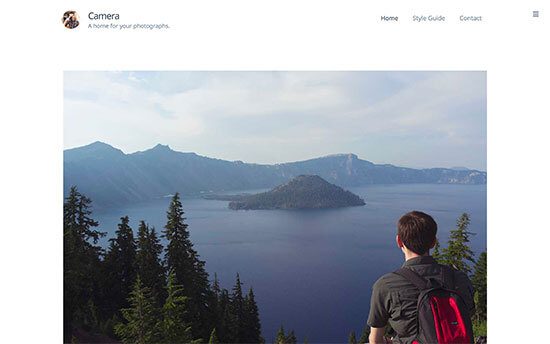 You should check out Camera if photos play an important role on your travel blog as it is perfect for the travel blogs. You can create unique photo series in a full-width carousel to accommodate landscape and portrait images.
The camera features a distraction-free design letting visitors focus on your photography and content. It is very easy to use and only contains the options you'll literally use.
2. Zermatt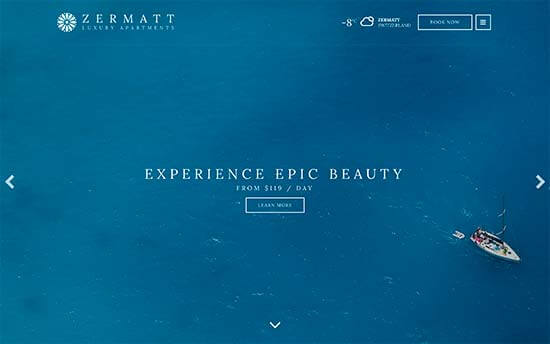 It is a beautiful WordPress theme for travel blogs. Zermatt homepage features a beautiful transparent navigation menu including a weather widget on top. The homepage is made up of various widget ready areas.
Zermatt contains various custom widgets, which you can just drag and drop to setup homepage. It is beginner friendly and with the gorgeous professional design.
3. Fall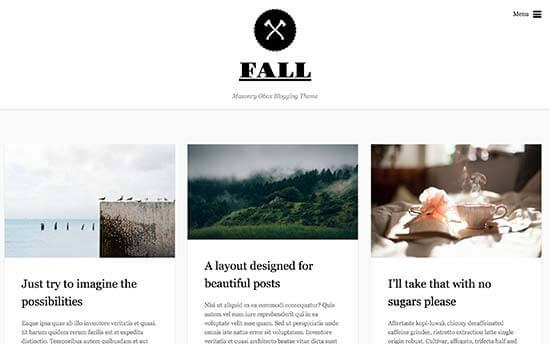 It is a beautiful WordPress blog theme which is best for content-rich travel websites. Fall makes your content stand out by featuring crisp typography and a distraction-free layout.
It is very simple to customize with unlimited colors, simple design and layout choices, custom logo upload, and Google Analytics integration.
4. Ultra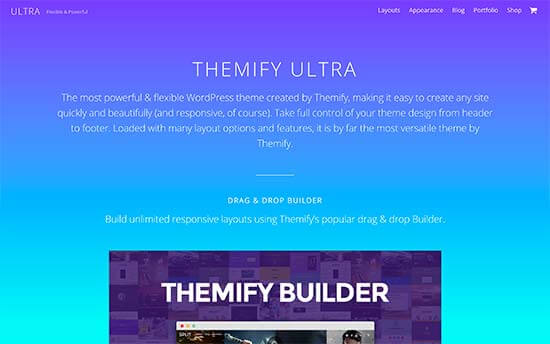 It is an all-purpose WordPress theme that comes with several ready-made websites. The designs can be installed with 1-click with full content.
Just replace the content with For editing the page Ultra comes with an integrated drag and drop page builder that lets you to simply edit any page layout. You can also create your own layouts if required. It has a themes option panel which helps you setup your website.
5. Landing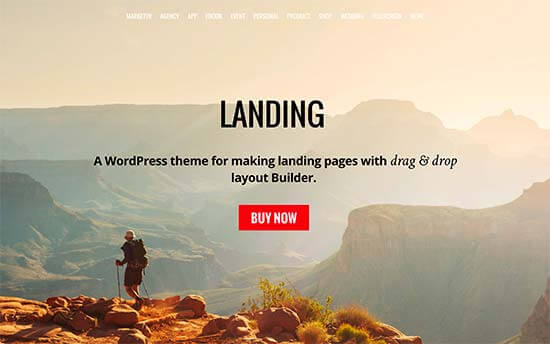 It is an elegant WordPress theme for travel websites, landing pages, and even blogs. It comes with a drag and drop landing page builder that lets you to simply create your own unique layouts without any programming skills.
The landing has multiple header design options, events, blog section, and full WooCommerce support. It is simpler to set up with 1-click installer and theme options panel.
6. Mountry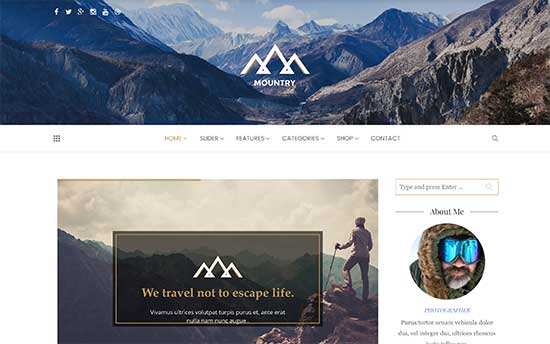 It is a splendidly designed WordPress theme for travel and adventure websites featuring a minimalist approach to design with many flexible options.
Mountry includes 8 homepage designs, multiple page templates for various sections, and a simple drag and drop page builder. It can also be used for adding an online store to your website using WooCommerce.
7. The Traveler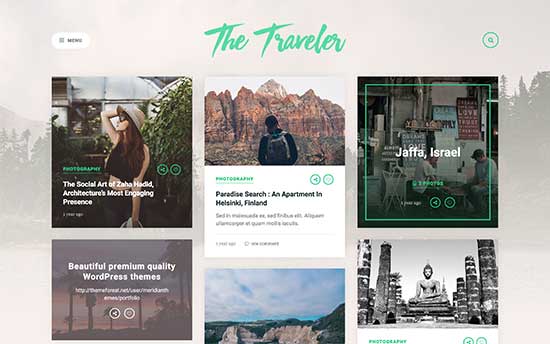 It is another best option for a WordPress travel blog, tourism and as well as travel guide website. The Traveler homepage uses a traditional magazine style layout with posts showed in masonry grid.
The Traveler is very simple to customize with the help of live customizer. It includes a full-screen background image, full-width page template, Instagram feed, custom widgets, and much more.
8. Explorer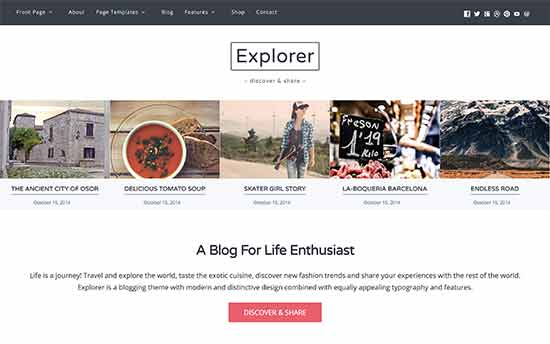 If you require a flexible blog theme for your travel blog then you must use Explorer. This theme has a sticky navigation menu on top, custom logo support, and a professional static front page.
It is very easy to use and contains only the options you will need and use. It includes multiple layouts, WooCommerce support, WPML and translation ready and much more.
9. Veni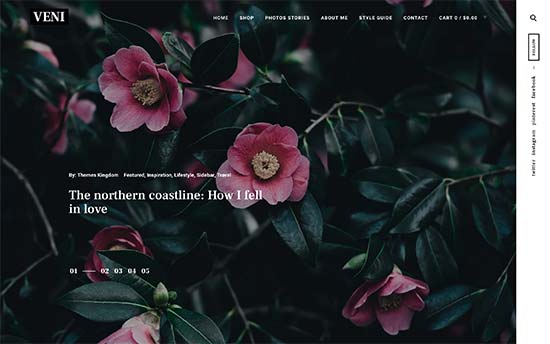 You can use Veni for travel guides, destination guides,  tour operators, and tourism blogs. This excellent theme features a unique and beautiful design with a large header image or slider on top, slide in menus etc.
The best features include flexible layouts, featured pages, and landscape featured images, Google fonts, and much more. It includes a beginner friendly theme dashboard.
10. OceanWP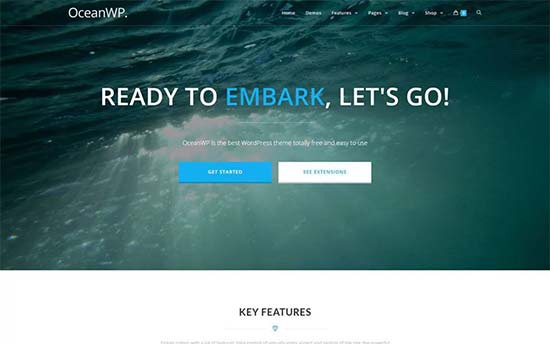 OceanWP is best to use if you are looking for a premium-like but free WordPress theme. It comes with its own companion plugins that let you apply premium themes like features into your website.
It includes gorgeous homepage template, full WooCommerce support, translation-ready, page builder support, and much more.
11. Binder Pro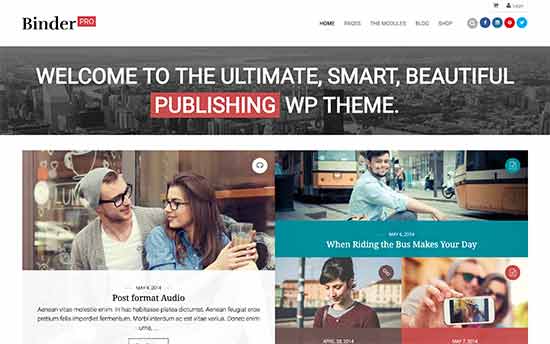 This is a modular WordPress theme which grants you to drag and drop modules to build your own layouts. Binder Pro includes multiple turnkey designs that you can install with the click of a button. Editing these designs is very easy with a simple point and click editing tools.
It also includes WooCommerce support for adding an online store, custom widgets, Google fonts, contact form etc. Binder is very easy to use and best for beginners looking for an effortless modern website.
12. Elegant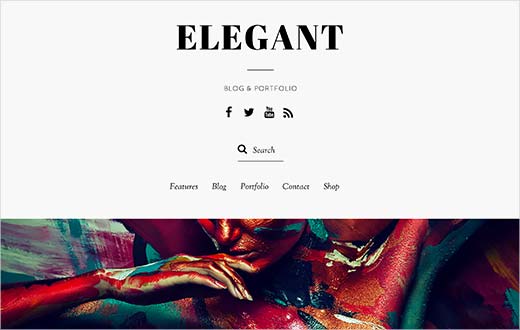 It is a multi-purpose WordPress minimalist theme. Elegant comes with multiple page layouts, beautiful photo galleries, and masonry grid layouts.
It ships with a powerful page builder plugin that lets you build your own landing pages. It also supports WooCommerce out of the box and includes awesome shop templates.
13. Zoom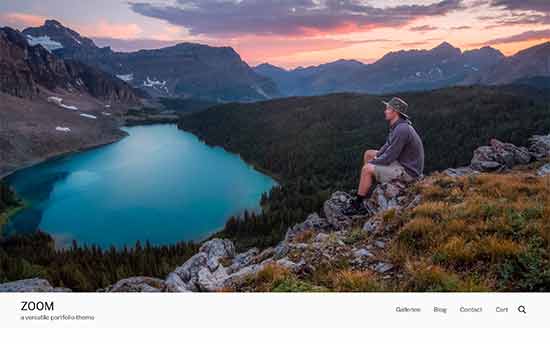 It is an extensive and clean WordPress theme for travel and tourism websites. Zoom features a single column layout with a large header image, followed by website title, navigation menus.
It includes unlimited galleries, multiple widget areas, drag and drop homepage, and much more. Zoom is very easy to use and most features work out of the box.
14. Collecto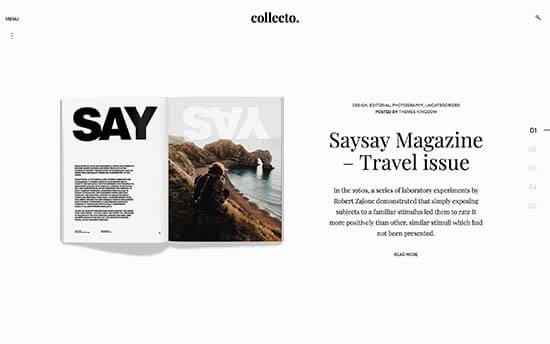 It is a WordPress magazine and newspaper style theme and best for content-rich tourism and travel websites. Collecto has a minimal vertical navigation menu, an attractive header area, and parallax background effects.
It has a dynamic grid layout for your blog and content archives highlighting your sticky posts. Collecto has unlimited colors, single page and single post templates, Google fonts, and much more.
15. Feltmag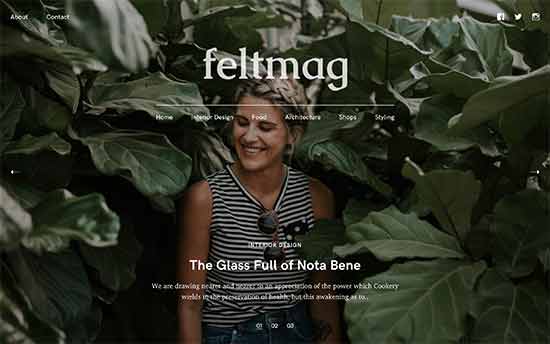 It features a modern layout with a fullscreen header, which is followed by your content sections in attractive grid style.
Feltmag includes two navigation menus in the header area, multiple layout styles, custom widgets, large featured images, and much more. It is designed to work out of the box and is simple to customize even for beginners.
16. Travel Log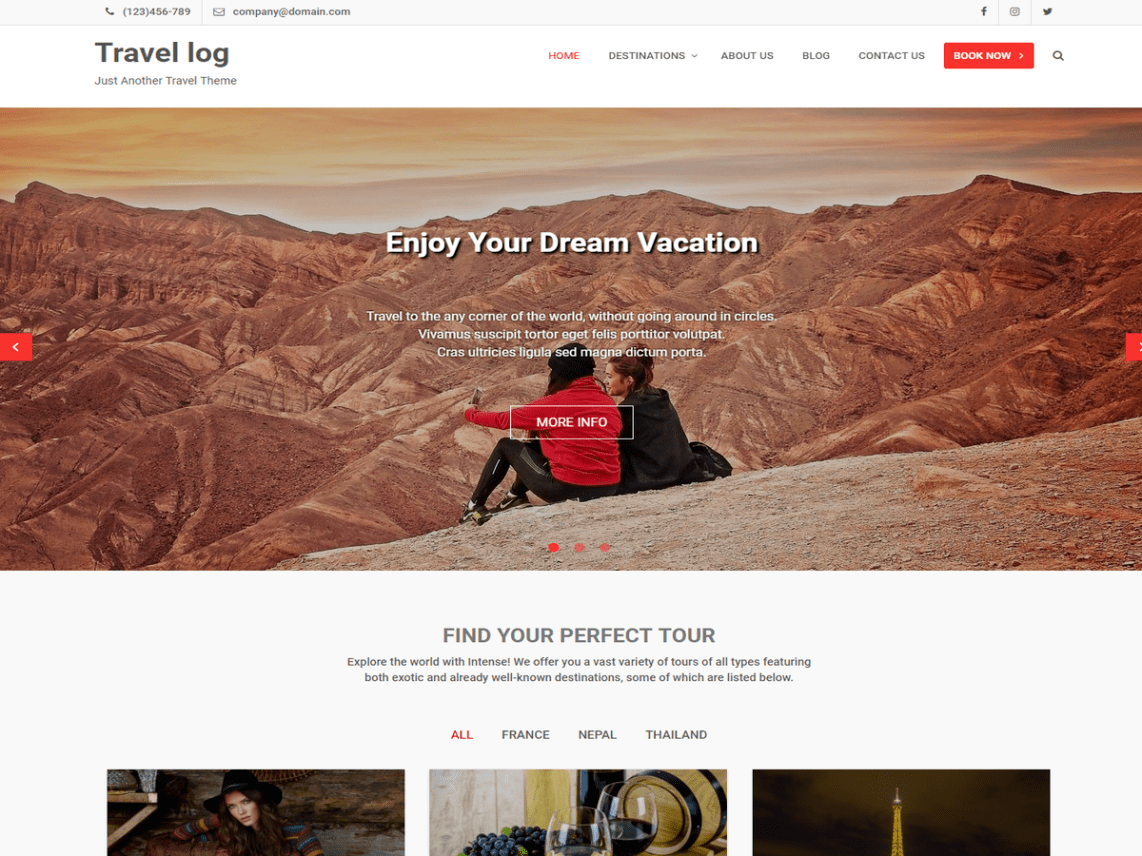 It is a simple and free WordPress theme for travel blogs. Travel Blogs comes with a companion plugin to add some travel and tourism-related featured on your website.
Its homepage features a slider on top, followed by various sections of your website.
17. Noozbeat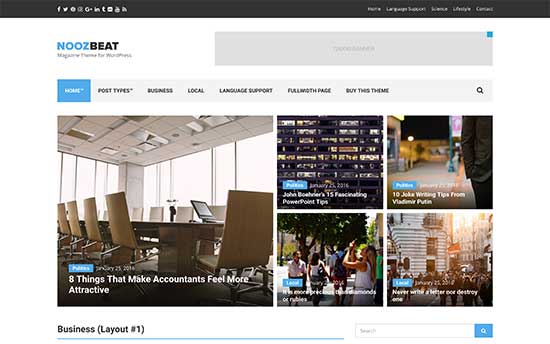 It is a professional WordPress news and magazine theme perfect for travel and adventure sites. Its homepage shows your recent articles in a dynamic grid layout. Noozbeat displays posts blocks as featured images with article title displayed on top of the image.
It includes various custom widgets for social media and content discovery features. You will find it simple to use with many customization options.
18. Publisher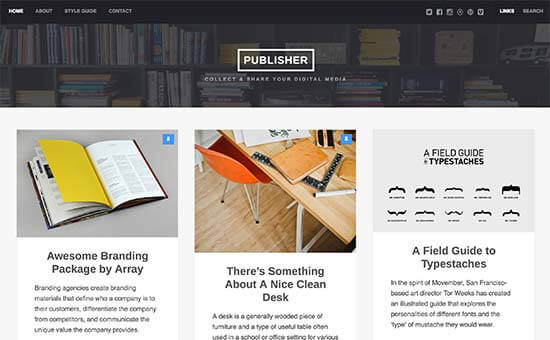 It is another brilliant WordPress magazine style theme for travel and magazine websites. Publisher includes a modern homepage layout with custom headers and article cards. Each single post page grants you to stunningly display featured image, galleries, and much more.
It includes a contact form, infinite scroll support, and a getting started dashboard to help you walk through the setup.
19. El Greco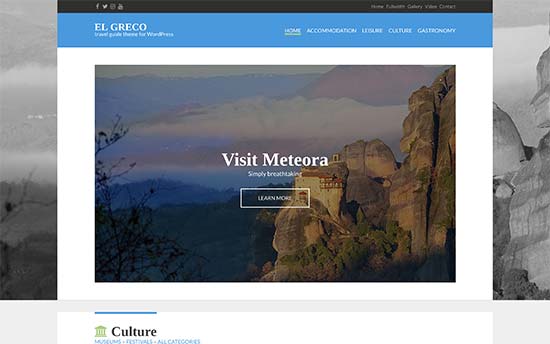 You can transform your travel blog into a highly engaging platform using El Greco. Featuring minimal layout and multiple colors, large header image, and two navigation menus.
You will find inside custom widgets for social sharing and content discovery features. El Greco is fully compatible with all top WordPress page builders so you can build your own layouts if required.
20. Peak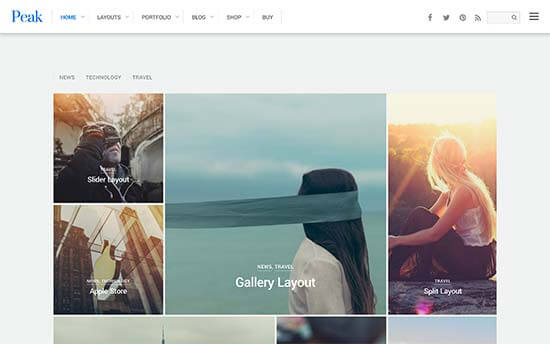 If you are looking for the delightful way to show your travel photos then you can use Peak. As it is awesome to use for travel photography, tourism, and personal websites.
The peak comes with page templates, multiple styles, multiple gallery layouts, slideout widgets etc. It is powerful and very simple to use with detailed theme options.
21. Medias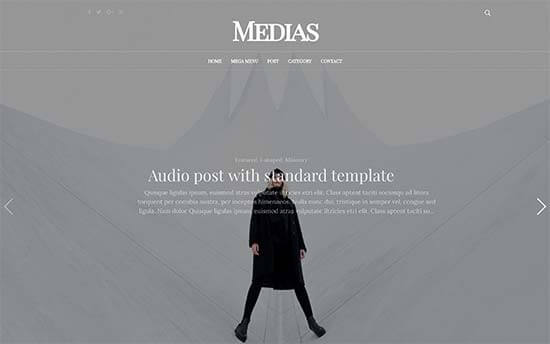 It is a flexible WordPress theme for podcasts, personal websites, and as well as travel blogs. Media comes with multiple layouts and styles to show your posts and other content.
Some of the other features include slider plugin, mega menu, custom header, and Google fonts. Medias is translation ready, multilingual ready, and can be simply customized to make it effectively yours.
22. Noteblog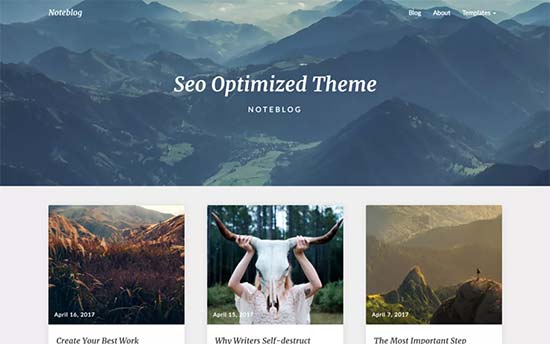 It is a free WordPress theme for travel, blogs, sports, and adventure websites. Noteblog is a simple and elegant theme. It displays a full width featured image followed by your recent posts in a grid layout.
It is optimized for speed and performance and works effortlessly with famous WordPress plugins.
23. Indigo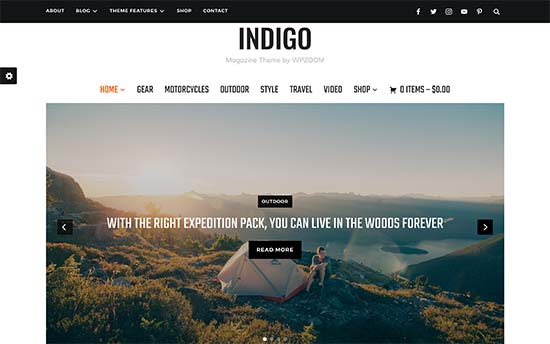 Indigo includes a sticky navigation menu on top, followed by website logo, primary navigation, and then a slider. It contains a magazine homepage and a traditional blog homepage layout.
It also has unique custom widgets for social icons, popular posts, and full live customizer support.
24. Hive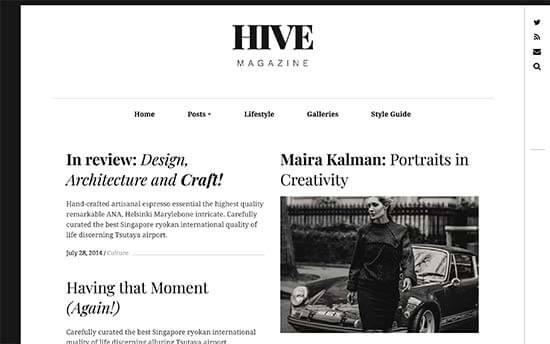 It is a Magazine style WordPress theme best for content-rich travel and tourism websites. The main features are minimalist design, beautiful typography, and gorgeous display of featured images.
Hive includes grid layout for your content, page template, post format support, full-width page, multiple widget-ready areas, etc. It is translation ready and can also be used with multilingual websites.
25. Breviter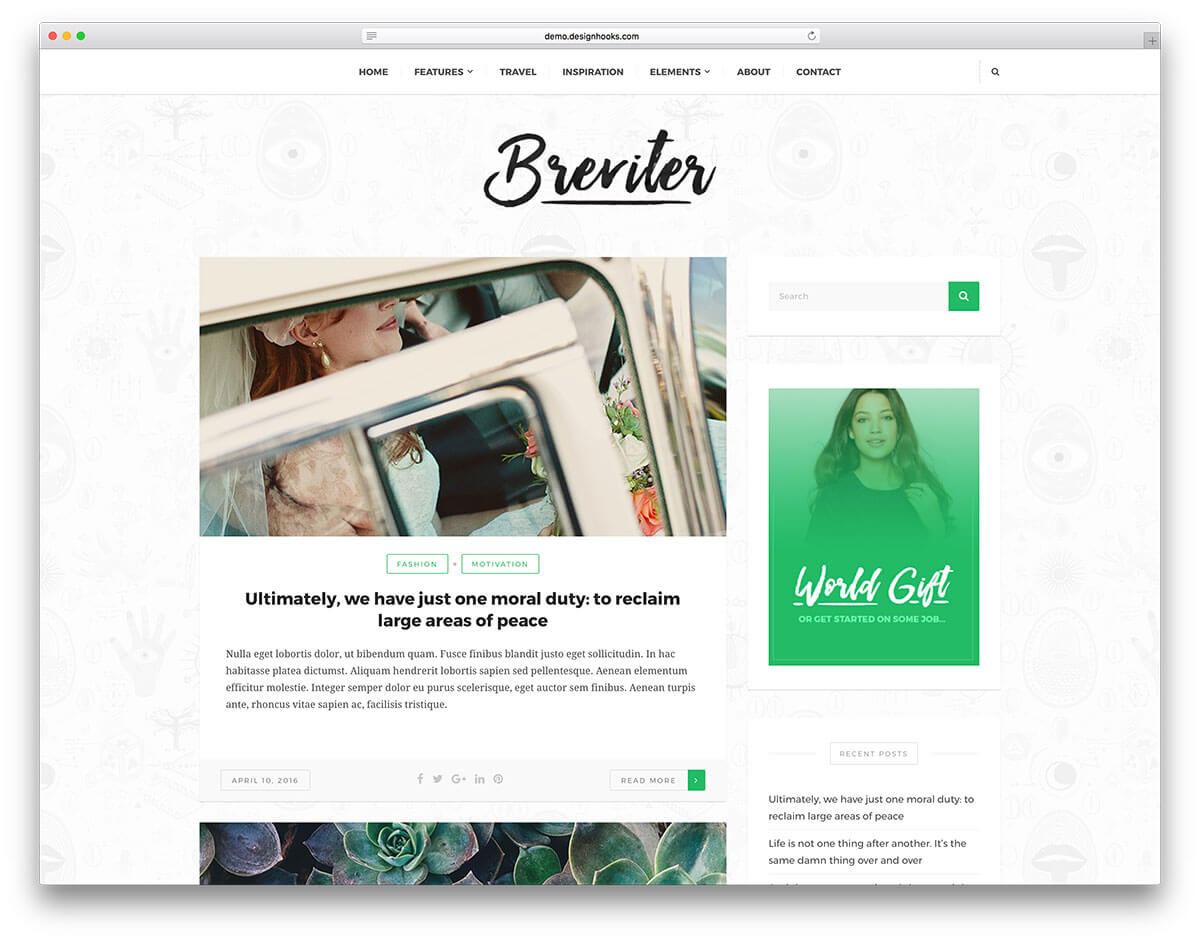 It is a clean, handcrafted and free WordPress theme. Breviter makes creating a customized homepage an easier matter, with ingenious design choices. A lightweight visual style keeps your content perfect and engaging. Your users will engage with your videos, image posts, links and galleries with easiness.
Breviter gives you a range of unique beautiful options for presenting your content.
26. Unite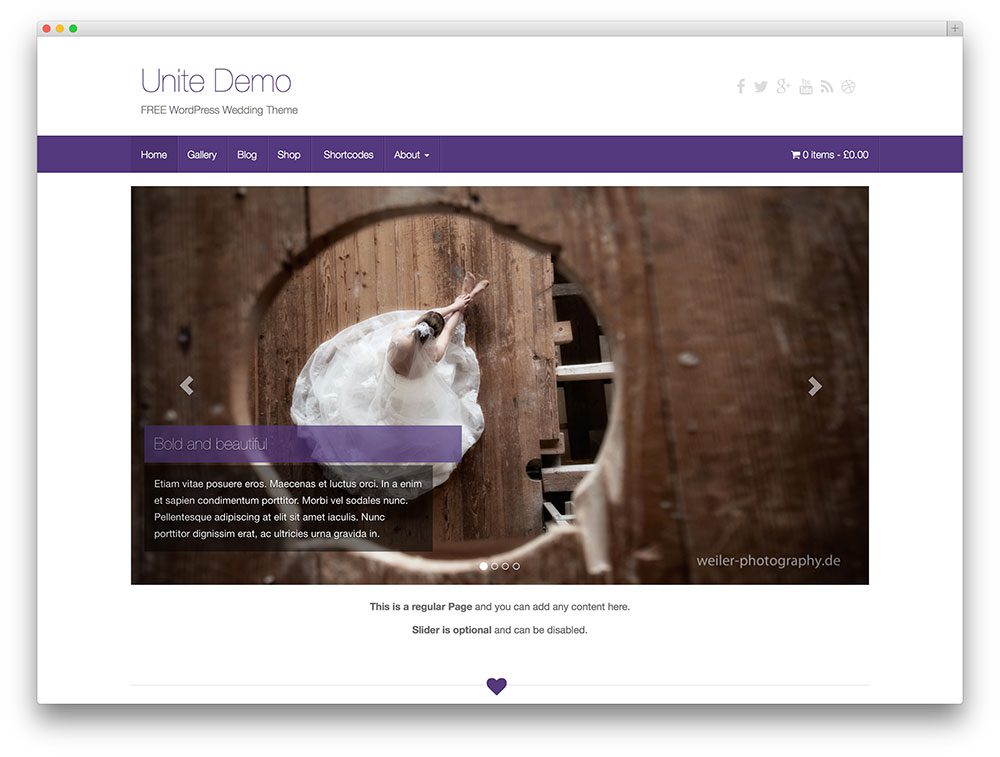 It is mainly designed around the concepts of user-friendliness and easiness of use. Nowadays there is a focus on mobile technology and any website that refuses to go with the flow will be left behind. Unite approve a mobile-first approach that will certainly serve it well.
It has a flat and responsive layout, an awesome support system. Other notable features include impressive icon displays; many color options, and a beautiful demo preview.
27. Travel Planet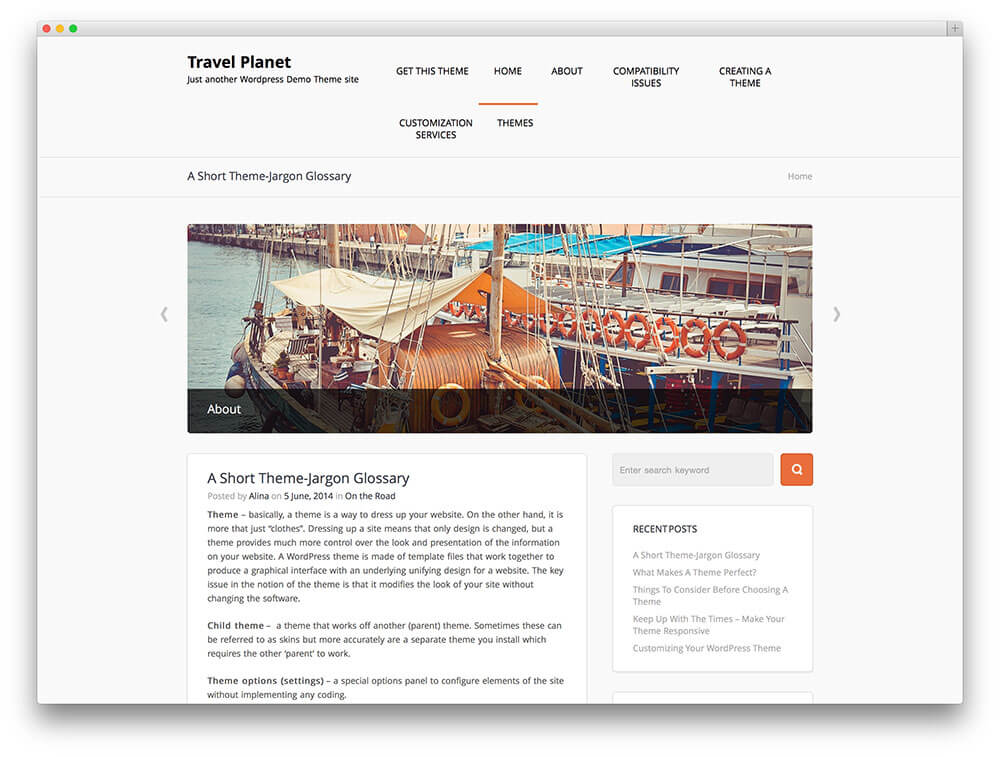 It supports your content with its well-designed infrastructure and attractive layout. If you want to start a travel blog or magazine, or want to keep your friends and family updated, then this theme is best to use. Travel Planet theme will never overshadow your content as it acts more like a picture frame.
28. Meris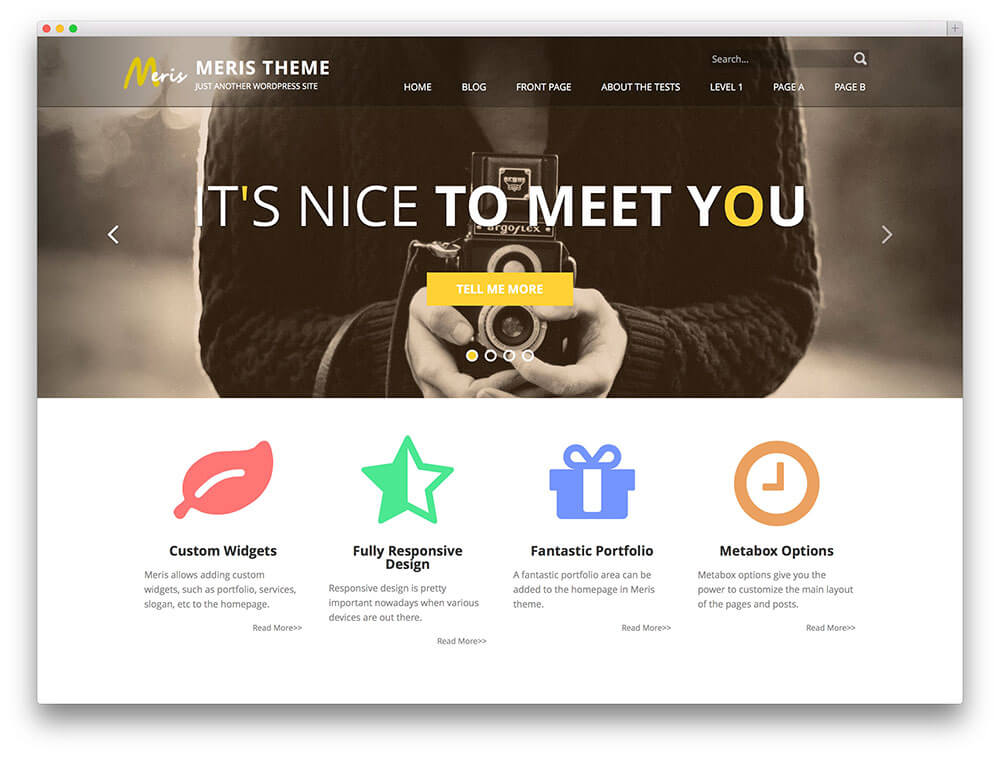 Meris is best to use if you are looking for a theme that allows for the inclusion of many widgets. This theme can be integrated with websites belonging to more than one niches.
Meris is built on the Twitter Bootstrap network. The homepage layout is attractive. It gives you the keys to the car and helps in deciding which direction to steer it.
29. Isis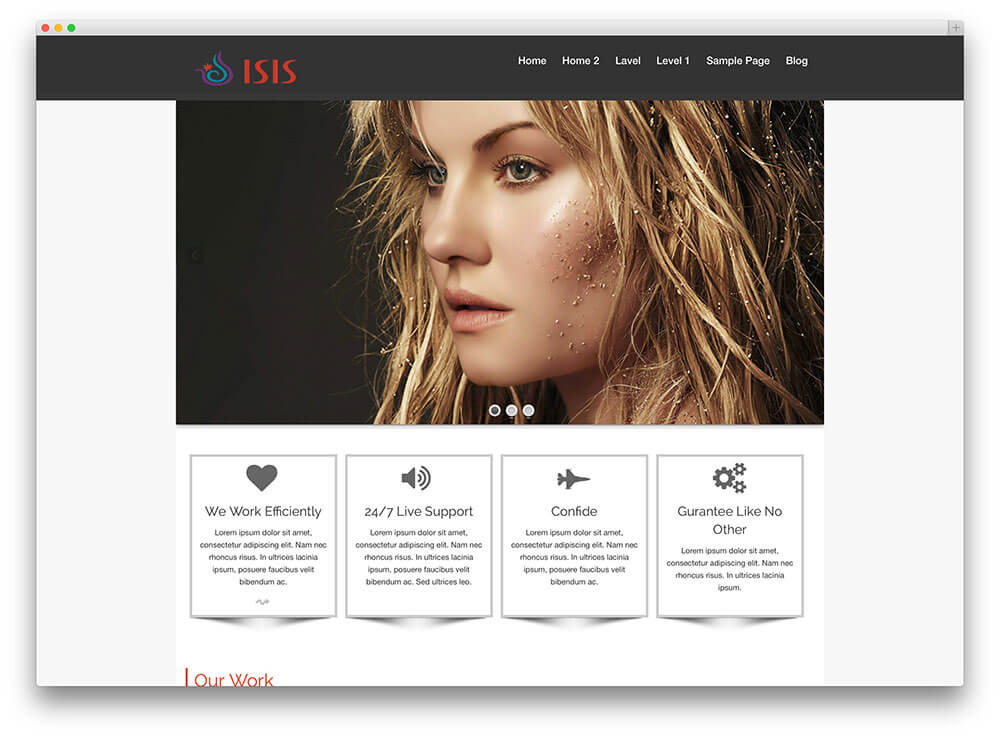 It is a WordPress theme for people that take pride in their efficiency. In most of the cases themes experience resolution and compatibility issues because of the wide variety of devices capable of showing websites.
Isis has 10 social icons, an impressive slider, 4 widgets, 4 Google Fonts, Full-Width Page, and much more. Your website can be translated into any language with translation ready capabilities.
30. Newspaper X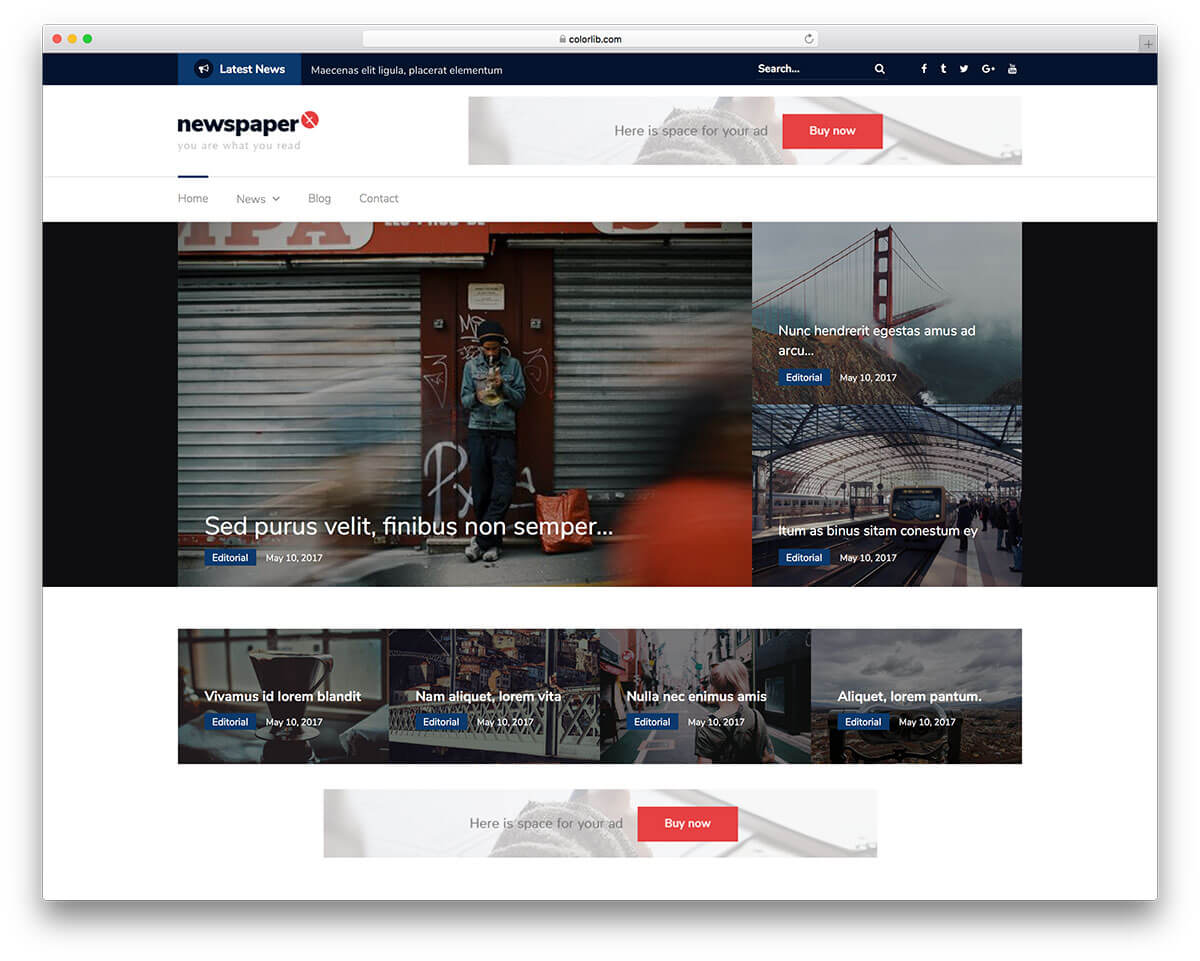 It is an attractive and free WordPress theme. Newspaper X is a Bootstrap based and comes with a responsive design and manage things with WordPress Customizer simply.
However, Newspaper X is a theme made for all people in the media. It comes with a clean, minimalistic concept made for photos and texts stand out. You will get a large header with 3 sections to post.
That's all in our behalf. We hope that this article helped you to select the best Themes for Travel Blogs.
Get instant help from our WordPress Technical Support Team, Dial + 1 844 275 0975(Toll-Free). One of our Professional Experts will guide you to resolve issues related to WordPress.
Recommended Blogs: