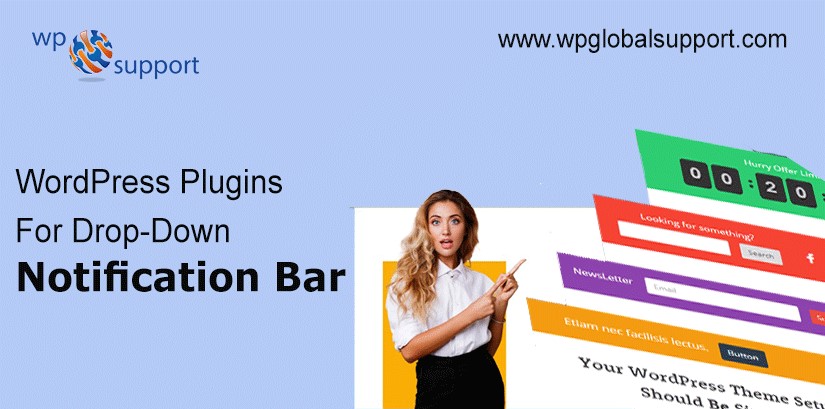 This time we gathered a ton of information about the Top 6 WordPress Plugins For Drop-Down Notification Bar (2023). Having such bars is the best way to instantly attract your visitor's attention. However, a properly generated notification bar, with the right design, message, links, generates leads, increases the website engagement.
In other words, such notification bars are not a default feature for WordPress site. To use the functionality, you must install some the plugins on your WordPress Website. As plugin is defined as a type of software that contains a group of functions that can be added to a WordPress website. They are used to provide additional functionality to your application.
Well, if you are not very aware of installing the plugin. Then feel free to move along with our blog on how to install a WordPress Plugin.
However, many of the users use Push notification plugins to do so. But the notification bar is the best and better way from the user experience. As well as from the SEO perspective. As when the users are are launching websites then they have to create a Search Engine Optimization (SEO) strategy.
Because it is not a secret that Google does not like the Pop-Up manner. As the search engine is a service which allows all internet user to search for any content, query, and product throughout the world wide web.
Thus, this is what we are elaborating here! Keep reading…
What Do You Mean By Drop-Down Notification Bar?
This notification bar is also known as a drop-down menu, drop menu, pull-down menu, and picklist. It is a graphical control element, similar to that of a list box. It allows the users to select one value or from the list.
However, when a drop-down bar is inactive. Then it displays a single value by itself. And when it is activated so it displays the full value list, from which the user may select one. Consequently, they are particularly the best for driving the effective conversions. And too for displaying the effective calls to action.
Best WordPress Plugins For Drop-Down Notification Bar
Well, today, we will be introducing you to the best Drop-Down WordPress Notification Bar Plugin. Let's get cracked!
1: WP Notification Bar
WP Notification Bar is enlarged as WordPress and rest the same. However, they are not specifically for announcements and email option forms. Peoples! Think outside the box.
Well, this plugin is the best example of how versatile a notification bar plugin can be. Somehow, you may use the very plugin for all the usual reasons. No doubt! This plugin is the major strength of the other stuff. Which you may perform with this plugin.
Similarly, this plugin will help you to display a custom notification to your viewers on your WordPress Website. However, you may use it to alert readers about important information, growing your email list/subscribers, giving away discounts, and much more.
Often, we use the plugin to increase email subscribers because getting new readers or customers on your website is very important nowadays. For such plugins, you may follow our blog on, Top 10 WordPress Plugins to Popup Email Subscribers. Well, if you wish to know what this plugin can do? Then, here are the key features of the very plugin.
Text Notifications.
Newsletter option forms.
Direct link to any post.
Link to related posts.
Countdown clock.
Search bar.
2: Foobar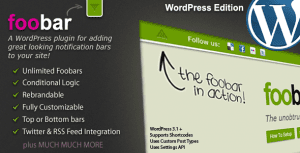 On the next up, we came across the Foobar plugin. This plugin is available from CodeCanyon for only $16.
However, Foobar is one of the most popular and affordable premium information bar plugin. Consequently, you can use this plugin to create different bars. And can apply them to different pages of your website.
This plugin allows you to create clean, bold notification bars. That can be located above or below of your WordPress Website. Similarly, this plugin provides inline demo feature. Where if you've selected your theme because you liked the theme demo. After installation, your website will look nothing like the demo.
A theme is a group of stylesheets and templates that are used to describe the appearance and display of a WordPress site. A WordPress theme changes the layout & design of your site.
With many announcements, Foober also supports several messages. By which you can easily re-order. Thanks to a smooth drag-and-drop interface for the WordPress.
3: BugMeBar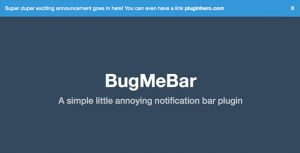 It is a well-known fact that most visitors will receive a notification bar without annoying. Hence, there are no better options for reducing your audience's attention. Similarly, this bug functionality will have to do the same for your website.
It is a great, minimal notification bar plugin, you will not get any bells and whistles from this plugin. However, it was developed to do one thing, and do it well. And the thing is "Display Notifications." If you want to use your notification bar to grow your email list. Then it's probably not possible for you doing the same with the help of this plugin.
Well said BugMeber is still a great plugin. It is a light weighted plugin. Thus, it would not add much load time. And it lets you create or develop a stylish notification bar for your WordPress Website.
Well, it costs for only $11.
4: Hello Bar
Hello Bar is a free plugin. Well said! It is a most popular plugin in all. For this plugin, you just need an account in it.
And it is absolutely free to set up one. As you can expect, the free version of Hello Bar is relatively basic in comparison with feature-rich premium plugins.
If you are a dealer and often use the very plugin. Then, you can upgrade to a pro version. Which just costs $12 a month. However, being one of the most expensive options. The pro version of Hello Bar eliminates branding. And lets you to create unlimited bars at a time. And too supports the custom targeting.
5: Themify Announcement Bar
This plugin is not free of cost. Well, it is available from the Themify website for only $19.
Themify Announcement Bar plugin lets you create awesome notification bars on your WordPress Website. Which you will find the most beautiful in all. However, the bars are clean and professional. And being compared to some of these options. They seem to have a stylish option more than that of the alternatives.
Somehow, it includes a choice of ten colors, five font families and three text alignments for your Website. Consequently, there are four awesome looking, prebuilt styles: paper, notes, clips, and bookmarks. From which you can position your notification bar at the top or bottom of the screen, in any widgets area, and in line with the content.
As Widgets allows you to add content and features to your sidebar without writing any code. The widget areas can be header section, footer section, sidebar, and below content and any other area in your theme.
6: Apex Notification Bar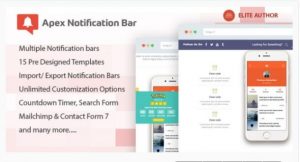 This plugin helps you to include notification bars on your site. Thus, you may use it to highlight offers, deals, messages, news, new releases, etc.
Apex Notification Bar plugin comes with some pre-available designs for the notification bar. However, you can also add various elements in your notification bar. Such as Twitter Feeds, Post Title Slider, Countdown Timer, Search Form, Contact Popup, Email Subscriber Form, Video Pop and much more.
On the other hand, some other features provided by this plugin includes page-based notification bars, the ability to upload a background image, a custom logo section, RSS feed, option form, static text, meta box etc. thus, we can say that this plugin is one of the most featured and heavy plugins on this list of the best WordPress Plugins For Drop-Down Notification Bar.
RSS or Really Simple Syndication or Rich Site Summary is one of the advantages of WordPress which is considered as feeds in it. Meta Box has the user-friendly interface to add custom fields (metadata) to your posts, pages, and other custom post types.
CONCLUSION
Here, in this blog, we have discussed the Top 6 WordPress Plugins For Drop-Down Notification Bar (2023).
Often we concluded its layout, its definition, and the plugins in detail. They do add value to any blog post. And, this leads to the end of the blog.
We hope this blog helped you. However, if you found the blog useful, do not forget to use the comment section provided below. Also, share the blog with your peers. You are on your way to getting more exposure.
If you are looking for the best support for WordPress Migration so you can talk to our Experts by dialling our Toll-Free number +1-855-945-3219. One of our skilled professional expert will guide you instantly.